10 Stars the NBA Can't Afford to Lose to Injury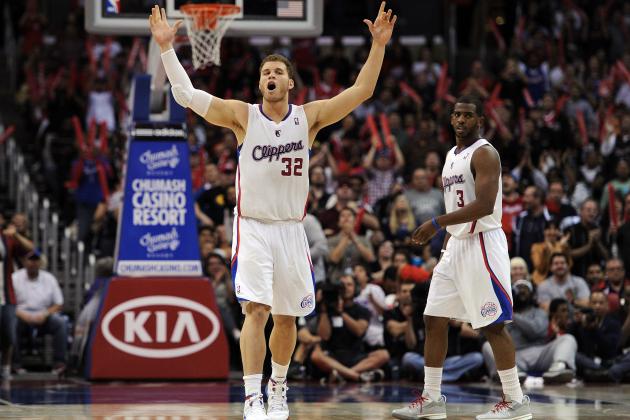 Harry How/Getty Images

This NBA season was particularly injury-plagued, as players worked their way back into shape and struggled through a grueling schedule that left them little time to recuperate. Fans saw players like Dwyane Wade, Derrick Rose, Rajon Rondo and Amar'e Stoudemire all miss significant time for injuries sustained out on the court.
More than a lot of leagues, the NBAis truly player-driven, and the higher the level of individual play, the better. When a star is injured, it can throw off not just the performance of his team, but also the balance of the other 29. One torn muscle can be the difference between walking home with the Larry O'Brien trophy and waiting for the sound of ping pong balls and the draft lottery.
Let's take a look at 10 players the NBA could not bear to lose in the immediate future...
Begin Slideshow

»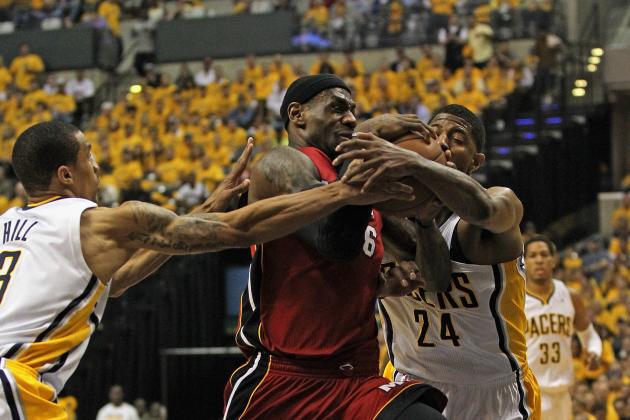 Jonathan Daniel/Getty Images

This picture of LeBron James barreling through an Indiana Pacers double-team of George Hill and Paul George sums up exactly why the NBA would hate to lose the reigning MVP to an injury. Right at the peak of his prime, there is no one in the league who match James in terms of athleticism and pure strength. When he decides to get to the rim, he can do it against seemingly anyone.
He's also one of the league's most versatile players and can effectively shuffle between all five spots on the court (although center's a bit of a stretch) and make positive contributions on the court.
James can run an offense and make plays; he averaged 6.2 assists in the regular season and is unselfish to the point that it becomes a weak point of his game.
He can bang inside and get into the paint, as well as use his superior speed and lateral quickness to guard any opponent from Derrick Rose to Blake Griffin with ease. For a star player to relish playing defense as much as James does is refreshing, as many players with his talent would devote themselves solely to offense and notch 35 points a game while not putting up the same two-way effort.
In addition, LeBron is essential to the league because no one man can create as much news and as many headlines. Every big moment, shortcoming, high and low is debated endlessly by the sports media.
Despite his "villain" reputation, James is still easily the most well-recognized player in the NBA. His tenure with the Miami Heat over the past two seasons has been dissected and examined more heavily than any player in history.
For as long as he's in the league, there won't be a SportsCenter broadcast that doesn't mention his name.
An NBA without LeBron James would lose one of its most dynamic players and someone capable of a breathtaking highlight on any given play. With players like Kobe Bryant and Tim Duncan on the decline and new stars like Derrick Rose and Blake Griffin not quite ready to take the reins, the league needs LeBron out on the court for as long as possible.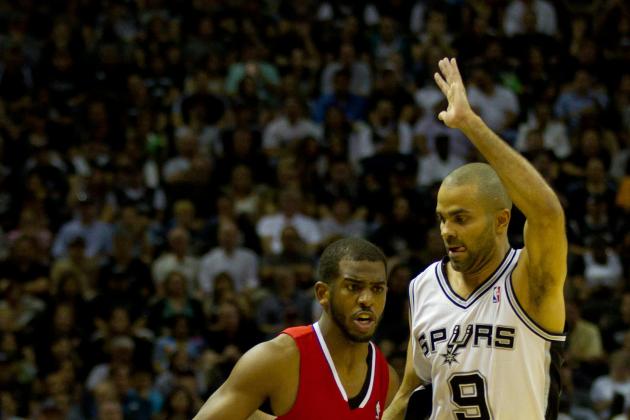 Justin Edmonds/Getty Images

Watching Chris Paul play basketball is an absolute revelation. He sees plays develop before anyone else and plays so perfectly under control at all times that it's astounding when a defender picks off one of his passes or he throws a dart out of bounds.
At times it seems he is playing the game at a different intellectual level than anyone else out on the court and the numbers attest to that.
In his first year with the Los Angeles Clippers, Paul averaged 19.8 points, 3.6 rebounds and 9.1 assists while completely altering the culture of the league's most perennially depressing franchise.
Remember, fans in Los Angeles were panicking when the Clippers fell to sixth or seventh in the Western Conference, something that would have brought them elation just a year ago. That's the power of CP3.
Paul staying healthy is imperative because he is the engine that powers an absolutely fascinating team. With hyper-athletes like Blake Griffin (who we'll get to later) and DeAndre Jordan, Paul can seemingly create above-the-rim offense for his team at will. The sheer number of alley-oop and fast-break highlights courtesy of Paul's unselfishness are staggering.
However, the Clippers have several glaring holes, from their lack of defense to the need for veteran leadership. As the heart and soul of this team, Paul has managed to patch together the ballclub and turn them into a championship contender.
The only criticism of Paul is often that he is too unselfish and that with his unheralded shooting ability, the team would be better if Paul looked to fill it up like a Russell Westbrook or Tony Parker. While this may be true sometimes, Paul understands the importance of keeping his teammates engaged for the full 48 minutes.
Another fascinating layer of Paul's game is the way he plays in the clutch. He has cemented himself as a closer thanks to his ability to read a defense and manage the clock to get the best possible possession in a game's waning seconds.
CP3 excels in high-pressure scenarios, and it'll always give you chills to watch him bury an 18-foot fadeaway in overtime like he was taking practice shots in an empty gym.
He's dealt with injury issues in the past and was healthy for the brunt of this season, producing an MVP-caliber year. Watching him transform the Clippers from a doormat to a dominant force has been fascinating, and the NBA should count their blessings that Paul has been largely healthy for this past year.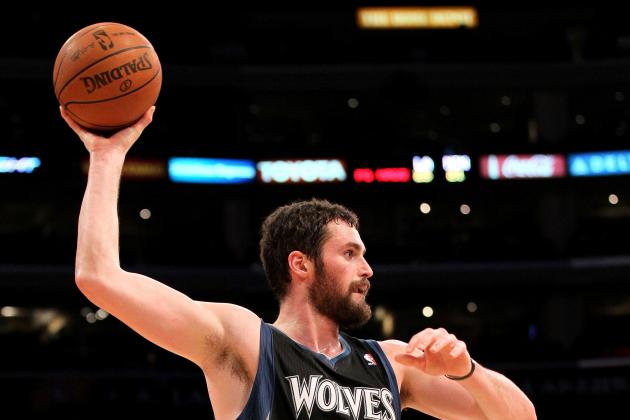 Stephen Dunn/Getty Images

The Minnesota Timberwolves shut down All-Star power forward Kevin Love towards the end of the season as he had a concussion and they that without rookie point guard sensation Ricky Rubio, they had no chance at a postseason berth.
Love's game is at once a throwback to the vintage power forward who muscles his way inside and asserts himself on the glass and to the new generation of big men with his ability to splash jumpers from beyond the arc. His game is reminiscent in some ways of Dirk Nowitzki's, except Love can handle contact better and is far more willing to bang in the paint and play from the inside-out than Nowitzki ever was.
In the middle of the season, it looked like Kevin Love was going to take the worst team of the 2011-2012 season and turn them into a playoff team, albeit in the seventh or eighth slot. The man was notching 26 points and 13.3 rebounds (including 4.1 on the offensive glass), while hitting 37.2 percent of his three-point attempts.
Love is a true team player, though he would sometimes force the issue to make kick-out passes to open teammates. He had fantastic chemistry with Ricky Rubio, running the pick-and-roll as effectively as any guard-forward tandem in the NBA.
Love did not take away from Rubio's game by demanding the ball excessively, he was truly focused on team success and dispelled the rumor that he could only put up stellar numbers on an awful team.
At just 23 years old, Love's game is still improving and he will be a dominant force in this league for as long as he stays healthy.
With players like Love, LaMarcus Aldridge and Blake Griffin manning the power forward spot, a very compelling race is developing over who is the best 4 man in the NBA. In my opinion, that title belongs to Kevin Love, and the NBA would be much less exciting without him in Minnesota.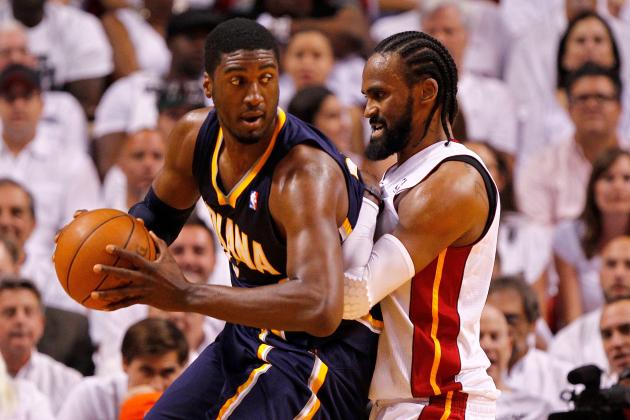 Mike Ehrmann/Getty Images

This may not be the most popular choice, but I believe that Dwight Howard has wrecked his public image so much that the Eastern Conference desperately needs another elite center.
As of right now, Roy Hibbert is that man for the Indiana Pacers.
Hibbert has made a marked improvement every season he's been in the league, culminating in a year where he averaged 12.8 points, 8.8 boards and a pair of blocks per game while finally figuring out how to avoid foul trouble and stay on the court. Whenever a player is capable of making a noticeable leap each season, it is fascinating to see where they finally peak or plateau.
Hibbert has a vastly improving offensive game, a nice touch around the rim and a dependable hook shot with both hands. He can pass out of the post or take the ball hard to the rack with every inch of his 7'2" frame.
This season, he really improved his work and timing on blocking shots, becoming an upper-echelon rim protector for a Pacers team that is suddenly looking like it could make an NBA Finals run.
Roy Hibbert has become an impact player on both ends of the court, culminating in Game 3's 19-point, 18-rebound, five-block performance against the Miami Heat. Hibbert gives Indiana a size advantage against nearly every team in the league and they'll go as far as their All-Star big man can take them.
Players of his size often struggle with injuries, so the fact that Hibbert has been very durable for this early stretch of his career is very fortunate. If he can continue improving and avoid being sidelined for extended stretches of time, Roy Hibbert can cement himself as one of the league's best big men.
Watching Hibbert's improvement has been fascinating, and with the dearth of quality size in the current NBA, the league needs him to remain healthy for as long as possible.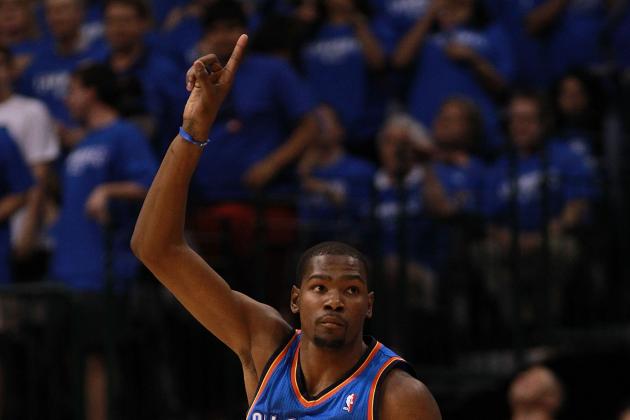 Ronald Martinez/Getty Images

Another pretty obvious choice as MVP front runner for most of the season was Kevin Durant before LeBron James' unreal efficiency pushed him out of the way. Durant has become one of the new faces of professional basketball, and the humble, hard-working forward from Oklahoma City could not be a better choice.
While coming in second in the MVP voting, Durant averaged 28 points and eight rebounds per game with a steal and a block. He finally notched his first 50-point game and hit more phenomenal late-game shots than anyone in recent memory.
Durant plays an effortless brand of basketball that is absolutely stunning to watch. Despite his height at 6'9", K.D. can handle the ball like a guard and has significantly improved as a facilitator, averaging a career-high 3.5 assists per game in the regular season.
No longer can opponents guard Durant as a one-dimensional jump-shooting scorer; he now can drop some fantastic dimes to his teammates and has improved his post-ups and penetration.
Just watching Durant curl off picks and catch the ball for a jumper is a joy. He can hit a game-winning 28-foot three the same way he knocks down a floater in the lane, never appearing harried or frantic while out on the court. He is the leader of an extremely talented Thunder team that will be winning a title sooner than later and is the exact kind of player anyone would want on their side in a heated playoff game.
Few basketball fans can make disparaging remarks about Durant. He's still young enough that his game is developing, as we've seen over the past couple years, and he always is willing to carry his organization and live and die by their success.
What more can you ask for in a franchise player?
Unlike some of the NBA's old guard, Durant comes across as an extremely self-aware player. Never does he tout his own accomplishments over the team or bark at a teammate for missing a shot or failing to secure a rebound.
Durant leads by example and that is the kind of player the NBA needs on the court for as much time as possible.
Brett Deering/Getty Images

Although Kobe Bryant nursed a myriad of injuries this season, he soldiered through them and had another tremendous year for the Los Angeles Lakers. He led the league in scoring for most of the season, demonstrating the arsenal of post-ups, step-backs and driving techniques that have made him so tough to guard for his entire career.
Kobe carried a Laker team that probably had the least talent since the Pau Gasol trade. They struggled early in the year, but Bryant was the one who helped take the team to the next level and had them in the championship conversation.
Even with the presence of Gasol and Bynum, this team still relies very heavily on Kobe Bryant in order to win basketball games.
Kobe averaged 27.9 points, second only to Kevin Durant, 4.6 assists and 5.4 rebounds for the Lakers while still being the go-to player in clutch moments. As it seems he does every year, Kobe made several phenomenal end-of-game plays that easily swung the contest in the Lakers favor.
Whether it was hitting a tough shot to force overtime against Detroit or shaking off an anemic shooting night to step up in the fourth quarter against New Orleans, Kobe Bryant still shines brightest in big moments.
Criticisms will always be made of Kobe shooting too much and not pounding the ball inside to his two big men, but at times it's quite difficult to argue with the results. Bryant has set the standard for elite perimeter players over the course of his career, and the NBA should want to squeeze every second of basketball they can out of him while he remains healthy.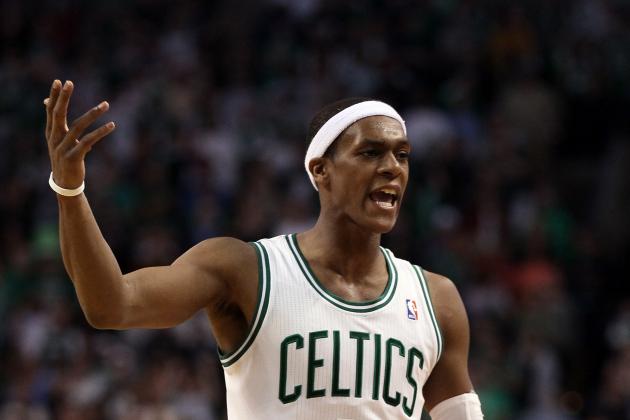 Elsa/Getty Images

Boston Celtics point guard Rajon Rondo is easily one of the most unique and enigmatic players in the entire NBA. He is a phenomenal passer with unmatched vision who can get the ball anywhere on the court. He's grown into a leadership role on a team with a trio of Hall of Fame players that has been contending for a championship for the last half-decade.
Rondo's defense is airtight thanks to his combination of speed, length and tremendous set of hands. Still, he can be incredibly mercurial and make decisions that leave every fan shaking their head.
Rondo's shooting is incredibly inconsistent for a starting point guard in the league. At times, he'll splash two or three in a row from the top of the key that have Boston fans thinking he's suddenly put it together. Then he'll clank a pair of free throws off the front rim or misfire on a crucial basket down the stretch.
In a time where professional basketball is driven by the point guard position, Rondo is one of the best there is. He can run the break, execute half-court offense and knife his way into the lane seemingly at will, with very few defenders being able to disrupt his natural rhythm.
His ability to elevate and sheer determination make him a nightly triple-double threat and he seems to rise to the occasion in big games, be it regular season or postseason.
The NBA is filled with prototypical point guards—guys who can shoot jumpers fairly well, hit teammates in their spots and occasionally make a nice defensive play—but what makes Rondo so intriguing is that he does not fit this mold. He's a slashing guard who doubles as the offensive driving force of a perennial title contender and one of the team's emotional pillars.
Rondo's mix of skills and deficiencies is one that has rarely been seen before in the NBA, which is part of what makes him so fascinating to watch. For the Celtics to be successful, the team must tailor themselves around their leader to a degree, and it will be very interesting how they reload after the expiration of Kevin Garnett and Ray Allen's contracts this summer.
Rajon Rondo missed a handful of games for various reasons this season, but the Kentucky point guard is the kind of once-in-a-generation player that the NBA needs to stay healthy.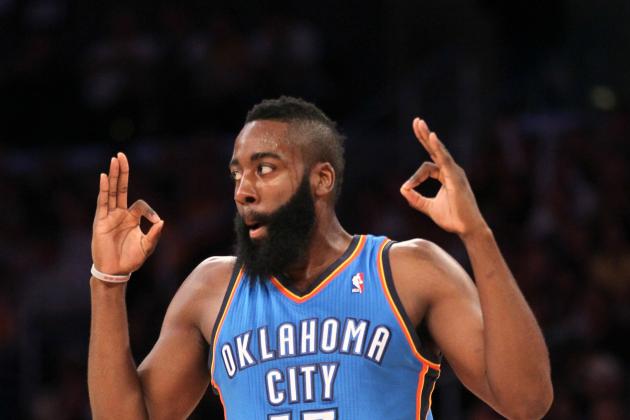 Stephen Dunn/Getty Images

James Harden is a player like Roy Hibbert, who, though he doesn't have a ton of accolades to his name, is crucial to the future of the NBA. The Oklahoma City shooting guard and recently-named Sixth Man of the Year is poised for superstardom, if he hasn't already achieved it.
As the third option behind Durant and Russell Westbrook, Harden has developed tremendous poise and an ability to read the game far beyond his years. He's so important because there is really no one near his age who plays in the same manner.
Harden is athletic, but that is not what he brings to the basketball court. Like a Paul Pierce, his strength comes from never being rushed by a defense and being very methodical in getting to his spots. Harden does not simply drive into the lane hoping for a lay up or a bailout whistle; he can dribble across the court and around defenders in order to get to where he's headed.
Harden's game has also improved significantly since he was drafted out of Arizona State, averaging 16.8 points, 4.1 rebounds and 3.7 assists per game while often being the Thunder's go-to playmaker in the clutch. He has a flair for the moment that is shared with few others and is never afraid to take a big shot if he is open.
Despite the potential to be a starter for nearly any other team in the league, Harden's humility and understanding of the team concept preached by his Thunder has allowed him to buy into his role off the bench and be a real asset for his team.
This is the kind of selfless player that the NBA needs more of, someone who would rather score eight points in a win than drop 35 in a loss.
The NBA needs Harden for his unique style of play as well as his team-first attitude. He hasn't had any severe injuries in his career, besides an unfortunate meeting with Metta World Peace's elbow.
In addition, with Baron Davis out for up to a year, the league needs somebody to take the burden of bearing "The Beard" on their shoulders, and James Harden should be a perfect fit.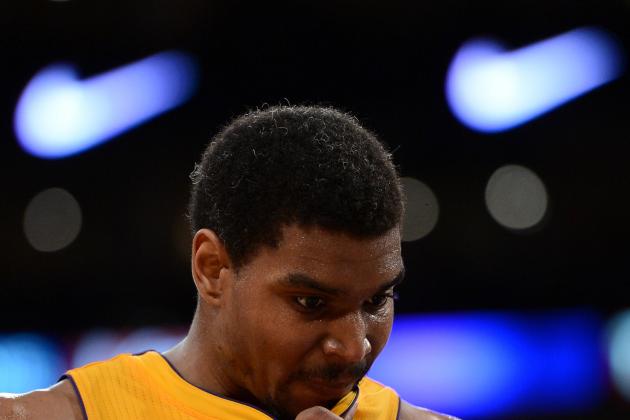 Harry How/Getty Images

Andrew Bynum, just like Roy Hibbert, represents the best hope for a new generation of dominant centers that the NBA hasn't had in years.
In the early part of his career, Bynum struggled with maturity issues and a myriad of injuries that kept him on the bench, but he finally began to put it together for what was easily his best professional season.
Bynum figured out how to use his sheer size to overpower his opponents both offensively and on the glass. No one in the league was better at using second and third efforts to score, even when a play seemed broken down. There were very few individual defenders in the league who could handle Bynum, forcing many teams to send double- and even triple-teams at the seven-foot center.
While managing to stay in the game for over 35 minutes for the first time in his career, Bynum averaged 18.7 points, 11.8 rebounds and 1.9 blocks. His touch improved around the rim and he was even able to hit some eight- or nine-foot jumpers.
His post-move repertoire improved as well; he wasn't simply relying on powering to the basket as much as he had in the past.
Though there were still some questions about his mentality—the fourth quarter three-pointer against Golden State being a prime example—Bynum did seem more committed than he had been in the past. He rose to the challenge of being featured on offense and in crunch time due to the absence of Lamar Odom.
Bynum also became the Western Conference's All-Star starting center, a position he will hold for years to come as long as he remains healthy and putting up solid numbers.
Bynum has spent seven years in the league, but is still only 24 and has room to improve. In the first game of the playoffs, Bynum tied an NBA postseason record with 10 blocks, something almost no one at his position could do.
The Lakers need to continue to feed Bynum the ball at every opportunity because he has the advantage over nearly everyone at his position. He still needs to react better to double-teams and stay away from mental lapses, but Bynum has taken the steps to become an elite center.
The NBA should be thankful he's been staying on the court lately.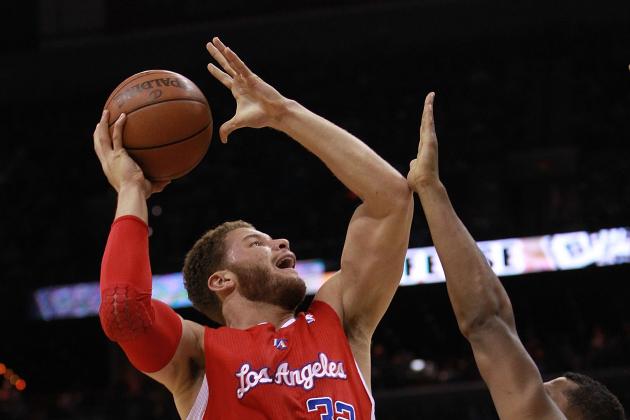 Ronald Martinez/Getty Images

For as much flak as he's caught this year from basketball fans for his lack of defensive prowess, reliance on pure strength, overdeveloped post-moves and footwork, constant ref-baiting and shaky shooting, Blake Griffin is still a player that must be seen to be believed.
The Clippers power forward has a motor matched by few others in the NBA and when Blake elevates around the rim, everyone watching stops and holds their breath waiting to see what the end result will be.
Griffin missed his entire rookie season with a knee injury, but showed little damage upon his return and gave disgruntled Clippers fans hope in the 2011-2012 season. Griffin won Rookie of the Year in a landslide, and when his team traded for Chris Paul he suddenly became the anchor on a team that suddenly had very lofty expectations.
Although his numbers regressed to 20.7 points, 10.9 rebounds and 3.2 assists, Griffin's game did show some development over that time frame. He's improved defensively and better understands when to exert himself and when to rein it in.
If he could ever start hitting that outside jumper—and maybe not shoot it with such a pronounced hitch—he would truly be unguardable. Even now, armed largely with his trademark spin move, few big men in the league can keep pace with Griffin.
No one in the league runs the floor as hard as Blake, which leads to so many of the highlight-reel dunks fans have been treated to during his tenure in the league.
It would be difficult to pick a more ideal pairing than Chris Paul and Blake Griffin for the all-important point guard-big man relationship. The two have tremendous chemistry and understanding of one another that should only increase as they spend more time on the court together.
In what is really his second year of NBA basketball, Griffin has become a must-see for opposing fans and if his game continues to develop, he'll be contending for MVP trophies sooner than many think.
There are still plenty of kinks in Blake's game that he must work out, but the league needs a pure athlete of his caliber that can bring whole stadiums to their feet.