Return to the 12th Truth Chamber: NBA Awards, Rankings and Predictions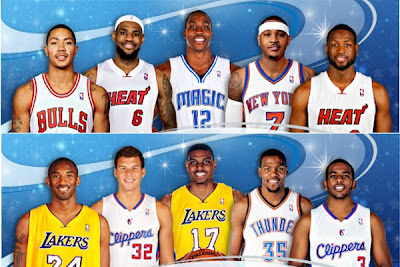 Welcome, you have now stepped into the Truth Chamber.
I am your host and injection of truth serum (if necessary), JC Brioso.
The following slideshow will finally reveal the realities of today's NBA. Hold on tight, I suggest you read and process before you comment.
In this slideshow, I will present the following: NBA season awards, player rankings, playoff predictions, overrated/underrated players club, 2012/2013 offseason breakdown, where drama happens and the State of the Game Address.
Stretch out and relax your mind as you enter 12th chamber.
Begin Slideshow

»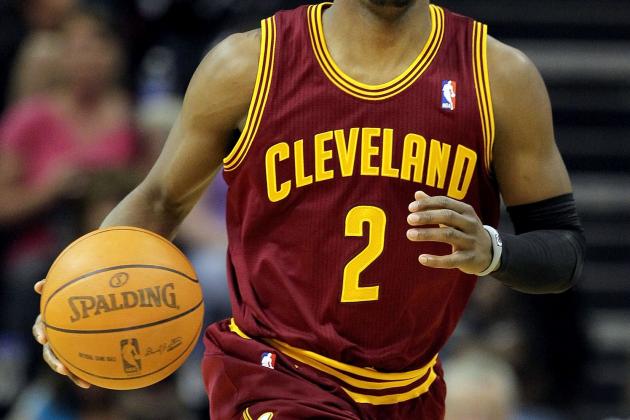 Andy Lyons/Getty Images
ROY Irving
Rookie of the Year: Kyrie Irving
This was obvious. Irving, in my opinion, single-handedly made the Cavs worth watching. He averages about 19 PPG and 5.5 APG in his first year as a pro. At just the age of 20, Irving is setting himself up for a leap into superstar status next year, if he isn't one already.
Not only does he have a great shooting touch but he is an excellent ball-handler and finisher around the rim. He is an average defender at the moment, but he is one of the most clutch rookies I have ever seen. Shame on you if you missed all of those clutch Irving moments this year.
UPDATE: Kyrie Irving wins ROY
Sixth Man of the Year: James Harden
This is always an under-the-radar debate, but James Harden truly deserves this award. He is a very good player who is coming into his own and a SG who would start on most teams in the NBA. His numbers are solid, he shoots a high percentage, and he is willing to take big shots.
The man they call "La Barba" in Latin America has set himself up to be a perennial winner of this award for years to come. That is, if he doesn't leave, which he just might considering the Thunder probably won't have the space for the type of contract he will demand.
Unfortunately, his most memorable moment this season was getting hit by a guy legally named Metta World Peace. You would think it's ironic—ironically, it isn't.
UPDATE: James Harden Wins Sixth Man of The Year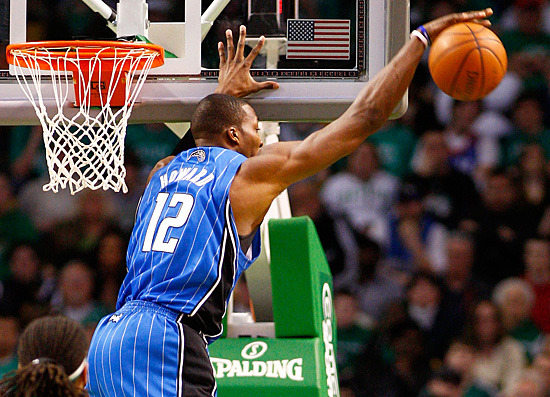 Defensive Player of the Year: Dwight Howard
Yes, I've heard the other names. I won't take anything away from Serge Ibaka, Kevin Garnett, LeBron James, Tyson Chandler and Tony Allen. They have all been excellent defensive players this year. But Howard played enough games for me this year and continued to exhibit why he deserves this award. He probably won't get it, but he should.
Howard, even though at times he gave a halfhearted effort, is still the best and most intimidating defensive presence in the league today, period. Point out his flaws and the off the court stuff if you like, but that doesn't mean anything when it comes to his production on the court.
The Magic have just been awful on defense since Howard ended his season, not to mention that their offense has also suffered. At the very least, he is the Most Valuable Defensive Player in the league.
UPDATE: Tyson Chandler Wins DPOY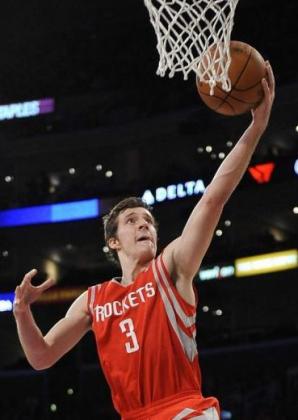 Most Improved Player: Goran Dragic
Perhaps the sample size is not as big as one would like. Yes, players like Harden, Lin and Ryan Anderson have significantly improved their games this season. Yet, over the second half of the season, this man, Goran Dragic, popped into the picture.
I've always thought he had potential, ever since he backed up Nash in Phoenix. When he got traded to the Rockets for Brooks, I felt many people thought of Dragic as just a "throw-in." Kyle Lowry had already solidified himself as a good PG, and Dragic was inevitably going to be the backup. Well, Lowry went down, and Dragic took the reins.
Not only has Dragic been good, he has been great. This is not exact, but as a starter, Dragic has been dropping 18 PPG with 8 APG and 1.5 SPG while shooting at a solid field-goal percentage. He also has had multiple 20-plus point games and multiple double digit assist games.
He kept the Rockets very much in the hunt for a playoff seed and showed signs of possessing the clutch gene. This is a Rockets team that quite frankly is short on talent and has suffered major injuries.
If you haven't seen Dragic play consistently, you're missing out. He is a free agent this summer—don't think for a second he won't be near the top of everyone's list.
UPDATE: Ryan Anderson Wins Most Improved
Christian Petersen/Getty Images

Coach Of The Year: Gregg Popovich
He really has done such a good job using the talent he has on his team and maximizing it. With Tim Duncan aging, Pop has had to make some adjustments in terms of match ups on a game by game basis. He never really had a consistent starting line up and Manu was often found on the injury report.
Along the way, The Spurs traded Jefferson but added Stephen Jackson and Boris Diaw. Once again though, Pop made these pieces fit and this led them to having the number 1 seed in the West.
A lot of credit goes out to Thibs from the Bulls, but Pop is the best coach in the NBA at this point.
UPDATE: Gregg Popovich wins COY
Most Valuable Player: LeBron James
As if there was any doubt. If you doubted, you either don't watch the game much at all or you hate LeBron James. I'll give all the credit in the world for the year guys like Kevin Durant, Chris Paul, Tony Parker, and Kobe Bryant have had. I'll even throw some love at Kevin Love.
But come on, it's been and always has been LeBron and then everyone else. Forget the ridiculous numbers he has put up. James has been so good this year that you can easily make a case for him as DPOY and yes, Most Improved.
While LBJ had another MVP season last year, his transformation from past years is quite evident. He is able to guard and play practically (he actually has) every position on the court. He is insanely efficient, added a post game, and oh yes, he wins.
This race was over the second LeBron stepped on the court in Dallas on Christmas Day.
UPDATE: LeBron James Wins Most Valuable Player
1st Team All-NBA:
PG—Chris Paul
SG—Kobe Bryant
SF—LeBron James
PF—Kevin Love
C—Dwight Howard
2nd Team All-NBA:
PG—Rajon Rondo
SG—Dwyane Wade
SF—Kevin Durant
PF—Blake Griffin
C—Andrew Bynum
3rd Team All-NBA:
PG—Tony Parker
SG—James Harden
SF—Luol Deng
PF—Kevin Garnett
C—Marc Gasol
Honorable Mention (In No Particular Order):
Deron Williams, Steve Nash, Russell Westbrook, Paul Pierce, LaMarcus Aldridge, Chris Bosh, Tyson Chandler, Dirk Nowitzki, Danny Granger, Kyrie Irving, Goran Dragic, Derrick Rose, Al Jefferson, John Wall and Josh Smith.
All-NBA Defensive Team:
PG—Rajon Rondo
SG—Tony Allen
SF—LeBron James
PF—Serge Ibaka
C—Dwight Howard
The All-NBA teams are not really so much about truth or even building the best starting five. It is just about finding the most deserving player at their natural position based on their performance this season.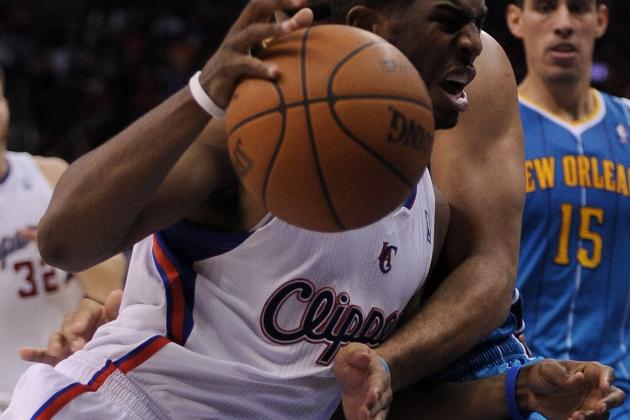 Harry How/Getty Images

The top five NBA point guards are as follows:
1. Chris Paul
The complete package as a point guard, no doubt about this. His only flaw is he sometimes lets up during the early stages of the game. Paul needs to turn it on for the full game always and not slack off so his team doesn't get into trouble. That said, this was an easy pick.
2. Deron Williams
This is where it gets tricky. Deron's numbers are good, but he wasn't as good as we know he can be. That said, the Nets are just awful—he literally had to do everything this year and for the most part, did a good job doing it.
He needs a better team, but he also needs to improve his shot selection. Though his situation forces his hand, he needs to make better decisions at times.
3. Rajon Rondo
Rondo has improved this year as a player. He has been an elite passer, defender and slasher for a few years now. What he was having major trouble with was his jump shot and FT shooting.
Unsurprisingly, while Rondo is by no means a great shooter, he has improved in that department and he has improved his FT shooting too. The numbers may not reflect as much, but the Celtics' slow start, plus injuries, hindered early improvement.
Yet, there have been games where he has hit huge jumpers and even three-pointers, something teams dared him to do before. His passing is over-the-top excellent at this point, and he is the best defensive PG in the league today when it comes to staying in front of your man.
4. Russell Westbrook
In my opinion, Westbrook has regressed as much as he has progressed as a player. His scoring has improved, and his passing took a dip. Westbrook has that typical new-age PG mentality: score first, pass second.
While his field-goal percentage is solid at 46 percent, he often has had too many bad games, and he continues to jack up shots. He has the potential to be at the top of the list, but I doubt it. I can see what kind of a player he is and wants to be.
5. Derrick Rose
Rose and Westbrook are essentially the same player. One is a slightly better scorer, the other a slightly better passer. Neither can really play a lick of man-to-man defense, and both have a good supporting cast.
Like Westbrook, Rose often looks to score before pass, and they both love to get into chucker mode. Rose's athleticism and speed is unmatched by 99 percent of the league. His ability to drive and finish is elite.
But Rose needs to work on his game some more to move up a spot. Not to mention, the injuries have become a concern. One can't help but wonder if Rose has already peaked.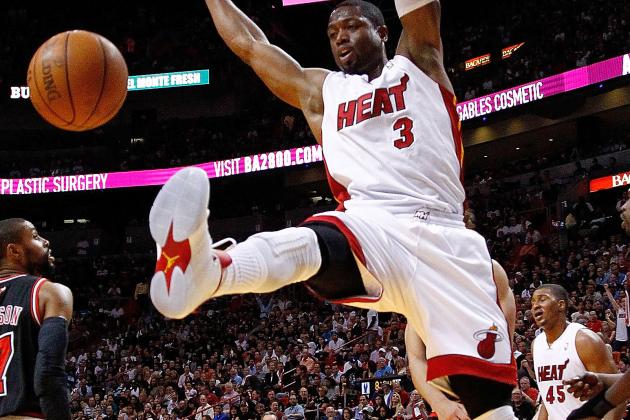 Mike Ehrmann/Getty Images

The top five NBA shooting guards are as follows:
1. Dwyane Wade
Always a tough pick, but I still stand that Wade is the best SG in the league today and has been for the past three to four years now. Wade is excellent in every facet of the game except three-point shooting.
His numbers were down, but the injuries were up. He sat out many games, probably due to the fact that LeBron is on the team, and he doesn't mind sitting games out and letting the younger and more durable LeBron carry the load.
Wade has often come to camp a bit out of shape, which is a problem. With the lockout and compressed season, Wade wanted to take as much time as he could to heal up small injuries. Coach also limited his minutes in many games.
I'll go out on a limb and say Wade is at times pretty lazy and has some diva in him due to the way he approaches some of the games. His numbers were down across the board, but so were his minutes.
Still, his PER is towards the top, and his play showed he is still the cream of the crop for players at his position.
2. Kobe Bryant
It's reasonable to have Kobe at No. 1. But there just isn't a strong enough argument to have him ahead of Wade.
People act like being the second best SG in the league is a horrible thing. That it's blasphemy to have Wade ahead of Kobe. That just isn't true. The truth is that Wade can score just like Kobe can.
The per-48 minutes stats show Wade is ahead of Kobe in every part of the game. Not to mention that while Kobe can still be a great defender, he just isn't as good as Wade in that department.
Wade is better at blocks, steals and man-to-man defense. Kobe's shot selection needs to improve—not sure that will happen at this stage though.
That said, there is no doubt Kobe has plenty of game. He is still a top-eight player really. His skill set is certainly worth bragging about, and his cockiness is something I applaud. Kobe is Kobe, and even at No. 2, he is still capable of winning an NBA championship.
3. Joe Johnson
While JJ has not lived up to his contract at all, he is still a very good player at his position. He does a lot of things for the Hawks and is still one of the best shooters in the game today. He also loves to hit the big shot and is an above-average defender.
4. Manu Ginobili
While age has caught up to him some in terms of nagging injuries, when Manu is on the court, he is still a terror. His game is crazy good, and he can be as good as any player on any given night.
Yes, Manu can still take over on occasion, and he will be a very big reason that the Spurs make a deep playoff run.
5. Tyreke Evans
The former lottery pick has had an up-and-down career, but there is no denying his talent and ability.
Evan's situation in Sacramento stinks, as they seem content to handing over the face of the franchise label to crazy Cousins. They also enjoy having Marcus Thornton and Isiah Thomas jack up shots to win games. No, won't work, ever.
Evans is a true talent who needs a change of scenery. He has elite size for a perimeter player and possesses the ball handling and passing ability to play extended stretches at the point. Hit shot needs major work, and he is extremely lazy, but if he gets it together, he can go far in this league.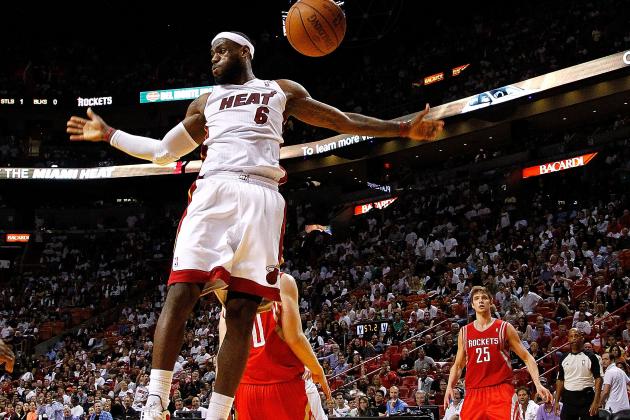 Mike Ehrmann/Getty Images

The top five NBA small forwards are as follows:
1. LeBron James
While LBJ is listed as a SF, the man has no real position. And it's not a real problem like with Tyreke Evans. LeBron is capable of playing positions 1-5 and excels at positions 1-4.
There is no need to explain here. His only flaw is not having a ring, but I'm not sure if that isn't so much a flaw as it is a criticism. Only time will tell.
2. Kevin Durant
This is also easy. Durant has all the skill in the world offensively. He still lacks on the defensive side of the ball, his passing can improve, and he needs to stop going into chucker mode so often.
That said, his chucking is really okay. He is a designated scorer, it's his job description, and he shoots 50 percent from the floor. You want to chuck? Go right on ahead, sir.
Another easy selection. Melo at times is the best player on the floor even when guys like Kobe, Wade, LeBron and Durant are on the floor with him.
Maybe he has stretches of inconsistency. He isn't a good defender and has often put his numbers first.
Melo, though, is still one of the top, if not the top, offensive force in the game. His skill set and variety of ways to score is amazing. He also carries the clutch gene but ironically has gotten passed the first round only once.
4. Rudy Gay
It gets a bit tougher at this spot, but Gay has been a monster this season. He is one of the better scorers in this league, and his numbers are impressive considering he has other scorers such as Marc Gasol, Zach Randolph, OJ Mayo and Mike Conley on his team.
Gay is a solid defender and a good leader. He also has a knack for hitting some big shots.
Gay is pretty athletic, but he can still improve his shot selection, and should actually be more of an elite defender considering his size and athletic ability. Gay at times disappears when he isn't scoring, which isn't something that helps his team.
5. Luol Deng
While Deng isn't great off the dribble, he is a very good player fundamentally. Deng is a very good defender, shoots the mid-range and three-ball with consistency and is a good rebounder for his position.
Deng is another guy who enjoys taking some big shots and has made plenty. Not only that, he always gives it 100 percent when he is on the court, thanks to his coach.
Unfortunately, he seems to get injured every season. While his shot creation and dribbling skills need to improve, Deng brings more than enough to the table to be a difference maker for any team.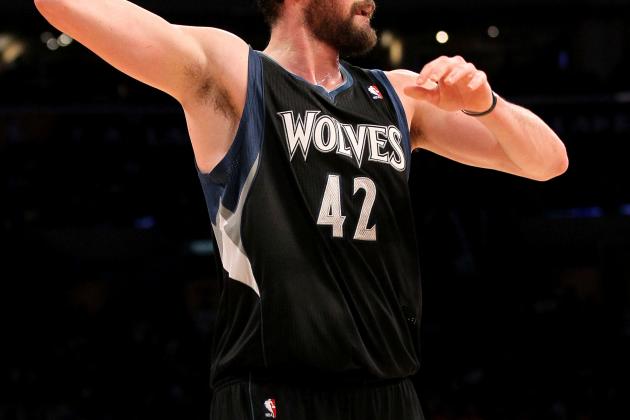 Stephen Dunn/Getty Images

The top five NBA power forwards are as follows:
1. Kevin Love
I appreciate Love's game, but it does bother me some that he plays only one side of ball. Yes, he is an excellent rebounder, but aside from that, he is pitiful on defense.
His offensive game, though, is insane. He can score inside and has a pretty good long-range jumper. He seems to always find ways to score, which makes him a high volume scorer.
He's a solid passer that excels at second-chance points. He shoots a good percentage, and for what it's worth, does all of this without much athleticism. He can still get better as a leader and as a winner, but there is time for that.
2. Pau Gasol
Perhaps not a popular pick here, but the truth is Gasol deserves this spot. Why? Because he is at least halfway decent on defense compared to some of the guys on the list.
He also can't be sold short on his offensive game. Gasol has a sweet jump shot from mid-range, a good post game and high pick-and-roll IQ. He is a solid shot-blocker, very good rebounder and good passer for a big man.
His problem is not always showing up, but when he does, there is no denying his importance. He was the real Finals MVP for the Lakers' title in 2010.
3. Dirk Nowitzki
There is no arguing that Dirk is one the best pure scorers of this era. Dirk has a borderline unstoppable jump shot and does have the ability to attack the rim, draw contact, and finish. Dirk has elite size and elite skill for a big man. He can really score with anyone in the league if he gets hot.
Yet, as always, he is horrible defensively. He gets a decent amount of rebounds and gets the occasional block, but we all know that doesn't tell the story.
Dirk started pretty slow this year, but he has been his old self in the second half. You would be foolish not to want him on your team, but just don't expect much defensively.
4. Chris Bosh
While his numbers are respectable, Bosh has at times struggled as a member of the Heat. There is no denying his skill, though.
Bosh is actually decent on defense, but he could surely be better. Bosh has a great mid-range jump shot and is pretty athletic and a good rebounder.
He sometimes gets the soft label thrown at him, and while that has some truth to it, it's not that simple. Being the third option has somewhat allowed people to forget how good Bosh is/was as a top option. He can single-handedly win games and brings a very good skill set to the table.
He needs to more of a force on the inside, but he deserves to be an All-Star.
5. Blake Griffin
I thought about putting LaMarcus Aldridge here, but Griffin has shown signs of utter dominance this year. I won't put him on a pedestal like some people like to, though. He is a beast inside, he has strength, power, and elite athleticism.
Griffin doesn't have a consistent jump shot and hasn't shown he can be a good defender. When he isn't bullying the opposition, he often resorts to taking some bad shots out of his comfort zone. He likes to flop some, but to his defense, he gets hit a lot too.
Griffin has a bright future with Paul by his side, and he is a force, but no one should realistically claim him to be the best PF in the game today.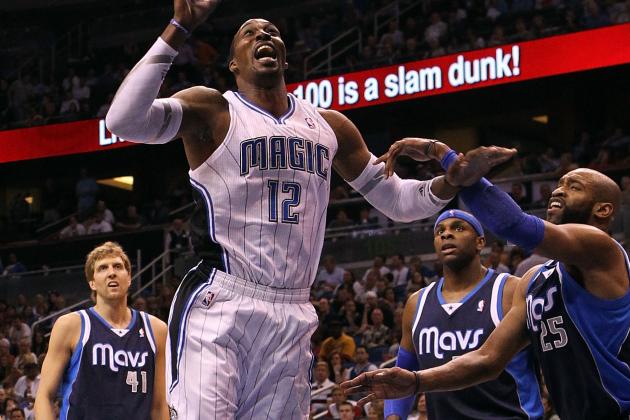 Sam Greenwood/Getty Images

The top five NBA centers are as follows:
1. Dwight Howard
He is dominant at his position. There really isn't anyone like him today. His abilities are unmatched. He still has a ways to go to being an elite offensive player, but he is just too good not to have the top spot.
2. Andrew Bynum
Movin' on up. It feels like yesterday when people were saying Bynum would never live up to the lofty expectations the Lakers had for him. Remember when Kobe wanted Kidd over Bynum and criticized Lakers' management?
Well, the Lakers were right, and Kobe was wrong. Bynum has become a very good player and an excellent center, considering the competition. He isn't as athletic as Howard, and he isn't the defensive presence Howard is, but Bynum can hold his own.
He is in the argument for most improved, honestly, and he still can get better. He is on his way to becoming a better offensive player than Howard and could become the face of the Laker franchise in the next couple of years.
3. Kevin Garnett
A natural power forward, KG was forced to play center after JO went down for the season. Since then, we have seen a rejuvenated KG playing in Boston.
Truly, KG has at times looked like the Minnesota version of himself since his move to center. It's possible he remains at center for the future. He has been a defensive anchor, and while his season averages are not that impressive, his numbers since his shift to center all went up.
But looking beyond the numbers, the truth is Garnett has been borderline dominant.I realize it's a strong word for the soon-to-be 36-year-old. I also realize he isn't nearly the same player he was a few years ago, but KG just might be the reason that Boston has one more big run in them this year.
4. Al Jefferson
If you have seen AJ play this year, you can't help but be impressed with him. He is a bully inside, and he just flat-out knows how to score.
He used to be considered nothing more than a stat stuffer, but Jefferson is the main reason the Jazz are in the playoffs. He's had his share of injuries, and he isn't worth much defensively, but AJ has been dependable when he is on the court including in tight games.
Like Deng and David Lee, he may never get the recognition he deserves, but don't worry, AJ, I'm watching.
5. DeMarcus Cousins
He is growing and growing fast. Cousins has been a player who has shown flashes of dominance this season. He is improving as a player, and while he has an attitude, he has an aggressive streak that is necessary in this league if you want to be taken seriously.
Cousins seems to be headed towards becoming the face of the Kings. He at times becomes a ball hog and tries to do too much. He also needs to improve his FT shooting and mid-range jump shot.
Anyway, Cousins is setting himself up to be a force in this league on both sides of the ball, so don't overstate his current shortcomings.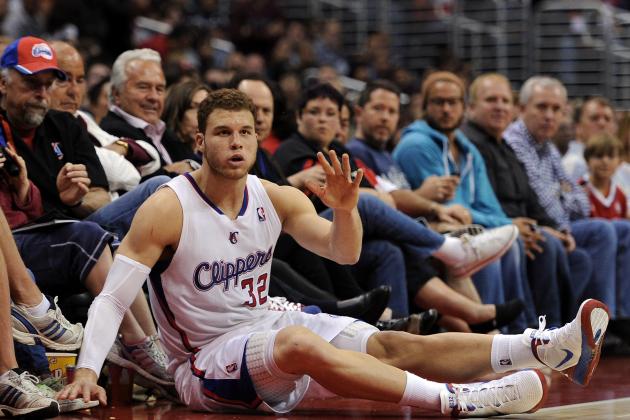 Harry How/Getty Images

Overrated:
Blake Griffin: He brings plenty to the table, but the hype has been a bit much. The game isn't all about dunking.
Derrick Rose: He is good in as many things that he isn't good at. He simply didn't deserve the MVP.
Amar'e Stoudemire: He is one of the better big men on offense even today. But too many questions surround his game and his health.
Monta Ellis: Great scorer with high energy. He finds as many ways to lose as he does to win. Much improvement is still needed.
Josh Smith: He does a lot of things, and he does them well. How come he never improved his jump shot or shot selection? Baffling.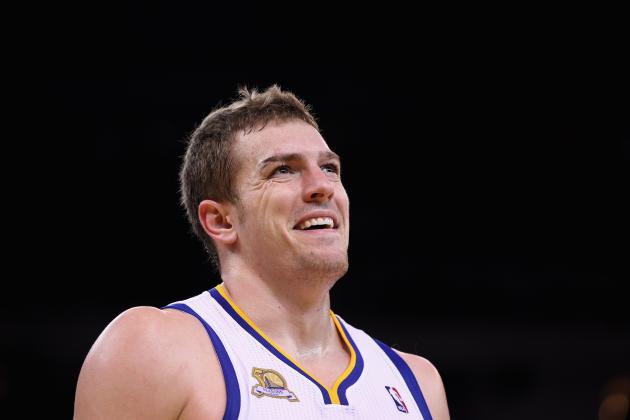 Ezra Shaw/Getty Images

Underrated:
Paul Millsap: Has been awesome so far as a starter, but the small market doesn't give him enough air time.
Goran Dragic/Kyle Lowry: The PG duo deserves to be mentioned together. Both players are great at their positions and arguably in the top 10.
Ersan Ilyasova: His improvement this year has gone under the radar, but he was really the Bucks' best and most consistent player.
Gerald Wallace: He gives and does so much on the court yet gets so little to show for it in terms of wins. It isn't his fault—he helps his team and is a warrior out there.
David Lee: In truth, he has quietly had his best season as a pro. His numbers are as good as they have ever been, and he was carrying the frontcourt load for Warriors all season long, with and without Ellis/Curry around.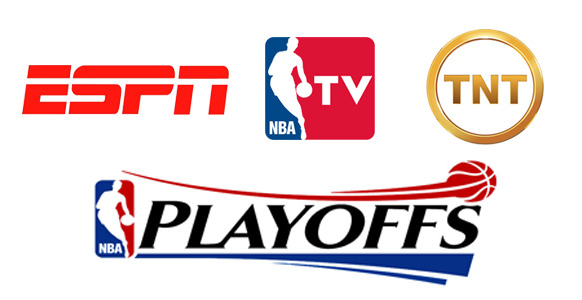 I will predict the winners of each series of the first round and update them for the second round when the series have been decided.
ROUND 1
EAST:
Chicago Bulls OVER Philadelphia 76ers (UPDATE: Sixers Win Series)
Miami Heat OVER NY Knicks (UPDATE: Heat Win Series)
Indiana Pacers OVER Orlando Magic (UPDATE: Pacers Win Series)
Boston Celtics OVER Atlanta Hawks(UPDATE: Celtics Win Series)
WEST:
San Antonio OVER Utah Jazz (UPDATE: Spurs Win Series)
LA Lakers OVER Denver Nuggets (UPDATE: Lakers win Series)
OKC Thunder OVER Mavs (UPDATE: Thunder Win Series)
Memphis Grizzlies OVER LA Clippers (UPDATE: Clippers win Series)
WORD:
I have the OKC vs Dallas series being the tightest series of the West that doesn't end in an upset. I know the Mavs came in limping, but I expect a different team in the playoffs. I think the Celtics Vs Hawks will be the tight series of the East, both teams have advantages over the other and a history.
Finally, I have the Grizzlies upsetting the Clippers. Don't get me wrong, the Clippers can win, and actually should win considering the hype/expectations of the CP3/Blake Griffin duo. I just have a feeling the Grizzlies find a way to win in an extremely competitive series
ROUND 2
EAST:
Heat OVER Pacers (UPDATE: Heat beat Pacers)
Celtics OVER Sixers (UPDATE: Celtics beat Sixers)
WEST:
Spurs OVER Clippers (UPDATE: Spurs beat Clippers)
Thunder OVER Lakers (UPDATE: Thunder beat Lakers)
The Conference finals, this is where the true big boys play. I expect some tough games here from the east and the west.
EAST:
Heat OVER Celtics (UPDATE: Heat Beat Celtics)
WEST:
Spurs OVER Thunder (UPDATE: Thunder Beat Spurs)
The NBA Finals are upon us and we could not have asked for a better match up. Two pairs of big 3's going at it with not much in support beyond them. Both teams have had moments where they look amazing, but the Heat more than the Thunder have had moments where they have played way below expectations. The series should be a tight one, I don't even want to make a prediction, because it could go either way, a few bounces could make the difference. I'll say this, if both teams play their best ball, then:
Finals: Heat OVER Thunder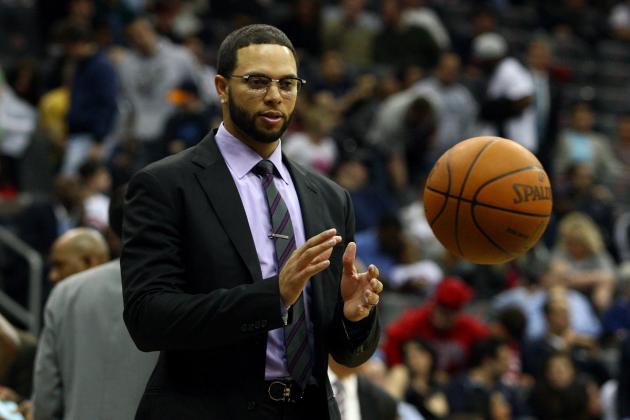 Chris Chambers/Getty Images
No More Nets Uniform?
No, it isn't the summer of 2010, but it's worth thinking about what could happen this offseason. The NBA has plenty to offer every year and every free agency period.
Chris Paul will no longer be a free agent. So what?
Dwight Howard will probably be on the block. Deron Williams is a prize. Goran Dragic will probably be the most underrated move of the summer.
The change in Boston is coming—we could see a whole new Celtics team this summer.
The Mavs have cap space, though they might come out empty-handed.
If the Heat happen to not win it all, there will be a change with the Big 3.
What kind of a team will Brooklyn get when the new season starts? Will it even feature Deron Williams? Will Lopez be healthy? Sorry, but that team just isn't exciting right now.
Steve Nash will join a contender. I think he joins Miami for a big discount.
The Wizards will improve more than the Raptors. John Wall will be the reason.
The Bobcats are the worst team I have ever seen. Ever. Honestly, Jordan is a terrible owner and a terrible GM. How dare he put out that product on the floor? Kemba is really the only player with a future there. Maybe Gerald Henderson. Everyone else is complete garbage, D-Leaguers and has-beens.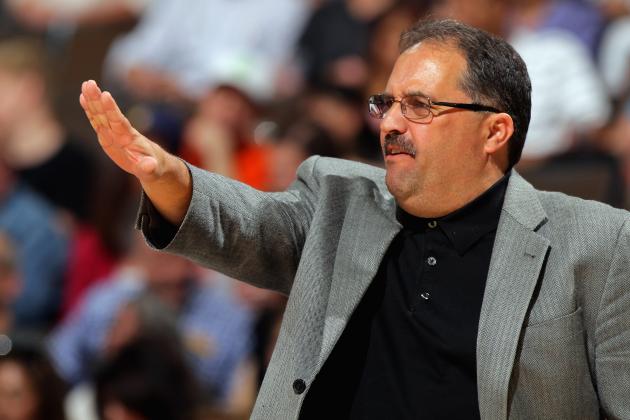 Doug Pensinger/Getty Images

Sadly, this is pretty much D12 here.
What is wrong with this guy? I'll tell you what's wrong with him.
The truth is this guy has major maturity issues. Not only that, he is running with a terrible group of people who are actually giving him bad advice. He admitted as much, and it could have been interpreted as an excuse, but it's true. It's the way of the world when you are as famous as he is.
The second truth is that Howard is just a bad person. Look, he isn't bad as in mean or violent. He is a bad person in terms of caring for others—a total egomaniac. He is one of many players who don't realize the privilege that is being in the NBA and making millions for playing basketball.
Dwight is full of excuses, but at least he was on the court when he could be. Maybe he quit on his team getting the back surgery, but I don't think he did, so I don't know the truth to that story.
I feel sorry for Stan van Gundy. He isn't a great coach, but he is one of the better coaches in the league. He has been treated like crap by the Magic franchise and by Howard. It's disgraceful.
Honestly, Howard has been an absolute clown. He is an elite player, but he is an elite distraction too. His team is doomed without him, which shows why he should be in the MVP running every year. All I can say is I hope he gets his act together.
My prediction is that he will not remain with the Magic passed next season. Even if he wants to stay, why go through all the trouble? The Magic will eventually trade him for the best package they can get.
UPDATE: Magic open to trading Howard in the summer (Like I said, Don't see Howard getting passed next season, but maybe this is even earlier than I expected)
Fellow B/R members and writers.
The state of the game is in dire need of some change. Not more than European Futbol, but nevertheless, in need.
The flop must be stopped. No, not the charge, but the flop. It's a cheap tactic that changes the course of games, and while refs usually get it right, there has to be a line drawn at the point where if it's too silly, you get penalized for it.
Tanking is not something I support. Yes, at the end it may provide for a better team the following year because of the high draft picks. But is it fair at all that teams shut down players for no reason and fans are forced to take in that garbage on TV or even worse, at the arena? Might as well go watch a street ball game for free.
Tanking doesn't guarantee anything in the NBA. The league should simply slim down the lottery teams and give them equal chance at the highest pick. Not only that, winning should have an incentive for owners—monetary compensation, from the league.
Also, if it is reasonable for a player on a non-playoff team to play the game, and he doesn't play, why should he be paid for that game? These questions must be answered.
Metta World Peace should be an illegal name if you were once formerly known as Ron Artest. Or associated with in any way. That is all.
Finally, players who demand trades should be fined. They should honor their contracts and have no complaints about where their teams are. They can do as they please as free agents, but if you are under contract and you cause drama, there should be hefty fine sent to your mail box. Talking to you, Dwight.
Thank you, B/R members, for entering the truth chambers. I'm sure some will come out hurt. But yes, the truth hurts. The truth serum is wearing off by now if you actually read the whole thing. But appreciate just for a minute, that while you were in this zone, you were experiencing a reality check.
Yours Truly,
JC Brioso
P.S. I Predict the Miami Heat will be 2012 NBA champions.
P.P.S. Just because you hate or love someone, doesn't mean you should deny the Truth.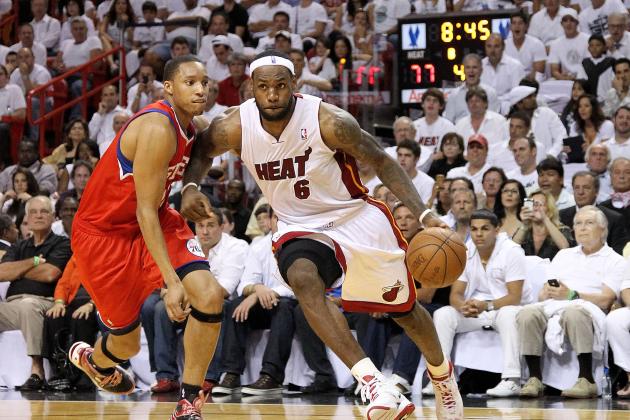 Mike Ehrmann/Getty Images

@HoopIdea: 76ers G Evan Turner, when asked what it would mean to face the Bulls in Round 1: "It means we're dodging the tougher team."
This is more true than ever now with Derrick Rose going down for the season with a torn ACL. Hate to see players go down, and it's a bit tougher when it's star players. These types of injuries usually take 10-12 months to get back to being as you were before. Luckily, Rose is very young, he will only turn 24 for next season. Hopefully, Rose can come back healthy next year.