50 Things We've Learned About the NBA This Year, All-Star Break Edition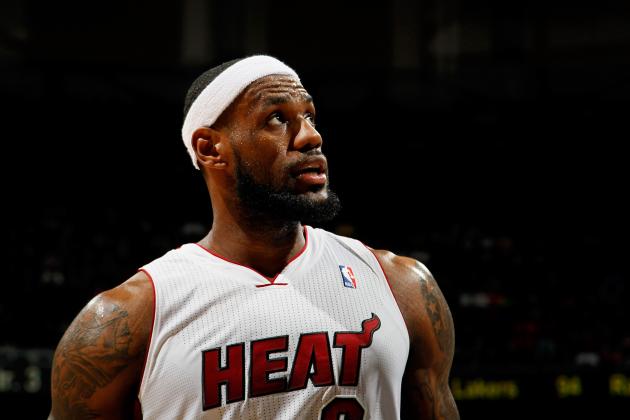 Kevin C. Cox/Getty Images

The NBA has been nothing short of amazing since the lockout ended last November, and we've learned a thing or two about the league we love in the months since basketball began again.
The Miami Heat look like the team to beat this season despite the fact that the defending champion Dallas Mavericks are coming on strong heading into the All-Star break.
Kobe Bryant is among several players who are making a strong case for the league MVP award as he continues to elevate an awkward Lakers lineup to new heights night in and night out.
But it's not only the usual suspects dominating the headlines this winter, young point guards Ricky Rubio and Jeremy Lin have taken the NBA by storm and are both drawing comparisons to basketball legends already during their short stints in the league.
It doesn't stop there though.
Join Bleacher Report as we run through 50 things we've learned about the NBA thus far this season.
Patrick Clarke is a Featured Columnist for Bleacher Report. Follow on Twitter @PatClarke
Begin Slideshow

»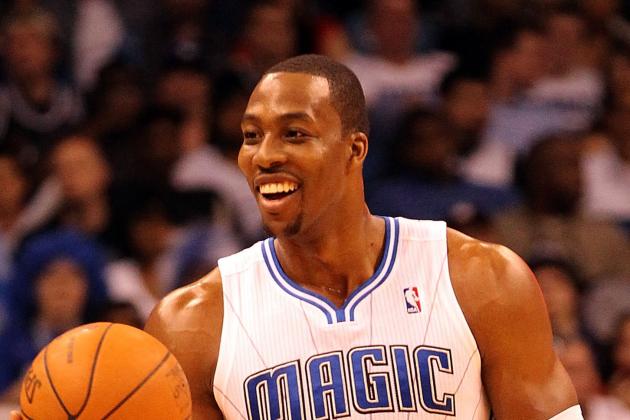 Sam Greenwood/Getty Images

Dwight Howard is not happy in Orlando playing with the Magic, but he wouldn't like to be traded just anywhere.
The league's leading rebounder, averaging more than 15 per game has a wish list of teams which you could count with one hand.
Odds are unless the Mavericks, Lakers, Nets or Bulls come calling for Superman's services, he'll be in Orlando until the offseason. That's when things get fun.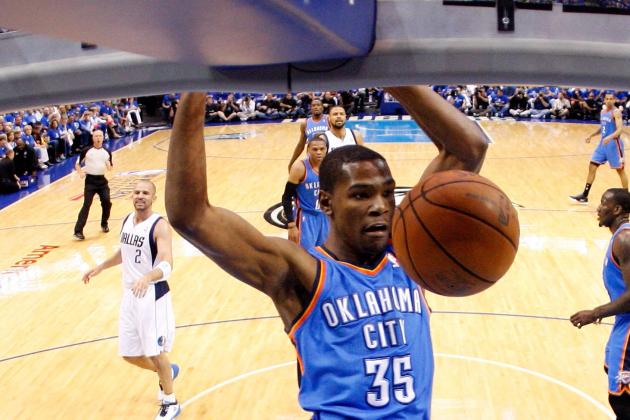 Ronald Martinez/Getty Images

Despite playing alongside a point guard who takes nearly 19 shots per game in Russell Westbrook, Kevin Durant is quietly averaging 26.8 PPG and 8.2 RPG this season for the Thunder.
Westbrook only averages two more assists per night than Durant, who is not the point guard and not the primary ball handler.
Despite this unfortunate fact, the Durantula is still shooting better than 50 percent from the field this year.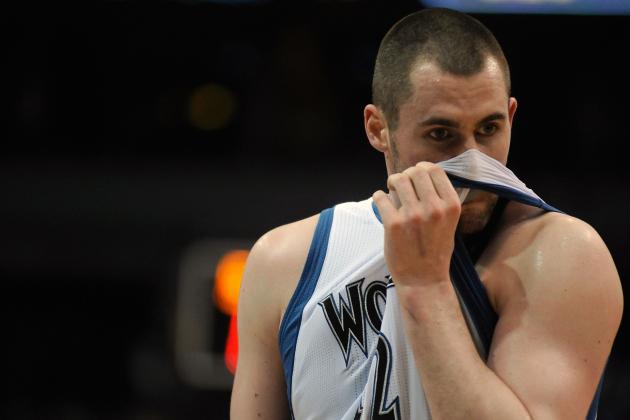 Hannah Foslien/Getty Images

The former pudgy kid at UCLA is now averaging a jaw-dropping 25.8 PPG and 14.2 RPG.
Love's ridiculous numbers this season have the Minnesota Timberwolves battling for a playoff spot in the Western Conference for the first time since Kevin Garnett was calling the shots.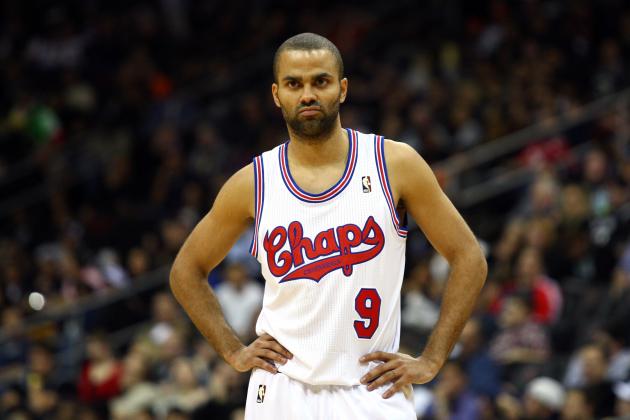 Chris Chambers/Getty Images

The top three teams out west are within 3.5 games of each other.
The top five teams are within five games of each other.
The top eight seeds are within 6.5 games of each other.
It's close.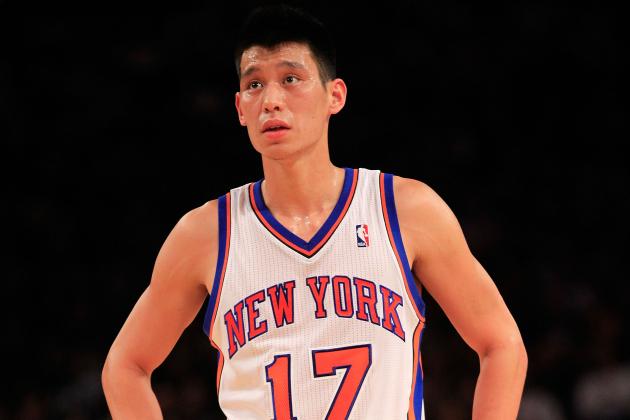 Chris Trotman/Getty Images

Jeremy Lin came off the Knicks' bench and then out of nowhere this February to capture the Big Apple and ultimately the nation by storm.
The second-year point guard has since energized New York and put the Knicks in position to contend following the All-Star break.
"It's Linsane," "Linning," and "Just Lin Time" are just a few of the Jeremy Lin pun-headlines that have graced the pages of some of New York's most prestigious newspapers since he came onto the scene just weeks ago.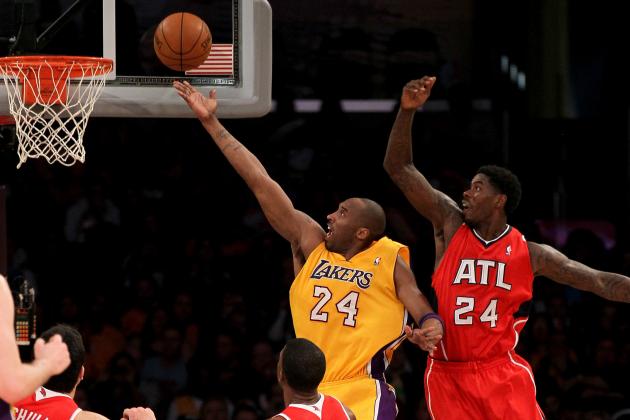 Stephen Dunn/Getty Images

No player in the NBA is taking as many shots as Kobe Bryant this season.
The Black Mamba is attempting 24 shots per night, oddly enough the same figure that graces the front and back of his LA Lakers jersey.
Bryant leads the league in scoring while averaging just under 29 points per contest.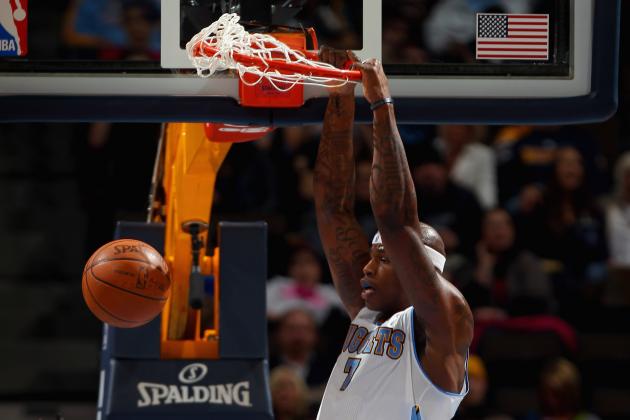 Doug Pensinger/Getty Images

The Denver Nuggets are alive and well in the Western Conference this season despite dumping Carmelo Anthony on the New York Knicks mid-season last year for nearly half the Knicks' roster.
The superstar-less squad got off to a hot start but has since cooled heading into the All-Star break. Only the Miami Heat score more points per night than the Nuggets, who average more than 103 per game as a team.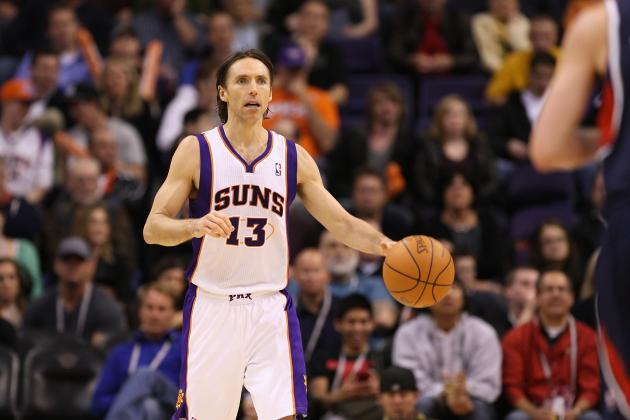 Christian Petersen/Getty Images

Age is but a number, and at 38 two-time league MVP Steve Nash is proving that professional point guard dominance knows no prejudices.
The veteran floor general has been torching players nearly half his age all season long, leading the league in assists while shooting a career-best 55 percent from the field.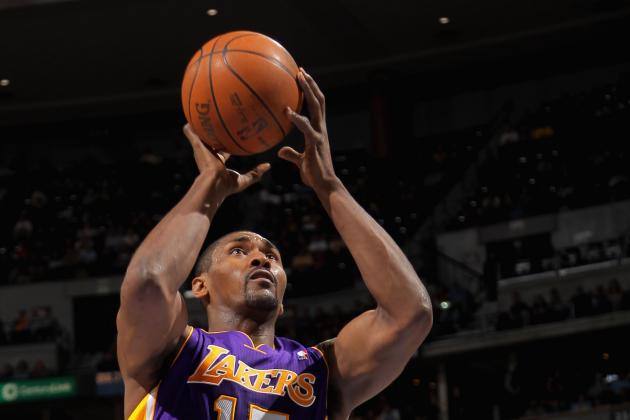 Doug Pensinger/Getty Images

After starting all 82 games for the LA Lakers in 2010-11, Ron Artest decided it would be in his best interest to change his name to Metta World Peace.
Since the name change his minutes, scoring and shooting stats have all plummeted.
If World Peace doesn't step it up, he'll be changing his name to Ron Amnesty. After all, he is shooting a pathetic 20 percent from beyond the arc this season.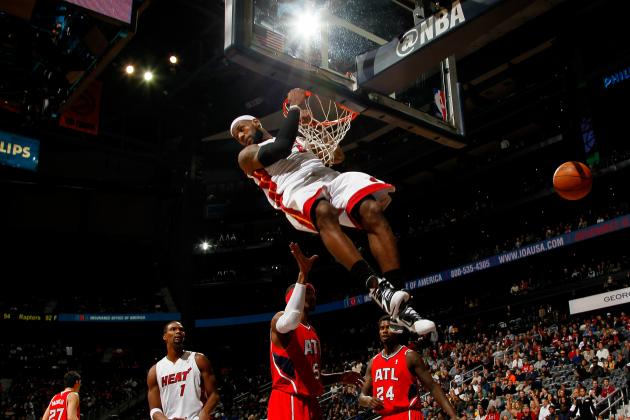 Kevin C. Cox/Getty Images

As one of the most athletic players in the history of the sport, LeBron James was built for the dunk contest, yet he continues to dodge it.
It seems LeBron's fear of failure is not only limited to the Finals.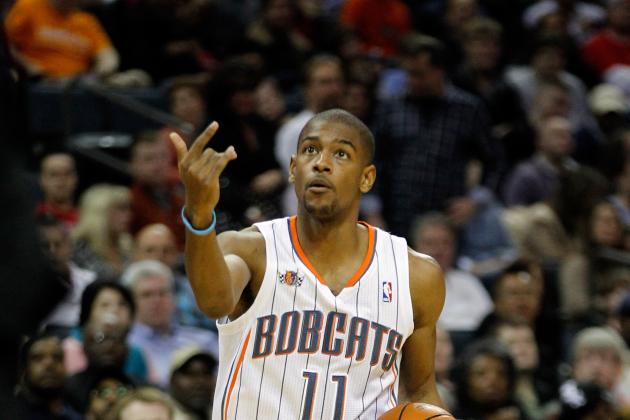 Streeter Lecka/Getty Images

The four-win Charlotte Bobcats have been on the wrong end of blowouts all year long, dropping nearly 30 games by the All-Star break during a lockout-shortened season, yikes.
Charlotte's -14.3 scoring differential is the worst in the NBA this season and the only minus differential in the double digits.
Michael Jordan may want to contemplate coming back out of retirement.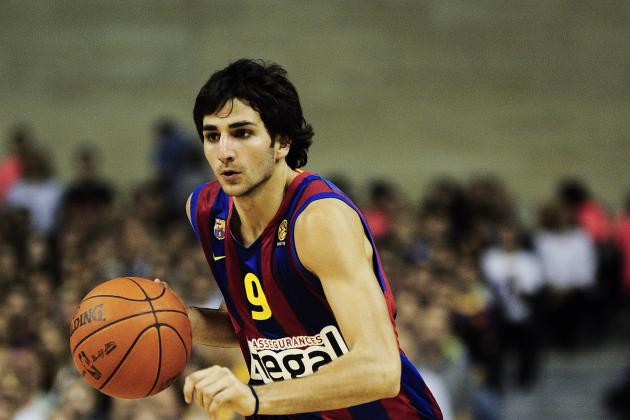 David Ramos/Getty Images

Whether it's a result of playing alongside Kevin Love or the new bearded look, Spanish point guard sensation Ricky Rubio has been making the doubters (including myself) look like fools this season.
Rubio is averaging 11 points and 8.6 assists per game this season with the surprise T-Wolves.
Although the Pistol Pete and Steve Nash comparisons were a little premature, he's on his way after a strong start to his rookie campaign.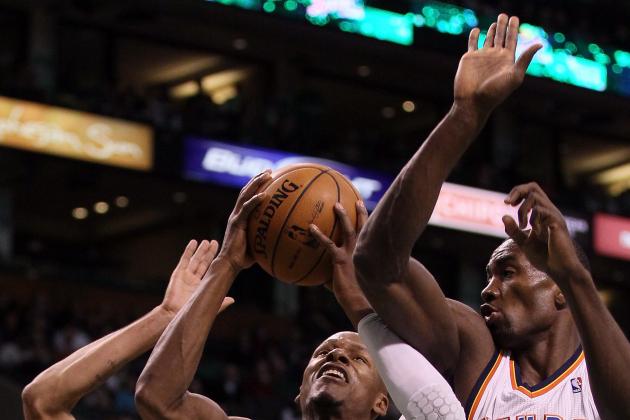 Elsa/Getty Images

No one is blocking more shots this season than OKC's Serge Ibaka. Ibaka is averaging three stuffs per game with the playoff-bound Thunder.
With Kendrick Perkins intimidating opponents on the other side of the paint, Ibaka has been free to roam and send shots into the stands as if they were promotional t-shirts.
Chris Trotman/Getty Images

After a brief stint in China, scorer extraordinaire JR Smith decided to sign with the Jeremy Lin-led NY Knicks, meaning that Spike Lee will no longer be the most animated personality on the court at MSG.
Smith's intense and often reckless style of play will either be the x-factor that sends the Knicks deep into the playoffs in 2012, or the scapegoat for why they implode at some point late in the year.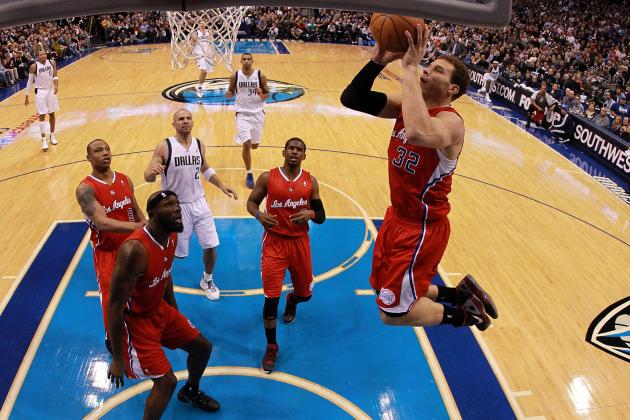 Ronald Martinez/Getty Images

If we thought Blake Griffin was benefiting from "flubber" on the bottom of his sneakers last season, then he must have activated the moon gravity cheat code this year with Chris Paul playing point guard for the Clips.
With Paul getting in on the fun, Griffin has been a mainstay on SportsCenter's Top 10 plays and posters across America.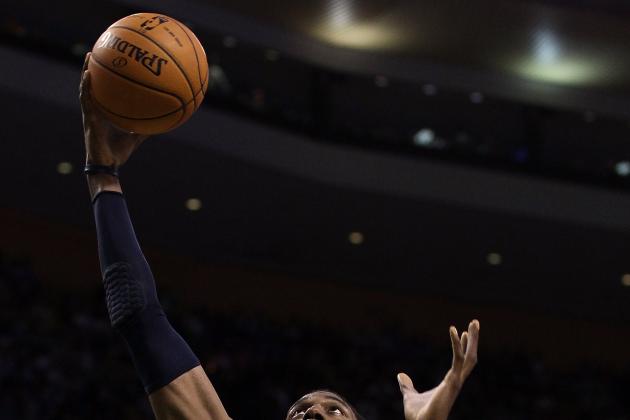 Elsa/Getty Images

The Indiana Pacers' 7'2" center has improved every season in the league, and is shooting above 50 percent this season with the surging squad.
Hibbert is playing a career high 30 minutes per game this season, but making the best of it, averaging 13.4 PPG and 9.6 RPG.
The Pacers are the fifth-best rebounding team in the league thanks to the big fella.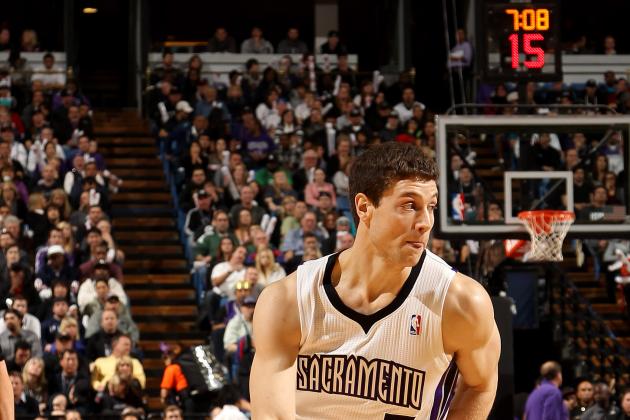 Ezra Shaw/Getty Images

There have been no spectacular half court 3-pointers this season from Jimmer Fredette.
Instead the rookie guard is struggling to find his groove with the disappointing Sacramento Kings.
Fredette is averaging a mediocre eight points per game this season on 37 percent shooting from the field and beyond the arc.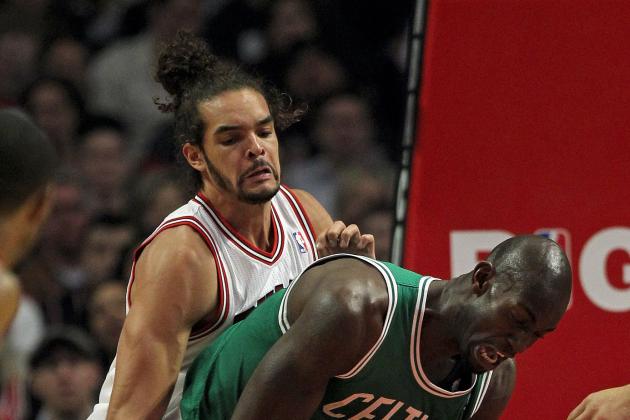 Jonathan Daniel/Getty Images

Despite being one of the top defensive teams again this season, the aging core of the Boston Celtics is struggling to rebound and put the ball in the basket.
The C's rank 26th out of 30 NBA in scoring offense and dead last in the league in rebounds per game.
Although Boston rebounds as a team, they do it poorly, and that doesn't bode well for a deep playoff run this spring.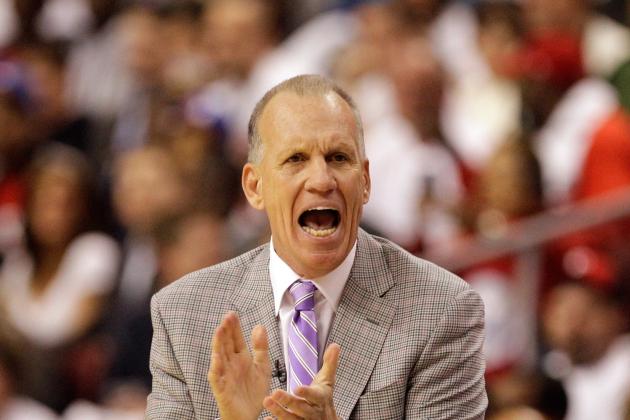 Rob Carr/Getty Images

After claiming a moral victory in the first round of the playoffs last season by taking the star-studded Miami Heat to five games, Doug Collins has his Philadelphia 76ers leading the Atlantic Division and poised for a solid playoff spot.
Collins' Sixers play the best defense of any team in the league, and that staple of success has Collins the favorite to take home COY honors at season's end.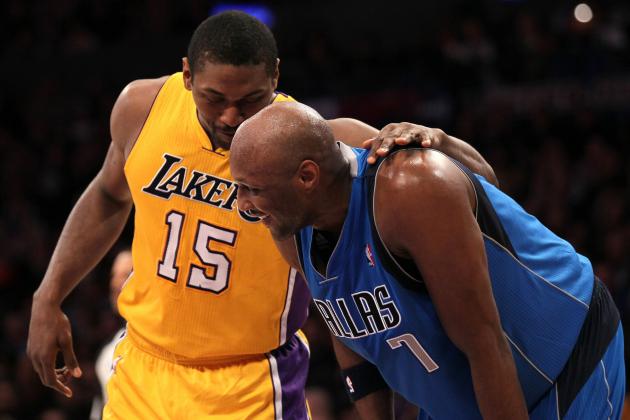 Stephen Dunn/Getty Images

The blown-up trade before the start of the season involving Chris Paul to the Lakers which would have sent Pau Gasol and Lamar Odom packing clearly struck a chord with one Lamar Odom.
Long story put short: Odom got sad, was traded to the defending champion Dallas Mavericks, and has since proceeded to shoot a career worst 36 percent from the field while averaging a career low in minutes played, points, assists and rebounds per game.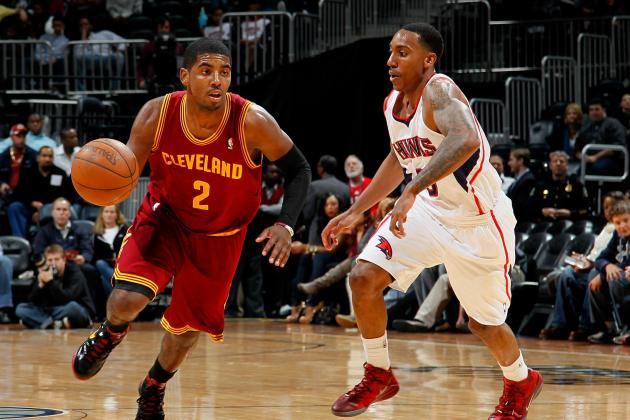 Kevin C. Cox/Getty Images

Kyrie Irving is living up to the hype of becoming the No. 1 overall pick in the NBA Draft.
Irving is averaging more than 18 points and four assists per game for Cleveland, while shooting 48 percent from the field and a scorching 42 percent from downtown.
Irving leads all NBA rookies in scoring this year.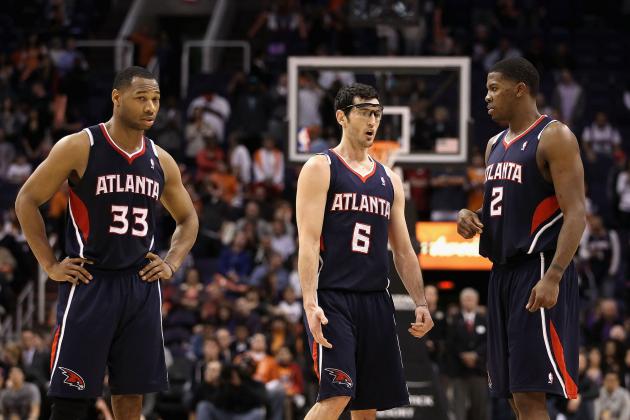 Christian Petersen/Getty Images

There is nothing special about the Atlanta Hawks.
They don't defend as well as the Chicago Bulls, and they don't have a superstar like Derrick Rose in their lineup to put them over the top in the postseason.
They lack the star power of the Miami Heat, and lack the offensive firepower to keep up with LeBron James, Dwyane Wade and company.
For now they can enjoy their winning record and eventual playoff berth before it all falls apart in the first or second round of the playoffs, like it always does.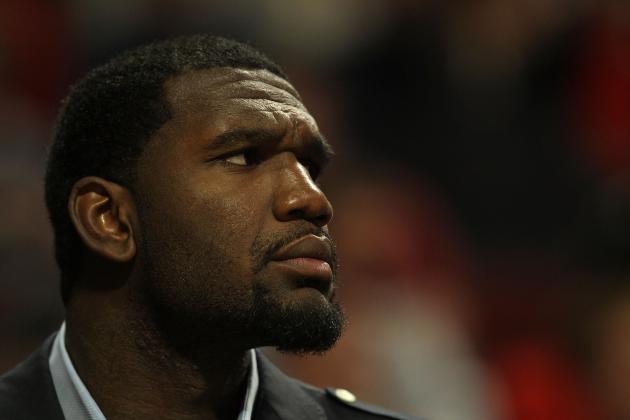 Jonathan Daniel/Getty Images

Not long ago the Portland Trail Blazers drafted Greg Oden No. 1 overall ahead of Kevin Durant.
Sure, it was big mistake, but the recent knee injuries and setbacks that Oden has suffered make that decision look arguably the worst in NBA history.
Oden hasn't played since December 2009, and two years later he's still having surgeries and suffering setbacks.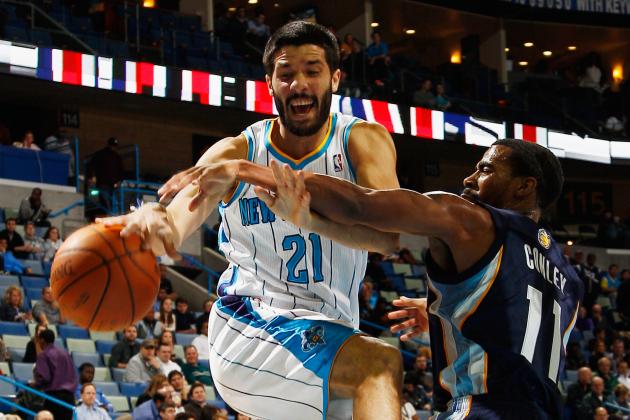 Chris Graythen/Getty Images

The Southwest Division is proving tough this season, as four teams boast winning records and seem poised for the playoffs.
Only the Chris Paul-less New Orleans Hornets look lottery-bound at this point heading into the All-Star break.
The Hornets are 10 games back from the next team in the division.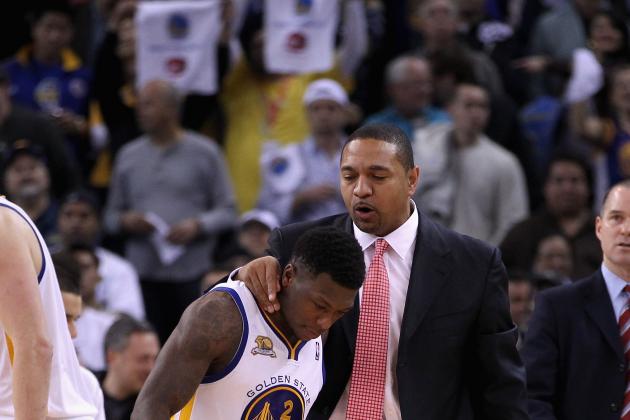 Ezra Shaw/Getty Images

First-year Golden State Warriors head man Mark Jackson is struggling to keep .500 in his squad's sight.
Golden State is primed for a lottery pick this summer, and unless the Warriors can land a superstar before the trade deadline, it seems Jackson's time by the Bay will be short-lived.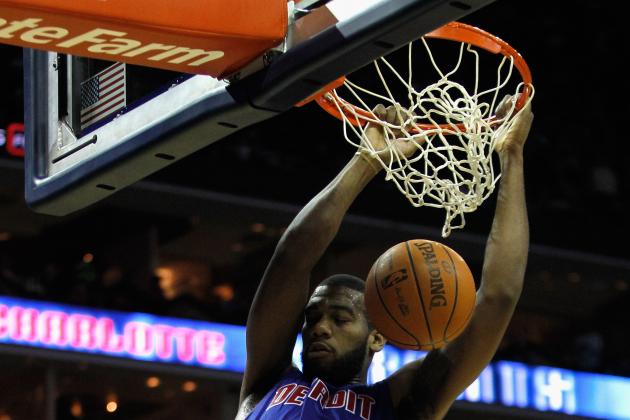 Streeter Lecka/Getty Images

Despite the lack of success experienced by the Pistons in Motor City over the past few seasons, their young and underrated center, Greg Monroe has been a bright spot all season long.
Monroe is leading the team in points and rebounds while shooting nearly 52 percent from the field.
The Georgetown product has helped the Pistons win seven of their last nine overall.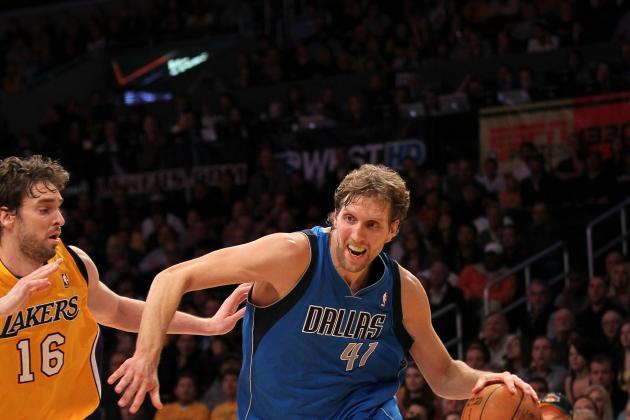 Stephen Dunn/Getty Images

Dirk Nowitzki came back from the lockout fat and happy, not literally of course.
Thus far this season his numbers are down, averaging less than 20 points per game for the first time since 2000, and shooting his worst percentage from the field since 2005.
He had to take some time off for conditioning purposes early in the year, and the Mavs hope that will lead to improvement once the postseason arrives.
Jonathan Daniel/Getty Images

Brandon Jennings is leading the Milwaukee Bucks in scoring and assists, but his fading team is in desperate need of some help if they are to make a run at the postseason this year.
The Bucks are falling farther and farther under .500 and lack a legitimate scorer to help take the pressure off Jennings.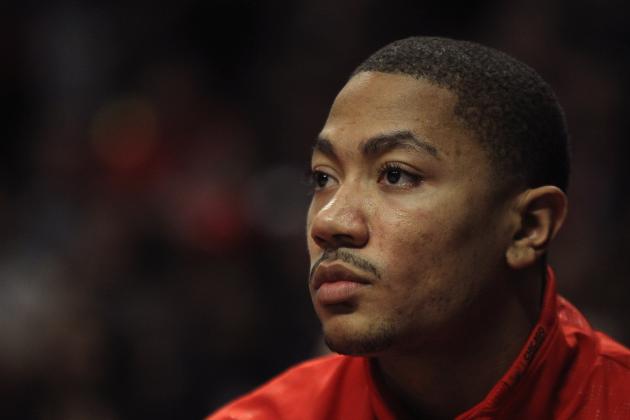 Jonathan Daniel/Getty Images

Derrick Rose has been hampered by back spasms this season and has missed a significant number of games heading into the All-Star break.
The Chicago Bulls will only go as far as No. 1 takes them however, meaning that he will need to continue to rest on the sideline for Chitown to have even the slightest chance at winning the East this spring.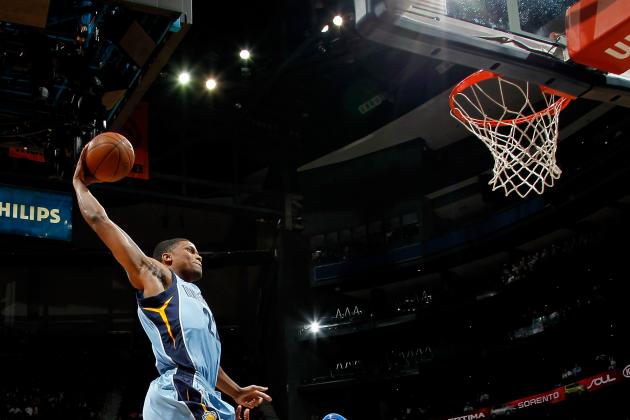 Kevin C. Cox/Getty Images

Rudy Gay was missing from the Memphis Grizzlies' lineup all of last postseason, and they still came within a game of the WCF.
This season Rudy is back healthy and leading the team in scoring, averaging close to 19 points per game for a squad missing arguably its best player in Zach Randolph, who tore his MCL four games into the year.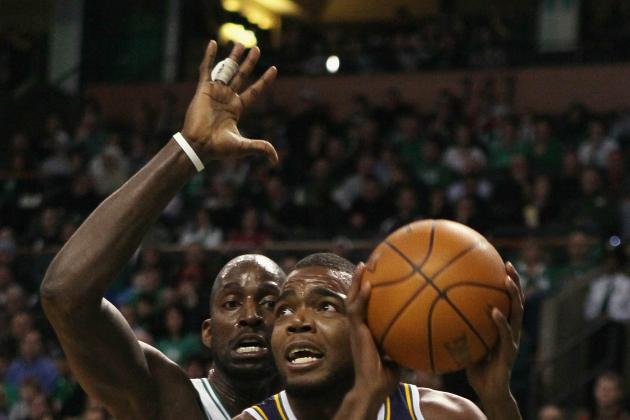 Elsa/Getty Images

The No. 1 reason for the Utah Jazz's early season success has to be because of the presence in its front court.
Both Al Jefferson and Paul Millsap are averaging more than nine boards per night for the Jazz, who could find themselves battling for an eight seed late in April.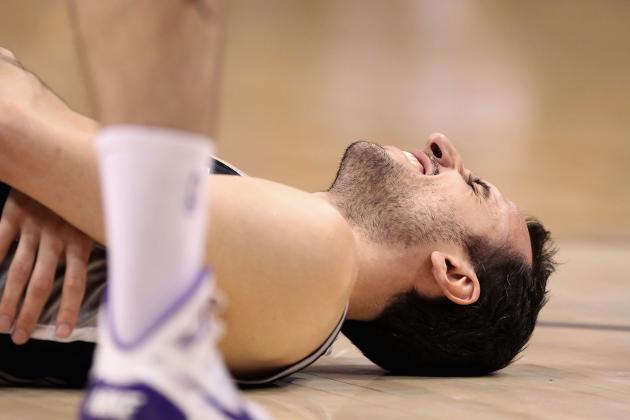 Christian Petersen/Getty Images

Manu Ginobili has missed most of the season because of a hand and oblique injury, and at age 34 it seems the injuries are only going to become more and more frequent.
The Argentine's style of play and role as the top dog on an aging Spurs squad has no doubt contributed to his setbacks, but don't expect him to return to form anytime soon.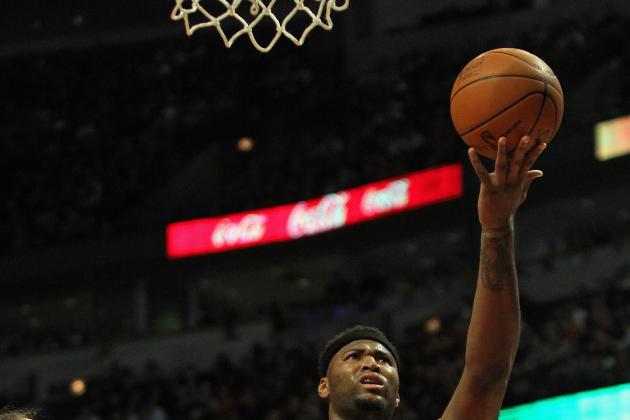 Jonathan Daniel/Getty Images

Second-year center DeMarcus Cousins is constantly in the doghouse in Sacramento despite leading the team in rebounding and consistently being one of the top scorers on the Kings' roster.
When things don't go his way though he tends to show his displeasure, and that's unfortunate for a guy who has so much potential in the league.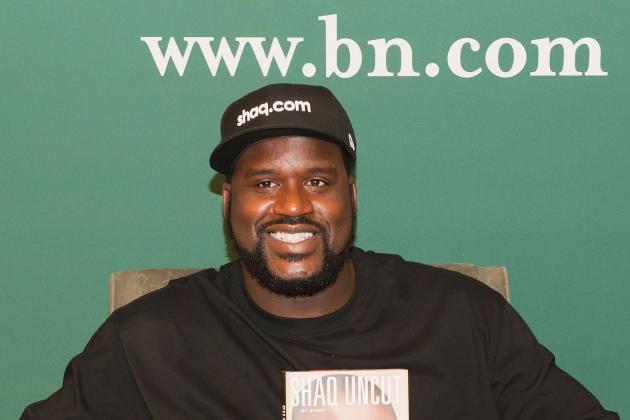 Slaven Vlasic/Getty Images

Shaq certainly knows a thing or too about basketball, but he is hardly proving to be as funny and enjoyable as Charles Barkley during TNT's NBA coverage this season.
The Big Aristotle has been dropping insight all year long, but perhaps the TNT set was only intended to seat one goofy legend.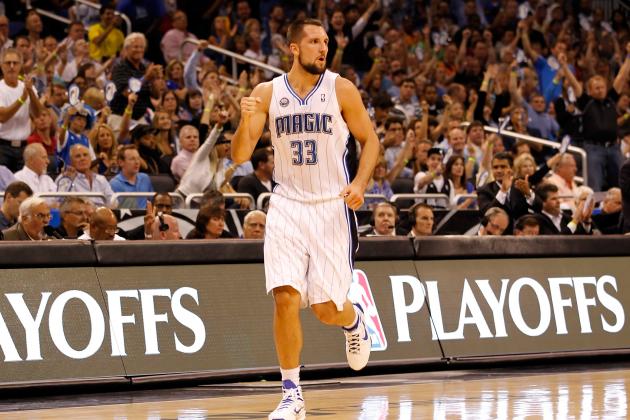 J. Meric/Getty Images

No player in the league has knocked in as many 3-pointers than the Magic's Ryan Anderson this season. He hits roughly three per game.
Anderson has 93 three's to his name halfway through the year as the All-Star break approaches, which is 23 more than the next guy in line.
He will put his shooting talents on display in Orlando on All-Star Saturday night in the 3-point shootout.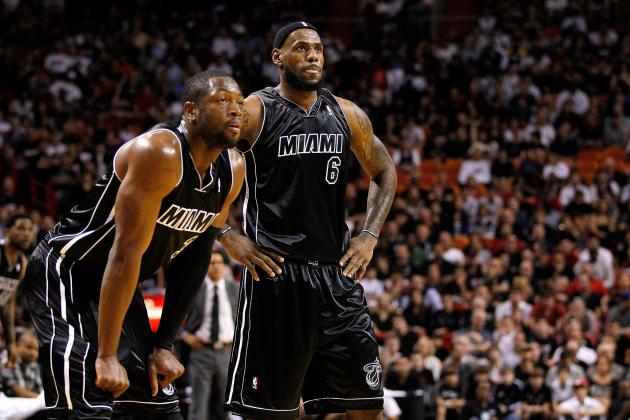 Mike Ehrmann/Getty Images

The Miami Heat boast the Eastern Conference's best record nearing the All-Star break and it's no surprise considering they ransacked the conference last spring en route to making the franchise's first Finals appearance since 2006.
With superstar talent all across the board, the Heat, who boast the league's top offense look to be the team to beat in the East.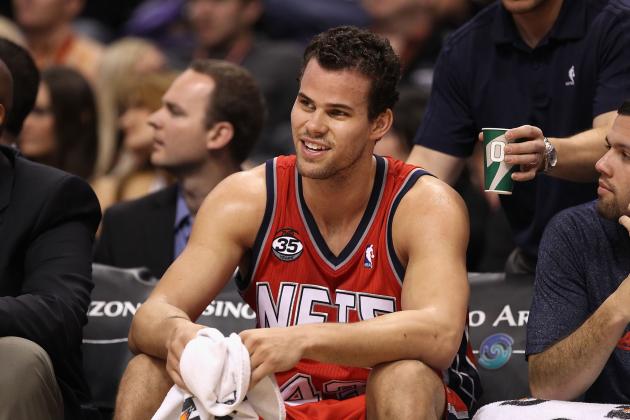 Christian Petersen/Getty Images

The 27-year-old former Mr. Kim Kardashian is leading the New Jersey Nets in rebounding for the second straight season.
However his strong year with the Nets has been quite surprising, considering that he is averaging more than 10 boards per game just months after his much-publicized break up with one of Hollywood's finest.
Humphries' marriage to Kardashian lasted just 72 days.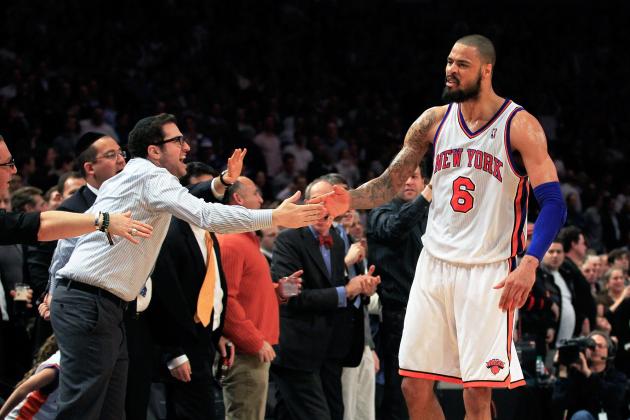 Chris Trotman/Getty Images

NY Knicks' center Tyson Chandler is looking to take a different team to the Finals in 2012, and he is certainly going about it in an efficient manner.
Chandler leads the league in field goal shooting percentage, shooting better than 70 percent from the field.
The big man makes close to four shots per game on less than six attempts, efficiency.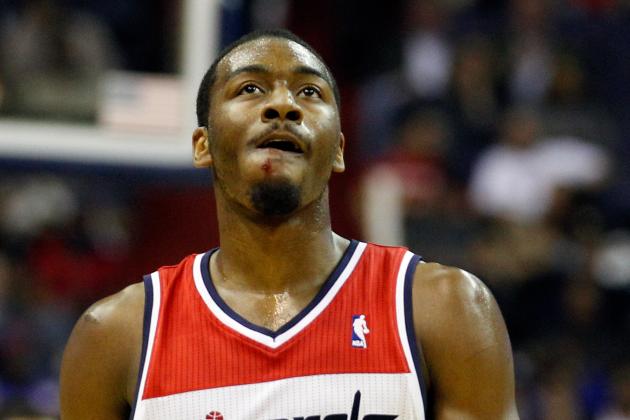 Rob Carr/Getty Images

The average age of a Washington Wizards player is just over 25, meaning that the sorry ways of the Wiz can be explained by their lack of veteran leadership and experience.
The future looks bright with talent like John Wall and JaVale McGee, fans in DC will have to suffer for right now until the front office shakes things up with a trade or Washington's stockpile of lottery picks pan out.
Only the Kings and Timberwolves are younger.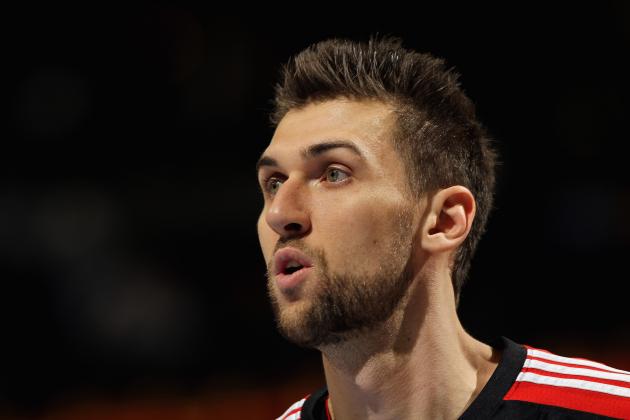 Doug Pensinger/Getty Images

The struggling Toronto Raptors could certainly use the services of their leading scorer Andrea Bargnani, who has missed a ton of games already this season because of a calf injury.
The seven-foot Italian was averaging more than 23 points per game for the only Canadian-based NBA franchise before going down.
He is expected back after the All-Star break.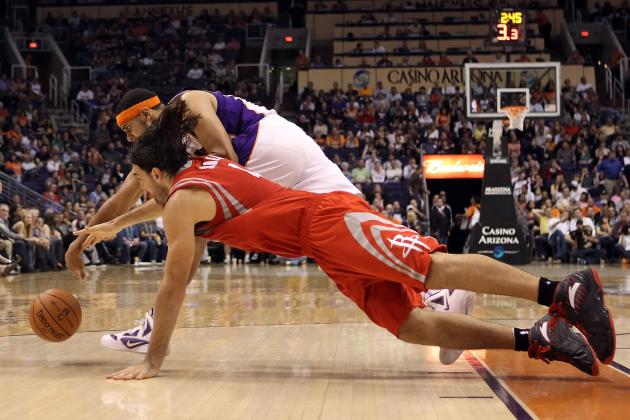 Christian Petersen/Getty Images

After getting out of the gates slow this season, starting 3-7, the Houston Rockets have since found their groove and look to be a potential playoff team this year.
Houston's Luis Scola made news earlier this season when he had his head stomped on by Minnesota's Kevin Love.
Scola did not retaliate but the Rockets are instead getting revenge by blasting teams who come into their building, where they are 12-4 this season.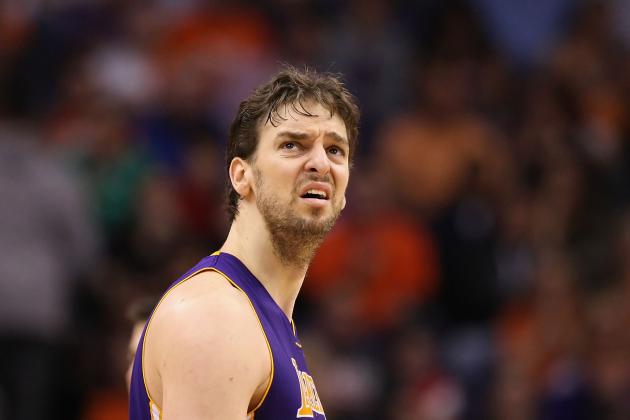 Christian Petersen/Getty Images

Whether it's the LA Lakers making a move for Dwight Howard, or the Houston Rockets doing everything in their power to acquire a proven big man in Pau Gasol, a blockbuster trade is brewing in the NBA.
The deadline is scheduled for March 15 and the All-Star break will provide GM's around the league with ample time to weigh the pros and cons of adjusting their roster.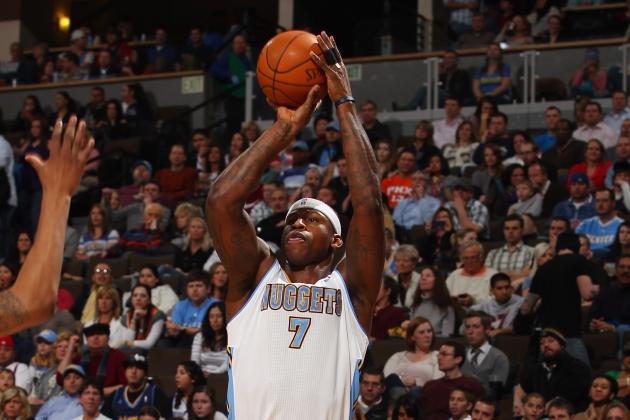 Doug Pensinger/Getty Images

There are a handful of players still very much alive in the race to win sixth man of the year.
Al Harrington, Mo Williams, James Harden, Jason Terry, Jamal Crawford and Lou Williams are among those playing the best basketball right now, but no one is a clear favorite heading into All-Star weekend.
Christian Petersen/Getty Images

Dwight Howard's former backup in Orlando is quickly becoming one of the more dominant big men in the NBA.
Phoenix Suns' center Marcin Gortat is averaging a double-double this season alongside Steve Nash, who is also averaging a double-double himself.
Gortat's 19 double-doubles this season rank fifth-most in the league.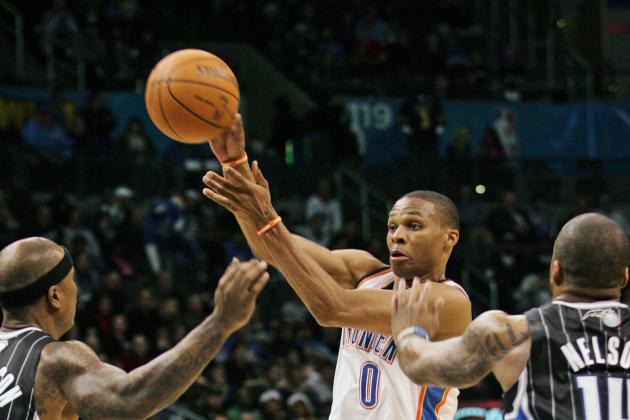 Brett Deering/Getty Images

OKC's Russell Westbrook is officially the most careless point guard in the NBA this season.
Westbrook averages 4.3 turnovers per night and rocks a pitiful 1.3 assist to turnover ratio this year despite playing on an offensively-loaded squad in the Thunder.
What makes Westbrook's sloppy style of play so unacceptable is the fact that he has Kevin Durant in his back court, and when in doubt he can give the ball to the Durantula and watch.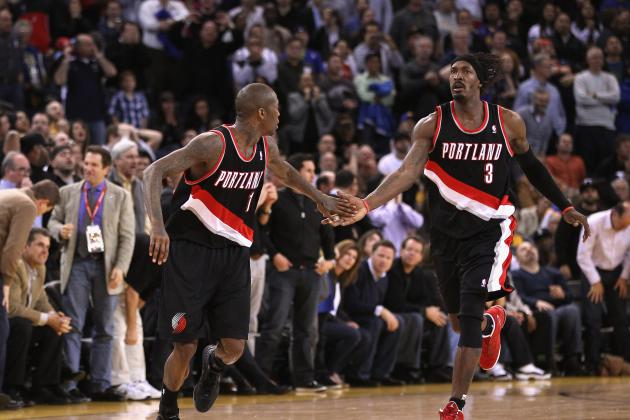 Ezra Shaw/Getty Images

What do the Portland Trail Blazers and the Atlanta Hawks have in common this season?
Both are current playoff teams that boast their conference's worst record against teams above .500 thus far in 2011-12.
The Blazers are just 8-10 against winning teams this season, and that means their playoff experience would be short-lived if they can hang on to their current spot.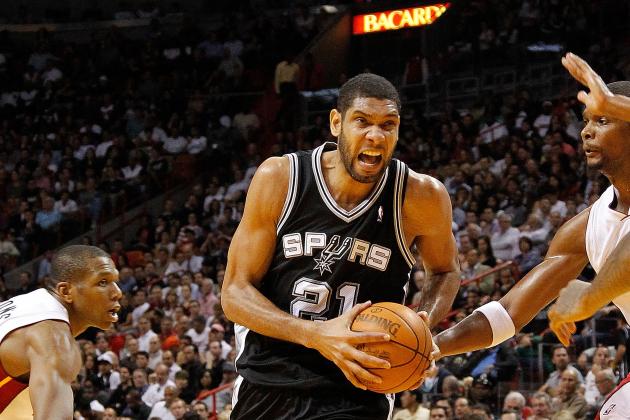 Mike Ehrmann/Getty Images

No team is as hot as the San Antonio Spurs heading into the All-Star break. The veteran-laden group hasn't yet lost in the month of February and is looking like a legitimate threat to the Thunder for the West's best record.
The Spurs are also 3-1 in overtime games this season meaning that they execute near flawlessly in the game's most critical moments.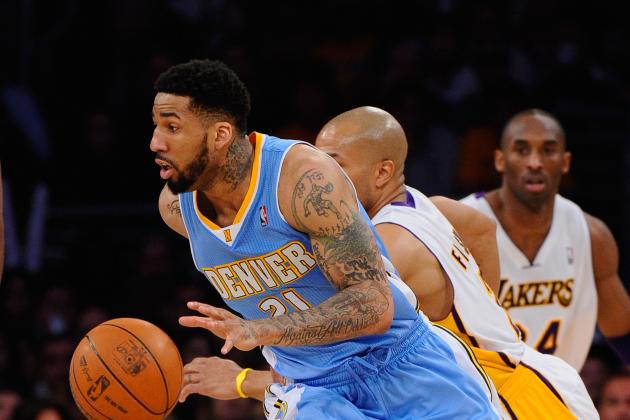 Kevork Djansezian/Getty Images

During the lockout several NBA players thought it would be an excellent idea to sign with a professional team overseas, wrong.
A handful of players signed contracts with no out-clauses in them just in case the lockout ended, and are now stuck overseas in places like China until their season is over.
Some of the notable names who were stuck in China this year are Wilson Chandler, Kenyon Martin and JR Smith. Each played for the Nuggets last season.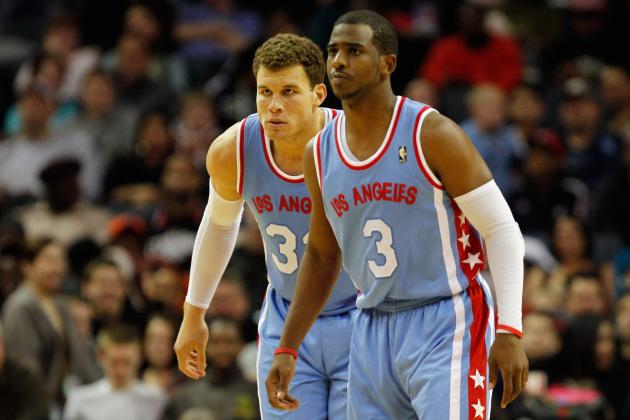 Streeter Lecka/Getty Images

The LA Clippers are significantly better now that Chris Paul is running the show, but that doesn't mean they are ready to take home the hardware this June.
A 34-year-old Kenyon Martin is nice pickup for a team lacking front court depth, but when it comes time to face elite competition in a seven-game series LA's new favorite team will be at a disadvantage.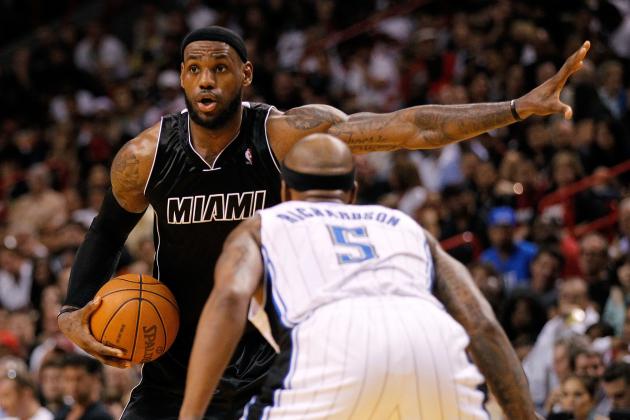 Mike Ehrmann/Getty Images

LeBron James is on pace to win his third league MVP award this season.
LBJ is averaging a career high 8.2 RPG to go along with his 27.9 PPG and 6.8 APG.
He is also shooting a career best from the field and beyond the arc. His 18.4 shot attempts per game and 36.7 minutes played per game are the lowest season averages of his nine-year career.
Taking into account the ridiculous numbers and how efficiently he is posting the, it's safe to say LeBron James is the favorite to win league MVP honors at season's end.