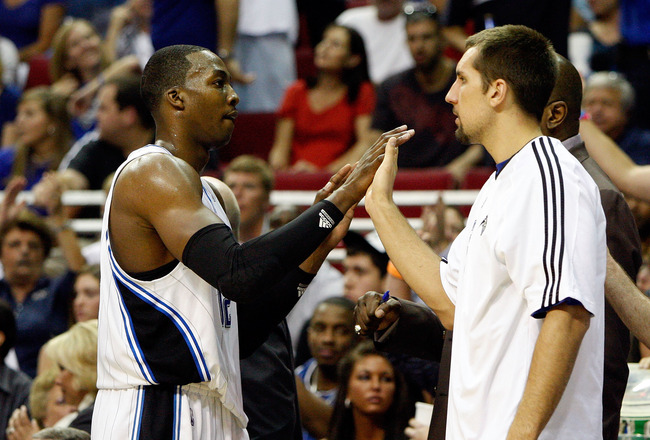 Doug Benc/Getty Images
It's not about how you start, but how you finish.
There's no better way of describing sports than with that statement. If an NBA team starts out the year with an impressive record but begins to simmer down near the start of the postseason, they're much less likely to win a championship over the team that had an average year but got really hot at the end of the season.
It's happened to so many teams over the years. The Memphis Grizzlies last year rode some momentum at the end of the season and came within a game of the Conference Finals, the Boston Celtics in 2010 won a few games at the end of the year and made it to the NBA Finals and even the Super Bowl champion New York Giants won a lot of games at the end of the year just to make it into the playoffs.
It didn't matter if they were 9-7 and going against teams with significantly better records. All that mattered was that they were riding momentum and were going to surf that wave until otherwise. You'd be surprised what a little bit of momentum could do for a team that pretty much played .500 basketball for the entire year except the end.
Take a look at the San Antonio Spurs last year. They started out the season 35-3, but then proceeded to play .500 ball the rest of the year before losing in the first round. Don't you think that they would have been a lot better had they played .500 basketball for the first half of the year and then finish the year winning 35 of their next 38?
Of course they would have. That's what momentum and having a winning mindset can do for you. In fact, these five teams are the ones you really don't want to face in the playoffs if they're riding a win streak going into the postseason.
Boston Celtics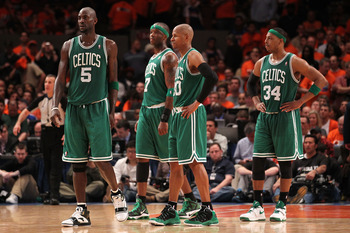 Nick Laham/Getty Images
I'm sorry, what was that about the Boston Celtics being done for? I couldn't hear you over the piercing sound of ignorance that was also spewing out of the mouth of a number of "analysts" that declared this team done.
Trust me, no one in the world wants this Celtics team to be done more than me. The fact of the matter is, however, that they're not going to just go away because they're one year older. They might be one step slower, but they also happen to be one more year wiser and with experience.
The Celtics are a team built on experience, awareness and fundamentals and only the San Antonio Spurs could possibly match up with Boston in those categories.
A 36-year-old Ray Allen, 35-year-old Kevin Garnett and 34-year-old Paul Pierce are just as lethal as they were a decade ago, but they use their knowledge and understanding of the game and how it's played instead of utilizing their talent.
We're only a little more than a quarter of the way through the season, and we've already seen the Celtics at their worst and at their best. They started the season off with three consecutive losses, including one to the dreadful New Orleans Hornets, and even had a four-game losing streak early in January to push their record to 4-8.
Then we saw the Celtics of old. Once they got their legs back underneath them and got back into their rhythm, the Celtics suddenly became the NBA's most feared defense as they warranted 56 points to Orlando and 64 to Toronto within a two-week span. If you thought this team was done judging on the first two weeks of the season, you should start watching soccer.
This team is scary when they get on a winning streak. They're built to wear teams down with their physical and hard-nosed defense. Garnett may not be as consistent a mid-range threat as he previously was, but this team still knows how to work together to get it done. You can match a team physically, but it's tough to match up with a team at a mental standpoint.
Also, in case you forgot, the Boston Celtics got real hot at the end of the 2009-10 season, a year where they only finished 50-32 with a fourth seed. That momentum carried on to the postseason where they defeated Dwyane Wade and the Miami Heat in five games, LeBron James and the Cleveland Cavaliers in six and Dwight Howard and the Orlando Magic in six before eventually losing in Game 7 of the NBA Finals.
Believe me, if this team gets clicking at the end of the year and their defense is at its peak, the Celtics could cause quite the ruckus in the playoffs.
Portland Trail Blazers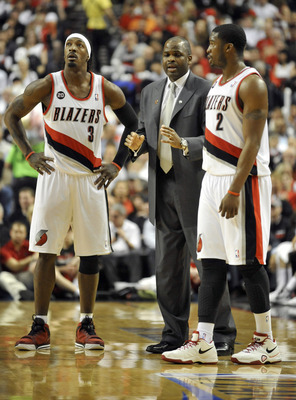 Steve Dykes/Getty Images
Here's to hoping LaMarcus Aldridge has a healthy return soon.
Luckily for the Portland Trail Blazers, the injury wasn't as bad it appeared at first. Aldridge isn't traveling with the team, but they claim it is only a sprain which means that he should be back within two or three weeks at the latest depending on the severity.
Consider this as a lucky break for a Blazers team that's still depressed over the retirement of Brandon Roy and yet another surgery for Greg Oden.
The playoffs just wouldn't be the same without the Trail Blazers. They've made it for the past three seasons after a five-year layoff.
Prior to missing the postseason in the 2003-'04 season, the Blazers were in the playoffs from the 1982-'83 season up until the 2002-'03 season. Unfortunately for them, they could only boast two trips to the NBA Finals resulting in losses in that time.
We're not saying that the Trail Blazers are going to make it to the championship this year, but we're certainly not going to rule them out. The Western Conference is wide open with teams like Oklahoma City, Dallas and both teams in Los Angeles set to contend, but not much is being noted of an up-and-down Blazers team that currently stands at 15-14.
I don't care if this team is playing .500 ball and has been on a roller coaster ride this year, the Trail Blazers are one of the last teams I'd want to face if they were on a roll going into the playoffs.
This team has some stellar defenders, with small forwards Gerald Wallace and Nicolas Batum capable of defending four positions and Marcus Camby still asserting his authority in the paint.
As for the offense? It can get really scary. Aldridge is capable of scoring 20 to 25 points every night, Raymond Felton is quietly one of the best playmakers in the NBA and Wesley Matthews is an excellent three-point threat who is knocking down two three-pointers per game at a 35 percent clip.
Perhaps the scariest player on offense is Jamal Crawford. In case you forgot, he was the one who constantly lit up the Orlando Magic in a first-round matchup last year when he was still a member of the Atlanta Hawks.
He's only shooting 32 percent from deep this year, but Crawford can get fired up in no time and is capable of scoring 50 on any given night.
Orlando Magic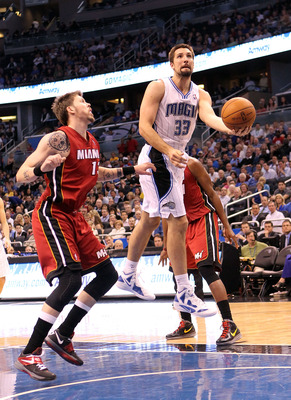 Sam Greenwood/Getty Images
The Orlando Magic are as streaky as streaky gets. They live and die by the three-pointer, and that isn't the best solution in winning an NBA Finals.
However, if they're consistently hitting their shots and their big man in the middle is playing well and drawing attention from the perimeter, the Magic become one of the league's most dangerous and volatile teams. I know that three-point shooting isn't built for the playoffs, but let's not forget that they made it all the way to the NBA Finals with that offensive mindset.
The Magic have a winning formula with Howard in the middle and the plethora of shooters on the perimeter, but they don't run it the way it should be run.
They focus too much on scoring from outside instead of scoring on the inside where they can get nearly guaranteed points every time. Dwight Howard is averaging only 13 shot attempts per game, but he should be taking as much as 20.
If Shaquille O'Neal was taking over 20 attempts per game with Kobe Bryant on his team, then there's no excuse for the Magic not to. Instead of utilizing their strength in Howard, they do the opposite by utilizing their strengths in three-point shooting.
Given that Howard's influence alone attracts double teams, the Magic won't win anything as long as they keep going inside-outside and not outside-inside.
Still, the Magic are not a team I'd want to face because they rely solely on their streaky shooting. If the Magic aren't making their shots, you're fine. But if they are making their shots, then be ready for a long series because you're going to have to focus a lot of your time on the perimeter and not on the 6'11" behemoth manning the middle.
The Magic lost in the first round last year because they were taking more three-pointers while shooting the lowest percentage. This season is a different story, however, as they are converting on a league-high 10 three-pointers per game while standing at fourth in three-point percentage at nearly 39 percent.
Plain and simple, the Magic's shooters aren't missing this year. Ryan Anderson is converting three three-pointers per game at a 42 percent clip, Jason Richardson is converting two from deep at 40 percent, Hedo Turkoglu is hitting two at 38 percent and J.J. Redick is hitting two as well at 43 percent.
They're shooting well at the wrong time, but if they can continue that hot shooting going into the postseason, then they'll be one of the last teams that any other squad would want to take on in the first round.
Memphis Grizzlies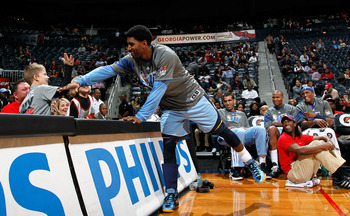 Kevin C. Cox/Getty Images
Who doesn't love a Cinderella team? These teams go so far against the norm that it just becomes enjoyable to watch how far they'll go before the miracle run comes to a close.
Kind of like what's going on with this Jeremy Lin guy we're hearing about so much. He's not going to become a top-five point guard (sorry to break the bad news), but it sure is fun to watch him play with the swagger and confidence of a 10-year veteran who's already secured a few prestigious awards. It's those little success stories that happen to warm our hearts and give us some sort of hope.
Before there was Jeremy Lin, there was the 2010-11 Memphis Grizzlies. After losing small forward Rudy Gay near the end of the season while in the middle of a race to secure the final seed in the Western Conference, the Grizzlies were pretty much deemed out of the playoffs.
Contrary to the popular belief at the time, the Grizzlies defied the odds and played stellar basketball to end the regular season to obtain the eighth seed.
What ensued soon after was something you would have never guessed. Going against the No. 1-seeded San Antonio Spurs, the Grizzlies made it seem as if they were the No. 1 team in the West. If not for a miracle three-pointer by Gary Neal, the Spurs would have lost their first-round series in only five games.
The Grizzlies would get stopped next round by the Oklahoma City Thunder, but only after taking that series to a decisive Game 7.
Based on last year's history, and how they've played without Zach Randolph this year, the Grizzlies are one of the scarier teams to play when they're emitting confidence.
They have arguably the top frontcourt in the league with Gay, Randolph and Gasol, and that's a tremendous advantage to them against just about every team in the NBA.
There aren't many teams who can compete with the athleticism of Gay or the rebounding and post play of Randolph and Gasol. We saw what would happen last year when this team got hot, and I'm pretty sure I can name a few teams in the Western Conference that would prefer to avoid the Grizzlies in any round.
Denver Nuggets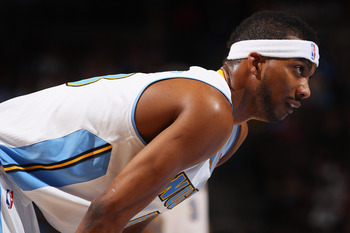 Doug Pensinger/Getty Images
Second in the league in scoring by one-tenth of a point, the Denver Nuggets are just as scary a team on the fast break than the current scoring leaders in the Miami Heat.
They might not have LeBron James and Dwyane Wade throwing each other alley-oops, but they are just as exciting and efficient. Behind longtime coach George Karl and complete with a roster loaded with role-player talent, the Nuggets are doing their best at making Carmelo Anthony look foolish.
There are only three teams scoring 100 points per or better as a team, and the Nuggets are one of them.
The All-Star wanted out of Denver badly last year and got his wish near the end of the season when he was traded to the New York Knicks. While Anthony has struggled to assimilate within his new team, is currently averaging career lows and dealing with injuries, the Nuggets are playing some of their best basketball in a long time.
Even though they lack a key offensive threat who can score at least 20 points per night, they have a number of players who can score at least 10. Danilo Gallinari, Ty Lawson, Al Harrington, Nene Hilario, Arron Afflalo and Andre Miller are all averaging at least 10 points or better with Rudy Fernandez and Corey Brewer scoring nine apiece off the bench.
Basically, this is a team likes to score and run. There aren't many household names among those players and the 17-13 team isn't sending any All-Stars to Orlando, but they know how to score and how to keep defenses on their heels and that's all that matters at the moment.
This team is only in its first year together as they continue to defy the odds by actually playing better without Anthony and Chauncey Billups.
The Nuggets aren't a stellar defensive team in the bottom five in points given up per game. Instead, they focus the majority of their attention on the offensive end, where they have players who could score in a variety of ways.
Gallinari, Lawson, Afflalo and Harrington can also consider themselves perimeter threats, Hilario can boast that he's one of the top post threats in the NBA and the Nuggets can also claim to have the deepest bench in the league.
These guys don't have a central leader or focal point to their offense, but they'd still be one of the scariest teams to face if they're streaking heading into the postseason. There are a lot of shooters on a team with a lot of balance being led by a stellar head coach who knows how the game is played.
Keep Reading
Load More Stories