An Early Look at the NBA's Top 10 MVP Candidates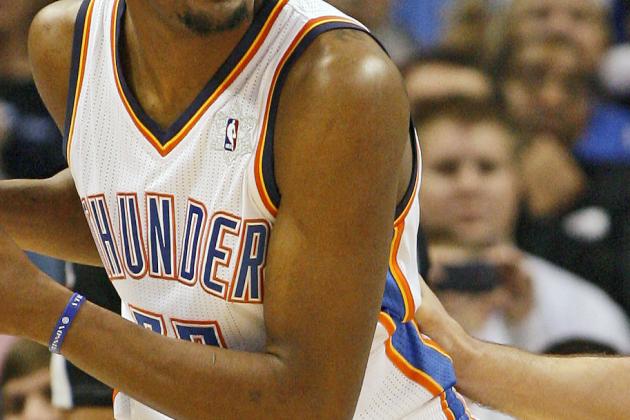 Brett Deering/Getty Images

A few weeks into the shortened NBA season teams are beginning to show their true colors. Young players are emerging. The busts are still trying to show the country that their early season performance is but an anomaly. The seasoned veterans want us all to believe they have one more year in them. But most importantly the dominant MVP candidates are coming into view.
There was a point in the middle of last season where it became obvious that Chicago Bulls point guard Derrick Rose was going to win the highly-coveted award. Just a few weeks into this season, the race is neck-and-neck between several players.
Without further ado, here is an early look at the current top ten MVP candidates.
Begin Slideshow

»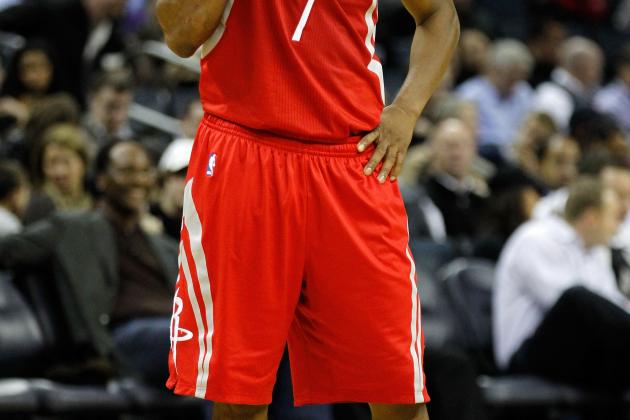 Streeter Lecka/Getty Images

Just one year after stealing the the starting PG job from Aaron Brooks, Lowry's numbers are not only the best of his career, but one of the best point guard stat lines in the NBA.
He steals the ball 2.0 times per game while knocking down that same number of three-point shots per contest. If Lowry only had 18 points and nine assists per game he might still find himself on this list, but he has been averaging seven rebounds per game. His numbers have been prolific, and I believe that team success will be the result sooner than we all think.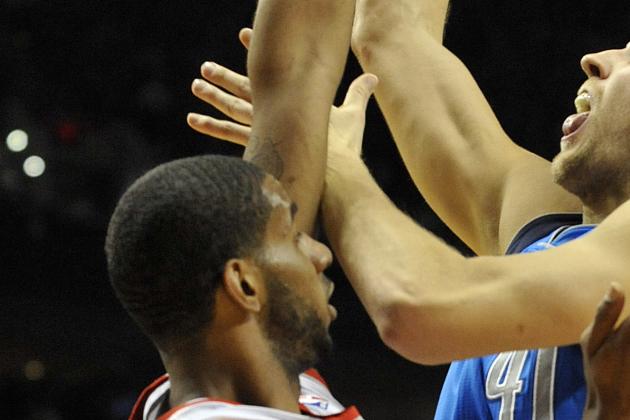 Steve Dykes/Getty Images

The Trail Blazers fast start to the 2011-12 season is largely in the hands of forward LaMarcus Aldridge. He's not only averaging 23 points and eight rebounds per game, but he's doing it consistently, failing to score 20 or more points only four times this season. With the sudden retirement of Brandon Roy and the downfall of their fan base, consistency is the one thing that the Blazers need—and that's what Aldridge has provided for them.
Is there any chance he wins the MVP race? Unlikely, but he's been as valuable as anyone to this Portland Trail Blazers team.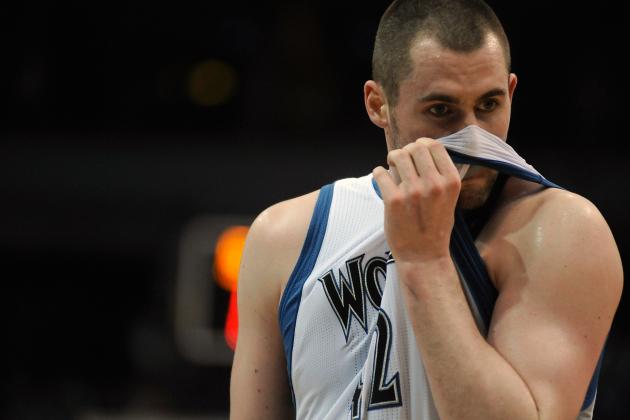 Hannah Foslien/Getty Images

The Curious Case of Kevin Love.
Love's numbers divided by two are respectable numbers. He somehow scores 26 points and pulls down 14 boards per game. He's been making about two three-point shots per game, in addition to some assists, steals, and blocks.
He rests at spot No. 8 because this ranks the league's most valuable player, and how valuable is he to a below .500 team?
The bright side is that rookie Ricky Rubio gets seemingly better each night. Don't count out Love for the real MVP race as the season goes on.
Elsa/Getty Images

The Celtics "Big Three" is looking less and less effective each year, but they are now playing at an all-time low. Yes, Kevin Garnett, Paul Pierce and Ray Allen are great players, but they have to get old at some point, right? Their aging is the reason for the ailing of the Celtics' season thus far. The only upside, and the biggest component of why the Celtics have been winning any games is PG Rajon Rondo, who is averaging a double-double in points and assists while also grabbing five boards and two steals per game.
His spot in the final MVP ranking relies heavily on how the Celtics perform because he is the main piece of the team.
Harry How/Getty Images

Paul is bringing a sense of cogency to this team that's been needed for years. One could definitely argue that his fast start and awesome chemistry with flashy power forward Blake Griffin is an anomaly and that the highlight reels will return to planet Earth, but until they do, Chris Paul is just outside of the Top Five in the MVP race.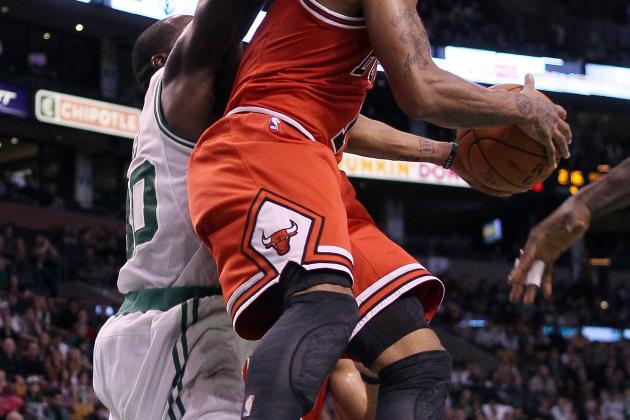 Elsa/Getty Images

The reigning MVP has been having a great season. Averaging 21 points and nine assists per game, the centerpiece to the Bulls offense has gotten the team off to a fast start that will likely continue.
The one thing holding Rose back from winning another award is health. He's been out with a toe injury without a definite timetable for a return. In a shortened season due to the lockout, Rose will need to come back soon and play amazingly if he wants to remain in MVP contention. Either way, he is one of the league's most valuable players.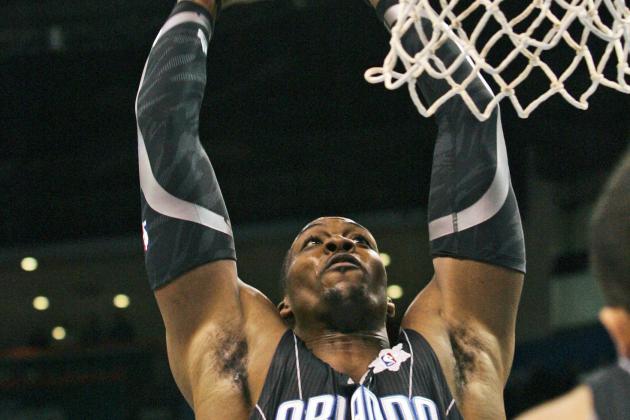 Brett Deering/Getty Images

In a Top Five that is going to be constantly changing (and one in which any player can win), Dwight Howard currently sits at No. 4 in the race.
It seems that Dwight has a 20-20 in almost half of the games he plays—if not for the shortened season he could be in discussion for breaking the all-time single season rebounding record. By adding 20 points and over two blocks per game, Dwight has taken his dynamic play style to a new level this season.
Then why is he No. 4? Dwight Howard finds himself in this spot not because of a flaw in his value, but just because the neck-and-neck competition features several other players with just as much (and I would argue more) upside.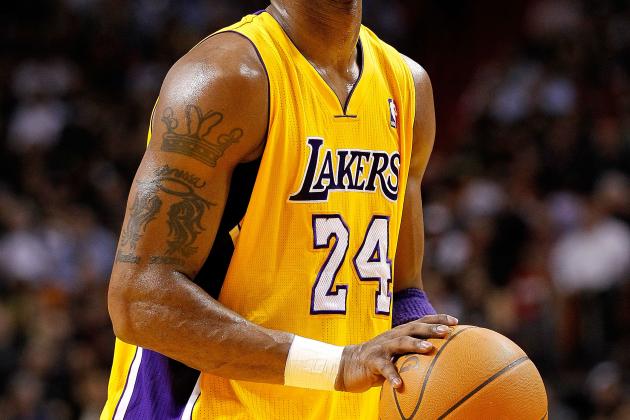 Mike Ehrmann/Getty Images

Kobe Bryant, despite his age, has been putting on a show this season putting up around 30 points, six assists, and six rebounds on a consistent basis. He is the most important player to the Lakers team and without him they would fall apart disastrously.
So maybe Kobe is the more valuable to the Lakers than any other player is to their respective team, but what are his chances of winning the award? The LAL are seventh in the Western Conference. Kobe could only win the coveted MVP award if his team soars atop the conference standings, because there's a good chance that these next two guys will lead their teams to the top of their conference standings.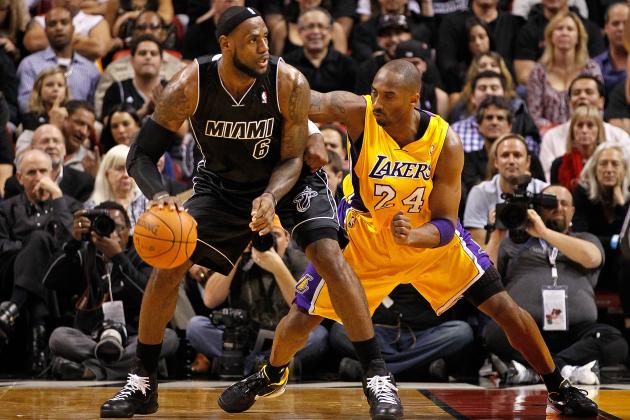 Mike Ehrmann/Getty Images

The Miami Heat are 5-0 without Dwyane Wade this season. No matter what anyone argues, this is 100 percent, undebatably because of LeBron James. He averages 30 points and an incredible combination of eight assists and eight rebounds. If he keeps this up it will be regarded as one of the best statistical seasons in league history.
LeBron plays like an absolute animal every night, but when he makes one mistake in the fourth quarter, the critics crowd around him. Therefore, some clutch composure in the final quarter is the final piece he'll need to take home the award.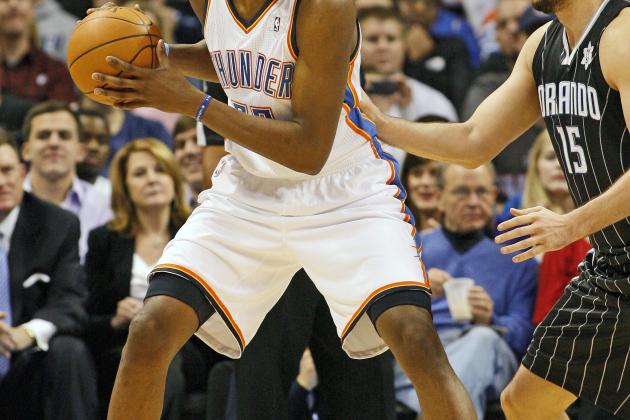 Brett Deering/Getty Images

Kevin Durant is contently the league's top MVP candidate at this point of the season. His 27 points and seven rebounds per game may not be as mind-boggling as the stats of LeBron James, but the Thunder sit atop the Western Conference and are a game-and-a-half ahead of anyone else—the Miami Heat can not say the same.
If the Thunder keep it up, the defending scoring title holder could be looking at a new trophy in his case.