Los Angeles Lakers Should Trade Ron Artest for Mo Williams
December 26, 2011
Harry How/Getty Images
The season just started today, but it's not too early to think of improvements for teams.
If Mo Williams and Ron Artest were to swap places, it would be an improvement for both Los Angeles-based franchises.
Ron Artest to the Los Angeles Clippers
The Clippers have received a little too much hype this year because of the arrival of superstar point guard Chris Paul. The team might not be legitimate contenders just yet, but they are on the rise.
They're in that position right now where they can make it over the top if they can find the right pieces to finish off their roster. Ron Artest is a potential piece.
While Artest hasn't been playing like the guy that won the NBA Defensive Player of the Year award in 2004, he's still a solid player. If he can be motivated again, he definitely can be someone that plays a key role on a title contender. Strong leaders like Paul and Chauncey Billups can help make that happen.
Artest can be slotted as the first forward off the bench. He can provide quality minutes behind recently acquired Caron Butler (who can also move over to guard). At 6'7" 260 pounds, he can also provide some minutes behind Blake Griffin, the highly-hyped youngster who struggles defensively at times.
Losing Mo Williams shouldn't be a big deal for the Clippers. Paul and Billups are going to occupy a lot of minutes, while youngster Eric Bledsoe deserves time on the court to develop.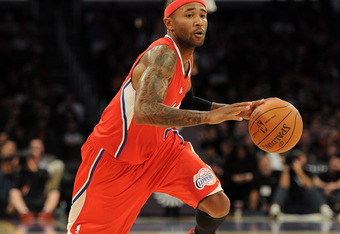 Harry How/Getty Images
Mo Williams to the Los Angeles Lakers
Since their fanbase are usually accustomed to the team making a big splash during the offseason, the Lakers are now in a position where they're being doubted. After failing to acquire Chris Paul and Dwight Howard, the team knows that they need to make a move (even a minor one) to keep the excitement in the air.
At one point in time, the NBA had three guys averaging over 25 points, five assists and five rebounds a game. Kobe Bryant and LeBron James were two of them. The third guy, though, was harder to guess. That guy was Mo Williams.
Williams has a knack for scoring. While he might never again average over 20 points a game, he can still help the Lakers by providing a spark off the bench and filling a void that was left when Lamar Odom was traded to the Dallas Mavericks.
Lakers fans aren't exactly enamored with the point guard duo of Derek Fisher and Steve Blake. Williams would certainly be viewed as an upgrade at the position. He can even take whatever little minutes that Bryant leaves behind at the shooting guard spot.
The franchise can afford to lose Ron Artest. They still have Jason Kapono, Devin Ebanks, Matt Barnes and Luke Walton on the roster.