Dwight Howard: Why Superman Will Be Taking His Talents to the City of Angels
December 14, 2011
With ESPN's NBA Insider Chris Broussard reporting that Howard will only sign a long-term deal with the Los Angeles Lakers, Dallas Mavericks, New Jersey Nets or Orlando Magic, 26 other teams felt a sense of disappointment.
Well, maybe not 26. I bet Chicago Bulls fans are possibly frustrated by the fact that their All-NBA point guard Derrick Rose cannot be throwing alley-oops to D-12. 
I guess the Clippers are only going after Chris Paul. Boston fans are probably disappointed too, as the Celtics probably will not be able to sign any big free agents next summer.
Moving on to the four aforementioned teams, each situation has its own advantages and disadvantages.
Dwight has been on record saying that he loves the city of Orlando and would love to remain there. The Magic can even offer him the most money and an extra year. In addition, he seems like he is a loyal guy and the Magic are entrenched in the playoffs with him.
However, Howard wants them to pick up more contending pieces, and with the players on the roster currently, it seems unlikely that they pull off a blockbuster for a player like Monta Ellis or Josh Smith. Dwight wants to play in Orlando, but he wants to be on an elite team in Orlando.
At this point, that is extremely difficult.
The Dallas Mavericks are another intriguing destination for a couple of reasons. Pairing Dirk Nowitzki with Howard would create the best frontcourt in the league, while putting Dallas right back into contention.
In addition, Howard would play under Mark Cuban, an owner who basically every player dreams of playing under.
The only realistic chance of Dallas getting D-12 is if he is not traded by the deadline. The Mavericks do not have any pieces that the Magic would want to acquire in a potential trade. I mean Jason Terry as the centerpiece of the deal?
Another suitor which Superman might consider playing for is the New Jersey Nets. Imagine Dwight Howard and Deron Williams on the same team in an arena in Brooklyn. How about Jay-Z and Mikhail Prokhorov courtside.
That is the big market that Dwight might want to play at, and playing with one of the top 10 players in the league is intriguing.
However, like Dallas, the Nets lack trade assets. Past Brook Lopez, Travis Outlaw is the best player that Magic would consider in a trade. It turns out that the Nets traded all of their young and tradeable pieces in the Deron Williams deal.
The Nets best option is to wait until Howard becomes a free agent or hoping that a certain team in Los Angeles does not bid on him.
That certain team is the Los Angeles Lakers.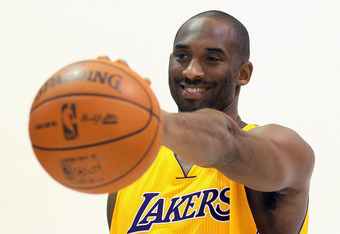 Jeff Gross/Getty Images
Yeah, the team that nixed a certain trade that would send CP3 to the Staples Center.
The Lakers offer Howard a huge market. In addition, Dwight can follow in a long line of Lakers big men like Kareem Abdul Jabbar and Shaquille O'Neal. Los Angeles gives Howard that option. 
Not only do the Lakers make Howard happy, but they can also provide the Magic the best pieces in a trade among the four teams Dwight wants to play for.
A package of Andrew Bynum and Pau Gasol in exchange for Superman and the horrific contract of Hedo Turkoglu might be the best deal the Magic get. 
Los Angeles is the best destination for Howard. Pairing D-12 with Kobe Bryant is too tantalizing for the Buss family to pass up and I think they will make the trade.
The Magic get to start over as they will lose their second bad contract along with getting possibly the best frontcourt in the East.
Let's face it, sending Dwight Howard to Los Angeles bares a rare win-win situation.