Dwight Howard to the LA Lakers Trade Speculation: 5 Reasons This Deal Is a Must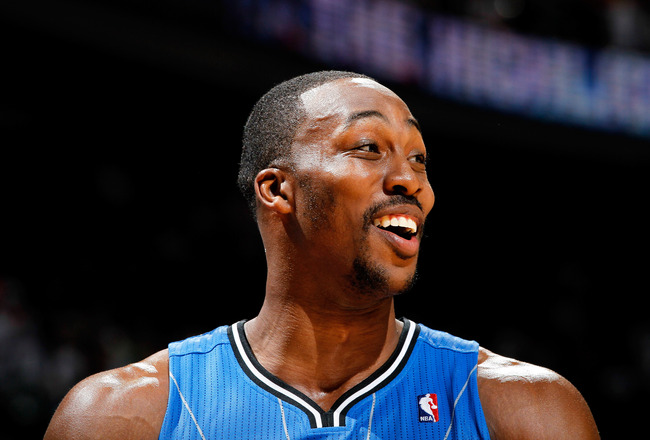 Kevin C. Cox/Getty Images
It's no secret that when it comes to the Orlando Magic, the first man who comes to mind is Dwight Howard. The star center has done wonders for the franchise, taking it to an NBA Finals appearance two years ago and playing in five All-Star games along the way.
Yet despite the man's popularity in Orlando, recent reports suggest that Howard may want to depart the Magic for a team that plays in a bigger market.
One squad that has supposedly shown considerable interest in the 6'11" star is the Los Angeles Lakers, who could easily become a deadly team were they to acquire Howard. Despite being just a rumor for the most part, the Orlando Sentinel reported at the end of the regular season that a trade between the two teams was definitely foreseeable.
To put it bluntly, the Lakers need Howard. He is the best center in the game today and just might close his career as the best of all time. Here are five reasons why a trade needs to happen now.
No. 5: He Wants to Play in a Big Market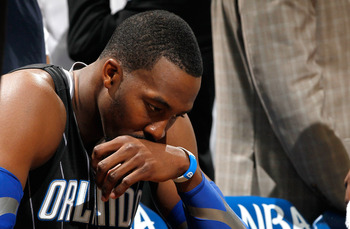 Kevin C. Cox/Getty Images
Now, I'll be the first to admit that without Howard, we fans probably wouldn't even be discussing the Orlando Magic the way we have for the past few years. He has turned the franchise from absolute zero into a top contender and built a great legacy there. Yet that legacy can only say so much.
Let's be honest: Howard is the only reason the Magic are selling so many tickets, and given the state of the team, signing a new contract there next offseason will mean reaching some sort of plateau. Deep down, Howard wants to win, and as much as I hate to say it, he isn't going to win a ring in Orlando.
By moving to a large-market team that already has some homegrown talent, Howard could easily set himself up for multiple championship runs that don't end with early exits. Part of the reason the Magic have not won is because, to be perfectly honest, they don't have much of a team besides the big center.
By moving to the Lakers, Howard would have one of the league's best guards in Kobe Bryant helping shoulder some of the load, not to mention Pau Gasol.
No. 4: He Would Provide Great Leadership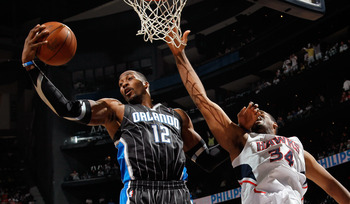 Kevin C. Cox/Getty Images
Much like the Magic, the Lakers' problem last year was that all too often Kobe Bryant tried to do it all himself.
Despite having talent like Pau Gasol and Lamar Odom surrounding him, it's as though Bryant felt he had to put the team on his back night after night without Shaquille O'Neal working the middle. I can't say I blame the man, considering how Andrew Bynum is hardly the athlete Shaq was during his time in LA.
More importantly, Bynum is not the leader in the middle that the Lakers need. Howard would provide leadership at the position and more. Having been the top dog on one team for so long, he would have no problem sharing duties with Bryant were he to be traded to the Lakers. If anything, he could help mentor young players like Darius Morris.
No. 3: Andrew Bynum Is Just Plain Unreliable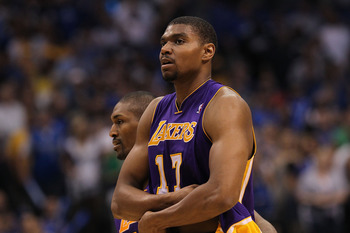 Ronald Martinez/Getty Images
Back in 2005, a year after trading Shaquille O'Neal to the Miami Heat, the Lakers chose to draft high schooler Andrew Bynum to replace him.
The 10th overall pick, Bynum had good size at 7'0" and 285 pounds and was expected to slowly become a top center. Instead, Bynum has become one of the most unpredictable and injury-prone men in the NBA.
Since debuting, Bynum has only played a full season once and has been hampered by knee problems. On top of that, he seems to shut down on defense when he isn't getting the number of shots he wants on the other end of the floor. While Shaq was good for 20-plus points and 10-plus rebounds per game, Lakers fans are lucky to get 15 and eight out of Bynum.
Two Bynum incidents in particular stick out to me. Last offseason, after helping the Lakers win an NBA title by playing on a knee that needed surgery, he opted to forgo his operation until after he went on vacation instead of taking care of it immediately. As a result, his recovery took longer, and he let team management know mere hours before training camp began.
Also, let's not forget the infamous occurrence from this past postseason. In Game 4 of the Western Conference semifinals, with the Lakers getting destroyed and on their way to being swept out of the playoffs, Bynum unleashed a dirty hit on Dallas Mavericks guard J.J. Barea and was ejected.
Simply put, he is immature, and it is time for him to take his bad attitude elsewhere so that Dwight Howard may be brought in. Heck, perhaps they can be traded for each other.
No. 2: Dwight Howard Is Shaq 2.0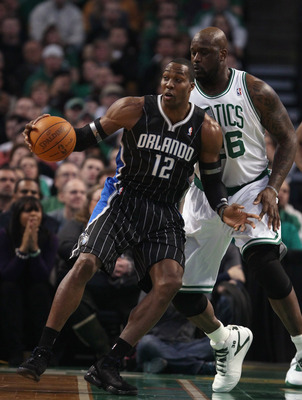 Elsa/Getty Images
I'll go on record right now and say that Dwight Howard is the best center in the NBA. Looking at his stats, it's hard to argue that. He has been named Defensive Player of the Year three seasons in a row, and looking at his defensive numbers, one is simply blown away.
Since 2008, Howard has averaged 20.6 points, 13.7 rebounds and 2.7 blocks per game. The only other center of my generation that put up numbers even close to that was Shaquille O'Neal, and we all remember what he did for the Lakers.
Even though he's won two titles without the future Hall of Fame center, Kobe Bryant needs to be paired with another dominant man at that position if he wants to pass Michael Jordan in the championship rings department and thus silence any critics.
What better man to pair him with than the second coming of the Big Fella himself?
No. 1: Dwight Howard Means Championships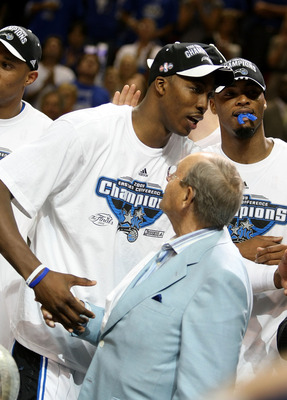 Elsa/Getty Images
Deep down, we know that Dwight Howard has one objective besides money when it comes to his next contract: The man wants to go someplace where he can win, and regularly. Given the state of the Los Angeles Lakers in the long run, that is the best place for him.
Paired with guys like Kobe Bryant and Lamar Odom, not to mention Pau Gasol and Metta World Peace, Howard could become one of the most popular players in Lakers history. Yet if he wants to take his talents out West, the best thing would be for the Magic and Lakers to work out a trade.
For any Lakers fans still on the fence about such a deal happening, allow me to present you with an equation I discovered a month or so back:
Kobe Bryant + Pau Gasol + Dwight Howard ≥ Kareem Abdul-Jabbar + "Big Game" James Worthy + Earvin "Magic" Johnson.
If those groupings don't scream championships, then I don't know what does.
Keep Reading

Los Angeles Lakers: Like this team?