Blake Griffin: Is an MVP Award Possible for the Los Angeles Clippers All-Star?
September 22, 2011
Frederick M. Brown/Getty Images
It's a simple question: Can Blake Griffin win the NBA's Most Valuable Player award?
In a word, abso-freakin'-lutely.
Blake Griffin is a force of nature. No player has made as big a splash in the NBA as a rookie since LeBron James, who, oh by the way, has two MVP awards to his name already. Griffin has the ability, the stats, the fame and the marketability to take home at least one MVP trophy in his career.
Let's begin with the obvious: the numbers. As a rookie, Griffin averaged 22.5 points and 12.1 rebounds per game. The last player to average at least 22-12 in his debut season? That would be Shaquille O'Neal, who achieved the feat 18 years ago, and you guessed it—he's a former NBA MVP as well.
Much like Shaq, LeBron and virtually every player to win Rookie of the Year, Blake will only get better with experience. His potent blend of refined skill and breathtaking athleticism blesses him with practically limitless upside.
Could he average 30-15 for a season? It's conceivable.
Could he lead the league in both scoring and rebounding in the same year? He placed 12th and fourth respectively in those two categories last season, so you could certainly see that.
Could he record a double-double in every game of the season? He wasn't very far off that pace in 2011.
As a big man, Griffin's notable absence among blocked shot leaders in the NBA will speak against him, but with the passing ability he possesses, his assist totals will make up for it. As he becomes a better shooter, his percentages from the field and the free-throw line will rise, as will his scoring output. In terms of raw numbers, Blake is already in MVP territory, and slight improvements across the board will have him standing way out from the crowd.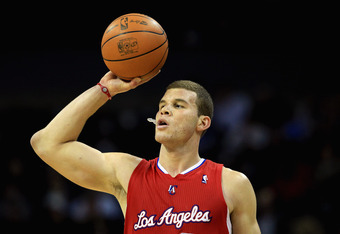 Streeter Lecka/Getty Images
The MVP award is part popularity contest as well, and Griffin is poised to dominate that aspect of the race. He had the 11th-most popular selling jersey in the NBA last season, a number that is sure to rise in the coming years.
Thanks to SportsCenter, Griffin's rim-rattling dunks are a fixture in highlight reels and top-10 lists (not to mention constantly trending on Twitter), keeping his eye-popping game at the forefront of fans' minds.
No one is about to forget his legendary performance in the slam dunk contest a season ago or the way he ended Timofey Mozgov's career before it ever had a chance to get started (figuratively, at least).
Being in L.A. only increases Blake's exposure, and with the excitement he generates, the Clippers are bound to get more national TV games as well. The endorsement deals are starting to flood in, and his face can regularly be seen on Subway commercials. If this hilarious TV spot for the video game RAGE is any indication, fans and the media will be even more drawn to Griffin as his personality begins to shine through.
With the term "valuable" being so subjective, it's imperative for MVP candidates to make good narratives in order to snag the award.
Most people and all the advanced metrics agree that LeBron was a better player last season than Derrick Rose (NBA Finals notwithstanding). However, the narratives behind the players swung the vote heavily in Rose's favor. LeBron was the league's largest villain after abandoning his hometown Cavs for the glamour of South Beach and the fun of playing with his friends Dwyane Wade and Chris Bosh.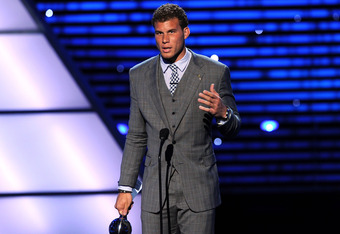 Kevin Winter/Getty Images
He was branded "the coward, deserter and front-runner who put himself before the city that adored him." No one wanted to name that guy MVP, especially not after the welcome party the Heat threw for the Big Three.
On the other hand, Rose's story became that of "the quiet kid who plays his butt off, stays out of the limelight and does everything he can to win games for his team." How many times did we see or hear that narrative told last season?
Everyone wanted to reward Rose because his story, not just his play, was more worthy of being named MVP. I'm not saying Rose wasn't deserving of the accolade; I'm just trying to point out that a good narrative can be the difference between winning and losing an MVP race.
Now, let's spin that analysis forward to Griffin. He's got the narrative in the bag. You watch him on the court and you admire how hard the guy plays. You see him off the court and you come away liking him as a person. You catch his latest highlight on SportsCenter and you're mesmerized by his superhuman abilities.
He's "the cool dude who puts up massive numbers and throws down on people's heads with impunity," while also being known as a hard worker and staying in a positive light. 
Plus, he's got the kicker. Many will argue that playing for the Clippers will hold him back. For the purposes of creating a narrative worthy of an MVP, however, I say it's a boon. If he leads the Clippers to prominence, 50-plus wins and a good playoff spot, he's a hero.
You can add "the guy who did the impossible and rescued the worst franchise in sports" to his narrative description. No one else can top that. Is there a better possible redemption story in the NBA than that of the Clippers?
Blake is the man who can make that tale come true. Remember, Elton Brand garnered some MVP votes in 2006 when he led the Clips to 47 wins and a No. 6 seed in the West—and he wasn't half as popular as Griffin is.
If he can keep up his statistical prowess and athletic sublimity, while leading the Clippers to daring new heights, Blake Griffin is a lock to be named the Most Valuable Player in the NBA at least once in his career.