Boston Celtics: Could Making Jeff Green a Starter Bolster Their Title Hopes?
September 5, 2011
Stephen Dunn/Getty Images
It's no secret that the Boston Celtics' midseason acquisition of Jeff Green didn't exactly pan out as expected. The Celtics traded franchise mainstay Kendrick Perkins in an attempt to gain more youth to compete with the athleticism of the Chicago Bulls and Miami Heat, but for much of the season Green seemed out of place and struggled to adjust to his role off the bench.
Still, despite Green's disappointing time in Boston, the team still has hope for the 25-year-old forward. They extended a $5.9 million qualifying offer and will likely retain Green for at least another season. So now the major question is: What will Green's role with the team be going forward?
Danny Ainge reported that it's a possibility that Green could start over Paul Pierce, and Ray Allen has stated he wouldn't have an issue with Green starting over him.
Personally, I think the team should experiment with sliding Pierce over to the shooting guard spot and letting Green start at the 3, with Ray coming off the bench as the sixth man. Allen would still be playing around 30 minutes per game and his legs would be preserved for the postseason. Despite Allen's excellent conditioning, it was evident that he was fatigued by the end of the season as his productivity on the court slipped slightly.
Moving Pierce to the shooting guard position would allow him to play more on the perimeter and preserve his legs a bit. Though obviously he wouldn't play off-guard exclusively, it would be an interesting change to Boston's offense. Pierce is a solid distance shooter, connecting on 37.4 percent of his attempts from downtown. He can also handle the ball well and could take over some of the playmaking duties when Rondo is resting on the bench.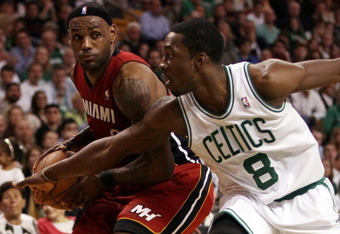 Elsa/Getty Images
Defensively, Pierce is still very sound and could likely contain the league's premier shooting guards despite being slightly larger than most players at the position. Though obviously defensive assignments could change, Pierce is still capable of playing high-level defense against everyone from LeBron to Kobe Bryant.
While bringing Allen off the bench may not be the most popular move with the Celtics faithful, it may make sense for the team's offense. Allen would be able to come into the game and spread the floor consistently while also being able to drive to the hoop and handle the ball well.
If Glen Davis leaves, the Celtics' second unit will be in need of some leadership and a revered veteran like Allen would be a great choice to do that. Often last season he played with the second unit and there's no reason for that not to continue as it proved to be a largely successful endeavor.
One of the overlooked elements of Green's game that really came to light in the playoffs was his defense, particularly of LeBron James in the Eastern Conference semifinals. Though he has never been renowned as an elite defender, it seemed Green finally understood the Celtics' complex defensive system and found his role.
Green has the ability to be an elite defensive player thanks to his athleticism and length. If he stays with the Celtics long term and works with Doc Rivers, he could become an extremely effective two-way player.
Still, there are some major areas of Green's game that he must improve if he's going to be an effective starter with Boston. Green averaged at least 1.5 assists per game during his time in Oklahoma City, but that number shot down to .7 in the regular season with the Celts and a dismal .2 per game during the playoffs.
The Celtics offense relies on players making the extra pass and getting the ball to the open man with the best look. While Green's low assist total doesn't necessarily mean he's a poor passer, it's certainly an element of his game that could be improved.
Green also needs to be more aggressive. With his physical talents, Green has to take the ball to the hoop more often and hit the glass harder and more consistently. He averaged an unimpressive 3.3 boards per game and sometimes looked just plain lost out on the hardwood.
Green's offensive game is pretty versatile, he has a solid hooks shot that he can hit in the paint and is a decent three-point shooter who must be guarded closely wherever he is on the court. However, with the center position being such a source of uncertainty for Boston it would really help the team if he developed his post moves and footwork.
This way, Kevin Garnett wouldn't be the only post scoring threat and Green would be more effective when playing power forward in small-ball lineups.
Inserting Green into the starting five would also hopefully allow him to connect more with Rondo as the two could really make a formidable point guard/forward combination. Their athleticism would allow them to get out in transition and push the tempo with Green finishing at the rim off of a Rondo pass.
A huge factor in whether the Celtics experiment with their starting lineup that I haven't addressed is what happens with the season after the lockout ends. If the full season is somehow salvaged, which grows more unlikely by the day, the team will have to preserve the legs of the veterans and really monitor minutes throughout the year.
But, if the season is shortened the team may opt to stick with the starting five from last season and hope that the wear on their bodies will be less severe. In a truncated season it may not be beneficial to tinker with different lineups too heavily because it could potentially cause chemistry issues.
Ultimately, as long as it doesn't cause issues with the Big Four and Doc Rivers is willing to take a risk with the lineup, I think that giving Green a shot as a starter could potentially be very beneficial for the Celtics on their quest to reach banner No. 18. If Green stays in Boston, he'll likely be starting once KG and Ray retire so getting some of that experience now would be important for the rest of his career with the Celtics.