Every NBA Team's Most Un-Athletic Player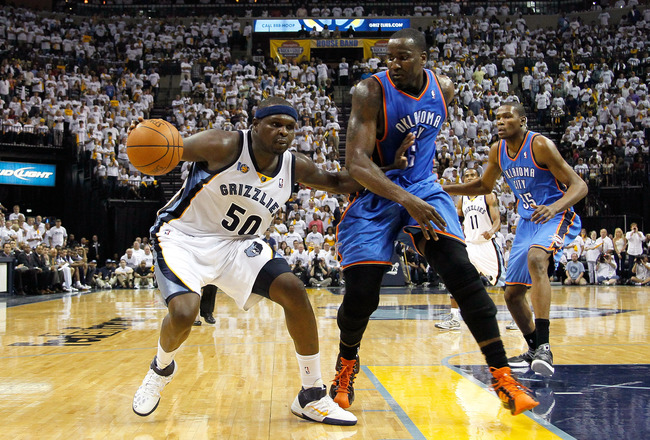 Kevin C. Cox/Getty Images
The NBA is known for its extraordinary athletes that can absolutely jump out of the gym. It's what so exciting about the NBA, when you have world class athletes like LeBron James, Dwyane Wade and Derrick Rose who throw down spectacular dunks, catch lobs and finish plays.
However, there are also some non-athletes on every team who can't jump to save their life. I'll be breaking down each team's most un-athletic player.
Something I want to address is that I won't be listing any benchwarmers who don't get any playing time, or else this list would be filled with them. Instead, each of these players either receive a bulk of their team's playing time or a good portion.
Enjoy!
Follow me on Twitter
Atlanta: Jason Collins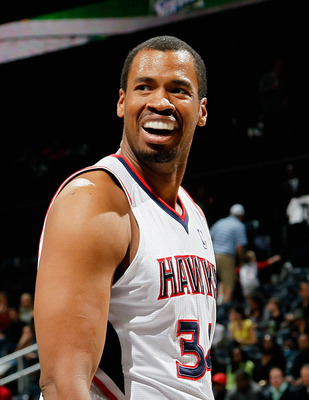 Kevin C. Cox/Getty Images
Jason Collins, like most big men his size, is in the NBA for one reason and one reason only: BIG BODY.
Collins is easily Atlanta's most unathletic player, but he knows how to throw his body around and draw fouls.
Clogging up space and making it hard to breathe in the paint is what Collins knows how to do best. Just don't pass him the ball and ask him to finish a play with a dunk. It ain't happening.
Boston: Jermaine O'Neal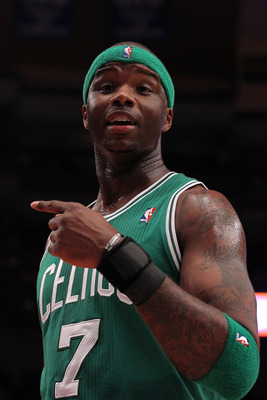 Nick Laham/Getty Images
I feel sorry for Jermaine O'Neal's knees; they've been injured so much that it's almost surprising they're still intact.
O'Neal's knees have completely taken away his athletic game.
Which is why Jermaine O'Neal has an ocassional post move, hits a few jumpers, rebounds a little and then proceeds to injure his knees once again. It's been like that ever since he left Indy.
Charlotte: DeSagana Diop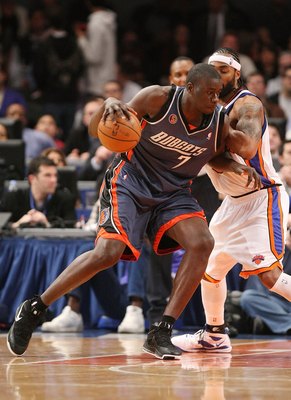 Nick Laham/Getty Images
DeSagana Diop should be called "The Human Foul Machine," because that's basically what he's paid $6 million a season to do.
Even though Charlotte thought they were getting a defensive stalwart, Diop has overwhelmingly under-impressed.
Heck, he's made Kwame Brown look like a borderline All-Star. Scary.
Chicago: Kurt Thomas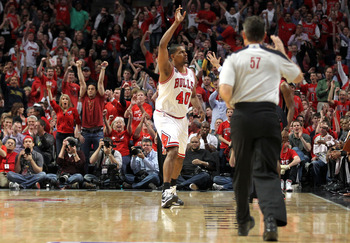 Mike Ehrmann/Getty Images
"Big Sexy" was a nice little surprise for the Bulls this season. He gave them quality minutes when both Boozer and Noah went down for extended periods of time with injuries.
Thomas has a nice go-to mid range jumper that he can hit. There's just one thing Thomas can't do anymore: jump.
Cleveland: Baron Davis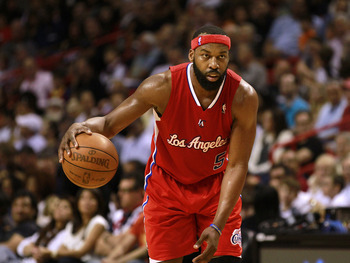 Marc Serota/Getty Images
Baron Davis, in his earlier days, was one of the most athletic guards in the league.
Fast forward a couple seasons, an overpaid contract and multiple injuries later, and Davis is now just an over the hill, overpaid, injury prone, unathletic point guard.
We probably won't be seeing Davis dunk any time soon.
Dallas: Brendan Haywood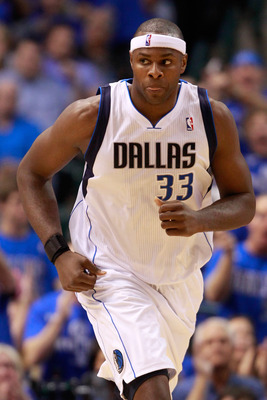 Tom Pennington/Getty Images
Brendan Haywood was considered a relatively efficient center, averaging 10 points and 10 rebounds. Then it happened—he got paid, big time.
Now, Haywood is just another unathletic overpaid big man in the league. Tyson Chandler overtook his spot as the starting center, and Haywood seems like nothing more than dead weight for the Mavs.
Oh, and he can't jump.
Denver: Andre Miller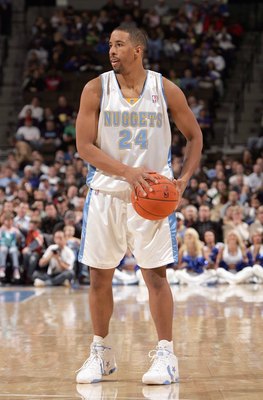 Doug Pensinger/Getty Images
For as long as I can remember, Andre Miller has been without a doubt the most unathletic point guard in the league. There is nothing exciting about Miller's game.
He's just crafty, clever and has a great basketball IQ. Andre Miller stays as low to the floor as any other point guard. He won't out-jump or out-run anybody, but he's still one of the more efficient floor generals.
Detroit: Ben Wallace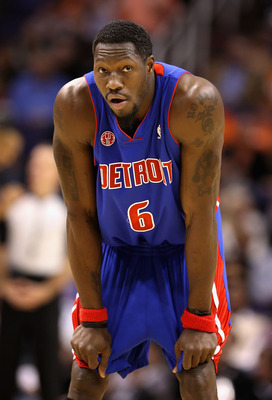 Christian Petersen/Getty Images
Seems like light years ago that Ben Wallace was a four time All-Star and a four time Defensive player of the Year.
In those days, Wallace was a ferocious rebounder and defender, utilizing his athletic ability to shut down opponents.
Now at 36, with his athleticism relatively non-existent, Wallace has been nothing more than a washed up, dead weight veteran who's as close to retirement as you can get.
Golden State: David Lee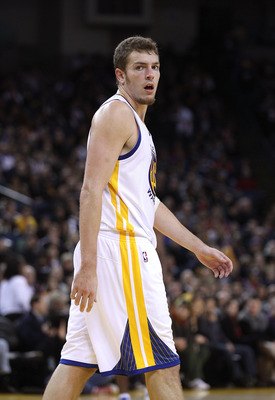 Ezra Shaw/Getty Images
Hear me out. This does not imply that David Lee is a "bad" basketball player. It's just that he's simply not athletic. His game isn't built on that. He's just a very efficient rebounder with a limited post game.
Lee doesn't out-jump his opponents; rather, he utilizes his size and craftiness to move around his defender. Most of his points come on put-back rebounds and short 10-15 foot jumpers.
Andreis Biedreins could have also gone here, but I went with Lee. Can't go wrong with either.
Houston: Chuck Hayes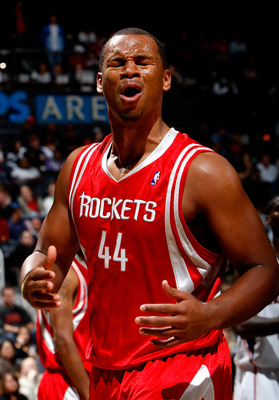 Kevin C. Cox/Getty Images
I'm sure everyone would agree with me on this that, if you were to look up unathletic in the dictionary, there would be a picture of Chuck Hayes. I mean, just look at the man's free-throw shot.
Hayes is actually a decent center. He's just terribly unathletic. Even when he jumps, it doesn't seem like he jumps.
With virtually no offensive game, Hayes relies on his teammates to set him up for easy baskets, or he just stands around the baskets waiting for a rebound to bounce his way.
LA Clippers: Chris Kaman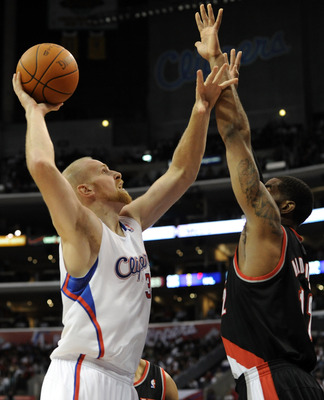 Harry How/Getty Images
Chris Kaman is a very solid center; make no mistake about it. He's got a decent post-up game with his back to the basket, as well as a reliable 12-15 foot jumper.
But ever since Blake Griffin's arrival, Kaman has starting to fade into the back. DeAndre Jordan did an adequate job of replacing Kaman while he was out with injury, and just may have the job for good.
The un-earthly athleticism of Griffin and Jordan make Kaman look like the most unathletic center to step foot on the planet. He's a very decent center, just not very athletic.
LA Lakers: Luke Walton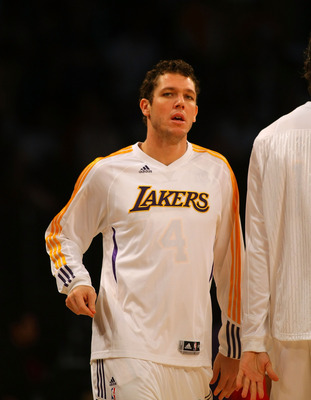 Victor Decolongon/Getty Images
It seems as if Luke Walton has been on the Lakers forever. Newsflash—he actually has. Walton is entering his ninth season in the NBA (all with the LA Lakers).
From Day 1, Walton has been pretty much the exact same player: unathletic, slow and monotonous.
To be honest, I don't think I've ever seen Luke Walton dunk or even drive to the hoop for that matter.
His game is pretty much to shoot the open shot, pass if there is a better shot and do anything that doesn't require any sort of athletic ability.
Memphis: Zach Randolph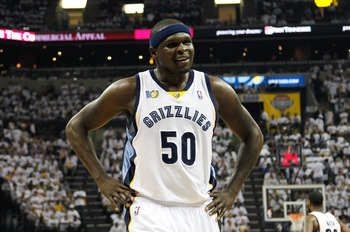 Kevin C. Cox/Getty Images
Z-Bo surprisingly is Memphis' best and most unathletic player at the same time. He's pure size and force, as he throws his weight around and gobbles up every rebound that comes his way.
On offense, Randolph is simply too much to handle, as he backs in his 260-pound frame into his defender until he is virtually two feet underneath the basket, when he proceeds to throw up a short hook up.
Randolph's game has never been based on athleticism, but yet he's been a 20/10 guy ever since he's stepped foot into the league.
He's got a very down-to-the-ground type of game in which he never leaves his feet, not even on his jump shot. Just goes to show you that old school playing styles still exist in today's modern league.
Miami: Zydrunas Illgauskas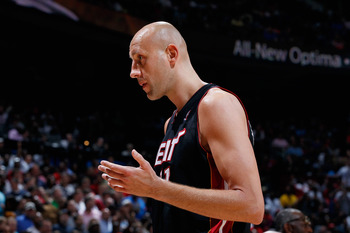 Kevin C. Cox/Getty Images
I could have gone with a couple of choices here, but went with Big Z.
Miami has about three other big men who would probably injure themselves while jumping (I'm looking at you, Jamaal Magloire). Illgauskas is similar, but unlike Magloire, Illgauskas has never been athletic.
I can't blame him, either. When you're 7'3", there's only so much mobility you have. Still, even when Big Z had it, he didn't utilize it.
Now, he's simply a pick and pop spot up shooter who ocassionally leaves his feet to grab a rebound, but that's about it.
Milwaukee: Stephen Jackson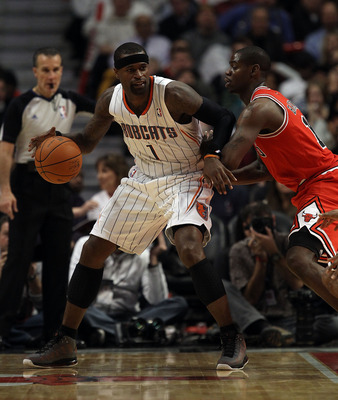 Jonathan Daniel/Getty Images
This may surprise you a bit, but hear me out. Jackson isn't terribly unathletic; it's just that he never chooses to use it.
His game is mainly built around isolation jump-shooting, in which he waits for the moment, clears out the lane and takes his defender one on one either for a shot or a simple drive.
Jackson is also known to stand around and spot up for the open three ball. Even his jump-shot is very grounded, in which he rarely leaves his feet and just uses all of his arm to sort of whirl the ball into the basket.
As for dunking? Forget about it; Jackson prefers the nice, easy layup.
Minnesota: Kevin Love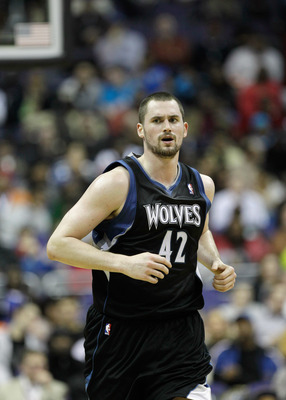 Rob Carr/Getty Images
Similar to Z-Bo, Love is also the team's best and most unathletic player.
Love has virtually no athletic ability but still manages to pull down rebounds like an absolute monster (we haven't seen these kind of rebounding numbers since Moses Malone). He's an absolute glass-cleaner and just knows how to go after it.
His offensive game is surprisingly good. He can stretch out to the three-point line and hit the shot with consistency.
His back-down post game needs a little work, but it'll come in due time. Most of Love's scoring comes from his ridiculous 15 rebounds a game. The only guy that makes being unathletic actually look pretty decent.
New Jersey: Sasha Vujacic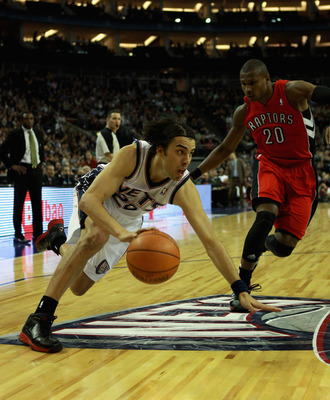 Warren Little/Getty Images
I was left with no choice. New Jersey has some pretty athletic guys, so I had to go with "The Machine" on this one.
Pretty self-explanatory if you ask me: an Unathletic three-point shooter who makes a living sitting out at the three-point line waiting for a pass.
New Orleans: Aaron Gray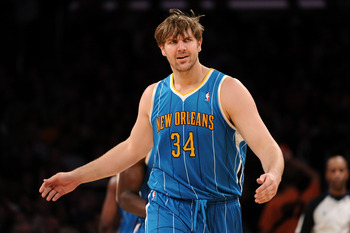 Harry How/Getty Images
As a Bulls fan, I have to tell you, Gray is one of the most unathletic guys I've ever seen in the league. In his time with the Bulls, Gray was mainly there to just take up space.
They gave him a chance to improve his offensive game and make himself more than just a foul machine, but it didn't happen.
Now with New Orleans, Gray has the same exact role, only this time he's able to generate a little offense through easy buckets from Chris Paul. Still, Gray has absolutely no jumping ability.
At 7'0" and over 270 lbs., you're not moving that, and he's not moving himself.
New York: Anthony Carter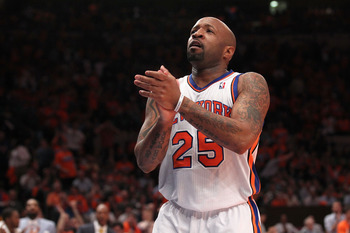 Nick Laham/Getty Images
Carter is now 36, so it makes since that he isn't athletic. My guess, however, is that he never had it. As a backup point guard, Carter's job is to set up teammates, find the open man and shoot only when he's absolutely wide open.
Athletic ability isn't on the job description, so Carter doesn't have to worry. Dunking is out of the question; heck, even a nifty layup would be nice.
New York has some pretty good athletes, so I was sort of forced to go with Carter.
Oklahoma City: Kendrick Perkins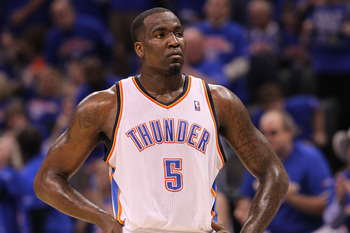 Ronald Martinez/Getty Images
One of the more overrated centers in the league, Kendrick Perkins' body and a scowl on his face was enough to get him an NBA contract.
Intimidating opposing players by simply looking at them, Perkins preys on smaller guards that find their way to the basket only to meet head to torso with Perkins' massive body.
Perkins throws his weight around like many other bigs, and somehow, he's able to get eight to nine rebounds and two to three blocks a game, simply by doing just that. Game over. Pay him now.
Orlando: Hedo Turkoglu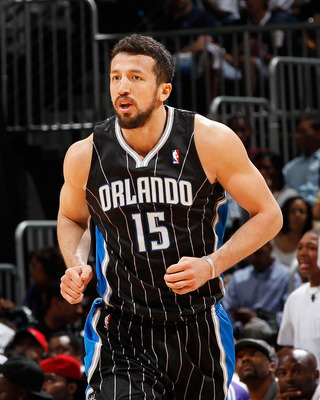 Kevin C. Cox/Getty Images
Turkoglu has never been the same player since he left Orlando the first time around. He tried to make his second homecoming a little sweet, but it was soured by Orlando's early exit in the playoffs.
Turkoglu is called the "Michael Jordan of Turkey." Well, I'm sure it isn't because of his athletic ability.
Earlier in the day, there were some flashes, but nowadays, Turkoglu sort of just sits around at the three-point line waiting for a pass, or simply takes over the offense for one play simply to just do what every other Orlando player would have done: pass the ball to Dwight Howard.
Philadelphia: Elton Brand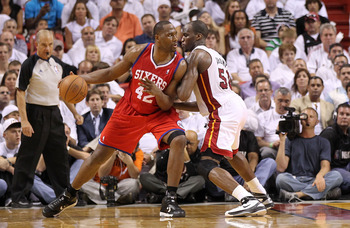 Mike Ehrmann/Getty Images
I could have went a few ways with Philadelphia. Kapono was an option, and so were so other limited-minutes type of players, but in the end, I decided to go with Brand for a couple of reasons.
First of all, Brand was a very athletic big when he entered the league with the Bulls and repeatedly put with 20/10 seasons.
However, injuries slowed him down immensely, and now Brand is past his prime and on his last legs of being an effective player. Brand can't jump much, so he uses his patented 15-foot jumper to bail him out on plays and occasionally throws up a hook shot here and there.
Another low-to-the-ground type of player, athleticism isn't exactly his forte.
Phoenix: Steve Nash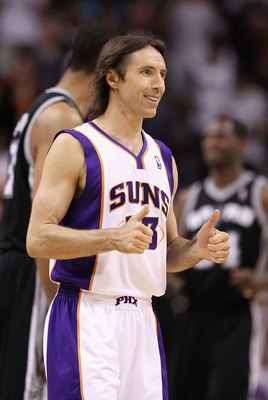 Christian Petersen/Getty Images
Steve Nash is unathletic. Now the world knows.
However, if being unathletic means winning two MVPs, making several All-Star/All-NBA teams and going down as one of the greatest point guards in the game, then I'll take being un-athletic any day of the week.
Phoenix has a lot of athletes (Vince Carter, Pietrus, Dudley, Lopez), and so I had to go with Nash. He's unathletic, and that's just perfect for him. His game is built like that.
He's been dominating opposing point guards for over a decade now, so I would tend to think his lack of athleticism isn't holding him back.
Portland: Marcus Camby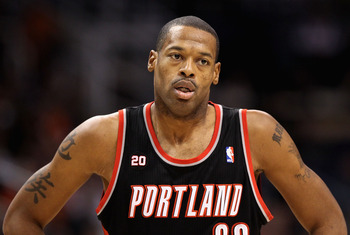 Christian Petersen/Getty Images
It was between Oden and Camby, and since Oden never plays, I went with Camby by default. Of course, age also has a lot to do with it, as Camby is now a prehistoric age of 37.
Still, Camby is relatively effective as a rebounder and a shot blocker. His length allows him to do just that.
Dunking over guys, catching alley-oops and finishing plays; yeah, those days are over for Camby.
Sacramento: DeMarcus Cousins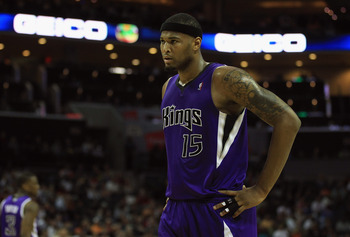 Streeter Lecka/Getty Images
Yes, I know. Cousins is young (just 20) and just a rookie. So how can he already be the most unathletic player on his team? Two reasons.
One, Sacramento is a very young team with a lot of great athletes (Evans, Thorton etc.). Second, Cousins has a sort of Zach Randolph type of old school game where he just bullies opposing bigs down low with his sheer size.
There aren't too many big men the size of Cousins (6'11" and 270 lbs.), and so, Cousins can't and won't jump over opposing players. He'd much rather just back them down and score over them.
I could see Cousins becoming a very efficient player simply with that type of game. At his size, it's difficult to jump with all that weight holding you down, and so he'd much rather be content in simply backing you down and abusing you down, and laughing while he's at it.
San Antonio: Antonio Mcdyess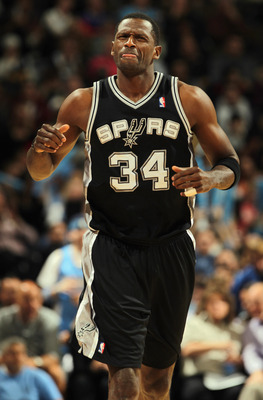 Doug Pensinger/Getty Images
Antonio McDyess seems as if he's been around forever. Now at 36 years old and on his last legs, McDyess could call it quits anytime soon.
At this point in his career, McDyess possesses absolutely no athletic ability whatsoever. He's simply a jump shooting big man who a decent defender. No further explanation needed here.
Toronto: Linas Kleiza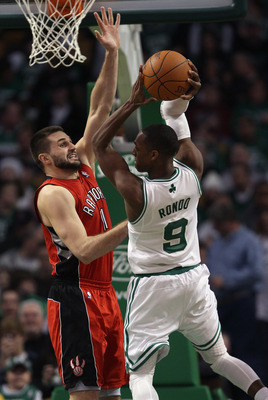 Elsa/Getty Images
The Raptors are filled with a mix of good athletes (DeRozan, Johnson), as well as some solid athletes (Barbosa, Bargnani), and so, it was difficult to pinpoint someone out.
In the end, I went with Linas Kleiza. He's got a very refined offensive game that focuses much more on skill than athletic ability.
When he was with Denver, Kleiza was a very good spot three point shooter. Now with the Raptors, he's got relatively the same job. A very good shooter in his own right, Kleiza isn't a terrible athlete, but on his team, he's the worst.
Utah: Mehmet Okur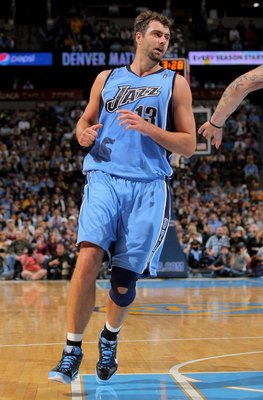 Doug Pensinger/Getty Images
The prototypical European big man. Okur has a very shooting-oriented game in which he's more content to stand out at the three point line and shoot over his defender, rather than take him to the hole.
Okur has the disadvantage of being on a team with some excellent athletes in Millsap, Favors, Harris and Miles.
Okur has never been, and will never be, athletic.
Washington: Andray Blatche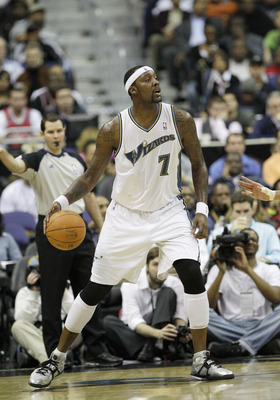 Rob Carr/Getty Images
Andray Blatche isn't a terrible athlete, he just lacks some serious work ethic, as evident by the wide-open layup he blew in a game vs the Chicago Bulls.
Blatche received the pass, and with no man in sight, could have easily threw it down. Instead, he got lazy and barely got off his feet and completely blew the play.
That pretty much sums up Andray Blatche in one play. Oh, and the fact that he plays with some seriously gifted athletes in John Wall and JaVale Mcgee doesn't help his case either.
If you liked this article, follow me on Twitter
Keep Reading

Memphis Grizzlies: Like this team?