2011 NFL Offseason: Are the Philadelphia Eagles the New Miami HEAT of the NFL?
August 4, 2011
Al Bello/Getty Images
As seen on http://crankuptheheat.com/
There has been an incredible amount of hype surrounding the Philadelphia Eagles' offseason additions. Some sports pundits have even gone as far to compare the new-look Philadelphia Eagles to the Miami Heat's remarkable offseason additions.
As I'm sure you remember, many basketball aficionados started referring to the Miami Heat as a "dream team" when they inked LeBron James, Chris Bosh and Dwyane Wade.
The hype surrounding the Heat was justified with the two best players in basketball joining forces, but it was premature. The Heat's rough start to the season signaled just how premature the hype and expectations were.
Who's to say the same thing can't happen to the Eagles? Team chemistry and camaraderie is just as important in football as it is in basketball. It can even take some time for teams with very talented players to come together and play cohesively. The Heat's slow start to the season reminded us of this cold hard truth.
The difference is that in the NFL you absolutely cannot afford to get off to a slow start. We are talking about 16 games in the NFL compared to 82 games in the NBA. If you start 0-5 or 0-6, you are pretty much toast. There is going to be a lot of pressure on the Eagles to win and play well right from the get-go.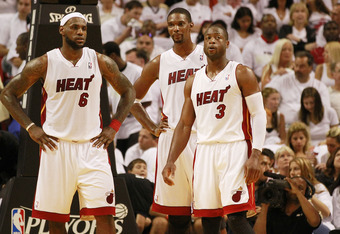 Marc Serota/Getty Images
With that said, even though the South Beach Dream Team has not yet been crowned an NBA champion doesn't mean you shouldn't recognize how potentially great the star studded Heat could be in the very near future.
Just in case you were living in a cave for about a year, this past season the Heat advanced to the NBA Finals for the second time in franchise history, which marked the Big Three's very first season together.
We witnessed the Heat go through ups and downs throughout the season. Last season was the equivalent of a wild roller-coaster ride. The fact is though, the Heat proved they could play together and play winning basketball.
Doesn't Philly need to actually come together and win some football games before we start proclaiming them as a team destined for greatness?
Not to mention the fact that the Eagles still have their fair share of question marks at other positions. So it's not even like they are really a complete team.
Now let's take a look at what the Philadelphia Eagles have done. Since the NFL lockout finally came to an end and when free agency began, the Eagles got right to work, adding Jason Babin, Dominique-Rodgers-Cromartie, Cullen Jenkins, Vince Young, Nnamdi Asomugha and Ronnie Brown, in no particular order.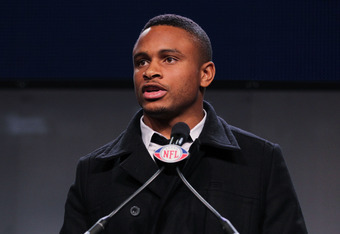 Doug Pensinger/Getty Images
Yes they had a good free agency and they greatly upgraded their roster, and I greatly respect and admire the Eagles for being as bold and aggressive as they were pursuing and locking up these guys. However, referring to the Eagles as a "dream team" is completely far-fetched and pretty much insane.
Do these names really measure up to the Heat's famous trio? These guys are not as famous and most of them won't have nearly as great of an impact as the Three Kings had for the Heat. Vince Young is going to be riding the pine as he watches Michael Vick continue to make jaw-dropping plays. Asomugha is highly regarded as a shutdown corner, but how many games is he going to really win games for the Eagles this season?
Will he really be able to make that many great plays? Did the Eagles overpay for him? The Eagles gave him a lucrative five-year, $60 million deal. We are talking about five years and $60 million for a cornerback!  And please don't even get me started on Ronnie Brown.
Football is more of a team game compared to basketball. The structure of an NFL team is completely different to the structure of an NBA team. It takes a lot of good players at each position in order to win a Super Bowl championship in football. This means you have to have a serious amount of depth at each key position.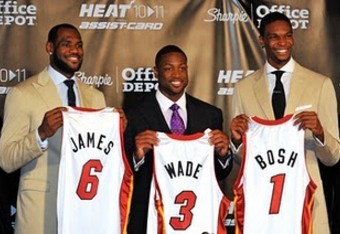 In professional basketball, all it takes is two or three star players to become a legit championship contender. Two or three star players in the NFL is not going to be enough to seriously compete for a championship. You need a lot more than that.
Hypothetically, if the New York Knicks are able to sign Chris Paul or Dwight Howard once the current lockout reaches its inevitable conclusion, and as a result the national media wants to compare the Heat and Knicks to each other, then of course that will be fine by me.
In fact, it would be a lot of fun to compare both teams to one another. Having two different Dream Teams would be great for the NBA, especially since the Heat and Knicks rivalry would be restored and renewed. The last time I checked, rivalries are what make sports truly great.
The bottom-line is it is very silly to compare two different teams from two different sports. And really what's the point? For all we know, the Eagles could go down as the most overrated and over-hyped team in the history of professional sports.
This is exactly what all of the Heat haters were hoping would happen to the Heat. The Heat were able to put most of their rationale-minded critics to rest when they eliminated Boston and Chicago in five games before reaching the NBA Finals.
Now, did Nnamdi Asomugha (the most sought after free agent this offseason) hold a Decision Special on ESPN to announce who he was going to play for? We all know that didn't happen. Did the Eagles decide to organize and put on a celebration to welcome all of these new free agents to Philly? No way. Did the Heat do these two things? You better believe it.
So there are negative reasons as well as positive reasons for why you can't really make a good and reasonable argument to compare the Eagles and Heat. As far as the Dream Team scenario is concerned, are the Eagles really the NFL's version of a Dream Team? Only time will tell but, I seriously have my doubts.