NBA Predictions 2011-12: Predicting Every Team's Record Next Season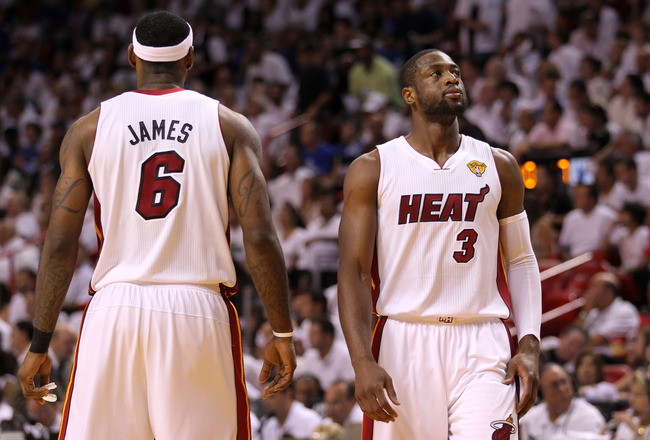 Mike Ehrmann/Getty Images
While it is uncertain when this lockout will end and what moves teams will make once it is over, we can kind of get an idea of how a team will perform next season based on their performances this past season.
There are some teams that are on the rise to become contenders, some that stay about the same from year to year, and some that are on the decline and need to rebuild.
Here are my predictions for all 30 teams' records next season.
Atlanta Hawks
The Hawks followed up a poor regular season with an impressive run to the Eastern Conference semi-finals and gave the Bulls all they could handle through Game 4.
They faded during Games 5 & 6, but this was a promising sign for a team that came stumbling into the playoffs as a huge underdog.
However, it seems likely that they will lose Jamal Crawford to free agency and that will largely affect their offense and depth.
If they can find a replacement for him or re-sign him, they could win 50 games. That's a big "if" though.
2011-12 Record: 45-37
Boston Celtics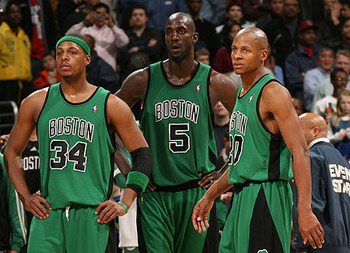 The Celtics were looking pretty dominant throughout the first three-fourths of the season, but the mid-season trade of Kendrick Perkins for Jeff Green halted some of their progress at the end of the season.
They had maintained the No. 1 spot in the East for most of the season, but they fell to the 3rd seed at the end of the season, behind the Chicago Bulls and Miami Heat.
Their Big 3 are another year older and you have to wonder when Danny Ainge will pull the plug and start rebuilding this team for the future.
2011-12 Record: 52-30
Charlotte Bobcats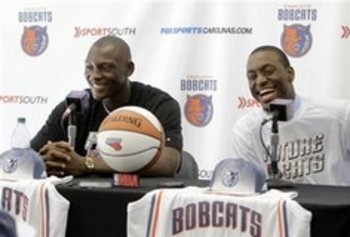 The Charlotte Bobcats are in full-scale rebuilding mode after trading away team captain and leading scorer Stephen Jackson. They brought in Corey Maggette from the trade and drafted high scoring guard Kemba Walker and defensive minded forward Bismack Biyombo.
The future in Charlotte looks hopeful, but this team will struggle to compete against most other teams in the NBA. Walker could likely step in a make an immediate impact, but Biyombo might take a few years to develop and has an extremely limited offensive game.
The Bobcats may have a shot at the No. 1 pick in the draft next year.
2011-12 Record 20-62
Chicago Bulls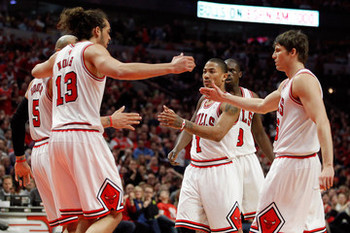 The Chicago Bulls took the league by storm by sealing the best record in the NBA last season at 62-20.
With MVP Derrick Rose leading the way, this team could very well make a Finals run next season. This team is regarded, however, as a team a shooting guard short of being a legitimate contention.
Some of the options presented have been JR Smith and Jamal Crawford, both streaky scorers, but they would be significant upgrades to the trio of shooting guards Chicago used last season.
Chicago won't match their win total from last season, but don't be surprised if they wind up playing in June for the championship.
2011-12 Record 59-23
Cleveland Cavaliers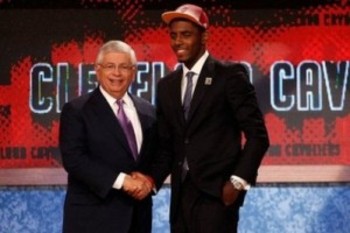 The Cavaliers selected their point guard of the future in Kyrie Irving, but this team is still a ways away from being a playoff team. They also drafted forward Tristan Thompson with the fourth pick.
The team seems to have moved on from the LeBron James drama and now we may see the start of the Kyrie Irving era.
The Cavs also have solid veterans in Antawn Jamison and Baron Davis, and promising forward Omri Casspi, acquired in the JJ Hickson trade.
The team will definitely be better, but this team won't see a huge improvement next season in the win-loss column.
2011-12 Record 25-57
Dallas Mavericks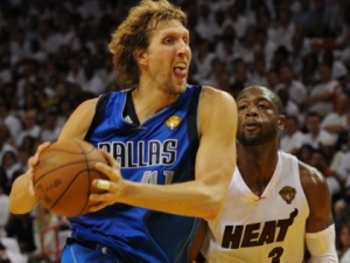 The Mavericks are coming off their first championship in franchise history, but they will have to make some key decisions when this lockout ends.
They will have to decide which of their many key free agents to resign, namely Tyson Chandler, Caron Butler, and JJ Barea.
Chandler was a huge in helping Dallas develop a defensive identity, and Butler was a legitimate second scorer for Nowitzki before he got injured.
Barea was a huge factor during the playoffs using his speed and quickness to get into the paint and score easy baskets.
These decisions will play a large role in how well the Mavericks fare next season, but expect another solid season and deep playoff run from the defending champions.
2011-12 Record 58-24
Denver Nuggets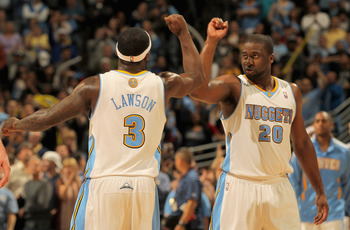 Doug Pensinger/Getty Images
The Nuggets finally got out from the Melo drama and sent him to the New York Knicks along with point guard Chauncey Billups. In return they received a trio of solid young players in Raymond Felton, Danilo Gallinari and Wilson Chandler.
The Nuggets played excellent team basketball after the All-Star break, but that success didn't carry over into the playoffs as they were defeated in five games to the Oklahoma City Thunder. The Nuggets seem set to lose many of their key players to free agency, such as Nene, Kenyon Martin, Wilson Chandler, and J.R. Smith.
They seem willing to let Smith and Martin go, but they are expected to strongly push to resign Nene and possibly Chandler as well. Their success next season will depend on who they bring back and who they can land in free agency as well.
2011-12 Record 38-44
Detroit Pistons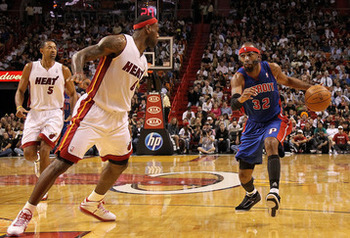 The Pistons finally seem to be headed in some sort of direction.
Tayshaun Prince's contract comes off the books this season, and the team drafted Brandon Knight as their point guard of the future. That opens the door for one of their other point guards to be traded.
The team is still trying to decide what to do with Richard Hamilton and Ben Gordon, but it seems progress is being made in Detroit. However, that progress won't translate into too many more wins as the team is still in rebuilding mode.
Players such as Austin Daye, Jonas Jerebko, and Greg Monroe will likely see more playing time this season.
2011-12 Record 28-54
Golden State Warriors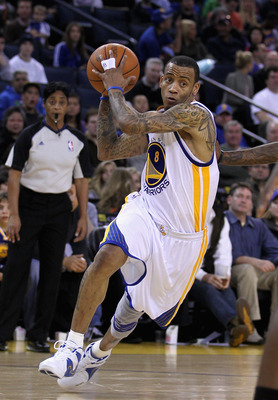 Ezra Shaw/Getty Images
The Warriors made strides last season, improving their record to 36-46. The main cause for concern is if guards Stephen Curry and Monta Ellis can be in the backcourt together. They have been an exciting, high scoring duo, but that hasn't translated into much success.
Both are around 6'3", but the main differences are that Ellis is the better scorer and Curry is the better playmaker. Recent trade rumors surrounding the Warriors have them sending Ellis to Philadelphia in exchange for swingman Andre Iguodala, a strong defender but not the offensive force that Ellis is.
Curry recently stated that the team wants Ellis to stay, so a team would probably have to present an offer to the Warriors that they couldn't refuse in order for them to trade Ellis.
Improved play by David Lee and Ekpe Udoh and a healthy Andris Biedrins could translate into a few more wins for this young team.
2011-12 Record 37-45
Houston Rockets
Ezra Shaw/Getty Images
The Rockets are now without Yao Ming permanently after he announced his retirement from the NBA. Houston finished with a winning record but missed the playoffs for the second straight season.
Kevin Martin finished the year averaging 23 ppg and Kyle Lowry emerged as a strong starting point guard.
The team drafted forward Marcus Morris from Kansas, a talented power forward/center who can post up, pass, and shoot the three ball.
This team suffered from an extremely slow start, but was one of the best teams after the All-Star break, nearly making the playoffs as the eighth seed. Expect them to make the playoffs this season.
2011-12 Record 46-36
Indiana Pacers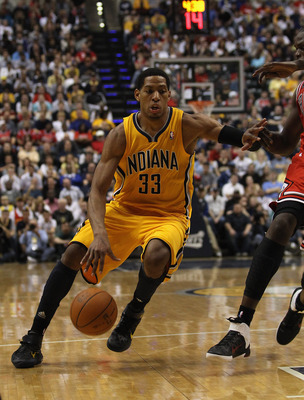 Jonathan Daniel/Getty Images
The Pacers surprised many by making the playoffs with a 37-45 record. That shows how weak the bottom half of the Eastern Conference is.
The team acquired guard George Hill from the Spurs in exchange for the 15th pick in the draft, forward Kawhi Leonard. That gives them more versatility at the guard position as Hill has mainly been a scoring guard off the bench, but he can play both guard positions.
The Pacers could use him as their starting shooting guard or use him as Darren Collison's backup. Danny Granger has been rumored to be on the trading block, though, which would halt their progress up the Eastern Conference standings.
Roy Hibbert has been a huge positive for them last season developing into the solid big man this team has lacked since Jermaine O'Neal. This team could make the playoffs, but don't expect too many more wins from this club.
2011-12 Record 38-44
Los Angeles Clippers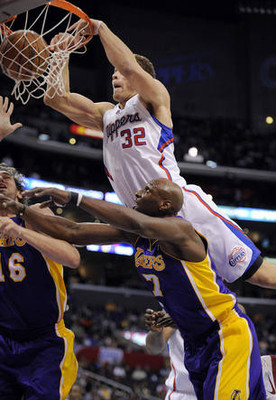 The Clippers are one of the teams on the rise in the Western Conference. They have a solid core of Eric Gordon, Blake Griffin, Deandre Jordan, and Mo Williams.
Gordon and Griffin form a powerful one-two scoring punch while Williams is a solid starting point guard who can set Griffin up for easy scores and ally-oops.
This team showed flashes of what they could become last season and this season could be the one where they get over the hump and make the playoffs.
There have been rumors of the team sending center Chris Kaman to the Sixers in exchange for Andre Iguodala and that would give the Clippers one of the most athletic starting lineups in the entire NBA.
Expect the Clippers to end the season over .500 for the first time since the 2005-06 season.
2011-12 Record 43-39
Los Angeles Lakers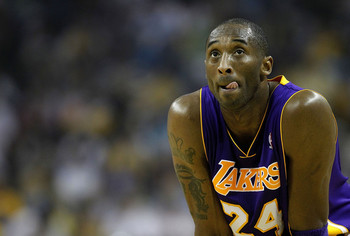 The Lakers reign as the two-time defending champions ended this season at the hands of the eventual NBA champion Dallas Mavericks. The Lakers major weaknesses were exposed during the playoffs: their lack of depth and lack of a quick point guard to defend players like Chris Paul and Derrick Rose.
While rumors have been swirling around that the Lakers could pursue Chris Paul and Deron Williams, a more likely solution to the point guard problem is a player like TJ Ford, who hasn't played much in Indiana, or DJ Augustin, who may be available from Charlotte with the drafting of Kemba Walker.
The team has also been rumored to be pursuing Orlando Magic center Dwight Howard, but the chances of a deal happening there are slim unless Howard demands to be traded specifically to the Lakers.
Upgrades or not, the Lakers can still be a major factor during the playoffs, but don't expect the same dominant team they were during the 2008-10 seasons.
2011-12 Record 54-28
Memphis Grizzlies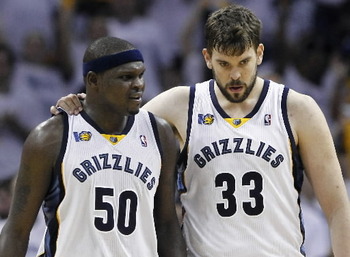 The Grizzlies went on a Cinderella playoff run following their first playoff appearance without Pau Gasol.
The duo of Zach Randolph and Marc Gasol proved to be nearly unstoppable during the playoffs as they overwhelmed the undersized San Antonio Spurs, and nearly defeated the Thunder in an exciting seven game series.
They did this all without their star wing Rudy Gay, who was out with a shoulder injury for the latter part of the season, including the playoffs. The team has already re-signed Randolph to a long term deal and they are looking to lock up Gasol as well once the lockout is over.
OJ Mayo is likely gone from Memphis, but the Tony Allen proved to be a consistent shooting guard for this team as well as Shane Battier and Sam Young. Expect another playoff appearance and more consistency from this rapidly improving Grizzlies team.
2011-12 Record 45-37
Miami Heat
The Heat came into the 2010-11 season with sky-high expectations, but ultimately fell short of their championship dream at the hands of Dirk Nowitzki and the Dallas Mavericks.
The Heat had their ups and downs during the regular season, but they played very well for the first season together landing the second seed in the Eastern Conference and winning 58 games. This team will always be one of the leading contenders, but they are in need of a few tweaks to the roster.
Mario Chalmers emerged as a solid option at point guard for the Heat, but they need to address their lack of a solid starting center via free agency. The team also needs LeBron to be more aggressive in the clutch as he seemed to disappear from every fourth quarter during the Finals.
He is more than capable, but the team needs to find a way to motivate him to remain aggressive during the fourth quarter instead of deferring to lesser teammates.
This team played well in their first season together, and with a few minor upgrades to the roster and more chemistry together, the Heat should cruise to the best record in the league and take home their first championship in the Big 3 era.
2011-12 Record 64-18
Milwaukee Bucks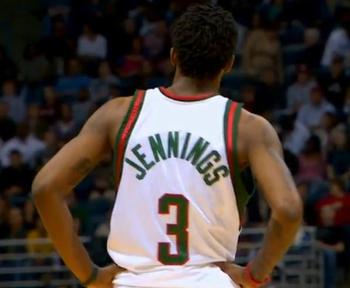 The Bucks had one of the league's best defenses (third in the NBA) last season but also had the worst offense in the league (91 ppg, 30th in the NBA).
The John Salmons/Corey Maggette experiment failed miserably and it forced Brandon Jennings to carry the offense on his shoulders resulting in him taking a lot of bad shots.
The Bucks shipped both Salmons and Maggette out and brought back Stephen Jackson, Shaun Livingston, and Beno Udrih in the deal. Jackson should take some of the scoring pressure off of Jennings and Livingston and Udrih are solid backup point guards.
The team really needs Andrew Bogut to get healthy and remain healthy,, because when he is, he is one of the top centers in the league. This team is really one of those make or break teams, and I don't see them improving much from last season.
2011-12 Record 33-49
Minnesota Timberwolves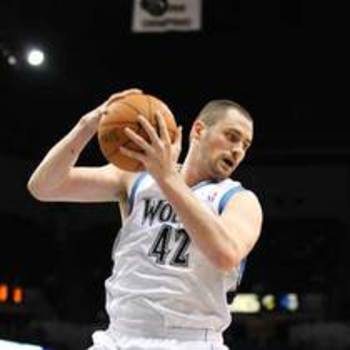 Timberwolves fans finally have something to look forward to: Ricky Rubio is coming to the NBA. The Wolves have loads of young talent in Kevin Love, Michael Beasley, Wesley Johnson, Ricky Rubio, and newly drafted Derrick Williams.
What this team needs now is an experienced veteran to help lead the young players on the roster and help them improve.
Kevin Love emerged as one of the best young forwards in the NBA and led the league in rebounding (15.2) and had a streak of 53 straight games with a double-double.
This team won't see a huge increase in wins from last season, but they could be a very good team in the next few years after their young players develop into mature NBA players.
2011-12 Record 27-55
New Jersey Nets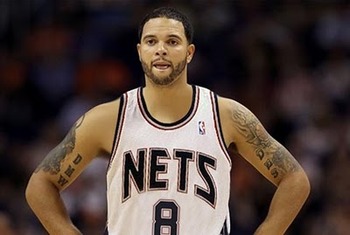 The New Jersey Nets appear to have a promising future. The team acquired All-Star point guard Deron Williams from the Jazz at the trade deadline in exchange for guard Devin Harris, forward Derrick Favors, and draft picks after they failed to acquire Carmelo Anthony.
Williams has said he is open to staying in New Jersey, but only if the team can build a championship caliber team around him. Some think that Williams could help lure Dwight Howard to the Nets in a deal for young center Brook Lopez.
The Nets general manager needs to make the right moves in order to convince Williams to stay and possibly lure another star player to New Jersey.
While this team won't be contending even with Williams, they will be an improved team and should see an increase in the wins column from last season.
2011-12 Record 34-48
New Orleans Hornets
The situation in New Orleans seems to be getting grimmer. David West opted out of the final year of his contract and while he could choose to remain in New Orleans, he is likely to sign with a contender.
Chris Paul is likely to leave next off-season and the team will want to do whatever they can to keep him or get as much as they can in exchange for him.
The first step should be re-signing Carl Landry. He played very well in the first round series against the Lakers and he proved to be a valuable asset to this team.
The Hornets would have to pick up some key free agents in order to convince Paul that they can be contenders, but that is highly unlikely.
Unless Paul pulls off a miracle and leads this team to the playoffs without a second option, expect the Hornets to drop significantly in the standings.
2011-12 Record 32-50
New York Knicks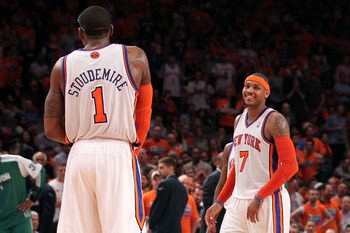 Nick Laham/Getty Images
The New York Knicks made huge strides last season and have a powerful core of Carmelo Anthony, Amare Stoudemire, and Chauncey Billups. What they need to do now is strengthen their bench and sign a legitimate starting center.
What the Knicks are really waiting for, though, is a shot at signing Dwight Howard or Chris Paul next off-season when their contracts expire.
With a half a season under their belts and a full training camp (if lockout is lifted), the trio of Billups, Anthony, and Stoudemire will have much better chemistry and have their young players improve.
If the Knicks improve their depth and sign a solid center, they could be in the championship mix next season.
2011-12 Record 50-32
Oklahoma City Thunder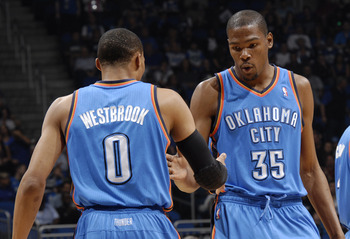 The Thunder are coming off of a Conference Finals appearance where they might have advanced to the Finals had they not coughed up some big leads at the ends of games.
They have one of the best one-two scoring punches in the league in Russell Westbrook and Kevin Durant, one of the best perimeter defenders in Thabo Sefalosha, a tough center in Kendrick Perkins, and an excellent sixth man in James Harden.
Harden will likely inherit the starting shooting guard spot next season, as he was superb during the playoffs coming off the bench. Forward Serge Ibaka emerged as a good starting power forward after former starter Jeff Green was traded to Boston.
The team also has strong role players in Nick Collison, Eric Maynor, and Daquan Cook coming off the bench to support their two stars. This team has the talent, desire, and experience to make the Finals next season.
2011-12 Record 60-22
Orlando Magic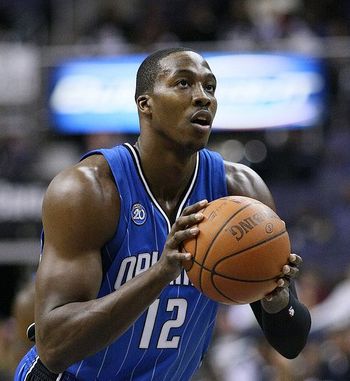 Every story line surrounding the Orlando Magic has been about what they will do with Dwight Howard.
Most people think that they will have to trade him to a team like the Bulls, Knicks, Lakers etc. because he wants to win championships.
He has stated that he wants to remain in Orlando, but wants them to build a championship caliber team around him that could contend for the next several years. While most think that can't happen, the reality is that the Magic are a piece away from legit contention.
The team is in desperate need of another big man to relieve the pressure off of Howard and they need more consistency from their guards. A player like David West would push the Magic into contention and they may as well be the front runners with a move like that.
Expect the Magic to make moves to surround Howard with a better supporting cast and for them to re-establish themselves as legitimate contenders for the title.
2011-12 Record 54-28
Philadelphia 76ers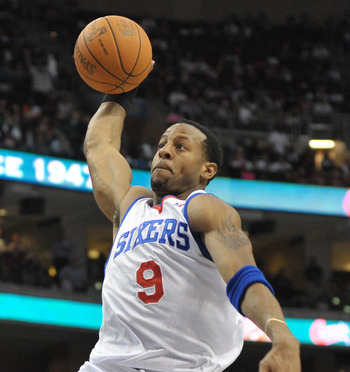 The Philadelphia 76ers went through a complete transformation under new coach Doug Collins, going from being a high lottery team to the seventh seed in the Eastern Conference in one season.
They have some promising young talent in Lou Williams, Jrue Holiday, and Evan Turner. Andre Iguodala is being shopped and a likely scenario seems to be a straight up swap for Monta Ellis of the Golden State Warriors. Ellis would give the Sixers a legit #1 scoring option (he averaged 24 ppg last season).
Iguodala, however, isn't too bad himself being one of the best perimeter defenders in the league and a decent scorer (14 ppg last season). Whether a trade occurs or not, the Sixers can only get better from last season.
2011-12 Record 43-39
Phoenix Suns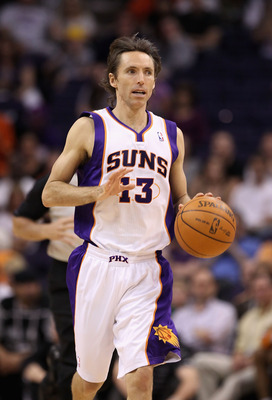 Christian Petersen/Getty Images
The Suns are in no man's land. Steve Nash is nearing the end of his career and the Suns are nowhere near contention. They need to do themselves and Nash a favor and trade him to a contending team for as much as they can get in return while his value is still high.
Marcin Gortat emerged as a terrific starting center for the Suns and Jared Dudley played great as well last season. Grant Hill is playing probably some of the best basketball of his career and he still looks fresh even at 38.
The team is expected to buy out Vince Carter once the lockout ends. This team needs to blow up the roster and start from the ground up. The team should re-sign point guard Aaron Brooks, who is a solid replacement for Nash and can be their point guard of the future.
Brooks, Dudley, and Gortat give the Suns a solid foundation to build around for the future. The team also drafted forward/center Markieff Morris, who could develop into a strong post player and defender.
Don't expect much from this Suns team next season.
2011-12 Record 25-57
Portland Trail Blazers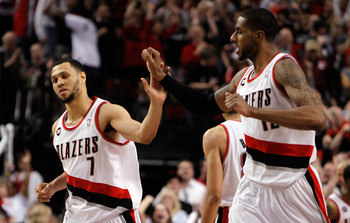 Jonathan Ferrey/Getty Images
The Blazers could be one of the best teams in the NBA if they could avoid the injury bug. Brandon Roy has been significantly slowed by knee injuries and Greg Oden has played a total of 82 games over his four year career.
While they were out, LaMarcus Aldridge emerged as the team's new franchise player averaging career highs in points (21.8) and rebounds (8.8) last season.
The team acquired forward Gerald Wallace from the Charlotte Bobcats at the trade deadline improving their depth and athleticism.
The team has strong young players in Wesley Matthews, Nicolas Batum, and newly acquired point guard Raymond Felton (acquired from Denver). Should this team stay healthy, they could be a major factor in the 2011-12 playoffs.
2011-12 Record 52-30
Sacramento Kings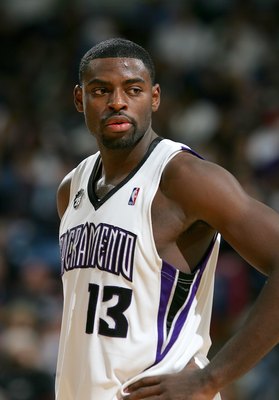 Ezra Shaw/Getty Images
One trade occurs and the Kings suddenly have one of the deepest backcourts in the NBA. The team has Tyreke Evans, Marcus Thornton, John Salmons and Jimmer Fredette.
The team also has a deep frontcourt with DeMarcus Cousins, Jason Thompson, Donte Greene and JJ Hickson.
This team could become one of the better teams in the NBA with experience and floor time together, but this team could really use a veteran leader to help guide its young players and help them improve.
This team is not a playoff team, but they will be a much better team than last year.
2011-12 Record 34-48
San Antonio Spurs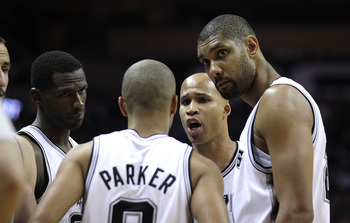 Jed Jacobsohn/Getty Images
The Spurs cruised to the #1 seed in the Western Conference, then were bullied in the playoffs by the Memphis Grizzlies. The duo of Zach Randolph and Marc Gasol overwhelmed Tim Duncan and the rest of the Spurs' big men in the paint, exposing one of the Spurs' weaknesses.
Tony Parker came out and said that this team could no longer play for a championship, but they can still be a major factor in the playoffs.
They have a strong core of Tony Parker, Manu Ginobli, and Tim Duncan, and promising young players in Gary Neal, DeJuan Blair, and rookie Kawhi Leonard.
Tim Duncan can no longer dominate like he used to but he is still one of the best power forwards in the league and is surrounded by a strong supporting cast.
his team can still make some noise in the playoffs, but a championship run is pretty unlikely.
2011-12 Record 49-33
Toronto Raptors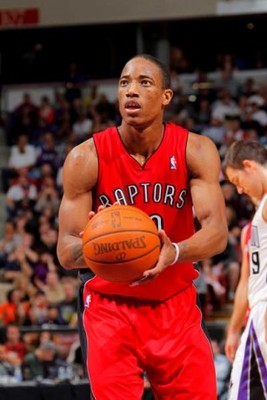 The Raptors struggled in their first season without Chris Bosh. There were some bright spots, though.
DeMar DeRozan emerged as a star and building block for the future and young players Ed Davis, James Johnson, and Jerryd Bayless showed flashes of what they could become.
The team really needs Andrea Bargnani, a great scorer (21 ppg), to become more aggressive on defense and rebounding.
The hiring of Dwyane Casey as head coach will instantly improve Toronto's poor defense as he was the defensive coach of the NBA Champion Dallas Mavericks last season before signing with Toronto.
This team showed flashes of the future last season, but they are still a couple seasons away from legit playoff contention.
2011-12 Record 31-51
Utah Jazz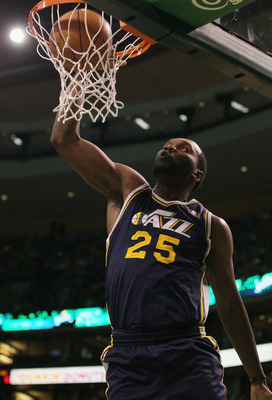 Elsa/Getty Images
The Jazz have stockpiled talented big men over the last couple of seasons. They have a quartet of big men good enough to receive starters minutes (Al Jefferson, Paul Millsap, Derrick Favors, and Enes Kanter).
The Jazz also have good, young wing players in rookie Alec Burks, Gordon Hayward, and CJ Miles. The team also acquired point guard Devin Harris from the Nets in the Deron Williams deal and he played solidly for the last half of the season for the Jazz.
This team will need to make a decision on Andre Kirilenko, but they should return to the playoffs this season with all of their young talent.
2011-12 Record 44-38
Washington Wizards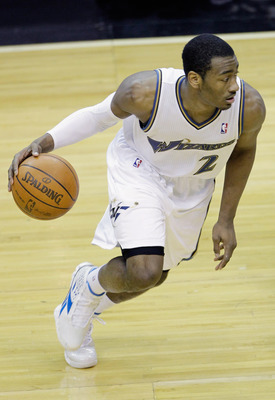 The Wizards are another one of those make or break teams. They are solid at three positions with John Wall, Jordan Crawford, and Nick Young in the backcourt. They also have a solid bench with Rashard Lewis, Josh Howard, Maurice Evans, and Kevin Seraphin.
JaVale McGee emerged as a solid, young starting center who can block shots and finish at the rim. The team needs to find a way to get forward Andray Blatche to stay motivated throughout the season. What this team needs is to stay healthy and more floor time together in order to succeed.
They also need to figure out what to do with Rashard Lewis and his monster contract. He can still be a solid contributor on a team but he is nowhere near worth his salary. This team could either make the playoffs or drop to the bottom half of the Eastern Conference standings.
2011-12 Record 35-47
BONUS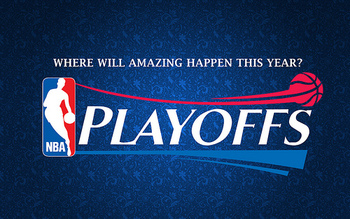 Eastern Conference Finals
Miami Heat vs. New York Knicks
Western Conference Finals
Oklahoma City Thunder vs. Dallas Mavericks
BONUS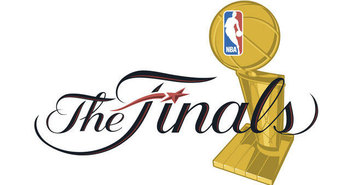 NBA Finals
Miami Heat vs. Oklahoma City Thunder
NBA Champion: Miami Heat in 7 games
Finals MVP: Dwyane Wade
Keep Reading