L.A. Lakers: Lamar Odom at Point Guard?
July 10, 2011
Kevork Djansezian/Getty Images
The Lakers were swept out of the playoffs by eventual champion Dallas, making it the most disappointing season since they lost 4-1 in the finals against the Pistons in 2004.
There's much speculation about what went wrong in Lakerland. Was Phil Jackson not as devoted as in years past? Was there a rift between Kobe and Pau? Were Lamar Odom's off-court affairs distracting to the team?
Or, was it simply that they weren't good enough?
I believe it to be the latter. The Lakers weren't good enough to win it all this year because they weren't strong enough at the point guard position.
When facing teams with small, quick point guards, the Lakers were hopeless. If they went with Derek Fisher, he couldn't guard anyone, and if they went with Shannon Brown, the offensive structure fell apart.
This offseason, most "experts" are talking trade for the Lakers. They're talking about bringing in a big-name talent like Dwight Howard or Chris Paul, and they are talking as if they'd be able to get one of these guys for Andrew Bynum or Lamar Odom.
They won't.
Thus, they need to start thinking creatively.
I believe they need not look much beyond Lakers teams of the 1980s for the answer to their problems.
In the '80s, the Lakers didn't worry about matching up with other teams. They put together an indefensible lineup, and let other teams worry about guarding them. They had a point guard who stood at 6'9"; his name was Magic Johnson, and he may be the greatest ever to do it.
The Lakers weren't worried about covering small quick guards on defense. No, they let the other teams worry about matching up with them.
And nobody could.
That is why the Lakers won five titles and the Celtics only three during the Bird-Magic era. The Celtics had no solution for Magic on defense.
Of course, Magic is a rare breed, a tower of a man with the skills and agility to handle the ball and run an offense.
However, so too is Lamar Odom. Odom came into the league as one of the most skilled big men since...well...Magic. In fact, he sometimes ran the offense from the point guard position while he was in Rhode Island.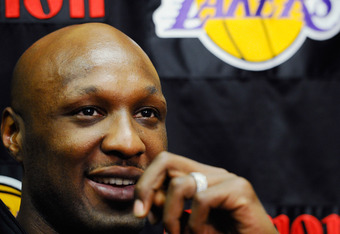 Kevork Djansezian/Getty Images
And for that one season, he was unstoppable.
Lamar Odom stands at 6'10", he's got a handle that is as good as at least half the point guards who start in the NBA right now, his three-point shot has improved and he has great court vision.
Will he have trouble covering quick little guards like Steve Nash and Chris Paul?
Maybe.
But tell me, what point guard in this league is going to be able to cover him?
Without making a single roster move, the Lakers could put forth a team, next year, that looks like this:
PG: Lamar Odom
SG: Kobe Bryant
SF: Ron Artest
PF: Pau Gasol
C: Andrew Bynum
In this fashion they not only have their best five guys on the court, but they have the biggest lineup in the league, and turn themselves into an offense monster.
Unguardable.
Or, they could trade Odom for some middle-of-the-road 6'3" point guard and see how that works for them.
And while I'm on the subject, this is exactly what Miami should be talking about doing with LeBron James.
Point guard problem for the league's two biggest draws now solved.
Thank me later.