Enes Kanter Leads Top 10 Contenders for 2011 NBA Rookie of the Year Award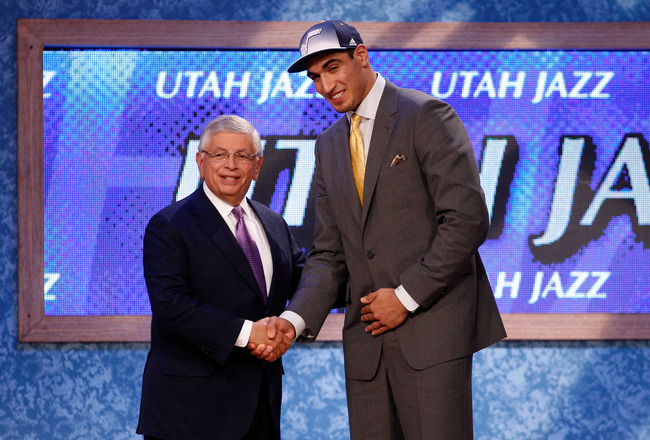 Mike Stobe/Getty Images
Kyrie Irving. Brandon Knight. Enes Kanter.
These are the names of rookie athletes that everyone will be keeping their eyes on. From Irving's placement as the overall No. 1 pick with the Cleveland Cavaliers to their surprising fourth overall pick Tristan Thompson, the NBA draft was filled with surprises.
However, there is a feeling in the pit of my fan-led stomach that suggests the accolades handed out for next year's rookies will surprise just as much.
What everyone must consider when predicting anything in sports is that you must not only factor in a single player's talents, unless speaking of a powerhouse like Kobe Bryant or LeBron James.
There must also be a large fraction of consideration for the situation that said athlete is lodged into. A player's contributions to his team may dim in comparison to a superstar athlete just because of how small an organization is, or how effective the team is in their respective conference.
Take Kevin Love for instance. Love broke records this season, but is anyone truly speaking of him ahead of the league's finest such as Derrick Rose, Dwight Howard or even Blake Griffin? That happened for two reasons: Love is not an explosive player and the Minnesota Timberwolves kind of suck. Not being brash, just being honest about the situation that Love has to settle with in Minnesota.
People are not flocking to their television sets to watch a Timberwolves game; therefore, no one takes much notice to the status of the players on that team.
There are some diamonds in the rough that will be pampered and cut into pure gems. However, only a few will standout far and wide enough to be considered for the season's Rookie of the year Award.
Klaibourne On Twitter: @nyhlaabee
Kyrie Irving: Cleveland Cavaliers
Kyrie Irving is in the prime position to win the Rookie of the Year Award next season, similar to the position LeBron James was in when he first entered the league. The Cleveland Cavaliers are worse off now than they were when they drafted James, and Irving is in a special place alongside Byron Scott.
Scott seems to have a knack for developing newcomers, especially the likes of Chris Paul. The tandem should excel while Scott forces Irving to focus on his defense and uses his prowess as a perimeter shooting coach to improve Irving's spotty jumper. Irving has the capabilities to be one of the next elite point guards in this league and spark change within the organization.
The Cavaliers may never forget "The Ultimate Betrayal," but Irving may be able to get them to stop reopening their wounds.
Tristan Thompson: Cleveland Cavaliers
Tristan Thompson surprised us all when he hugged his beau and his family and took his place beside David Stern for a photo op.
When he was announced by the Cavaliers as their fourth overall pick, fans took to Twitter to express their disgust with how Cleveland misused their second lottery pick. Fortunately for Thompson, the fans were wrong. Coach Byron Scott wants to focus on the defensive edge of Cleveland more and Tristan gives him the defensive talent he needs to make that happen.
Either the Cavaliers refused to play defense or they were just unable to. In any event, Thompson will grant them the opportunity to maintain possessions as well as refuse easy buckets like the occasional around-the-rim layup or highlight-worthy dunk.
Cleveland needs him and Coach Scott will use every coaching strategy in his playbook to exert Thompson's full defensive potential.
Derrick Williams: Minnesota Timberwolves
As I previously stated, the Minnesota Timberwolves need something to make people actual pay attention and occasionally fear them.
Derrick Williams is the question and the answer to their problems.
Kevin Love made his home there, however, Williams is the man that will not only draw crowds and spark interest, but will also make the team contenders in the Northwest Division against Utah and Denver. Both of these teams are in the remodeling stages and even with Enes Kanter with the Jazz, the combination of Williams and Love will be enough to give him a run for his money in the painted area on the court.
With excitement comes praise.
Enes Kanter: Utah Jazz
Enes Kanter, although he was not allowed to play this season for Kentucky, constructed enough of a resume to be considered for the No. 1 overall pick position on the draft board. Kyrie Irving became too much of an asset to pass up, but Kanter was not speculated to fall past the fourth pick, where Cleveland would have most likely stolen him from right up under everyone's nose.
Luckily for Utah, they were doing their homework and paying very close attention to the young men presented to them. Kanter probably has the only true center quality in the entire draft, and is by far the most talented. Utah is coming off of a shaky season, where they could have very well made the playoffs.
Rookies are not drafted in the early stages of the first round to ride the bench.
Kanter has a sturdy starting position with the franchise and will do as much as he can to make sure that his efforts are never taken lightly. Utah will give him every opportunity to be great and he will not disappoint.
Brandon Knight: Detroit Pistons
John Kuester is out and the Detroit Pistons are starting to breathe steady again. Brandon Knight, no matter how solemn his entrance to Detroit may have been, is ready and willing to do everything necessary to bring the organization back to greatness.
There have been so many reports surrounding the Pistons due to the many changes the team is experiencing, such as new ownership. Joe Dumars' vision for the future of the franchise is resting solely on the success of players such as Knight. Bursting at the seams to tell the press what he liked about the athlete, Dumars believes wholeheartedly in Knight's work ethic and character.
Knight may not be the most complete player in the draft, but the ability to make the clutch shot and the rarity of fright in the big moment are intangibles that cannot be relayed or taught.
Marcus Morris: Houston Rockets
The Houston Rockets have just lost one of the largest assets to their franchise.
Yao Ming's return should not be counted on and now the Rockets are left with the option of giving up or moving on. Marcus Morris is the type of player that can help a franchise move on from the woes of their past.
His turnaround layup is one of the things that make him so dangerous in the league, seeing as how there will be plenty of times where he has to back down his opponent and get off a quick basket as the clock is winding down.
Morris may not be one of those freak-of-nature athletes that come once in a lifetime, but he does have the skill it takes to be an elite power forward.
Jimmer Fredette: Milwaukee Bucks
Jimmer Fredette does not register as one of those gems, but he certainly will make a splash in an organization with an over-appreciated starting point guard and that is ranked last in the entire league for points scored and assists per game. Fredette has the combination of pure shooting and ball movement that will make a dent in the categories previously listed.
His scoring average of 28.9 points per game should not be taken lightly in any sense of the word.
His three-point field-goal percentage is a bit lower than some of those taken before and after him, but considering that he was the primary scorer for BYU, that should be expected.
Iman Shumpert: New York Knicks
The New York Knicks need a change.
Let's face it. The last time someone actually played defense on that team was pre-All-Star break, before the almighty Carmelo Anthony made his grand entrance. Neither him nor Amar'e Stoudemire are willing to do what it takes to improve in that avenue or they would have found a way to do it against the Boston Celtics in the first round of the Eastern Conference playoffs.
Maybe it was the injuries that held them back. Whatever excuse given for their immense shortcomings, the Knicks need an Iman Shumpert on their team.
On his way out the door, Donnie Walsh gave the Knicks one last handle to rest his legacy on.
Shumpert will make an instant impact on the team putting pressure on teams with man-to-man coverage and is the most gifted athletic specimen in this year's draft. NY stole a great player by drafting Shumpert.
Let's not forget the kid can score a bit.
Marshon Brooks: New Jersey Nets
Marshon Brooks was originally drafted by the Boston Celtics. If that pick had remained solid, Brooks would not even be in the conversation. Doc Rivers is still going to bet his bottom dollar on the Big Three in any scoring and defensive situation, while Brooks would have been left riding the bench for a large portion of his rookie season. His talents would have only been warranted if an injury had occurred or if hell had frozen over.
Since Ray Allen, Boston's prolific scorer, is less susceptible to injury than any other player on the floor because of the strategy of his game, Brooks would have been a backup role player.
In New Jersey, on the other end of the spectrum, the team could use a helping scoring hand. Deron Williams does not have a true target and with his mangling towards the basket covered, there needs to be a man standing on the perimeter ready to shoot at any given moment. Even at times when shots must be created, Brooks can excel.
The Nets are really trying to buy Williams' affection and if Brooks' rookie season goes anything like I think it will, they may have succeeded.
Norris Cole: Miami Heat
The Miami Heat are looking to recruit players that can excel in transition. This attribute is more popular than experience with the organization.
Why?
It just so happens that this trait is one of the advantages that Erik Spoelstra tried to exploit during last season. The problem lied in the fact that there were not many men on the squad that could break out in transition allowing Dwyane Wade or LeBron James the opportunity to perform in open court. They are most effective in that right, so in order for this trio to work to the height of their potential, they must exorcise the demons that are holding them back.
Miami needs a guard with fresh legs and a quick pace.
Norris Cole is that guy for the Heat.
Besides being from Cleveland, which may make his hometown fans feel a little torn by rooting for him, has a decent three-point average. Cole will give James and Wade the opportunity let up off of the gas as far as becoming point guards in transition. He relies on his speed in transition and in change of direction to fuel his production.
Cole's game fits in perfectly with the aim of Miami and will jump in making things happen.
Keep Reading