NBA: Bold 2011-12 Predictions for Kobe Bryant, LeBron James and Top 50 Players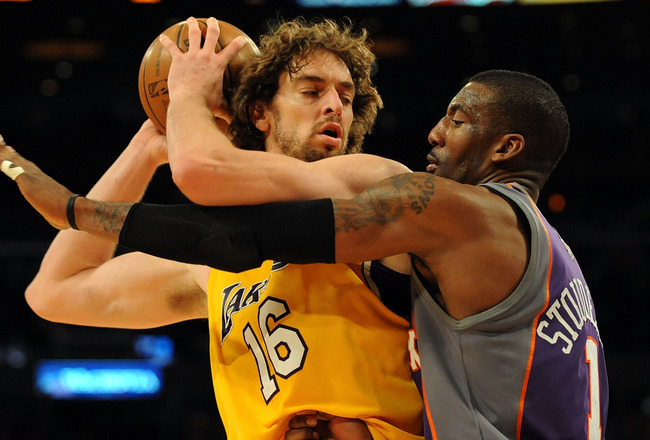 Harry How/Getty Images
Some are saying that the 2010-11 season was the best in NBA history. The assemblage of LeBron James, Dwyane Wade and Chris Bosh in Miami brought unprecedented attention to the league and their defeat at the hands of Dirk Nowitzki and the Mavs brought smiles to millions of faces.
Now, we're staring a lockout right in the middle of its ominous eyeball. Let's hope we have an NBA season next year, because losing the momentum of '10-11 would be nothing short of tragic.
Assuming we do have basketball at its highest level in '11-12, here are some predictions for each of the league's top 50 players...
You can follow Andy Bailey on Twitter @_Andy_Bailey
50: Carlos Boozer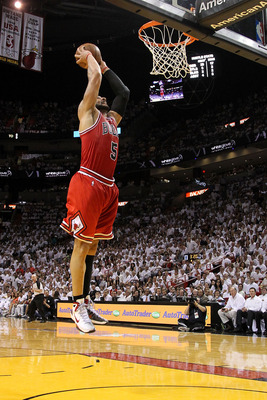 Mike Ehrmann/Getty Images
Prediction: Carlos Boozer Pulls a Wally Pipp
Let me be very clear about this: I'm not wishing harm on Carlos Boozer in this slide, merely predicting it. The big man has a history of injuries, so expecting him to go down next year isn't earth-shattering.
When Boozer has his first two- to three-week stint in a suit and tie, Taj Gibson is going to come in and take the starting role he deserves once and for all.
Gibson will play well enough to convince Tom Thibodeau to keep him in the starting lineup even after Boozer comes back.
It's not as epic as Lou Gehrig replacing Wally Pipp, but you get the idea.
49: Tyson Chandler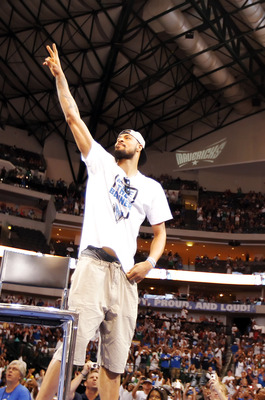 Brandon Wade/Getty Images
Prediction: Tyson Chandler Averages a Double-Double
Last season, Chandler averaged 10.1 points and 9.4 rebounds a game.
Dirk Nowitkzi's rebounding numbers have been declining with each year, and I expect Chandler to pick up the slack next season.
48: Tyreke Evans
Ethan Miller/Getty Images
Prediction: Tyreke Evans Moves to Small Forward
The headline did say bold, right?
To make room for all three ball-dominating guards (Evans, Marcus Thornton and now Jimmer Fredette), the former Rookie of the Year will take on an Andre Iguodala-like point forward role.
Jimmer will start at the one. Thornton at the two.
47: Ray Allen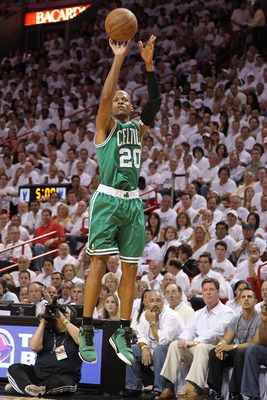 Mike Ehrmann/Getty Images
Prediction: Ray Allen Traded Before the Deadline
As the season wears on and the Celtics realize their window of opportunity is shut, they'll deal Ray Allen to a contending team in need of outside shooting in exchange for some younger talent.
46: John Wall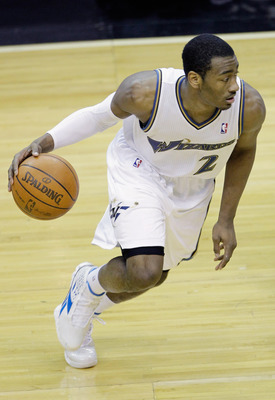 Rob Carr/Getty Images
Prediction: John Wall Averages Less than Three Turnovers a Game
Wall posted fantastic numbers (16.4 points and 8.3 assists a game) for a rookie point guard last year. He had his struggles with turnovers though (3.8 a game).
After a year of growth, he'll be able to cut down on the giveaways.
45: David West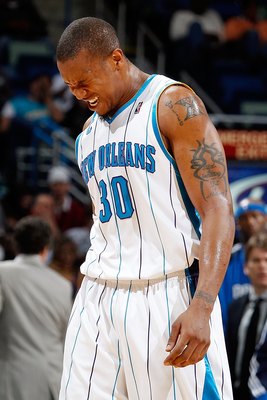 Chris Graythen/Getty Images
Prediction: David West Will Average Fewer than 15 Points per Game
West has averaged at least 17 points a game in each of the last six seasons, but his productions has largely been a product of his situation.
He's been the only real dependable offensive option for Chris Paul to pass to, and he just opted out of his contract with New Orleans.
On a new team and coming off a torn ACL, expect a dip in those numbers.
44: Chauncey Billups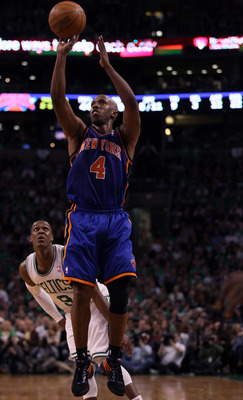 Elsa/Getty Images
Prediction: Chauncey Billups is Traded (mostly for his expiring contract) in Exchange for a Big Man
Iman Shumpert will surprise everyone and make Donnie Walsh look like a genius once again. He has the potential to play point guard and combining a 6'6" one with a 6'7" two (Landry Fields) is very intriguing.
Positions three and four are of course set with Carmelo Anthony and Amar'e Stoudemire. That leaves the five, which the Knicks will look to get by trading Billups and his expiring contract.
43: Brook Lopez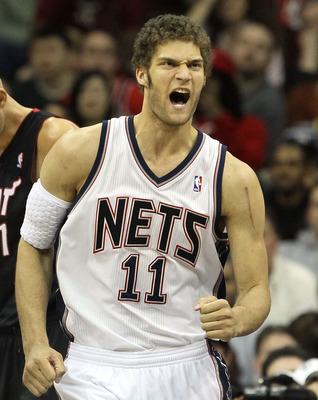 Jim McIsaac/Getty Images
Prediction: Someone Finally Convinces Brook Lopez To Grab a Rebound or Eight
Brook Lopez may be the most promising young center in the league. In three years with the New Jersey Nets, he's averaged 17.4 points and 7.6 rebounds a game.
For the 2008-09 season, he averaged 8.6 boards a game. Last season, that dipped to a meager six a game. So of course, the knock on Lopez is rebounding.
Playing with Deron Williams next year will have him motivated from the get-go.
42: David Lee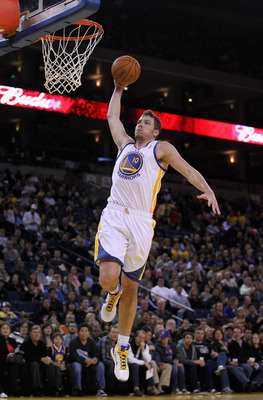 Ezra Shaw/Getty Images
Prediction: David Lee Returns to his 20 and 10 Form After Monta Ellis is Traded
I'm still anticipating a Monta Ellis trade and whoever the Warriors get in return for their leading scorer won't put up as many shots.
The two people I expect to pick up the slack are Stephen Curry and David Lee (who averaged 20.2 points and 11.7 rebounds a game during his last season with the New York Knicks).
41: Danny Granger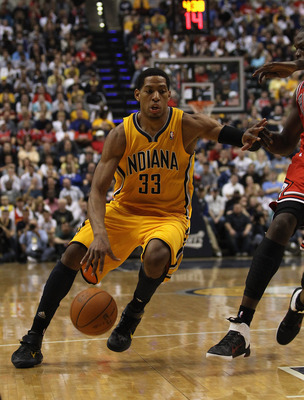 Jonathan Daniel/Getty Images
Prediction: Danny Granger Will Not Lead the Pacers in Scoring
Again, bold. Granger shoots the ball way more than anyone else on this team, but his production has been dipping over the last few years.
Who will lead the team in scoring? Tyler Hansbrough? Bold.
40: Paul Millsap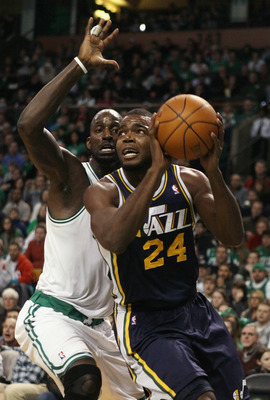 Elsa/Getty Images
Prediction: Paul Millsap Successfully Converts to the Three (or Gets Traded)
In his first full year as a starter, Paul Millsap's efficiency as a rebounder dropped off, but he showed a lot of versatility in his game.
With Enes Kanter coming in to play center, Al Jefferson will move to power forward full-time. That's where Derrick Favors fits as well.
Millsap played small forward in stints last year and didn't look bad (didn't look great either). This year, he'll have to improve his play at that position if he wants to keep his minutes up.
There's also a good chance that either he or Al Jefferson will be traded.
39: Stephen Curry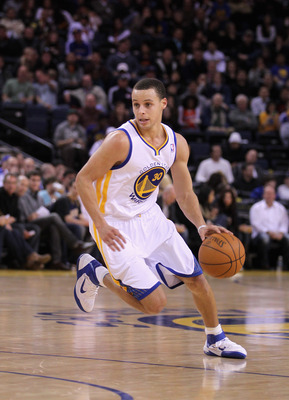 Ezra Shaw/Getty Images
Prediction: Stephen Curry Makes the Western Conference All-Star Team
Curry is on the rise, and his production could see a significant boost if Monta Ellis is traded. That, in combination with the fact that he's one of the league's most likable players should lead to an All-Star selection.
38: Andrew Bogut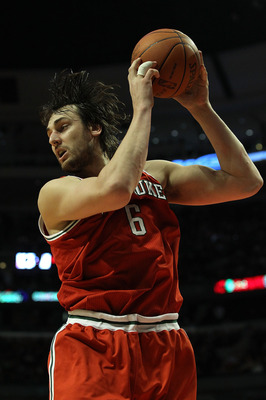 Jonathan Daniel/Getty Images
Prediction: Andrew Bogut Plays in 75 Games
Bogut has had one 82-game season (his rookie campaign) in his six-year career. In the last five years, he's averaged 62.8 games a year.
I really don't have any rhyme or reason for this prediction. It's just a prediction.
37: Gerald Wallace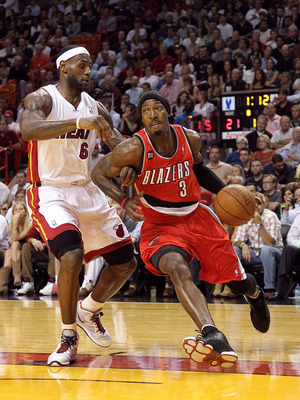 Mike Ehrmann/Getty Images
Prediction: Gerald Wallace Will Lose the Braids and Permanently Take Over as the Starting Small Forward
The bold part of this prediction is of course the first part of this prediction.
36: Kevin Martin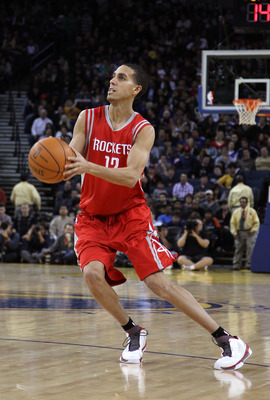 Ezra Shaw/Getty Images
Prediction: Kevin Martin Leads the Rockets to the Playoffs
The Rockets have missed the playoffs despite posting a winning record in each of the last two seasons. Martin will continue his streak of 20-point-per-game seasons alive (five straight right now) and break the two-year curse.
35: Josh Smith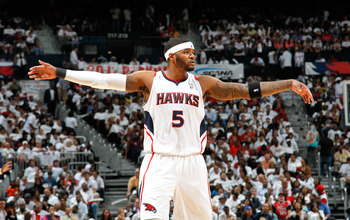 Kevin C. Cox/Getty Images
Prediction: Josh Smith will Average a Double-Double
Josh Smith has struggled to live up to the potential we once saw in him when he entered the league. He still has all the talent and athleticism, but just doesn't seem to always be in gear.
This year, he'll finally turn the corner (especially if he gets traded).
34: Al Jefferson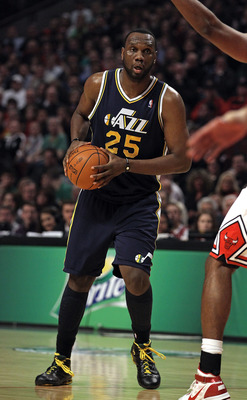 Jonathan Daniel/Getty Images
Prediction: Al Jefferson will be Traded
The Jazz have a decent crop of young talent down low, and either Paul Millsap or Al Jefferson may be moved to open up more minutes for Derrick Favors and Enes Kanter.
Jefferson will have value in the trade market but doesn't have the versatility to play the three like Millsap does.
33: Andrew Bynum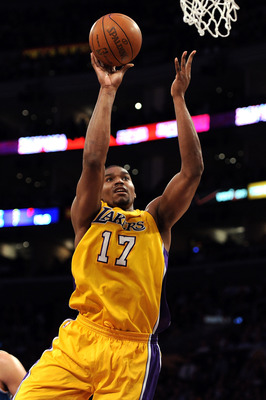 Harry How/Getty Images
Prediction: Andrew Bynum will Play 75 Games
Bynum hasn't played 82 games in a season since he was a 19-year-old second-year player in the 2006-07 season.
Last year was the first time in a long time that he's looked healthy and strong in the postseason. I'm predicting that will carry over into next year, and Bynum will enjoy a slightly more significant role under Mike Brown.
32: Rudy Gay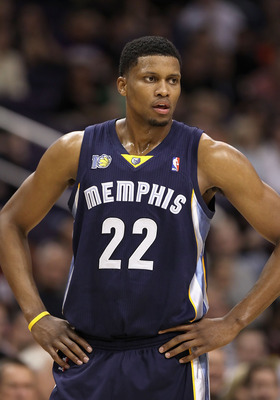 Christian Petersen/Getty Images
Prediction: Rudy Gay Will Lead the Memphis Grizzlies in Scoring
After Rudy Gay missed the last quarter of the regular season and all of the playoffs, a lot of people started speculating about the possibility of a trade.
Gay will not only return to the Grizzlies, he'll return as a leader. He'll score more than Zach Randolph (barely), and Memphis will win 50 games.
31: Andre Iguodala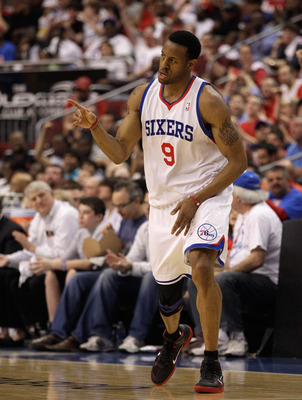 Rob Carr/Getty Images
Prediction: Andre Iguodala Will Record 10 Triple-Doubles for the Warriors
The Iguodala trade rumor that makes the most sense for both teams is the oft-discussed Monta Ellis deal.
The Warriors might not play quite as fast under Mark Jackson, but they'll still be up and down. The fast pace will allow Iguodala to put up big numbers with his great all-around game..
30: Chris Bosh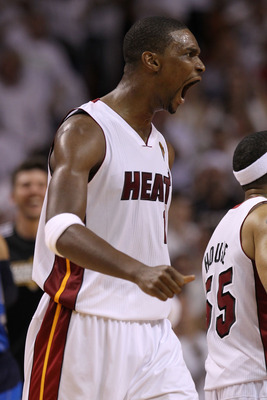 Ronald Martinez/Getty Images
Prediction: Chris Bosh Will Average 20 Points and 10 Rebounds a Game
I don't see the Heat adding anyone who can contribute much this offseason (they just don't have the cap space) and the big three will be more efficient now after a year together. I expect all three to see an increase in production.
29: Al Horford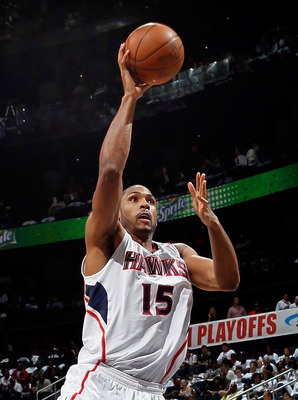 Kevin C. Cox/Getty Images
Prediction: Al Horford Will Move to Power Forward
People have been calling for this for years, but Atlanta just hasn't had the personnel to make the move possible.
If they acquire a legitimate center in exchange for Josh Smith, it will happen. I still think a deal centered around Josh Smith and Andrew Bynum makes sense.
28: Lamar Odom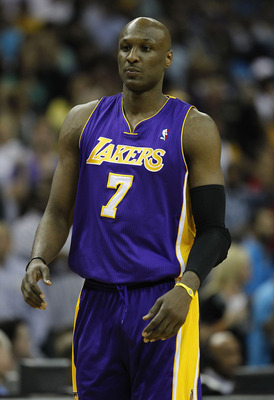 Jeff Zelevansky/Getty Images
Prediction: Lamar Odom Becomes a Starter at Small Forward
I'm blown away that this hasn't happened already. Ron Artest starting at this point makes no sense.
Odom has the versatility to play the three and is superior to Artest in virtually every aspect of the game. And just think about a front line that goes 6'10", 7'0", 7'0" (assuming none of them are traded).
27: Joe Johnson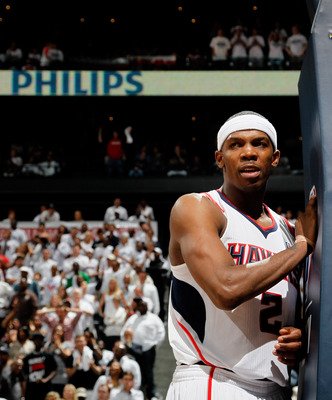 Kevin C. Cox/Getty Images
Prediction: Joe Johnson will Hit 40 Percent of His Three-Point Attempts
Johnson hit just 30 percent of his threes last year. That's his lowest percentage since his rookie year and a terrible number for a guy who was previously regarded as a great shooter.
His struggles were thanks in large part to injuries. Next year, he'll bounce back.
26: Jason Kidd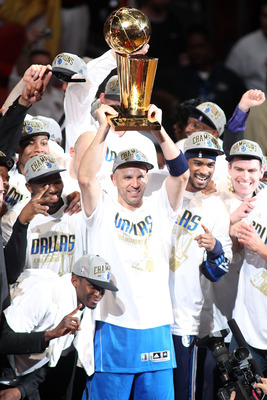 Marc Serota/Getty Images
Prediction: Jason Kidd will Average Less than Six Points a Game
Kidd averaged a career-low 7.9 points a game last year. He exemplifies "pass-first" better than any point guard in the league, and at 38, his minutes figure to keep declining.
25: Monta Ellis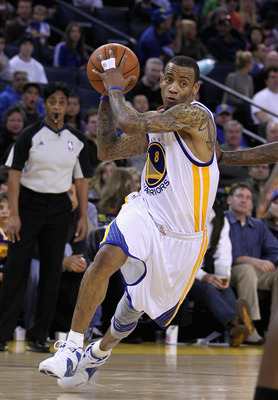 Ezra Shaw/Getty Images
Prediction: Monta Ellis will Lead the League in Scoring
Remember, the title of the article includes the word bold.
But it's really not that crazy to think Ellis is capable of winning a scoring title. Many have compared him Allen Iverson (who won four scoring titles) whose jump shot was never as good as Ellis's.
24: Kevin Love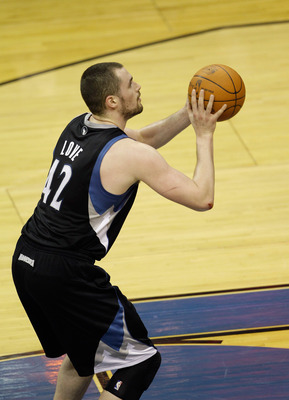 Rob Carr/Getty Images
Prediction: Kevin Love Will Average More than 15.2 Rebounds a Game
Plenty of people were all about discounting Kevin Love's incredible rebounding average last year. He'll put the criticism to rest by not only repeating the feat, but improving on it.
For those of you thinking Derrick Williams will take boards away, bear in mind there's no reason whatsoever to think he'll be a better rebounder than Michael Beasley in the NBA.
23: Tony Parker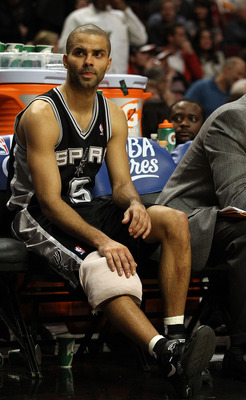 Jonathan Daniel/Getty Images
Prediction: Tony Parker Will Play the Entire Season for the Spurs
To me, this is extremely bold. There are plenty of signals to suggest Parker is on his way out. Moving George Hill does make keeping Parker seem a little more realistic.
22: Kevin Garnett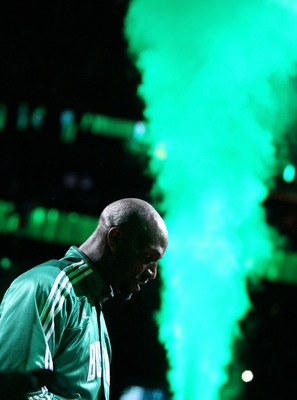 Elsa/Getty Images
Prediction: Kevin Garnett Plays 25 Minutes a Game for the Celtics
KG has played 16 seasons of hard-nosed, intense basketball, and his legs have definitely paid the price. He averaged 30 minutes a game last year, and Jeff Green will be ready for a bigger role this year (he could take a few minutes from Garnett and Pierce).
21: Blake Griffin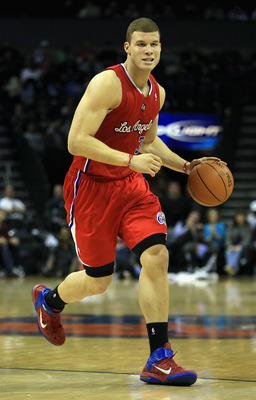 Streeter Lecka/Getty Images
Prediction: Blake Griffin Will Win the MVP Award
You wanted bold, right?
Blake Griffin will take a big step forward after his rookie year. He'll average around 28 points and 14 rebounds a game while leading the Clippers back to the playoffs.
P.S. If the Clippers are the team that wins the Iguodala sweepstakes, I guarantee a playoff berth and wouldn't be surprised by a first-round victory.
20: Rajon Rondo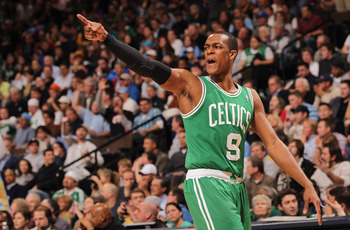 Doug Pensinger/Getty Images
Prediction: Rajon Rondo Will Average More Points than Kevin Garnett
The guard is slowly but surely passing from the big three to Rajon Rondo. He'll have to assume a more aggressive offensive role next year. That, in combination with Garnett's aging will make this prediction come true.
19: Tim Duncan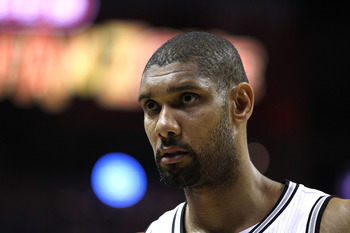 Jed Jacobsohn/Getty Images
Prediction: Tim Duncan Will Return to His Double-Double Form
For the first time in his career, Tim Duncan failed to average a double-double last season. He'll be closer to his old self next year.
18: Zach Randolph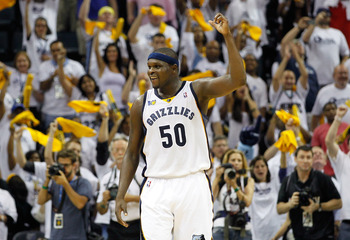 Kevin C. Cox/Getty Images
Prediction: Zach Randolph's Overall Numbers Will Dip a Bit
Randolph averaged 20.1 points and 12.2 rebounds a game last season and earned himself a big pay day. The extension may relax him a bit. That, in combination with the return of Rudy Gay will lead to a slight dip in production (I'm thinking 18 and 10).
17: Paul Pierce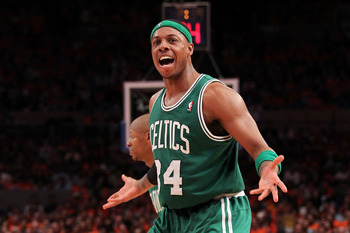 Nick Laham/Getty Images
Prediction: Paul Pierce Will Average 17 Points a Game
Rondo and Jeff Green will shoot a bit more, and Pierce will have his lowest scoring average since he posted 16.5 points a game as a rookie.
16: Manu Ginobili
Doug Pensinger/Getty Images
Prediction: Manu Ginobili will Average 20 Points a Game
With George Hill gone, Tony Parker in limbo and Tim Duncan aging, 2011-12 will be Manu's last hoorah. He'll emerge as the clear-cut, go-to guy and average 20 points a game for the first time in his career.
15: Russell Westbrook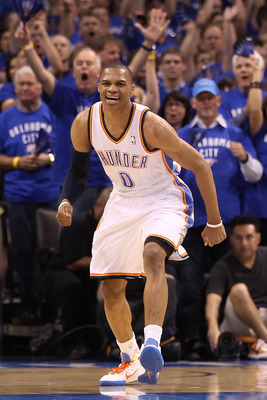 Christian Petersen/Getty Images
Prediction: Russell Westbrook Will Average 20 Field Goal Attempts a Game
One thing's for sure with Westbrook, the guy loves to score. He doesn't want to play in anyone's shadow. Which is why he averaged three more field goal attempts a game during the playoffs, when he knew plenty of eyes were on him.
He averaged 20.2 field goal attempts a game during the postseason and will keep that up next regular season.
14: Steve Nash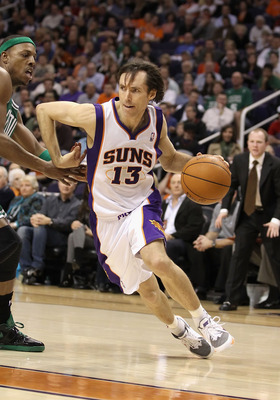 Christian Petersen/Getty Images
Prediction: Steve Nash will Be Traded
At this point, Nash as a member of the Phoenix Suns makes absolutely no sense (unless the only thing the team cares about is selling tickets).
They can't fully start the necessary rebuilding until they get some solid pieces for Nash. And Nash won't win a title with Phoenix.
13: LaMarcus Aldridge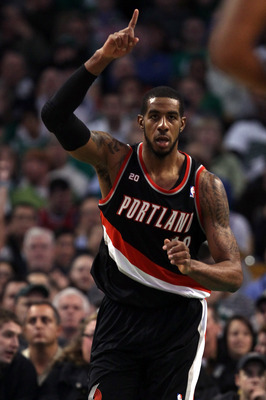 Elsa/Getty Images
Prediction: LaMarcus Aldridge will Not be Snubbed this Year
Last season, Aldridge was widely regarded as the biggest snub from the All-Star game. He improves his numbers every year and will make it closer to a no-brainer for him being an All-Star.
12: Pau Gasol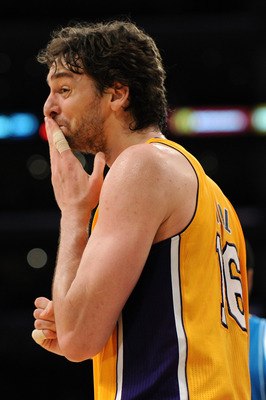 Harry How/Getty Images
Prediction: Pau Gasol Will Average Over 20 Points a Game
The offense will be a little different under Mike Brown and Pau Gasol and Andrew Bynum could get more significant roles. Bryant will still lead the team in scoring, but I wouldn't be surprised to see his average drop to 22-23 points a game.
11: Amar'e Stoudemire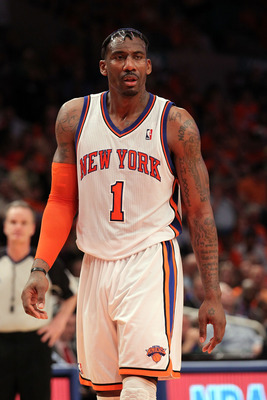 Nick Laham/Getty Images
Prediction: Amar'e Stoudemire Will Lead the Knicks in Scoring
Carmelo Anthony is often talked about as one of the league's most complete scorers, but the Knicks were at their best when Amar'e was attacking (even after the Melo trade).
Moke Hamilton recently suggested that Melo needs to improve his abilities as the ball man in a pick-and-roll. Those two would be unguardable if they mastered that.
10: Derrick Rose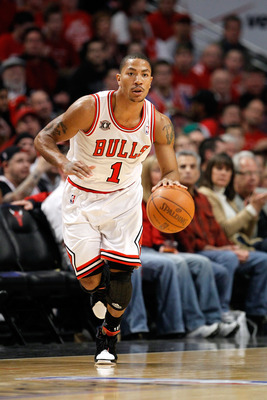 Gregory Shamus/Getty Images
Prediction: Derrick Rose Will Average 10 Assists a Game
Rose has the athletic gifts to be able to slice and dice defenses at will. At this point, he uses his ability to break people down more for scoring than distributing.
If he ever gets just a touch of Jason Kidd or Steve Nash, he'd be historically scary.
9: Carmelo Anthony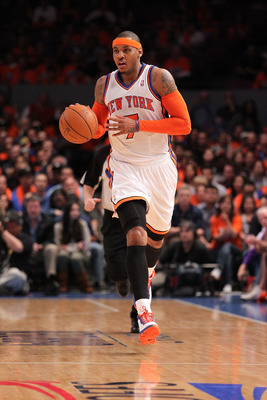 Nick Laham/Getty Images
Prediction: Carmelo Anthony Will Lead the Knicks in Rebounding
Melo had one of the best seasons of his career rebounding the ball. On a team with no dominant rebounders, he should be able to improve on last year's 7.3 average.
I don't expect him to grab 12 a game or anything, but he could be the Shawn Marion-like rebounder for this D'Antoni squad.
8: Deron Williams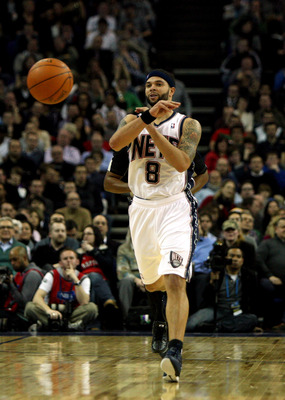 Warren Little/Getty Images
Prediction: Deron Williams Will Sign an Extension with the Nets
Billionaire owner Mikhail Prokhorov will be able to convince Williams to stick around for the organization's impending move to Brooklyn.
He'll be excited to get in on the ground level of the upcoming basketball battle for New York.
7: Chris Paul
Ronald Martinez/Getty Images
Prediction: Chris Paul will be Traded
Whether it's to the Knicks or some other team, I see Chris Paul being traded Melo-style at some point next season.
6: Kevin Durant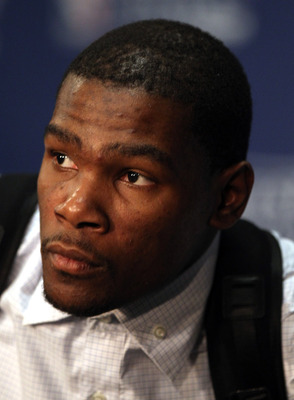 Christian Petersen/Getty Images
Prediction: Kevin Durant Puts on a Little Weight and Adds a Post Game
Durant has already talked a lot about hitting the weight room since his team was eliminated from the postseason by the eventual champion Mavericks.
I don't think he should put on much weight, but he could use some. He'll take that extra size down low from time to time, making him even more difficult to guard.
While LeBron James seems largely satisfied with his natural gifts, Durant is always working to hone and improve his. He may top this list in a few years.
5: Dirk Nowitzki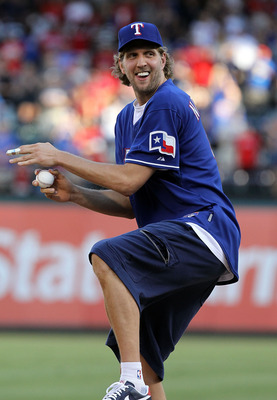 Ronald Martinez/Getty Images
Prediction: Dirk Nowitzki Adds Defense to His Game
Every year, Dirk works with basketball sage Holger Geschwindner during the offseason in an effort to add depth to his incredible game.
I'd say his offense is nearly complete. Next year, I predict more defensive intensity from the still-hungry Nowitzki.
4: Dwight Howard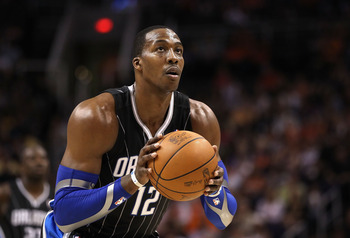 Christian Petersen/Getty Images
Prediction: Dwight Howard Wins His Fourth Straight Defensive Player of the Year Award
Last year, Howard won a record third straight Defensive Player of the Year. Next year, he'll extend the streak and the record.
3: Kobe Bryant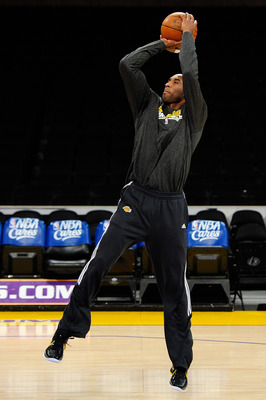 Kevork Djansezian/Getty Images
Prediction: Kobe Bryant Won't Lead the Lakers in Assists
With Lamar Odom in the starting lineup (which I predicted in his slide), the possibility of an actual point guard in Darius Morris starting over Derek Fisher and a new coach in Mike Brown, I'm predicting a dip in Kobe's assist average.
There is reason to believe that Kobe will dominate the ball as much as ever (considering the way the Cavaliers played under Brown), but Lamar Odom may be better suited to play the point forward role LeBron played in Cleveland (Kobe will still lead the team in scoring of course).
2: Dwyane Wade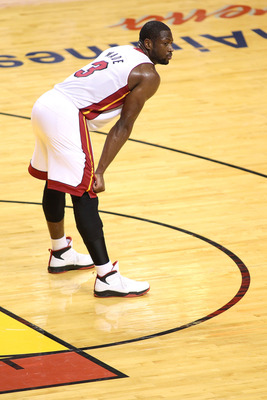 Marc Serota/Getty Images
Prediction: Dwyane Wade Will Lead the Miami Heat in Scoring
It became clear during the NBA Finals that the more capable go-to guy in Miami is Dwyane Wade.
Next year, each member of the big three will have a better mental handle on what their role is, and LeBron will move toward distributor on the same spectrum in which Wade will move toward scorer.
1: LeBron James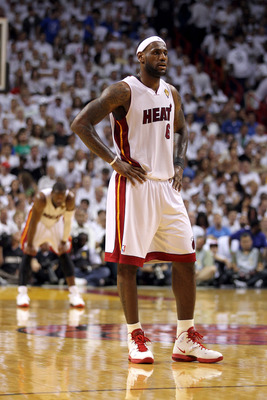 Mike Ehrmann/Getty Images
Prediction: LeBron James Will Average 10 Assists a Game
The most naturally gifted and best all-around player in the world does just about everything extremely well. Passing is perhaps what he does best.
LeBron has elite court vision, instincts, timing and accuracy as a distributor. The thing is, he's been pegged as the next Jordan for most of his career.
If he can break free of that, and embrace his Magic Johnson side, he'll become a triple-double machine (even more than he already is).
This guy is a point guard, and I can't wait til his coaches tell him that.
More on the NBA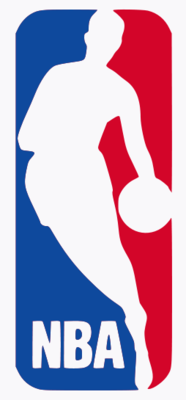 Keep Reading