Miami Heat Produced: Stumbling on Losses and Running the Table to Second Seed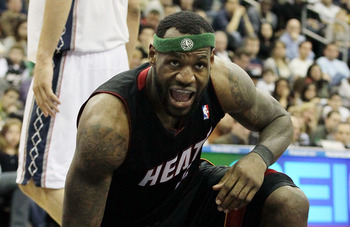 LeBron James has carried the Miami Heat's burdens over the last eight games.
Jim McIsaac/Getty Images
The Heat Produced Page has been updated with stats from the Miami Heat's last eight games. Three weeks ago, I posted an article that stated the Heat probably needed to finish the season 12-2 to have the second-best record in the Eastern Conference. After beating the Celtics on Sunday, the Green Gang decided to shut down their starters for the rest of the season and basically conceded the second seed to the Heat.
With second place in the Eastern Conference locked up after beating the Atlanta Hawks last night while the Celtics lost to the Washington Wizards, the Heat just need to beat the Toronto Raptors to secure the third-best record in the NBA. Why is that important? Because it would mean home-court advantage in the Finals if the Spurs don't survive the Western Conference playoffs.
This slideshow will recap the Heat's last eight games and identify how they stumbled onto losses against the Cleveland Cavaliers and Milwaukee Bucks but ran over the other lottery teams and dominated the Celtics.
This article will use Win Score and Estimated Wins Produced, statistical models created by Professor David Berri from the Wages of Wins Journal, to measure how much a player's box score statistics contributed to their team's efficiency differential and wins. An average player produces an estimated 0.100 wins per 48 minutes (Est.WP48), a star player produces 0.200+ Est.WP48 and a superstar produces 0.300+ Est.WP48. More information on these stats can be found at the following links:
Simple Models of Player Performance
Wins Produced vs. Win Score
What Wins Produced Says and What It Does Not Say
Introducing PAWSmin — and a Defense of Box Score Statistics
Keep Reading

Miami Heat: Like this team?