2011 NBA Playoffs: Championship Odds and Predictions for All 16 Playoff Teams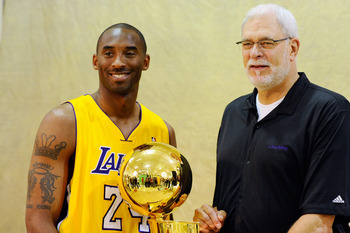 Kevork Djansezian/Getty Images
"This fall, I'm going to take my talents to South Beach and join the Miami Heat."
With a jolt, the 2011 NBA season began. I always imagined that at the moment LeBron James uttered that now infamous line, players from all around the NBA turned off their TV's, packed their bags, and headed for the gym. This time, however, they practiced with a chip on their shoulder.
Nine months later, what a season it's been.
The 2011 NBA regular season has been one of the best in the last 20 years.
It had everything:
Veteran teams rallying for one last shot at a title (San Antonio, Boston), young and hungry teams ready to take on the establishment in each conference (Chicago, Oklahoma City), the NBA's first true villain in over a decade (Miami), and the juggernaut vying for a three-peat (Los Angeles).
The storylines entering the playoffs are straight out of Hollywood. Can the Spurs and Celtics hold it together for a final run? Will the Heat make good on their promise to deliver a championship to Miami? Will the upstart Bulls and Thunder topple the dominant teams in their conference and usher in a new era of the NBA?
If the 2011 playoffs are even close to as good as the regular season, we are in for some epic battles.
With the playoffs just around the corner, it's time to break down the championship odds for all 16 playoff teams (and my pick to win):
Indiana Pacers: 1000/1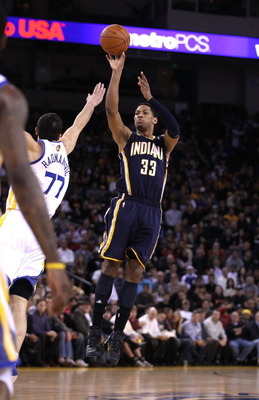 Danny Granger
Ezra Shaw/Getty Images
What is there to say here?
I like Danny Granger's game, and Roy Hibbert finally looks like he has a pulse, but making the playoffs being more than five games under .500 is a gift.
There is hope for the future with this team, but they still have some pieces missing and free agents aren't exactly jumping to play for the Pacers. They need a solid draft and some wizardry in the offseason to compete in the East.
The Pacers might win a game against the Bulls, but I wouldn't bet on it.
Memphis Grizzlies: 500/1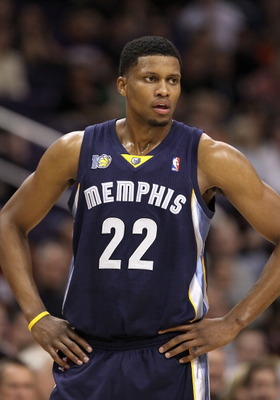 Rudy Gay
Christian Petersen/Getty Images
Some have dubbed Memphis a "team no one wants to play in round one," but I'm not so sure. They've been fortunate in free agency (see: Zach Randolph) and are one of the better perimeter defensive teams in the NBA, but they lack the alpha dog that every great team needs in crunch time.
I mean, who's taking the last shot in a close game. Rudy Gay? O.J. Mayo? Zach Randolph? Not exactly a murderer's row.
They have the talent to keep games close, but won't be able to hang with either the Lakers or the Spurs.
New Orleans Hornets: 100/1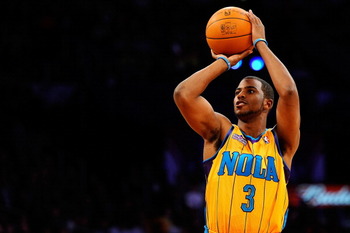 Chris Paul
Kevork Djansezian/Getty Images
Chris Paul finally looks like Chris Paul again. That is good news for Hornets fans. David West no longer looks like an overrated chemistry-killer. That is very good news for Hornets fans.
For this year, at least, that's about where the good news ends. Their frontcourt of Emeka Okafor, Carl Landry and West will struggle greatly with either the Spurs or Lakers.
This is another team that is only a couple pieces away from a deep run, but don't expect them to get out of the first round this year.
Philadelphia 76ers: 60/1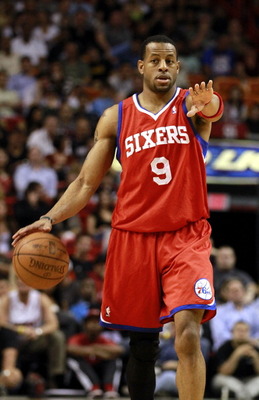 Andre Iguodala
Marc Serota/Getty Images
I saw the 76ers play last year and thought, "If Andre Iguodala is the best player on that team, they are in big trouble." This year, he's a whole new player. Still a freakish athlete, Iguodala has harnessed it to become a truly great defender.
With Elton Brand showing signs of life, and Jrue Holiday holding down the fort at PG, the 76ers may cause fits for their first round opponent (likely Miami).
Don't expect them to get out of the first round, but look for them to steal a game or two and make it interesting.
Atlanta Hawks: 50/1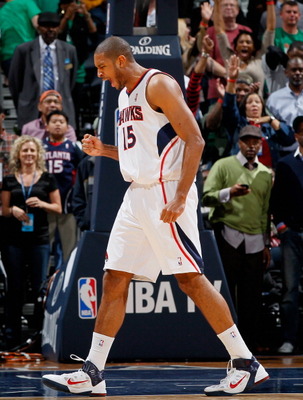 Al Horford
Kevin C. Cox/Getty Images
I want to go on record as saying that I think the Hawks have been the most wildly overrated team in the NBA the past five years. They are the poster children for how not to assemble an NBA team.
Their top five scorers are as follows: Joe Johnson, Josh Smith, Al Horford, Jamal Crawford and Marvin Williams. Ouch.
Aside from Al Horford (whom I love), that is easily the most overrated top five I have ever seen. Joe Johnson's contract is reason enough to completely overhaul the salary structure in the NBA (which will happen, but only after a prolonged lockout).
My apologies if you're an Atlanta fan, but get used to the Hawks making an early exit from the playoffs.
Portland Trailblazers: 30/1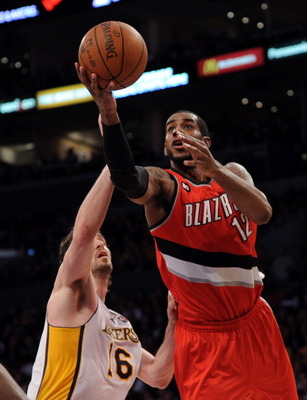 LaMarcus Aldridge
Harry How/Getty Images
This is that team. The team no one wants to see in the first round.
LaMarcus Aldridge has been a top 15 player in the league this season, and his supporting cast can absolutely carry the Trailblazers to a first round upset. Unless they get stuck playing the Lakers.
The Lakers are a tough matchup for Portland, who may have to throw Marcus Camby and Chris Johnson on the court at the same time if the Lakers go big. That's tough.
I don't think the Lakers will fall to the third seed, however, Dallas is a team on paper that looks very vulnerable to an upset against the Trailblazers.
Portland's run will likely end in either the first or second round, but not before they establish themselves as a team to be reckoned with in the Western Conference.
New York Knicks: 25/1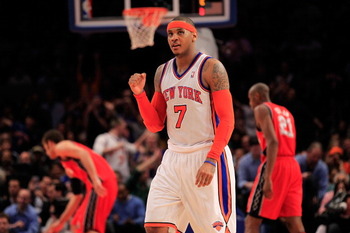 Carmelo Anthony
Chris Trotman/Getty Images
It took a little while, but the Knicks finally look like they are firing on all cylinders with Carmelo Anthony in the lineup.
Winners of seven straight, the Knicks can lock up the sixth seed with a win or a Philadelphia loss. That would set up an incredibly interesting matchup with likely No. 3 seed Boston, a team that is limping into the playoffs.
That is a series that could easily go seven games but won't end with the Knicks advancing.
The Knicks just aren't built the right way for Carmelo, Amare Stoudemire and coach Mike D'Antoni to thrive together. The good news is that the Knicks now have two of the top 10 players in the league, and the foundation to attract the perfect complimentary pieces in free agency.
This isn't New York's year, but I have a feeling their time is coming very soon.
Denver Nuggets: 24/1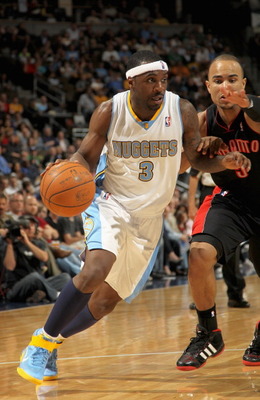 Ty Lawson
Doug Pensinger/Getty Images
I really feel bad for the Denver Nuggets. They had to play with Carmelo-drama hanging over their heads for much of the season and looked like they were constantly waiting for the guillotine to drop.
After the trade, something funny happened. They started winning.
I'm not sure I've ever seen a team benefit so much from a trade most thought would end their season. Denver post-Melo looks like the team Mike D'Antoni was always meant to coach. They turn games into track meets, and have a top eight rotation that is filled with guys who can beat you from night-to-night.
If they get lucky and Dallas tanks its way into the No. 4 spot, Denver will beat them in round one. Take it to the bank.
If not, and they have to play Oklahoma City, I think they can win two games, but not the series. Still, this team is one go-to guy away from being a contender.
Orlando Magic: 17/1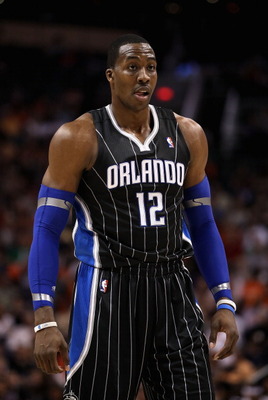 Dwight Howard
Christian Petersen/Getty Images
Orlando's playoff outlook is starting to sound like a broken record.
They have the man who should be, but isn't, most dominant player in the league in Dwight Howard, and a revolving cast of characters that just can't get them over the hump in the East.
This year will be no different. Does anyone think that a team led by Howard, Jameer Nelson and Hedo Turkoglu can compete with Chicago, Miami or Boston?
People talk about Howard as the MVP this year, but until he proves that he can take full advantage of his ridiculous talent, he shouldn't even be part of the conversation.
Orlando will easily dispatch of the Hawks, but will get handled by a Bulls team that will out work them for 48 straight minutes every game.
Dallas Mavericks: 16/1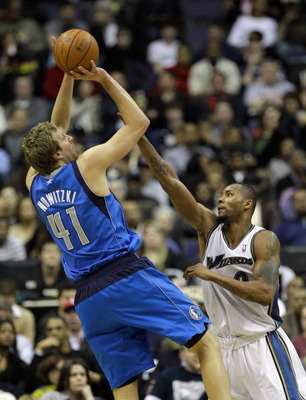 Dirk Nowitzki
Rob Carr/Getty Images
Here is an analogy that I wish was on my SAT:
Orlando Magic: Eastern Conference:: _____________: Western Conference
It's the Dallas Mavericks.
I wish it were different, but Dirk Nowitzki looks like a guy desperate for some help on a team that can't give it to him. It's tough to be optimistic when Jason Terry is Dallas' second best option.
In a perfect world, Dallas would just gut the team (see: Tyson Chandler, Caron Butler et al) and start over. But Nowitzki will be 33 next season, and doesn't have time to go through a couple years of rebuilding.
As for their outlook this postseason, they have roadblocks waiting for them in either Denver or Portland, and might be heading for a first round exit.
To advance, Dallas will need strong efforts from Tyson Chandler and Jason Terry, and a Herculean effort from Nowitzki.
They might escape round one, but don't expect anything more.
Oklahoma City Thunder: 12/1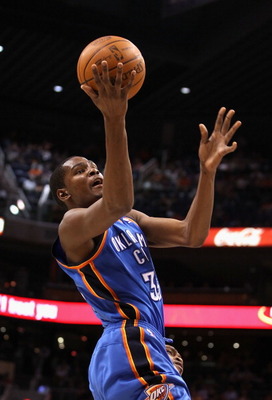 Kevin Durant
Christian Petersen/Getty Images
Beginning with the Thunder, the real battle for a championship begins.
Not that the teams on the previous slides aren't good, but all of them are missing major pieces of the championship puzzle.
Oklahoma City emerged from the Seattle back stab debacle with a team poised to compete in the West for the next 10 years.
Kevin Durant and Russell Westbrook are legitimate superstars, and give the Thunder a one-two punch that few can match. They could land anywhere from the second to fourth playoff spot, but will advance to round two no matter who they play.
12/1 may even be an under sell for this team. They could be the only squad in the Western Conference that can beat the Lakers.
Boston Celtics: 10/1
Paul Pierce
Kevin C. Cox/Getty Images
The 2011 Boston Celtics are like a tale of two teams.
The pre-Perkins trade Celtics looked like a lock to return to the NBA Finals, and maybe even win another championship. The post-Perkins Celtics look like a team lost at sea.
They were completely dominated by the Miami Heat on Sunday, and had absolutely no answer for LeBron James.
I am a huge fan of Bill Simmons, and usually find his analysis of the Celtics right on the money. Sunday night after the Miami game, he tweeted the following:
"I'm really disappointed. Two hours ago, Tiger was making a run and the 2010-11 Celtics had a pulse. This sucks."
I'm not quite as pessimistic about the Celtics as Simmons is, but I definitely have my doubts about them getting out of the East now.
To do so will require a huge effort from Rajon Rondo (who has been hit the hardest by the Perkins trade), and a return of deer-in-the-headlights LeBron James circa last year's playoff series.
Don't count on it. If they go down early, Danny Ainge will be public enemy No. 1 in Boston for trading away their championship hopes.
Miami Heat: 8/1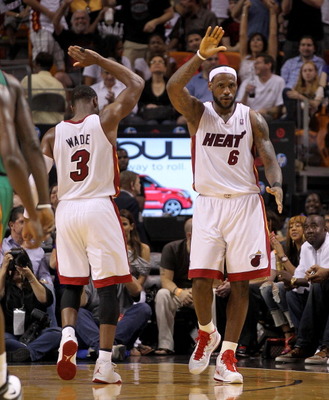 LeBron James and Dwyane Wade
Mike Ehrmann/Getty Images
I used to play online poker in college. Every once in a while, I'd play a tournament that featured a few sponsored professionals with a bounty attached to them. If you busted them out of the tournament, you got a bonus prize.
That, in a nutshell, is the Miami Heat. Everyone wants to be the one to beat them. Everyone wants to be the one to slay the dragon.
Unfortunately, it won't be easy.
Miami is a team that has been a bit Dr. Jekyll and Mr. Hyde this season. At times they have looked almost unbeatable, and when LeBron James, Dwyane Wade and Chris Bosh are playing well at the same time, they usually are.
The rest of the time they are a good, but not great, team that needs better role players to compliment the top three (it's too soon to steal "The Big Three" away from Boston).
The Heat could well be the best team in the NBA in a one game series, but they aren't even the best team in the East in a seven game series. After dispatching of their first two opponents, Miami will fall in the Eastern Conference Finals.
San Antonio Spurs: 6/1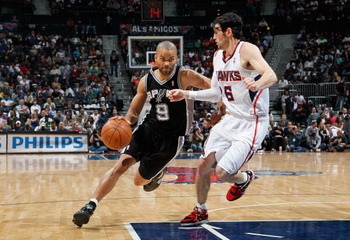 Tony Parker
Kevin C. Cox/Getty Images
For my money, the Spurs are the feel-good story of the year. Relative to the rest of the league, the Spurs look like dinosaurs. On paper, I can't believe that they will have the No. 1 seed in the West.
Even now, analysts of every stripe are content to coronate the Lakers as the inevitable champ out of the West. The Spurs might be the first under-the-radar top seed in NBA playoff history. And I don't think they'd have it any other way.
The Spurs are the very definition of NBA working class. Nothing about them is flashy. Their ace in the hole, however, is Greg Popovich. No one is better than Popovich at getting the most out of a team.
If I were a Spurs fan, I would be hoping that Oklahoma City sneaks into the third seed and is forced to slug it out with the Lakers in round two. I don't think San Antonio matches up well with the Thunder's speed and perimeter scoring, and would have trouble escaping that series.
In the end, I think it will be a Spurs/Lakers Western Conference Final. That matchup is almost a complete toss-up, but I think LA has one too many weapons for San Antonio and will take the series in seven games.
Chicago Bulls: 5/1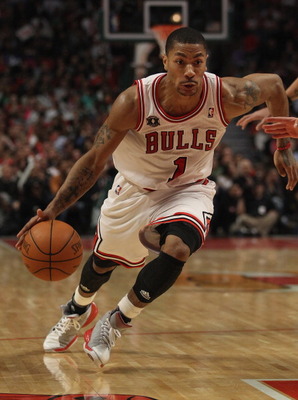 Derrick Rose
Jonathan Daniel/Getty Images
I grew up watching the great Bulls teams of the '90s. During their two three-peat runs, there were moments when Michael Jordan elevated his game to a level no one in the world could match. He simply would not allow Chicago to lose.
Derrick Rose is cut from that same mold.
With Joakim Noah and Carlos Boozer each spending extended stretches on the injury list this season, there is no way that Chicago should be the No. 1 seed in the East. That is why Derrick Rose has to the NBA MVP. He simply wouldn't let the Bulls lose.
Now that they're healthy, the Bulls are a scary good team. Rose, Noah, Boozer and Luol Deng are as good a top four as there is in the NBA. Throw in Ronnie Brewer, C.J. Watson, Keith Bogans and Kurt Thomas and you have a team that can absolutely compete with the Lakers.
The Bulls will breeze through the first two rounds, setting up a showdown with the Miami Heat in the Eastern Conference Finals. Like I said earlier, the Heat might be the best team in a one-and-done scenario, but they will not beat the Bulls in a seven-game series.
In any other year I'd pick Chicago to win the NBA Championship, but this year the next team on this slideshow is the team of destiny.
While not this year, this Bulls team will win an NBA Championship (or five).
Los Angeles Lakers: 3/1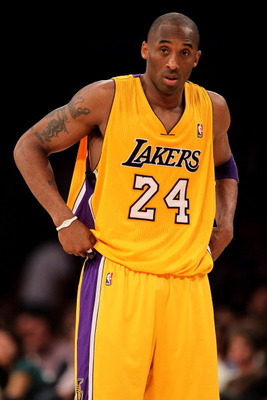 Kobe Bryant
Stephen Dunn/Getty Images
Simply put, if the Lakers stay healthy and play their A game, no one can beat them in a seven game series.
Now I know what you're probably thinking. How can he say that? The Lakers have lost five straight and look positively beatable.
Here's the thing, though. Even if the Lakers had lost 10 in a row, I'd still have them on top of this list. No one can match their depth in the frontcourt, and Kobe Bryant is still the game's best late-game shooter.
The Western Conference is again loaded with landmines on the way to the finals (see: OK City, San Antonio, and even Portland), but with the chance to join historic company with a three-peat, no one will beat them in the West.
Their road, like everyone else's, will be made easier if they can avoid Oklahoma City in round two, but the Lakers simply have too much in their arsenal to go down before the finals.
A matchup with the Bulls in the finals is a veritable clash of the titans, but I don't think Phil Jackson and the Lakers will be denied. Pau Gasol wins a long-overdue finals MVP, and the Lakers win in seven games.
I can't wait.
Keep Reading

Los Angeles Lakers: Like this team?