NBA Trade Rumors and Free Agency: Speculation About All 30 Teams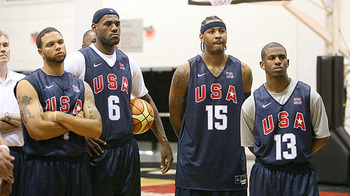 zimbio.com
The Miami Heat and Boston Celtics already have their Big Three in place beyond the 2011 NBA season.
Who will be the next team to combine forces and create a mini-All-Star team?
The New York Knicks are close. An addition like Deron Williams or Chris Paul would put them over the hump.
The New Jersey Nets may not be far behind, as long as Williams stays put. New Jersey as of now, should have $17 million to spend this offseason.
The 2011 Free Agency class may not be as exciting as last year's was with LeBron James and Chris Bosh headlining it. However, with a new CBA looming this offseason, who knows what can come out of the 2011 offseason?
Here is a look at offseason speculation for all 30 teams.
30. Minnesota Timberwolves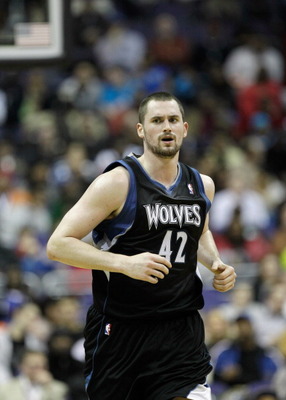 Rob Carr/Getty Images
The Minnesota Timberwolves have a lot of options heading into this offseason.
They have to decide what they are going to do with Kevin Love. They also have to decide on a PG for the future.
Love said in an interview early in March when asked about a contract extension, "We have to start winning, of course, and the contract has to be right," Love said. "From there, things have to work out."
With Ricky Rubio's future in Minnesota up in the air, the best move for Love may be a trade.
Speaking of Rubio, his choice of whether to come to Minnesota or stay in Spain for another year will impact the future of Jonny Flynn.
Flynn, who started 81 games last year, has now been relegated to a bench role and is only averaging 19 minutes per game this season.
If Rubio comes over to the States after a new CBA is agreed upon, Flynn could be on the way out. Houston has already been rumored to be involved after they traded away Aaron Brooks at the deadline.
29. Cleveland Cavaliers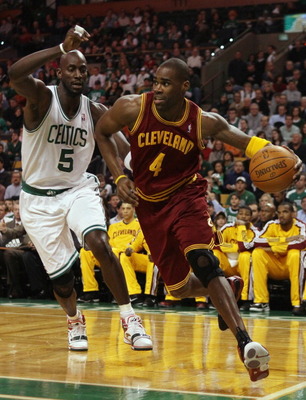 Elsa/Getty Images
With their poor record, you would think Cleveland is in a position to make a splash in free agency.
They are not. With the addition of Baron Davis to their cap, the Cavaliers will have little money to spend on free agents this summer, even with the trade exception received in the LeBron James deal. The more important question is who would want to go to Cleveland?
The way to improve in Cleveland is through a trade.
Davis is obviously stuck now, but two players that can go, and that still have trade value, are Antawn Jamison and J.J. Hickson.
Jamison will be an expiring contract next season, but still has a few seasons left in the tank. He still can be a great addition to a club like Indiana or Denver.
With Jamison departing, the Cavs draft Derrick Williams with their first pick and then take Kemba Walker or Brandon Knight with their pick from Los Angeles.
All of a sudden, Cleveland's future looks promising.
28. Toronto Raptors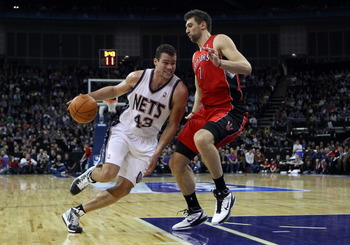 Julian Finney/Getty Images
The Raptors may have found their PG for the future in Jerryd Bayless.
Over the past 5 games, Bayless is averaging over 20 points and five assists per game.
His improved play has been one of the few bright spots for the Raptors this season.
With about $20 million coming off the books this summer, Toronto will have some room to sign a big free agent or two. However, the question will be who would want to go to Toronto?
One player that is on the cusp of a big pay day is Kris Humphries. In New Jersey, Hump has played extremely well, especially after the addition of Deron Williams.
If Toronto can convince Humphries to leave NJ, they could have a solid team to build around.
27. Washington Wizards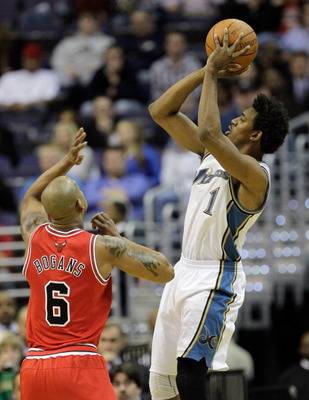 Rob Carr/Getty Images
Washington, unlike Cleveland, is a bad team that should have some cap flexibility this offseason.
Only Rashard Lewis, John Wall and Andray Blatche are on the books next year making over $5 million.
The Wizards should be able to draw free agents to a team that is built around John Wall.
Samuel Dalembert or Nenad Krstic would be good signings for the Wiz. Dalembert would be a good athletic target down low for Wall.
Washington is pretty much stuck with Rashard Lewis' contract, which is a shame. If they could get rid of the $45+ million left on his deal, they could make some real noise.
26. Sacramento Kings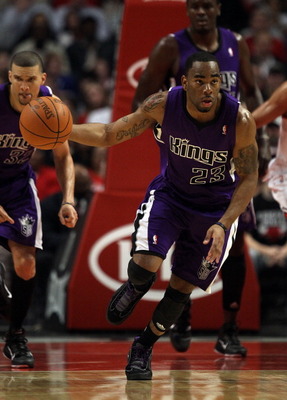 Jonathan Daniel/Getty Images
I think the Sacramento Kings are one player away from being a contender for the Western Conference playoffs.
The Kings' goals this summer should be:
1. Re-sign Marcus Thornton
2. Sign a marquee SF like Josh Howard or Shane Battier
The Kings will likely part ways with Sammy Dalembert as well, so a backup C would be needed in the offseason.
In the draft, they will be looking hard at Perry Jones and Enes Kanter.
The Kings, with these additions, will be players in the Western Conference in 2012.
25. New Jersey Nets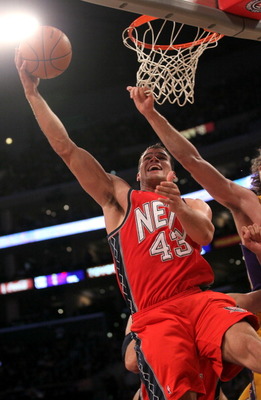 Stephen Dunn/Getty Images
This offseason may determine whether or not Deron Williams stays in New Jersey following the 2011-2012 season.
The Nets again will have plenty of cap room to make a move by signing a free agent to help out Williams.
Kris Humphries has had a breakout year for New Jersey and looks to get compensated for it. The Nets are going to have to battle several teams to retain Humphries' services.
Instead of overpaying for Humphries, why don't the Nets replace him with David West? If West opts out of his contract, his addition would make the Nets immediately a playoff team.
With the money left over, the Nets could then sign a much needed shooter like Eddie House or Anthony Parker.
24. Detroit Pistons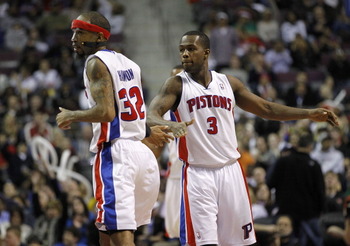 Gregory Shamus/Getty Images
Rodney Stuckey was benched this past weekend against the Celtics because he refused to re-enter in the fourth quarter of the Bulls game a couple days before.
Stuckey, who is a restricted free agent this summer, could be on his way out.
The Pistons need to blow this team up because they are not going anywhere fast.
Tayshaun Prince will leave via free agency and Ben Gordon will be on the trading block once again.
The Pistons should go after one of the Morris twins in the draft to replace Prince.
23. Los Angeles Clippers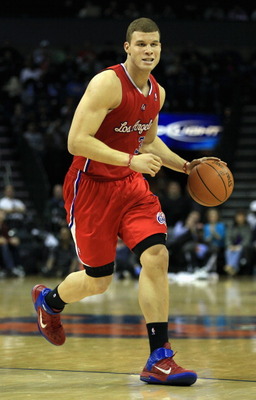 Streeter Lecka/Getty Images
The Los Angeles Clippers are another team in the West that is not far from contending.
Now that they got rid of Baron Davis, the Clippers have a little bit more flexibility heading into the next couple seasons.
They should have enough space to sign a SF to replace Ryan Gomes.
Someone like Reggie Williams, Josh Howard or Tayshaun Prince would be an upgrade.
Mo Williams, Eric Gordon, Tayshaun Prince, Blake Griffin and Chris Kaman is not a bad starting five.
Then you have Randy Foye, Eric Bledsoe and Ryan Gomes off the bench.
22. Charlotte Bobcats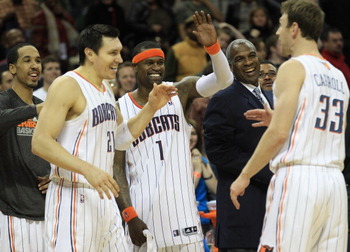 Streeter Lecka/Getty Images
The only players with trade value for Charlotte would be DJ Augustin, Stephen Jackson and Boris Diaw.
That being said, I do not see the Bobcats being able to pull off any trades with these players. Diaw is the one most teams would covet with his expiring contract.
The Bobcats are a very young team and look to become even younger with their two first round picks in this summer's draft.
The Bobcats could use a C to replace what Emeka Okafor left behind. A player like Nenad Krstic or Hilton Armstrong will be free agents.
The draft is very slim on C with only Enes Kanter and Jonas Valanciunas being projected first rounders.
21. Milwaukee Bucks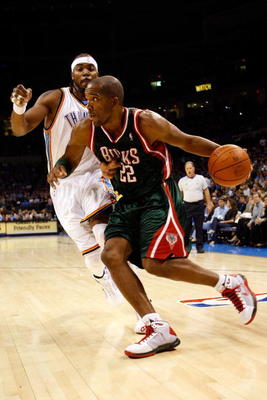 Chris Graythen/Getty Images
Michael Redd is getting paid over $18 million this season. After playing only 57 games over the past three seasons, Redd's contract will be off the books this summer.
The Bucks have a new leader and that is Brandon Jennings.
Milwaukee is one player away from being a playoff team in the East.
An addition like Rasual Butler or one of the Morris twins in the draft could catapult the Bucks into the seventh or eighth seed next season.
20. Golden State Warriors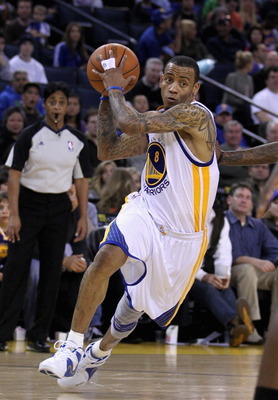 Ezra Shaw/Getty Images
Golden State is one team that I do not see going anywhere in the future with the roster they currently have.
They have a good core with Monta Ellis, Stephen Curry and David Lee, but one of them may have to be traded in order to get Golden State moving in the right direction.
Monta Ellis would be the guy who is most tradeable out of the group. Ellis is one of the most underrated scorers in the league.
I could see him fitting well in Phoenix or New Orleans. The Warriors could get an expiring contract and a couple first rounders in return.
19. Indiana Pacers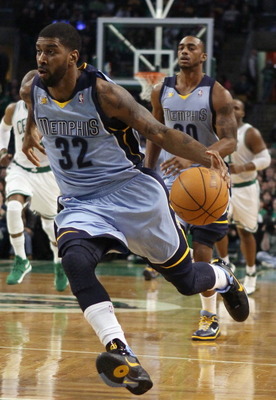 Elsa/Getty Images
After failing to complete a trade to acquire OJ Mayo at the deadline, why not try again over the summer?
The Pacers have a ton of money coming off the books this summer and could afford taking on a player like OJ Mayo.
Mayo, who needs a fresh start, would be a good compliment scorer to Danny Granger.
With the money left over, Indiana needs to upgrade the PF either through free agency or the draft.
Carl Landry would be a good fit here and someone like Trey Thompkins or Tristan Thompson would be a good pick in the draft.
18. Utah Jazz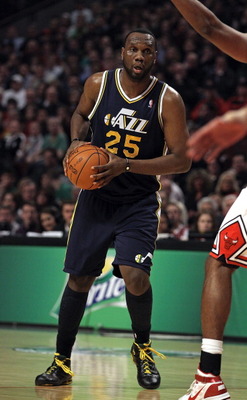 Jonathan Daniel/Getty Images
Even with Andrei Kirilenko's $18 million coming off the books this summer, the Utah Jazz will have a limited amount of money to sign any free agents.
Al Jefferson, Devin Harris and Mehmet Okur take up more than 50% of the team's cap room.
One player the Jazz could dangle as trade bait is Al Jefferson.
He's had a great season for Utah and deserves to be on a contending team.
17. Phoenix Suns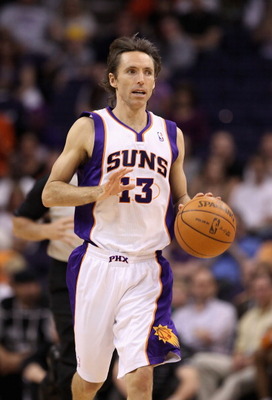 Christian Petersen/Getty Images
Phoenix loves Steve Nash and the feeling is mutual.
But if the Suns want to move on and get better, they may have to part ways with him.
Phoenix could still get a lot of value if they traded Nash heading into the final year of his contract.
Possible landing spots for Nash include New Orleans (if CP3 is dealt), Portland and Atlanta.
If the Suns do keep Nash, a SG in free agency will be the team's focus. A player like Anthony Parker would be a good person to pair with Nash in the backcourt.
16. Philadephia 76ers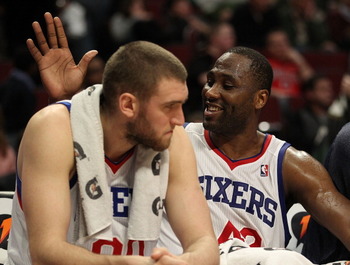 Jonathan Daniel/Getty Images
The good news for the Sixers: Every contributing player should return to the club next season.
The bad news: The 76ers are still at the mercy of the salary cap.
With not much room to work with, if the Sixers want to improve, they will have to solely focus on the draft.
I really like the idea of any one of these players coming to Philly: Jordan Hamilton, Trey Thompkins, Tristan Thompson or Tyler Honeycutt.
If the Sixers want to improve on this season, they are going to need to upgrade their SG. Why not bring Rasual Butler back to Philly?
15. New York Knicks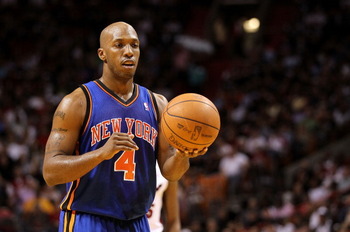 Mike Ehrmann/Getty Images
The Knicks should be a better team regardless of what minor additions or subtractions they make this offseason. With a year to bond, Amare Stoudemire and Carmelo Anthony should figure to be an incredible duo in 2012.
The main question for the Knicks this summer is whether to keep Chauncey Billups or not. The Knicks can save almost $10 million if they buy out Billups. However, Billups is seen as a key piece to the Knicks' future plans so I think they pick up his option.
There are not many free agent PG this summer so the Knicks may want to keep Billups, unless they have another trade up their sleeves.
The Knicks need to find a SF or PF in the draft that can play with Stoudemire and Melo.
14. Houston Rockets
Jonathan Daniel/Getty Images
With Yao Ming's career likely over in Houston, the Rockets will have a good chunk of money this offseason to try and replace the former franchise player.
One player on the list of hopefuls could be Marc Gasol. Because he is playing in Memphis, Gasol has not been a household name the pat few years.
However, Gasol is a solid C who could fit well with Luis Scola down low.
Getting Shane Battier back through free agency would also be an intriguing move for Houston.
13. Memphis Grizzlies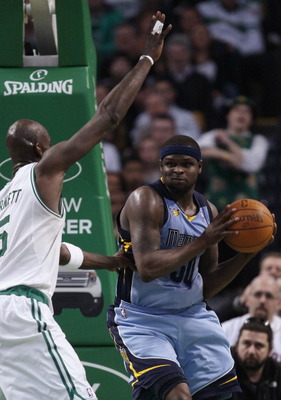 Elsa/Getty Images
If the Grizzlies could only make one move this summer, it would be to re-sign Zach Randolph.
Randolph has made Memphis a playoff contender almost by himself. His 20 points and over 12 rebounds a night would sure be hard to replace if he does walk.
Besides Randolph, the Grizzlies have to make decisions regarding the futures of players like Shane Battier, Marko Jaric and Marc Gasol.
Of the four players mentioned, the only one I see returning is Randolph. Gasol will get a raise somewhere else so he will not be back. Hilton Armstrong or Sammy Dalembert could be a serviceable replacement.
12. Atlanta Hawks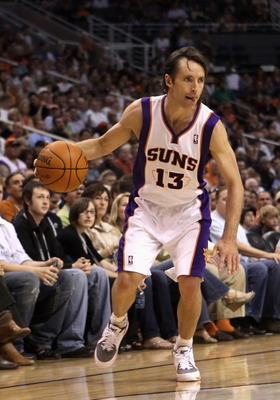 Christian Petersen/Getty Images
Atlanta's time to win is now. They have the pieces to build a championship team around.
They just need to add another marquee player in order to rise above the four teams in front of them.
The Hawks are tied up with cap room so they would need to make a trade, preferably for a veteran PG.
I know Atlanta likes Kirk Hinrich, but if they want to come out of the East, they need a star PG.
Possibly trade options include Steve Nash, Aaron Brooks, Chris Paul or Jonny Flynn.
11. New Orleans Hornets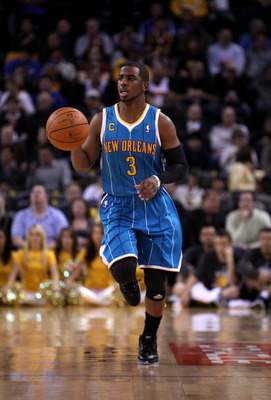 Ezra Shaw/Getty Images
David West has the decision to opt of of his contract with the Hornets this offseason.
Chris Paul will make his decision whether to opt out or not based on West's decision.
If West opts out, Paul could ask to be traded like Carmelo Anthony was, or he will just opt out after 2012.
Will the Knicks have enough assets to offer the Hornets next season? Right now it does not look that way.
New Orleans is a middle of the road kind of team right now. They need another scorer to get them to the next level.
Losing Paul, West or both would put a damper on New Orleans' future going forward.
10. Portland Trail Blazers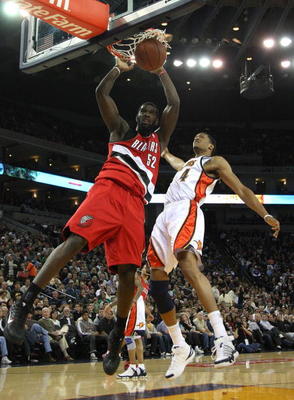 Jed Jacobsohn/Getty Images
The Trail Blazers have pretty much their entire roster on the books for next season except Patrick Mills.
They are a young team who will be tough to compete with night in and night out, especially with Gerald Wallace spending more time with his teammates.
I still wonder how good the Blazers would be if they had a healthy Greg Oden. The Blazers need to make a decision on whether to keep hoping on this guy, or to let him go.
I would assume that Portland picks up Andre Miller's option. There won't be any better PG than him on the free agent market.
9. Denver Nuggets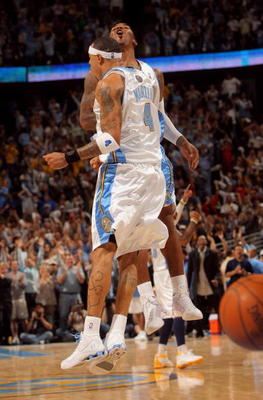 Doug Pensinger/Getty Images
As it stands currently, Kenyon Martin and JR Smith will become free agents this summer.
Martin will probably walk, but I see JR Smith returning to Denver. When Carmelo left, Smith quickly became "the guy" in Denver.
Smith is the spark plug to this team that is surprisingly still the fifth seed in the West.
Nene has a player option next season which I predict that he will stay in Denver as well.
PF on the market that Denver could possibly go after would be David West, Kris Humphries and Glen Davis.
8. Orlando Magic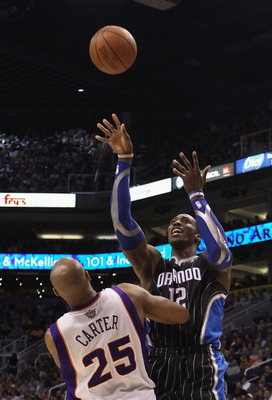 Christian Petersen/Getty Images
The Magic will return their entire team except for Jason Richardson.
Richardson will leave in search of a new contract elsewhere.
Dwight Howard will not be traded as much as people are talking about it.
There may be some enticing offers for Howard during next year's deadline, but until then, Howard will be in Orlando.
The Magic could explore trades for Hedo Turkoglu and Gilbert Arenas, but no teams will budge because of their hefty contracts.
7. Oklahoma City Thunder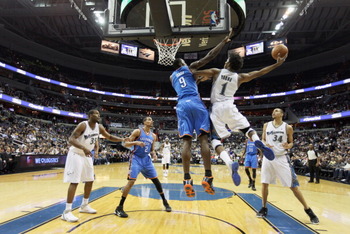 Rob Carr/Getty Images
The Thunder will likely lose Nazr Mohammed to free agency, but will return the key pieces from this year's breakout team.
With Kevin Durant and Kendrick Perkins signed long term, the next player Oklahoma City needs to lock up this summer is Russell Westbrook.
The Thunder will have some room to sign a free agent or two. They could use a SG like Nick Young or CJ Miles.
With one of those two, the Thunder become even a scarier team.
6. Dallas Mavericks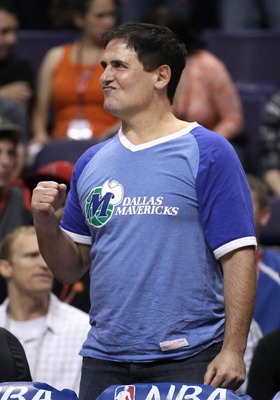 Christian Petersen/Getty Images
With players like Tyson Chandler, Caron Butler and DeShawn Stevenson coming off the books this summer, one would think Dallas would have some cap flexibility.
For next season, Dallas already has over $61 million committed to nine players.
Jason Kidd and Jason Terry both will be in contract years next season so the Mavs will have to be on the lookout for a future PG.
Mark Cuban has already shown interest in acquiring Ricky Rubio from Minnesota so keep an eye on that as the draft approaches.
5. Miami Heat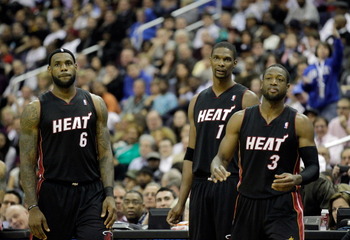 Rob Carr/Getty Images
It has been a pretty successful first year for the "South Beach 3." The playoffs however will determine how successful this season will eventually be.
The top eight players should return next year, assuming Eddie House and Big Z exercise their player options.
The Heat are going to need another PG for next season unless they decide to re-sign Mario Chalmers and Mike Bibby.
Miami could use Minnesota's second round pick to select a PG. Players available there should include Josh Selby, Malcolm Lee and Jacob Pullen.
4. Boston Celtics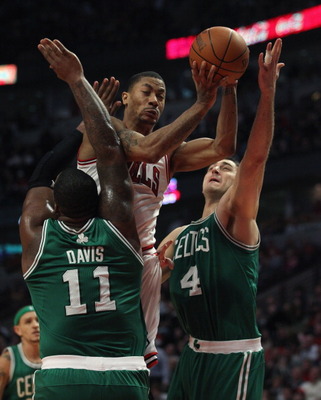 Jonathan Daniel/Getty Images
The Boston Celtics do not have their starting or backup C signed for next season.
Both Glen Davis and Nenad Krstic are unrestricted free agents.
One of them will re-sign, and it probably will be Davis. If they can afford to keep Krstic then they would do that as well.
The Celtics have both draft picks in this year's draft and lucky for them, it is a very deep year.
Towards the end of the first round, Boston could still select a solid front court player to come off their bench (ie. Jordan Williams, Keith Benson).
3. Los Angeles Lakers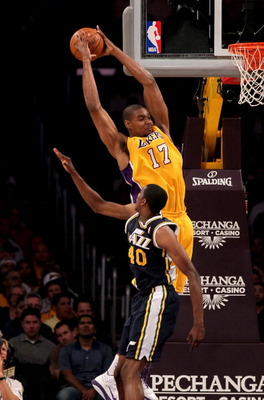 Stephen Dunn/Getty Images
The defending champions have the same roster as last year's team.
They will also have the same core group for next year's run as well.
That is as long as they keep Andre Bynum though. Bynum for Dwight Howard talks will be swapped over the summer and throughout next season.
Will they pull something off? I highly doubt it. The Lakers are the best team in the league. Why mess with it? The Celtics will soon find out what happens when they mess with their championship winning lineup.
2. Chicago Bulls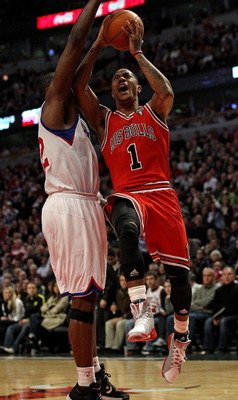 Jonathan Daniel/Getty Images
Derrick Rose and Co. have quickly shot to the top of the Eastern Conference.
The MVP candidate has his entire group back for next year, except Kurt Thomas.
The Bulls have their own pick plus Miami's first round pick to build a better bench for next season.
JaJuan Johnson and Marshon Brooks would be two guys that could be available late in the first round.
1. San Antonio Spurs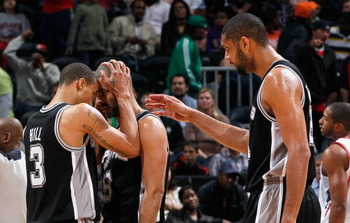 Kevin C. Cox/Getty Images
Tony Parker may leave the San Antonio big three this summer, but I doubt it.
Tim Duncan also has an early termination option, but the 13-year veteran will not be going anywhere.
If San Antonio keeps the best record and goes on to win the NBA Championship, they will return all five starters, assuming Parker does return.
Again, the Spurs have the championship pedigree. Why mess with it?
Keep Reading