After breaking his nose going up for a dunk against the Oklahoma City Thunder's Serge Ibaka, LeBron James returned to the starting lineup on Thursday versus the New York Knicks donning a protective mask.
Since James chose not to publicly share what the mask would look like before the game, the world got its first look at his face gear just before tipoff. Needless to say, there was a wide variety of reactions:
LeBron goes with the Darth Vader mask look.

— Michael Wallace (@WallaceNBA_ESPN) February 28, 2014
LeBron looks like Hannibal Lecter.

— Frank Isola (@FisolaNYDN) February 28, 2014
LeBron looks a little like Batman in that mask.

— Al Iannazzone (@Al_Iannazzone) February 28, 2014
It's the second time he has worn a mask in his career, but the first time he's gone all black.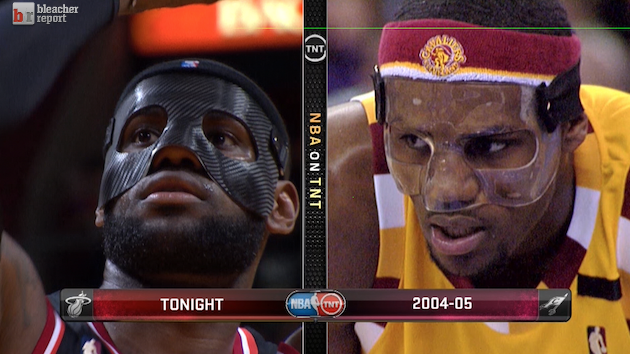 via Bleacher Report
Who wore it better? Kanye West or LeBron James? pic.twitter.com/Ij9T1nyuCz

— Basketball Forever (@Bballforeverfb) February 28, 2014
Phantom of the LeOpera pic.twitter.com/5JNgG7ZCzQ

— SB Nation GIF (@SBNationGIF) February 28, 2014
Lebron "King Zorro" James pic.twitter.com/OpMVTfwxHD

— Jean-Luc Picard (@WebbieCasseus) February 28, 2014
All in all, it looks like it isn't affecting him too much.
Ultimately, LeBron returned with a vengeance, dropping 31 points on 13-of-19 shooting with four rebounds and four assists.