The Miami Heat and Brooklyn Nets matched up on Friday night at the Barclays Center. The game featured two of the highest-profile teams in the league, but that isn't the reason people got excited about the matchup.
Nickname uniforms are here!
Both Brooklyn and Miami sported uniforms with the traditional surname replaced with a catchy nickname.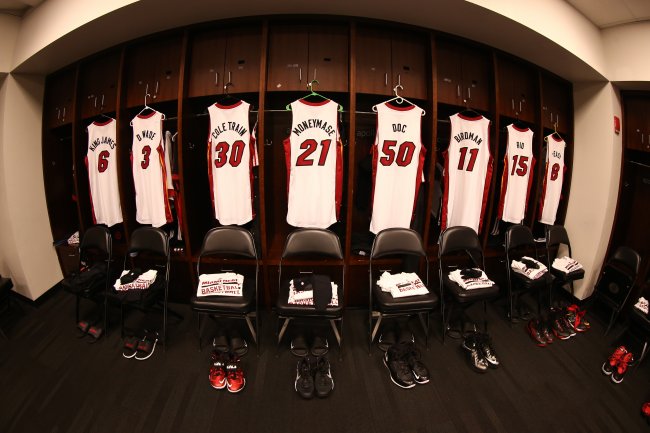 Nathaniel S. Butler/Getty Images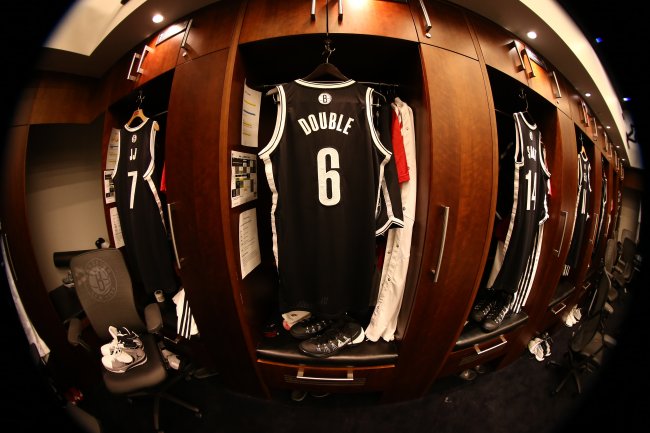 Nathaniel S. Butler/Getty Images
The rosters, if you please.
For Miami:
Ray Allen: "J. Shuttlesworth"
Chris Andersen: "Birdman"
Joel Anthony: "Doc"
Shane Battier: "Battle"
Michael Beasley: "B Easy"
Chris Bosh: "CB"
Mario Chalmers: "Rio"
Norris Cole: "Cole Train"
Udonis Haslem: "UD"
LeBron James: "King James"
James Jones: "JJ"
Rashard Lewis: "Sweet Lew"
Roger Mason Jr.: "MoneyMase"
Greg Oden: "G.O."
Dwyane Wade: "D.Wade"
For Brooklyn:
Alan Anderson: "Double"
Andray Blatche: "Dray Live"
Reggie Evans: "Joker"
Kevin Garnett: "The Big Ticket"
Joe Johnson: "JJ"
Andrei Kirilenko: "Кириленко"
Shaun Livingston: "S Dot"
Brook Lopez: "Brooklyn"
Paul Pierce: "Truth"
Mason Plumlee: "Plums"
Tornike Shengelia: "Tokomotiv"
Tyshawn Taylor: "Tee_Y"
Mirza Teletovic: "MT3"
Jason Terry: "Jet"
Deron Williams: "D-Will"
D-Will? D.Wade? JJ? The other JJ? Some of these nicknames are pretty weak, and Twitter took notice.
This BKN-MIA nickname jersey game only serves as proof that this generation of NBA players is devoid of quality nicknames

— Michael Lee (@MrMichaelLee) January 11, 2014
Many fans and writers were looking for better nicknames.
I was "End Of Bench" RT @matt_winer If I put a nickname on my jersey it would be "You over there," what my high school coach called me.

— Lang Whitaker (@langwhitaker) January 11, 2014
The biggest news was the return of film star Jesus Shuttlesworth, whose spirit once again inhabited the body of Miami's Ray Allen. Allen's director in the 1998 film He Got Game, Spike Lee, has reportedly been in talks to make a sequel. Whatever the case, Lee certainly looked excited to see his old pal take the court again.
Per ESPN and Sports Illustrated's Brian Mahoney:
Spike Lee is excited for Coney Island native Jesus Shuttlesworth's return to Brooklyn tonight (via @SpikeLee) » pic.twitter.com/TEyvJ9OjF5

— SportsCenter (@SportsCenter) January 10, 2014
Spike Lee appears to be wearing a Jesus Shuttlesworth Lincoln HS jersey over an orange Knicks shirt with an orange Knicks hat.

— Brian Mahoney (@briancmahoney) January 11, 2014
Does Spike Lee understand that Jesus Shuttlesworth isn't a real person?
Per Mahoney, Allen was more interested using Shuttlesworth's first name on his jersey, but the NBA intervened:
Ray Allen is going with J. Shuttlesworth. His first choice was to have Jesus on there.

— Brian Mahoney (@briancmahoney) January 11, 2014
Apparently Jesus is not allowed as the nickname on the jerseys, so there is no Jesus (or Jesus Shuttlesworth) or Joe Jesus.

— Brian Mahoney (@briancmahoney) January 11, 2014
Nickname Night could have included more than just movies. Not one, but two members of the Heat lost their battle to wear superhero nicknames. According to Deadspin, Shane Battier wanted to wear a "Batman" jersey, but that would have been a trademark violation. Battier's teammate, Dwyane Wade, would have also had trouble if he chose to use the nickname he is most closely associated with.
Per Turner Sports' Ethan J. Skolnick:
Wade, who is not playing, says he didn't want Flash on his jersey, but couldn't use it anyway, because DC Comics has rights

— Ethan J. Skolnick (@EthanJSkolnick) January 11, 2014
Neither Wade nor Battier played in the game, but at least Battier tried to have a little bit of fun on this rare occasion.
Shane Battier was asked if he wanted to wear a jersey over his suit. He suggested that he simply not wear pants.

— Ethan J. Skolnick (@EthanJSkolnick) January 11, 2014
Brooklyn big Mason Plumlee also ran into trademark trouble—this time, courtesy of a rapper.
Per Andrew Keh of The New York Times:

Mason Plumlee wanted "Ma$e" on his jersey, but the rapper has it trademarked. Instead it's "Plums," which no one calls him.

— Andrew Keh (@andrewkeh) January 11, 2014
And so a nation of disappointed basketball fans lament the fact that they missed their chance to see an NBA player with a dollar sign on his jersey. "Plums" is still a pretty cool nickname; perhaps Plumlee should start using it more often.
And then there are the nickname problems that are completely inexplicable. Joe Johnson has no idea why his nickname was turned down in favor of the bland, generic "JJ."
Plumlee also said Joe Johnson wanted "Tippy Toe Joe," but couldn't get it, for whatever reason.

— Andrew Keh (@andrewkeh) January 11, 2014
There are two JJ's facing off tonight, with Brooklyn's Johnson facing Miami's James Jones. Perhaps it should be "Tippy Toe Joe" vs. "Tippy Toe James" instead.
Heat forward Michael Beasley went with "B Easy," much to the chagrin of fans who wanted him to use his Internet nickname.
How much money are the Heat losing by not putting SuperCoolBeas on the back of that jersey.

— Zachary Bennett (@ZacharyBD) January 11, 2014
Of all these players, perhaps none have a stronger association with his own nickname than Chris "Birdman" Andersen. He might be the one player in the NBA whose nickname is more well-known than his actual name.
Birdman is the one guy who should wear his nickname on his jersey all the time.

— Jared Dubin (@JADubin5) January 11, 2014
Even ESPN announcers Mike Breen and Jeff Van Gundy got into the act, holding up their own personalized nickname jerseys.
Per SB Nation:
NOTORIOUS JVG and his sidekick, the GRAY MAMBA. pic.twitter.com/auumhKMKSL

— SB Nation GIF (@SBNationGIF) January 11, 2014
Jeff Van Gundy in a Heat jersey? Millions of Knicks fans just threw up in their mouths.
Other NBA teams, not content to cede the spotlight, are also tried to get into the act. Here is the Portland Trail Blazers' best attempt.
ICYMI, here's the nicknames the Trail Blazers would put on the back of their jerseys ... http://t.co/MxxjWgqRas pic.twitter.com/AfoukfOJbs

— Trail Blazers (@trailblazers) January 11, 2014
The Nets won the game in double-overtime, 104-95.