Projecting the Ceiling of Every Top-10 2014 NBA Draft Prospect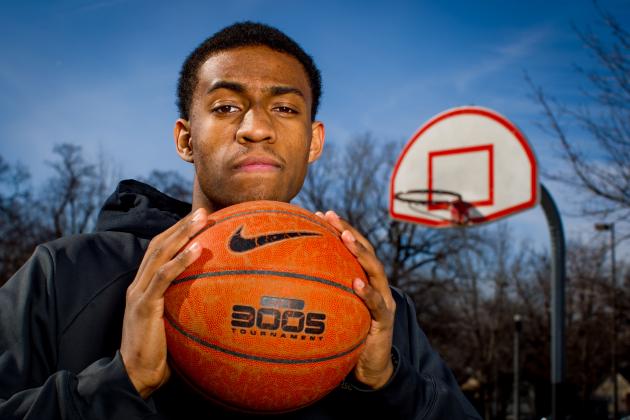 USA TODAY Sports

A prospect's ceiling represents his best-case scenario as a future NBA player.
The 2014 draft class is expected to be filled with towering ceilings and plenty of potential NBA stars.
For each prospect, we determined the height of their ceiling by classifying them into four different categories:
Elite Superstar: A franchise centerpiece who can carry a team (Dwyane Wade, Carmelo Anthony)
Superstar: A max-contract player and major franchise building block (Kevin Love, Stephen Curry)
Star: An NBA All-Star (Jrue Holiday, Paul George)
B-List Star: All-Star potential but held back by consistency and/or statistics (Josh Smith, Serge Ibaka)
Begin Slideshow

»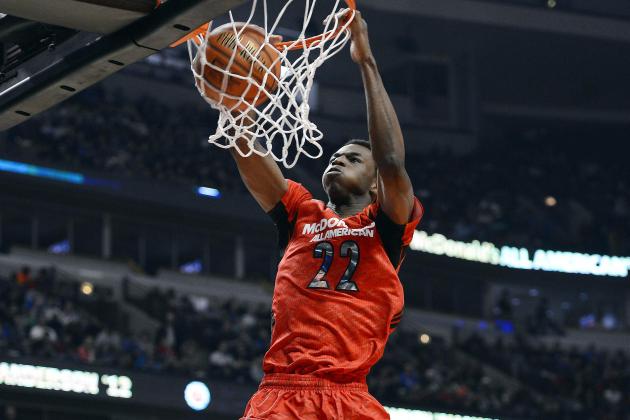 Mike DiNovo-USA TODAY Sports

NBA Ceiling: Elite Superstar
He's that good.
Andrew Wiggins is a video-game character living in the real world. With once-in-a-decade athleticism, Wiggins is capable of doing things on the court that perfect defense can't stop.
He's got bounce like you've never seen before. The floor is Wiggins' personal trampoline he uses to sky over defenders and finish on the way down.
He also sports one of the quickest first steps you'll see, which combined with his ability to elevate, allows him to separate from defenders whenever he sees fit.
Even though Wiggins isn't a refined scorer just yet, he's still able to take over games as a shot maker and relentless attacker. Who knows how unstoppable he'll become once he's knocking down mid- and long-range jumpers with regularity?
He stands 6'8'' with a 7'0'' wingspan, has a former first-round pick as a dad and former Olympic sprinter for a mom.
And on top of everything, Wiggins is a humble, high-character kid every NBA owner will want representing their franchise.
The ingredients for superstardom are in the pudding. This kid has the chance to be a special, memorable NBA player some day.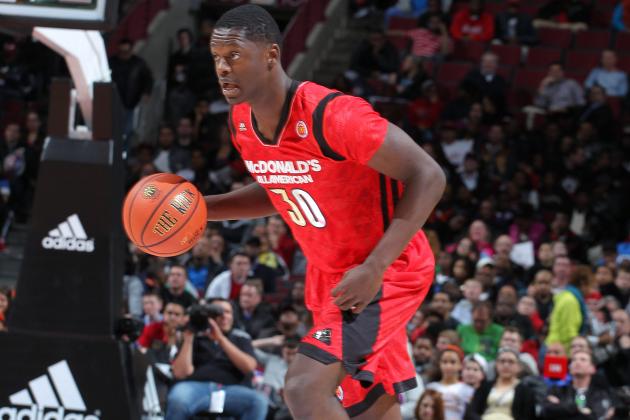 Brian Spurlock-USA TODAY Sports

NBA Ceiling: Superstar
Julius Randle is a high-speed train that can change directions like a Porsche. He's powerful yet shifty—Randle beats guys with strength down low and agility facing the rim.
And that's what drives his star ceiling. He's a mismatch from nearly every spot on the floor. At 6'9'', 250 pounds, Randle has the size to play the 4 and the foot speed to play the 3. He can work the post with his back to the rim or face his man and attack off the bounce. Pair that with a good-looking outside stroke, and Randle could one day be a team's go-to option.
He also compounds a diverse set of skills with a competitive mean streak and active motor. Randle has that ability to get himself easy buckets off offensive rebounds and transition opportunities.
The only thing keeping Randle back from elite-superstar status is his defense. It's not a strength, and isn't likely to translate to one in the near future.
Still, Randle offers minimal risk and tons of upside. He'll be locked in as a top-three draft candidate throughout his freshman year at Kentucky.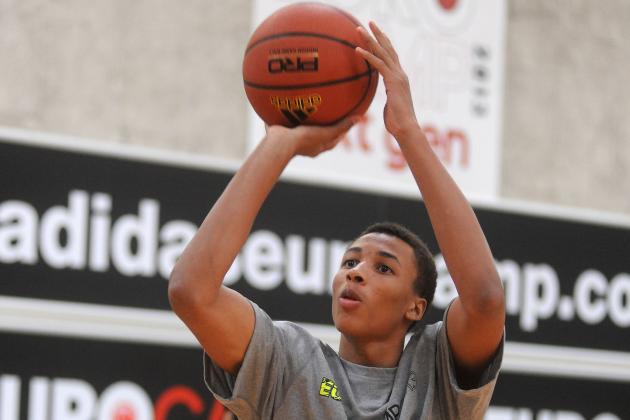 Roberto Serra/Iguana Press/Getty Images

NBA Ceiling: Superstar
Dante Exum has the chance to be something we haven't seen since Penny Hardaway. But even Hardaway didn't have that Russell Westbrook-like explosiveness.
At 6'6'', Exum can run the offense at the point or take it over as a scorer. He's got the ability to blow past any defender, which allows him to consistently be in position to make a play.
Exum can separate from anywhere on the floor, whether he's attacking the rim or stepping back for a jumper.
A high-character kid with basketball genes (father played at North Carolina) and a filthy offensive game, Exum's potential is limitless.
If he chooses to attend college in the U.S. and delay his eligibility, he'd be my No. 1 prospect in 2015.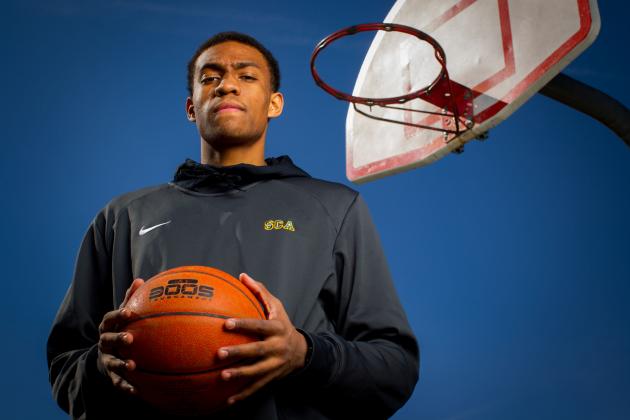 USA TODAY Sports

NBA Ceiling: Superstar
What's not to like about Jabari Parker's game and future NBA outlook?
He's got perfect NBA-size for the wing with a frame that has room for muscle.
Fundamentally, Parker is as refined as any player in the class. Step-backs, pull-ups, fadeaways, spot-ups, transition—Parker has a shot, move or strength he can use from every spot on the floor.
He's also a high-IQ guy and willing passer. Parker isn't going to shoot your team out of a game. You can plug him into any lineup knowing he can take over as a scorer without disrupting the team's offensive rhythm.
The only thing keeping Parker from reaching elite superstar status would be his lack of elite athleticism. Parker is more of an under-the-rim scorer, though that hasn't stopped the likes of Paul Pierce or Carmelo Anthony from dominating offensively.
If Parker improves some of his quickness and continues growing as a scorer, he'll find himself participating in some NBA All-Star weekends.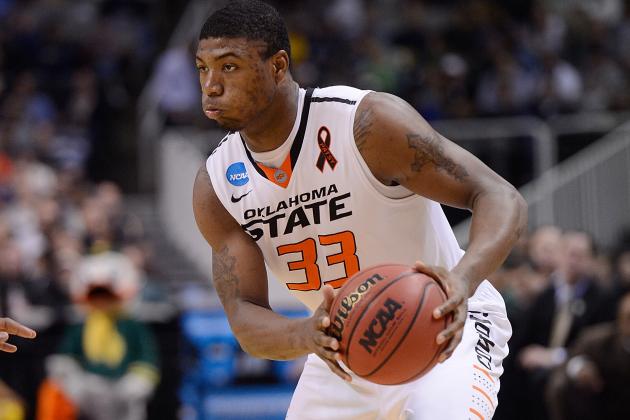 Thearon W. Henderson/Getty Images

NBA Ceiling: Star
Every NBA team wants a floor general. And Marcus Smart will be entering the draft with badges pinned all over his uniform.
He projects as a guy you want running your offense.
Smart has an extremely high basketball IQ, along with the skill set to handle either backcourt position. And at 6'4'', 225 pounds of muscle and intensity, he's truly physically imposing.
Offensively, he's got the ability to take over as a scorer, but he'll never jeopardize a possession as one. Smart is one of those rare combo guards who operates with a pass-first, shoot-second approach.
Defensively, he's a pest who can lock down, cause havoc and create turnovers.
Smart may not have the upside of a guy like James Harden, but it's the impact he can make as a playmaker that drives his ceiling towards stardom.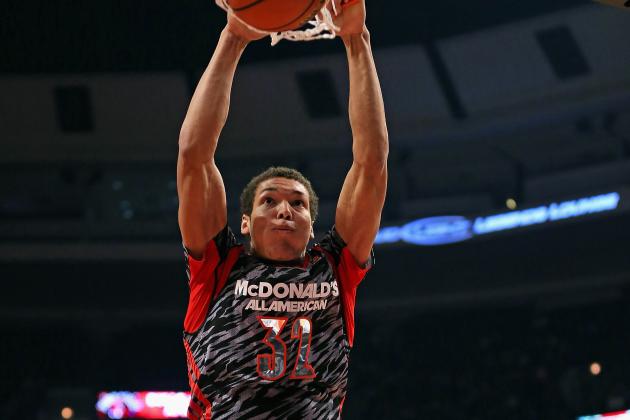 Jonathan Daniel/Getty Images

NBA Ceiling: Star
Nobody packs a bigger punch of strength, size and athleticism than Aaron Gordon. And it allows him to sniff air above the rim that few are capable of sniffing.
Gordon is an easy-bucket machine. If he's got room to launch himself at the rim, you can bet he's coming down two-points richer.
Lobs, dump passes and transition opportunities result in automatic field goals when Gordon is the final recipient.
He also has the ball skills to attack his man off the dribble. And with a great feel for the rim he's able to score on the move.
Gordon has shown he can knock down outside shots, but improving as a shooter will be his primary focus moving forward. Gordon's ultimate challenge will be scoring in the half court when there isn't an available runway for him to take off from.
But if he continues to develop his offensive game, both on the perimeter and in the post, Gordon has the chance at reach All-Star NBA potential.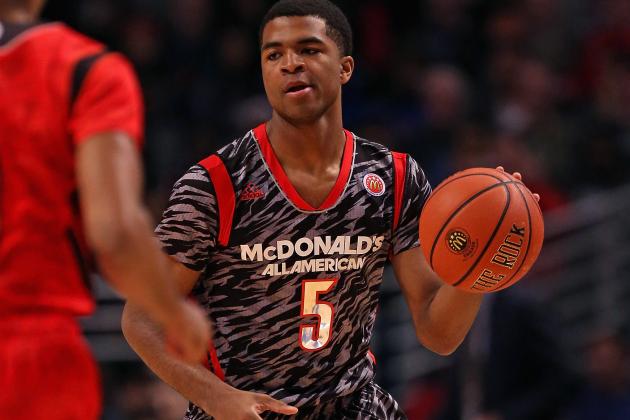 Jonathan Daniel/Getty Images

NBA Ceiling: Star
At 6'5'' with a developed body and incredibly advanced offensive game, Andrew Harrison immediately stands out visually as an NBA prospect.
He's got the perfect build and athleticism for a starting point guard.
Offensively, he's slick off the dribble, with the ability to shake and bake moving north, south, east or west.
Harrison commands the offense, consistently initiating or generating it with the dribble-drive or mid-range game. He can weave through traffic in the lane, pull up from 15 or penetrate and dish to a teammate.
Only time will tell if he's be able to balance his scoring prowess with his facilitating responsibilities. But the blueprint is in place to build an All-Star point guard down the road.
NBA Ceiling: B-List Star
At this point in his career, Joel Embiid is years and years away from reaching his ceiling. But that doesn't change its height.
At 7'0'', 250 pounds with a massive 7'5'' wingspan, Embiid has a set of scary physical tools.
He also has an offensive skill set in place. Embiid is far from mastering it, but there's a foundation there to build on. He's shown off some post moves, as well as a spot-up jumper he can knock down with range.
But right now, he's unable to deliver these moves with fluidity. The moment has to be right—Embiid needs the space to operate, the perfect entry pass or the easy catch-and-finish opportunity.
The more reps he gets in practice and games, the more natural these moves will come to him.
Whether he develops or not, he's guaranteed to give a lineup a gigantic offensive target and disruptive rim protector.
Embiid probably isn't a top-five guy, given the strength of the field and the risk raw big men present. But his upside is big if he's ever able to get there.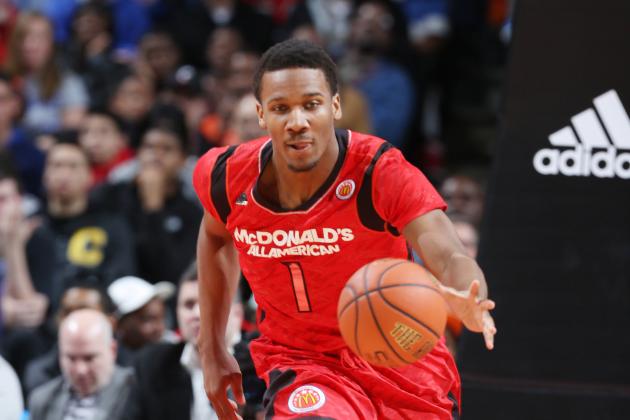 Brian Spurlock-USA TODAY Sports

NBA Ceiling: B-List Star
Wayne Selden is a potent offensive weapon with tremendous physical tools for a shooting guard.
At 6'5'', 223 pounds, Selden is quick, explosive and strong. He uses that quickness to beat his men, his explosiveness to get to the rack and his strength to finish over defenders.
Selden has that ability to create his own shot at will, and though his shooting consistency needs work, he's capable of nailing every one that leaves his hands. He can hit defenders with the step-back or beat them off the dribble.
He's also a strong ball-handler and savvy passer, with the tendency to wow fans with a slick no-look dish.
With terrific shot-creating ability and standout athleticism, the only barrier to stardom for Selden will be offensive consistency.
His upside should be worth a top-10 look assuming he's one-and-done.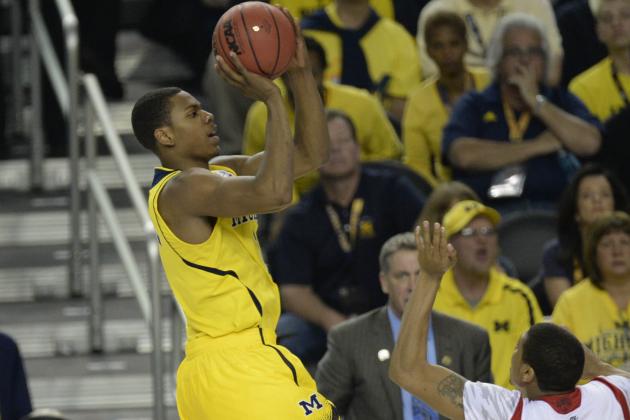 Richard Mackson-USA TODAY Sports

NBA Ceiling: B-List Star
Glenn Robinson III projects as an elite complementary scorer if he's able to hit his ceiling. Robinson isn't much of a one-on-one scorer, which knocks him down to the B-List.
But his ability to play off others and produce without dominating the ball gives him tremendous appeal in a supporting role.
Robinson reminds me a lot of Andre Iguodala in terms of their strengths. At 6'6'', both are defensive assets who can guard either wing position. They're also weapons in transition, slashing off the ball and cutting backdoor for easy buckets.
Robinson was often the recipient of many catch-and-finishes or alley-oops because he put himself in position to make those type of plays.
He's also a promising outside shooter who's shown he can spot up for three or step into a pull-up.
With two-way potential as a complementary scorer and lockdown defender, Robinson III could be a long-term starter once he settles into the league.