Ranking the Biggest 'What-Ifs' in the NBA Draft of the Last Decade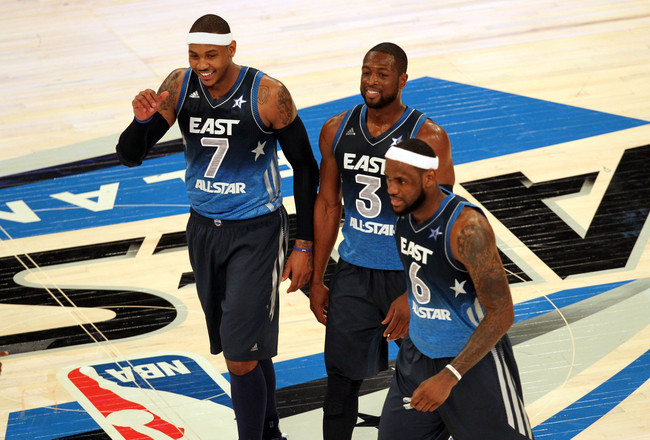 The three best players from the 2003 Draft: Carmelo Anthony, Dwyane Wade and LeBron James.
Kim Klement-USA TODAY Sports
Alternate histories are fascinating.
The book world has a whole cottage industry of titles that ask questions like "What if the South won the Civil War?" or "What if the Cuban Missile Crisis had ended in nuclear war?" A recent Stephen King book features a time traveler who goes back in time to prevent the assassination of John F. Kennedy.
Such questions, though less serious, are just as interesting in sports. If we didn't talk about "what ifs?" what else would we discuss?
For the best what ifs, it's best to start at the beginning.
In the NBA, that means draft day.
These are the most intriguing what ifs from the NBA draft in the past 10 years.
5. Indiana Keeps Kawhi Leonard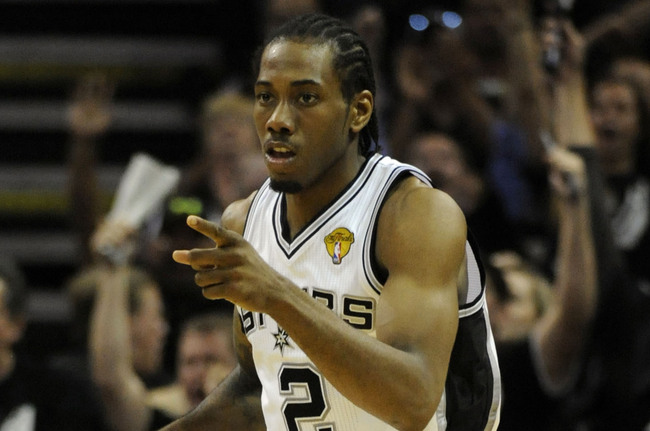 Brendan Maloney-USA TODAY Sports
The San Antonio Spurs came up just short of completing a run for the ages. Had they won, Tim Duncan would have become the first player to win an NBA title in three separate decades, according to Pounding the Rock.
Now, it looks as if the aging team's championship hopes will fade as its three stars—Duncan, Manu Ginobili and Tony Parker—get another year older, another year slower.
The cupboard is not bare, however.
They still have Kawhi Leonard, a second-year wing who scored 14.6 points per game on 51.3 percent shooting in the NBA Finals while grabbing 11.1 boards a night.
He has the potential to be one of the best two-way players in the NBA as soon as next year.
He's 21 years old.
And he could have been an Indiana Pacer.
He had a wonderful final season at San Diego State University, but on draft night in 2011, his name kept not being called. He fell all the way pick 15.
The Pacers selected him and promptly shipped him to the Spurs, which surprisingly were willing to give up backup combo guard George Hill to acquire Leonard. Hill was reportedly coach Gregg Popovich's favorite player on the Spurs, so the decision was bittersweet. San Antonio knew it was getting the wing player it needed to make a transition to the next era, but it was losing an excellent guard who knew and fit the system.
For the Pacers, a team whose leading scorer, Danny Granger, and most-promising up-and-comer, Paul George, both played on the wing, it was a move that made sense. Indiana needed guard help and another wing was just going to complicate the rotation.
It was the rare player swap that was totally logical for both teams, and given that each was one of the last four squads left standing this season, it's hard to argue that either made anything but a sound personnel decision.
But, man, would it be interesting to see Leonard and Paul George on the same team.
Each represents the league's new-age wing player: a long, quick, athletic, two-way player with smarts and no glaring weaknesses.
While both Leonard and George have areas in which to improve, neither has any true holes in their games. And soon, each may be signing max contracts to stay in their respective small markets.
Just imagine if it had been for the same team.
4. Atlanta Picks the Point Guard It Needs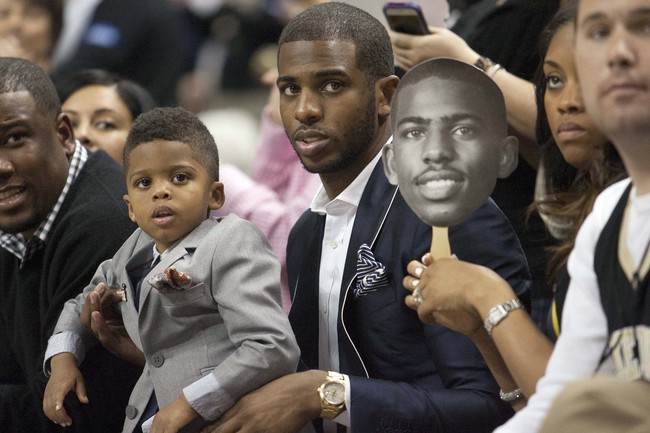 USA TODAY Sports
This is less of a "What If?" and more of a "WTF?"
In the summer of 2005, the Atlanta Hawks were a franchise in transition.
One year earlier, they had selected a raw high school talent, Josh Smith, who showed vast promise in his first season as a do-everything athlete capable of anchoring a frontcourt. He started 59 games.
Another rookie named Josh—this one Childress—had also shown talent, averaging 10.1 points per game (and 12.2 per 36 minutes) while starting 44 games.
They had also just watched Al Harrington, a 25-year-old who was just figuring out how to score in the NBA, play productive ball in his first year with the club. The Hawks had acquired him, by trading Stephen Jackson to the Indiana Pacers, in the same summer that they drafted the Joshes.
The two rookies, plus Harrington, had looked so much like they would be the foundation for the franchise's future that, months prior to the summer of 2005, the Hawks cast off Antoine Walker at the trade deadline for next to nothing—even though he had led the team in scoring during his 53 starts.
With a young, improving frontcourt, the team's need in the draft was clear: a guard.
Preferably a point guard who could organize the offense and feed all the forwards.
Atlanta was in luck.
Its young forwards hadn't translated their promised into wins. So the team had the second overall pick in a draft with two unbelievable point guards.
When the Milwaukee Bucks took Andrew Bogut with the No. 1 pick, the Hawks' fortunes looked even better. Now, they had just one decision to make. Would they take Deron Williams, the best player on a loaded Illinois team, or Chris Paul, the Wake Forrest dynamo whose vision and ability to run an offense were uncanny for a point guard who had turned 20 last month?
They picked Marvin Williams, a forward.
And not just any forward. A raw, young forward who didn't even start for his college team.
It was a mind-boggling decision beyond belief at the time.
It looks even worse now.
Josh Smith and Chris Paul together could have been truly special. The Highlight Factory—a nickname for Phillips Arena in Atlanta—could have lived up to its name. The House That Dominique Built could have been rocking nightly with alley-oop after alley-oop after alley-oop.
Atlanta could have been Lob City.
3. Phoenix Had Gotten Anything out of the Draft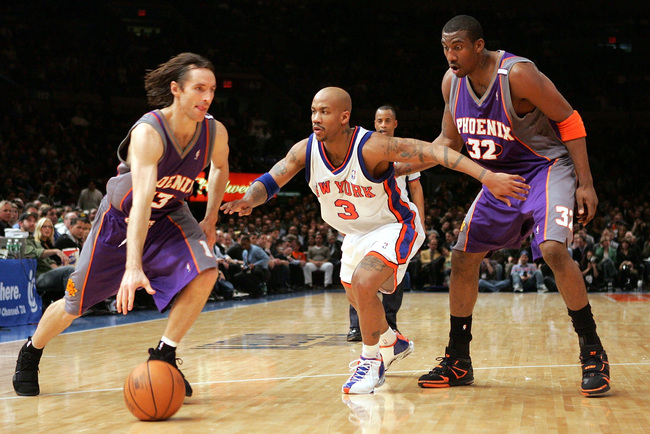 Jim McIsaac/Getty Images
In 2004, Steve Nash and Mike D'Antoni joined forces in Arizona to create one of the best offenses in NBA history.
The "Seven Seconds or Less" Phoenix Suns blitzed opponents for years, using a spread offense with no traditional center and a pick-and-roll attack that confounded defenses across the association.
In Nash's first year under D'Antoni, the team won 62 games while averaging a blistering 110.4 points per game. The second-place Sacramento Kings scored just 103.7 points a night.
The disparity between scoring in Phoenix and throughout the rest of the league was Grand Canyon-sized.
The team would win at least 54 games for four straight years while remaining in the title conversation. In the first two years, the Suns made the Western Conference finals.
Some may say that it was their overall philosophy and lack of defensive focus that torpedoed their championship dreams.
Don't believe these people.
More than anything, the Suns lacked a bench, and they proved unable to replace the production of the high-level players who left during the run, namely Joe Johnson and Quentin Richardson.
Why?
Because they never got anything out of the NBA Draft.
Rather than using picks to establish a bench and develop players who would seamlessly fit into D'Antoni's system, the Suns sold off their picks and found stop-gap solutions that never helped Phoenix best the other powerhouse teams in the West during the mid-2000s.
They instead stood pat with what they had and tried to shoehorn in players like Tim Thomas and Eddie House. (Also Boris Diaw, who—to Phoenix's credit—ended up working out tremendously.)
The first blunder came in 2004, when the team picked Luol Deng seventh overall but traded him away to the Chicago Bulls for a future draft pick and some guy named Jackson Vroman. Also: cash.
The Suns made a habit of trading draft picks for cash in the 2000s.
The next year, the Suns used their first-round pick (Nate Robinson, taken 21st overall) as a sweetener in a deal to fortify their interior defense. They wanted to send Quentin Richardson to New York for Kurt Thomas, and Robinson was the asset that convinced the Knicks to make the deal.
While the move away from a total run-and-gun strategy was understandable and targeting Thomas was grounded in logic, the team was quick to include the pick rather than look for other means of strengthening its interior.
The Suns' 2006 draft day decision, however, is the one that looks the worst in hindsight.
They drafted Rajon Rondo with the 21st pick and dealt him to the Boston Celtics for a future first-round pick.
Here the Suns were—in the midst of one of the franchise's best-ever runs with one of the league's best-ever offenses—and their decision was to kick the can down the road when it came to roster improvement.
They opted not to improve immediately but to stake their hopes to a potential future in which they may improve. This, in a summer after Amar'e Stoudemire had suffered knee injuries that kept him out of all but three games.
They needed help. But in three straight drafts, they failed to improve. At all.
The Suns would mount a few more exciting, somewhat successful campaigns. But as Nash aged, Stoudemire later began to show the effects of his injuries and Shawn Marion was traded away (reportedly at his insistence), the reality of years spent getting nothing out of the draft became apparent.
There were no young players in the back line to step up, and Nash spent his final years in Phoenix running around creating passing lanes—but with nobody to pass to.
Had the Suns gotten anything out of the draft in any of those three years, a short-term run of high-level play could have proven even more successful and the team's time as a contender could have been lengthened.
And if Phoenix was able to win a title?
Well, that would have changed the landscape of the league.
Even without winning the all-important ring to validate their style of play, much of the league has moved towards a spread attack that features more shooters and fewer immobile big men.
The Miami Heat just won a title that way while the San Antonio Spurs came up just short trying the same thing.
But if the Suns had ever won a title, the sea change throughout the league that they prompted would have come even more swiftly and the number of immitators would have been even larger.
2. Portland Chooses Correctly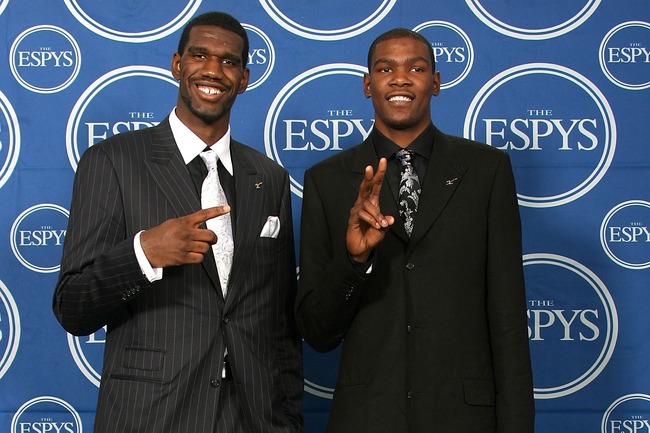 Frederick M. Brown/Getty Images
Hindsight is 20/20 and all, but I thought it was instantly clear: The Portland Trail Blazers picked the wrong guy.
Again.
Greg Oden was a fine player and of course his short, injury-riddled career was nearly impossible to project when he was dominating the NCAA landscape from Ohio State University. But take away the injuries and there was still something special about Kevin Durant that Portland so obviously missed.
Oden had the potential to be excellent; Durant could be—and has been—transcendent.
This isn't just retroactively attaching current knowledge to a prospect whose game was uncertain back then. While watching Durant play at the University of Texas, this was apparent.
Bill Simmons of ESPN wrote about this often in 2007.
Many of us read the following paragraph and nodded.
I can't picture his best case or most plausible scenario, because there has never been anyone like him before. A 6'9" shooting guard with a 7'5" wingspan? And he's still growing? I see pieces of different players -- KG's body, Bob McAdoo's scoring, MJ's competitiveness, T-Mac's ability to attack the rim with either hand, Hakeem's fallaway, C-Webb's passing. But add it up and you get an original. Durant is the first iPod, or the plane the Wright brothers built.
But as the franchise did when it took Sam Bowie over Michael Jordan, the Blazers choose poorly. They went with the safer, traditional pick over trying to shoot the moon.
The result has been a stretch of disappointing mediocrity and bad luck for Portland. Oden's demise, combined with the injuries that derailed Brandon Roy's career, provided the death blow to what had appeared to be one of the most promising rebuilds in recent memory.
The Blazers looked like a team on the brink. Until it all collapsed.
Meanwhile, the good vibes resonating from Oklahoma City captivated the public and galvanized support for the budding franchise. And while this has been nice to see, it largely coerced the public to look the other way while Seattle lost its team under unsavory circumstances.
If Oden is falling apart in Oklahoma while Durant is scorching nets in Portland, the whole perception surrounding both of these franchises would be entirely different today.
1. Detroit Drafts Dwyane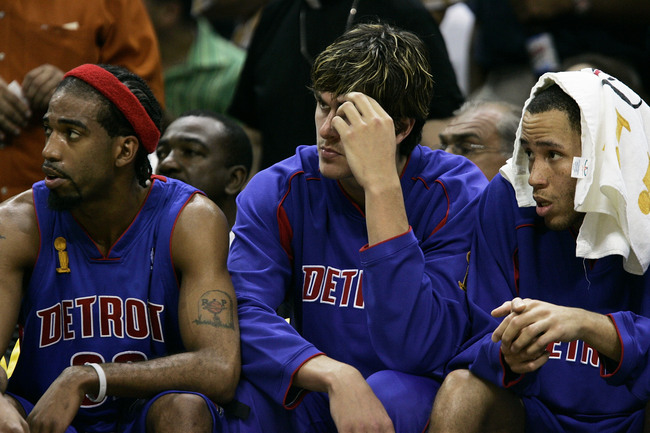 Brian Bahr/Getty Images
The 2003 NBA draft was one of the best in history. Other than 1984 (which featured Michael Jordan, Hakeem Olajuwon, Charles Barkley and John Stockton), it probably is the best.
The Detroit Pistons had the second pick. They were in a can't-miss spot.
They missed.
They took Darko Milicic.
Darko?
Darko.
Had they taken Dwyane Wade, the franchise's future could have been much different.
Instead of winning one championship and then coming up short so many times, the Ben Wallace, Rasheed Wallace, Chauncey Billups, Rip Hamilton and Tayshaun Prince lineup would have had some real help.
Wade could have emerged as the best player on that loaded team, and given rise to a legit dynasty in Motown.
Backed by multiple-title credibility, Rasheed could have become the player everyone thought he would evolve into. Billups could have become a father figure so good that it propelled him into the Hall of Fame rather than someone who was sent packing a few years after winning a ring.
It's possible that Wade never becomes as good as he did if he didn't have a raw franchise to mold into his own. But he still would have been a top-tier player in this league.
Even more than affecting the Pistons, however, Detroit drafting Wade would have had repercussions for the entire league.
Without Wade in Miami, would he, LeBron James and Chris Bosh have ever teamed up? Are those two other guys coming to Detroit? Would they join forces in Cleveland or Toronto?
I doubt it.
Wade publicly hinted that he never seriously considered moving to Ohio to play, no matter who he could have played alongside. And did LeBron really want to become a legend in Canada?
South Beach—and Florida's lack of state income tax—seemed a necessary part of the equation.
Regardless, the Miami Heat certainly wouldn't have appeared in three straight NBA Finals while taking home two rings. A looming dynasty would not be emerging from the Miami skyline and threatening to overpower the entire NBA.
Legions of fans—from Ohio to China—wouldn't be looking at the Heat as the evil empire.
But the Pistons picked wrong, and now the Heat are the team the world loves to hate.
Pat Riley gets all the credit.
Really, we should blame Detroit GM Joe Dumars.
Keep Reading