Best Potential Free-Agent Landing Spots for Tyreke Evans During 2013 Offseason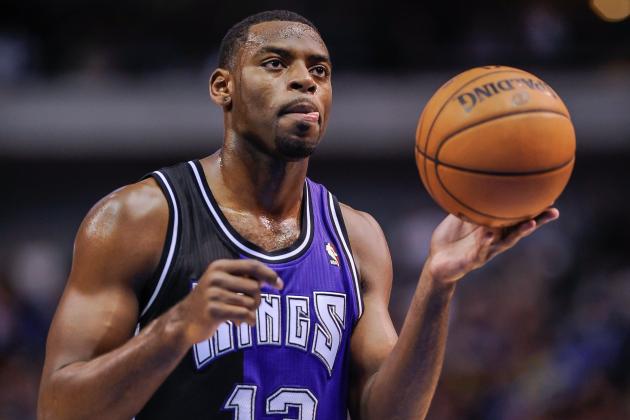 USA TODAY Sports

Remember when Tyreke Evans came out of Memphis and immediately took the NBA by storm, joining Michael Jordan, Oscar Robertson and LeBron James as one of four players in the history of the game to average at least 20 points, five rebounds and five assists per game as a rookie?
Evans certainly hopes that 30 teams do when they're thinking about offering him a big contract this offseason. He'd probably like them to forget that he's declined since then, failing to live up to the massive expectations his first campaign set forth.
Regardless, Evans is 23 years old and won't turn 24 until just before the start of the 2013-14 campaign. He has plenty of time to fulfill all his unrealized potential.
It's just a matter of where he'll do so.
These five teams present the best landing spots for the restricted free agent, with the Milwaukee Bucks, San Antonio Spurs, Phoenix Suns and Portland Trail Blazers falling just shy of that "best" designation for various reasons.
Where do you think Evans will land?
Note: All contract information comes from Spotrac.com.
Begin Slideshow

»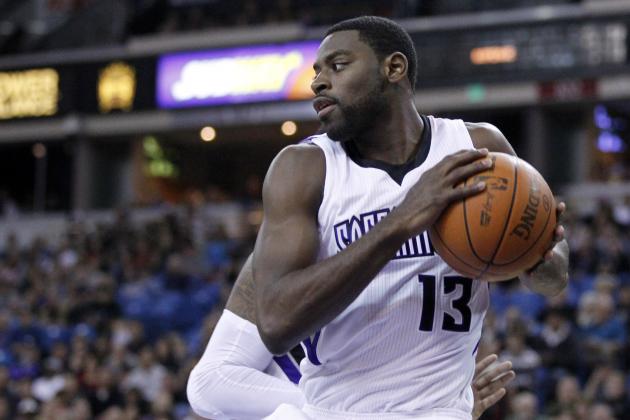 Cary Emondson-USA TODAY Sports

Surprise, surprise.
Tyreke Evans is a free agent, one who can make a decidedly positive impact on any team once he lands in the right situation. The Atlanta Hawks have more money to spend than any other organization in the NBA, and they're basically working with a tabula rasa.
Just like with every other big name, Atlanta is inevitably going to be linked with Evans.
Al Horford, John Jenkins and Lou Williams are the only players with guaranteed contracts, so general manager Danny Ferry can target whomever he wants and shape this team in a never-ending multitude of ways. The beauty of what he's working with is that Williams is best served as a guard off the bench, Jenkins isn't ready to move into the starting five and Horford is versatile enough to play with anyone in any way.
See? Tabula rasa.
In the past, Atlanta's modus operandi (apparently I'm in a Latin mood) has been to surround Horford with three-point shooters, running plenty of pick-and-rolls and curling shooters around a bunch of screens to free them on the perimeter.
Signing Evans would be a clear-cut indication that new head coach Mike Budenholzer is planning on running a very different system, as the dynamic guard's jumper is notoriously nonexistent. At this point, it seems like he could practice it ad infinitum, and it still wouldn't matter.
If Evans is brought aboard, it signals that Budenholzer wants this offense to revolve around players slashing to the basket and rely on Horford to spread the court. And Ferry would still have enough money to play with that he can surround the Evans-Horford pairing with the proper personnel.
Who knows? Maybe they could even manage to pull off a massive coup d'état and overthrow the current power structure in the NBA.
Now that I'm in French mode, it's time to move on to the next location.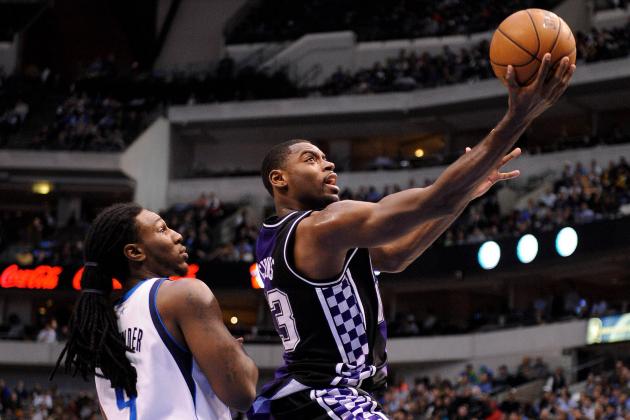 USA TODAY Sports

The Dallas Mavericks have been searching for a franchise point guard without success over the last few years.
Jason Kidd was the stopgap and even helped win a championship before departing for the Big Apple, but Steve Nash was the last franchise floor general that the organization has employed. The Mavs targeted Deron Williams last offseason but to no avail.
This offseason, Chris Paul will be the primary free-agent target at point guard, but it's highly unlikely he'll leave the Los Angeles Clippers unless he's going to the Atlanta Hawks or Houston Rockets to play alongside Dwight Howard.
That inevitably leaves Dallas scrambling for options.
Although Evans has played less and less at the 1 as his career has progressed, he's still more than capable of lining up at point guard, and he'd thrive driving into the lane once Dirk Nowitzki has drawn the trees outside of the paint.
DeMarcus Cousins' range was improving for the Sacramento Kings, but Evans has yet to play with a big man who can consistently spread out the defense and marginalize a shot-blocker's impact at the rim. That would do wonders for his game, considering so much of his offensive impact comes right near the basket.
Dallas also needs a secondary scorer to complement Dirk, as it's highly unlikely that O.J. Mayo spends another year in a Dallas uniform. He has 4.2 million reasons to do so but potentially even more to go elsewhere.
This is the role Evans would immediately step into, and he'd thrive in it.
Ed Szczepanski-USA TODAY Sports

The Detroit Pistons need a backcourt scoring threat to take some of the pressure off Greg Monroe, who is the subject of an extreme amount of defensive attention on a nightly basis. Tyreke Evans could help appease the Georgetown product and allow him to take the next step in his development as an NBA big man.
He'd also be able to fit right in at shooting guard, enabling Brandon Knight to shift back to his more natural spot at point guard.
Take a look at the former Wildcat's splits from the 2012-13 season, courtesy of 82games.com:
| | | |
| --- | --- | --- |
| | PER | Opponent's PER |
| PG (41 percent of available minutes) | 12.4 | 11.2 |
| SG (17 percent of available minutes) | 9.7 | 12.7 |
So, tell me. Which position would you rather have Knight play?
Evans, as the Sacramento Kings have made abundantly clear, doesn't have to play point guard. He's perfectly capable of settling in as a 2-guard and making a positive impact in the scoring column. Although he sometimes struggles guarding quicker shooting guards, that's not something that would be aided by moving him back to point guard.
The Pistons are looking for that one piece that can push them into playoff contention (assuming Andre Drummond continues along his expected developmental curve), and Evans fills a nice hole in the rotation.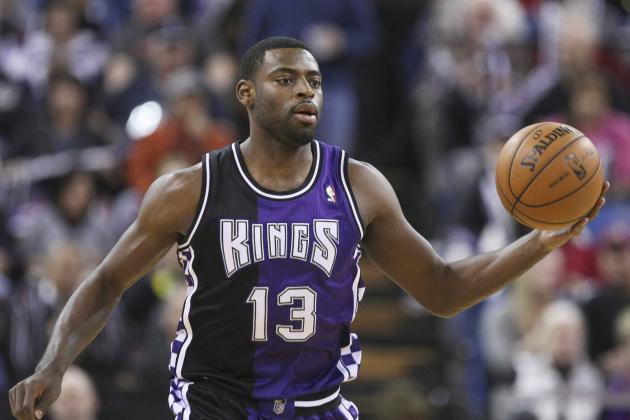 USA TODAY Sports

Had the Maloofs remained in charge of the Sacramento Kings, I would have wanted Tyreke Evans to escape that toxic situation. He's been tragically mishandled ever since his promising rookie season, playing under two different coaches, in a bunch of different systems and with absolutely zero consistency.
The following chart also appeared in a different article of mine, but ti's well worth reprinting here:
| | | | |
| --- | --- | --- | --- |
| | Point guard | Shooting guard | Small forward |
| 2009-10 | 28% | 37% | 1% |
| 2010-11 | 2% | 45% | 4% |
| 2011-12 | 2% | 53% | 30% |
| 2012-13 | 0% | 38% | 11% |
If you're as confused as I am, I don't blame you.
These numbers, all of which come from 82games.com, really don't make much sense. If you want a player to develop, then put him in a position to succeed rather than constantly changing his responsibilities.
Fortunately, this could all change.
Vivek Ranadive and the rest of the new ownership group offer up hope to the Sac-Town fanbase, and that toxic situation might not be so, well, toxic any longer. New head coach Mike Malone promises change as well, and the new general manager, though he hasn't yet been named, makes it a trio of change.
If Evans is brought back as a restricted free agent, we have to hope that it will have a more positive outcome.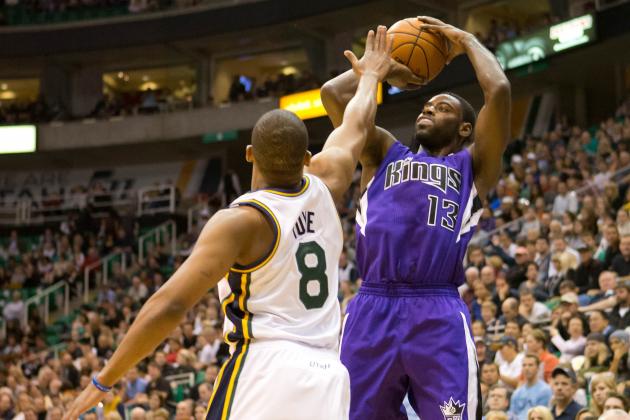 Russ Isabella-USA TODAY Sports

The Utah Jazz have so much money to burn this offseason, but they need to be careful not to block the development of all their young players.
Now that Al Jefferson, Paul Millsap, Mo Williams and others are unrestricted free agents, the paths have been cleared for Alec Burks, Gordon Hayward, Derrick Favors and Enes Kanter to step into the starting lineup.
In case you've forgotten, those players were drafted at No. 12, No. 9, No. 3 and No. 3, respectively.
Even though the Jazz have only $26.1 million committed and spread out among seven players, they have to be careful about how they spend the remaining sum. Shelling out a large chunk for a top-tier point guard would be ideal, and that's where Evans comes in.
We have no idea how he'd fit in with these players, largely because they haven't spent inordinate amounts of time on the court yet. But he's a point guard, and the rest of the young guns aren't.
Utah isn't a big destination for the true marquee guys because they don't have an immediate shot at contending for a deep run in the playoffs, but the Jazz present a nice landing spot for the second-tier guys like Evans.