The One Player Each NBA Team Can't Afford to Lose in Free Agency This Offseason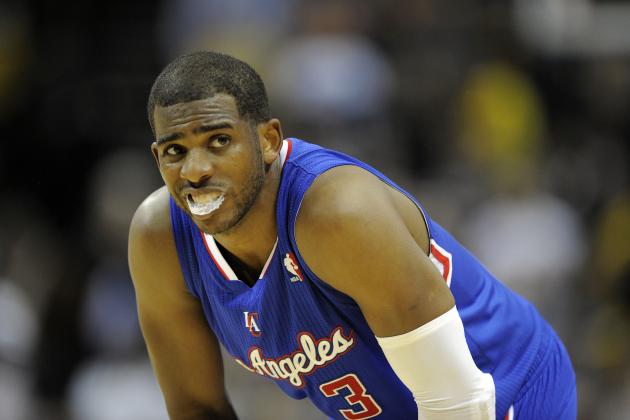 John David Mercer-USA TODAY Spor

NBA free agency is upon us, and changes will be coming.
There will be no shortage of drama this offseason. The futures of marquee names Chris Paul and Dwight Howard are surrounded by uncertainly. Longtime Boston Celtic Paul Pierce may be on his way out, and the rest of the class is filled with above-average talent that will help sway playoff seeding for years to come.
This is the time that players dictate their future, but if every team had its way, this is the one player each team would love to keep.
*All stats and info courtesy of ESPN.com and HoopsHype.com.
Begin Slideshow

»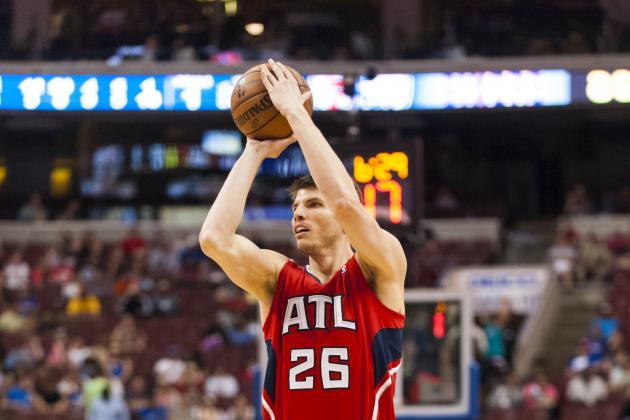 USA TODAY Sports

The Atlanta Hawks are in a great situation this summer. They have Al Horford, their best player, locked up for years; Lou Williams coming back for a torn ACL; a solid point guard in Jeff Teague; and cap room.
And plenty of it.
Almost the entire Hawks team can or will be a free agent, giving Atlanta a plethora of options.
Dwight Howard is a Georgia native, making the Hawks a viable contender for his services. Chris Paul is another target to pursue, as the Hawks are one of the few teams that can afford him.
Or perhaps they'll go after both!
Atlanta can make this offseason an exciting one, but when the dust settles, the one guy it needs to retain is Kyle Korver.
As one of the best shooters in the NBA, Korver's 45 percent shooting stroke from three-point range cannot be easily replaced. Ideally, the Hawks assemble a team this offseason in which Korver becomes the sixth man, providing instant offense and limiting the defensive impact required from him.
Can you imagine the open looks he would get with Howard on his team? We're talking another new three-point season record. The Hawks can dream.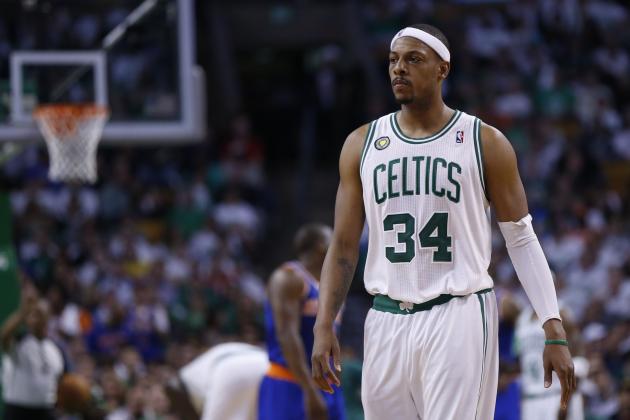 Greg M. Cooper-USA TODAY Sports

The Paul Pierce situation is already more interesting than it should be.
The Boston Celtics can buy him out of the final year of his deal, and there have been rumors of that actually happening, according to Bob Finnan of the Ohio News Herald.
Why?
Who knows?
Even if the Celtics are planning on starting over, which isn't a bad plan, having Pierce on an expiring deal is much more valuable than simply letting him go.
This year's draft class and free-agent class are not the ideal spots to start a major overhaul.
Retain Pierce and see what he has left in the tank. Even if he is close to empty, his expiring deal is an asset for this upcoming season.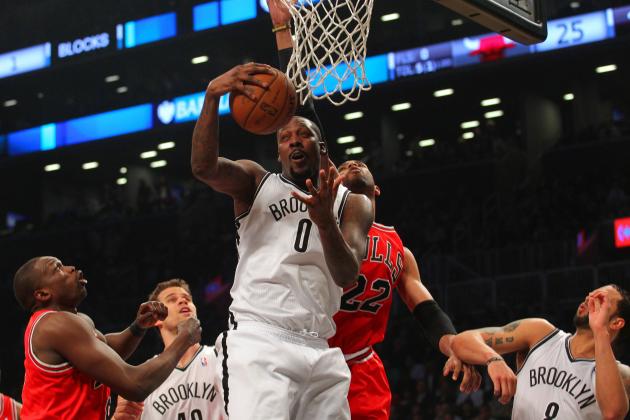 Brad Penner-USA TODAY Sports

What a difference being out of Washington made for Andray Blatche.
The Washington Wizards used their amnesty clause to get him out of town, and the Brooklyn Nets swooped him right up. He rewarded them for doing so. The Nets paid just over $800,000 for 10.3 points, 5.1 rebounds on 51 percent shooting. And that was all with a good attitude.
People can change!
Blatche was a model teammate last season and helped guide the Nets into the postseason. With Kris Humphries becoming an asset with his expiring deal, retaining Blatche allows the Nets to explore their options.
Blatche will provide them with every bit of the player Humphries is at a lower cost.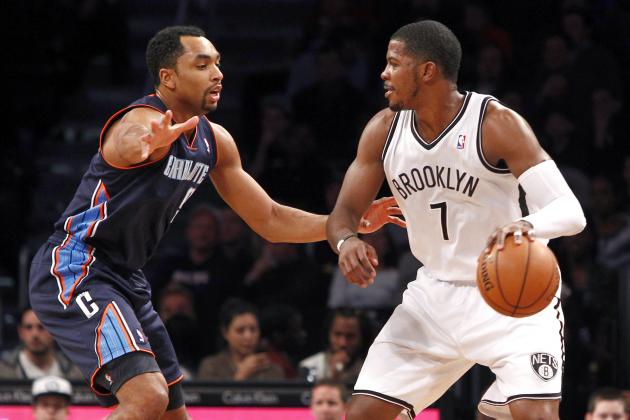 Nicole Sweet-USA TODAY Sports

The Charlotte Bobcats don't have a ton of talent on their roster, so keeping the small amount they have it is imperative.
That would include bringing Gerald Henderson back.
Not only is he their second-leading scorer from last season, he is also one of the team's best defenders.
New coach Steve Clifford wants to put an emphasis on defense—and really, what new hire doesn't—but bringing back this talented player is a no-brainier to get the next new era of Bobcat basketball off to the right start.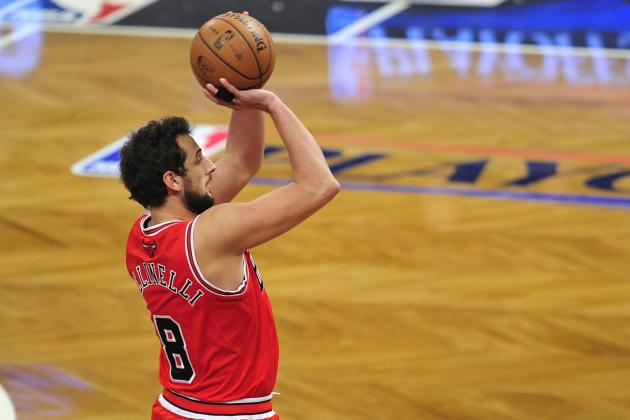 Joe Camporeale-USA TODAY Sports

The Chicago Bulls will have a few free agents, but Marco Belinelli is the one they need to keep. As one of the best defensive teams in the NBA, paired with guys who can get the ball to the rim, the Bulls need someone to stretch the floor.
As erratic as he can be, Belinelli can be that man.
Nate Robinson would be ideal to keep, but with his recent performance in the playoffs and Derrick Rose expected to come back, he is likely out of their price range.
The Bulls need all the outside shooting they can get, and retaining Marco is a good place to start this offseason.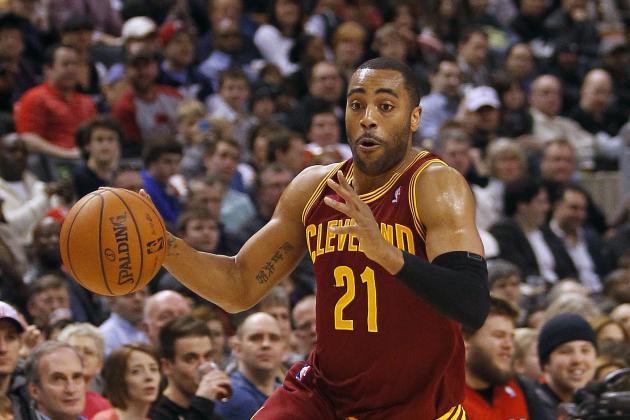 John E. Sokolowski-USA TODAY Sports

The Cleveland Cavaliers have nice pieces to build around, but they have a gaping hole at small forward. They can address that in the draft, but with the No. 1 overall pick, they should select their highest-rated player, regardless of position.
Wayne Ellington is a serviceable backcourt player who had 29 games scoring in double figures last season, and he can also stretch a defense. He enables the Cavs to go with a three-guard lineup and not rush to fill the gap at small forward.
Re-signing him as a stopgap/solid bench player is essential until the Cavaliers figure out a game plan.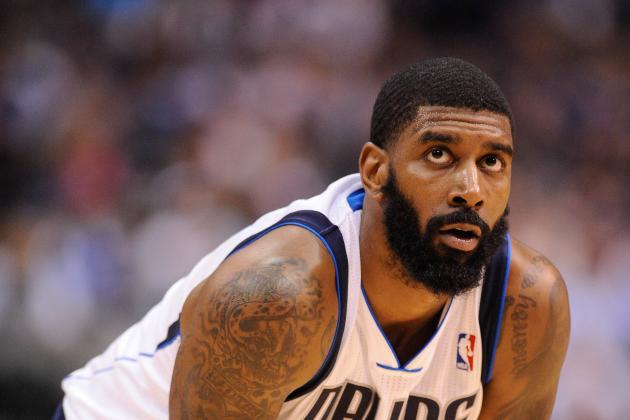 USA TODAY Sports

Finally, O.J. Mayo realized his potential.
This season marked what he is going to be in the NBA: a talented NBA 2-guard who shows flashes of All-Star potential.
Close to $10 million under the salary cap this summer, the Dallas Mavericks will have options. But no matter what transpires, they would be wise to retain one of the most talented shooting guards in the NBA right now.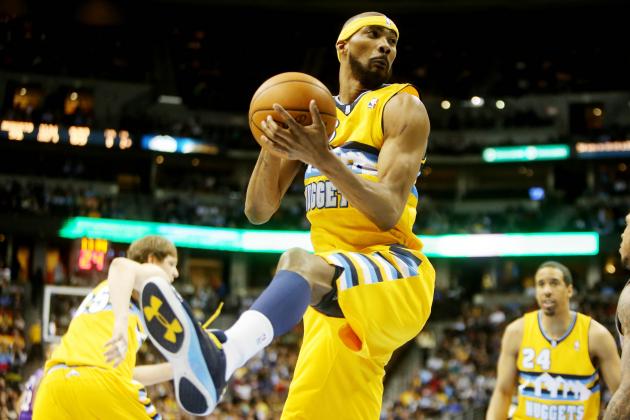 Chris Humphreys-USA TODAY Sports

Corey Brewer is a good defender, a good offensive player and a good teammate. Needless to say, it would be a good thing for the Denver Nuggets to bring him back.
With Andre Iguodala likely to opt in to his $15.9 million contract, the Nuggets will not have a lot of wiggle room for free agents this summer.
Plus, with Danilo Gallinari coming off a torn ACL, bringing back Brewer makes all the sense in the world.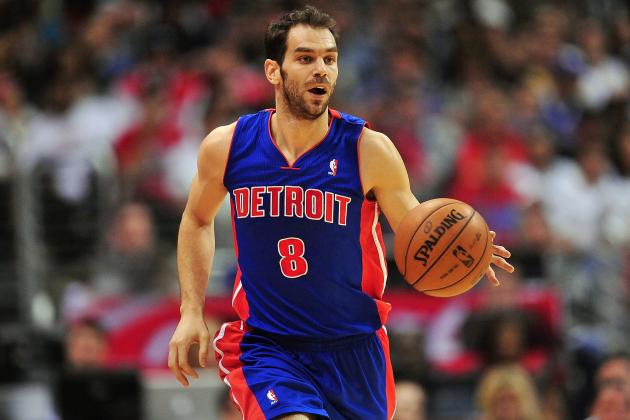 Gary A. Vasquez-USA TODAY Sports

The Detroit Pistons have money to spend this summer. Whether or not they use it is another question.
While they are a few years away from competing, the Pistons do have a talented base in Greg Monroe and the emerging Andre Drummond. Why not keep around a veteran point guard in Jose Calderon to help them win while he mentors Brandon Knight until he is ready to take the next step as an NBA point guard?
Plus, Calderon was quite productive in his short stint in Detroit. He averaged 11.6 points and 6.6 assists while shooting 52 percent from the field and from beyond the arc. That is something to bring back at least for one more season.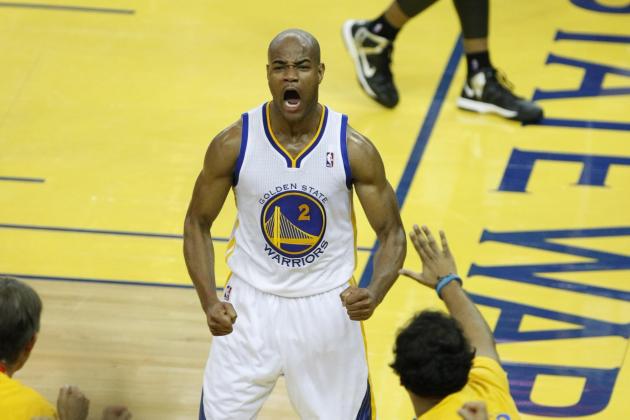 Kelley L Cox-USA TODAY Sports

The Golden State Warriors cannot afford to lose Jarrett Jack.
However, they also might not have enough money to pay him.
Jack's numbers do not tell the story of how valuable he was to the Warriors. He hit big shots all year, played tough defense, made Stephen Curry a better player (although, Curry just being on the floor was as big of a factor as any) and was a vocal leader for the young team.
The Warriors had a magical run. And if they want to continue down the path they appear to be on, Jack will need to join them.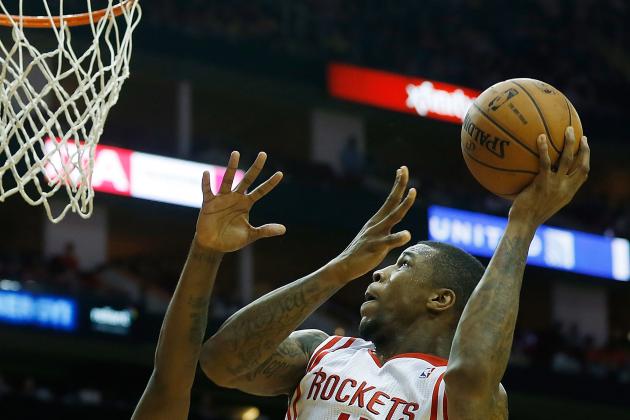 Scott Halleran/Getty Images

Well, since it appears that the Houston Rockets are prepared to give away talent that they already have in Thomas Robinson to go after Dwight Howard, according to Yahoo! Sports' Adrian Wojnarowski, it doesn't look like they want to keep any one without exceptional value.
So retaining any upcoming any unrestricted free agents is not in the cards for them.
The are, however, going to be in the spotlight again this offseason with the money they are able to spend. And after last year's successful summer, don't be surprised if they're one of the biggest winners again.
Steve Mitchell-USA TODAY Sports

David West will be a hot commodity this summer. The Indiana Pacers better make sure they don't lose him to anyone.
His numbers—17.1 points on 49.8 percent shooting, 7.7 rebounds, and 2.9 assists per game—won't be easily replaced, especially when those numbers also play tough defense.
West has been as important as any other Pacer in the team's run at the NBA Finals. And for a team that is built to make successive runs in the foreseeable future, the Pacers better make sure their star power forward is by their side.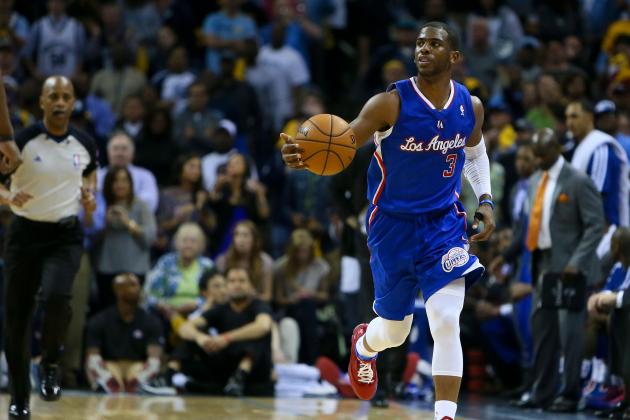 Spruce Derden-USA TODAY Sports

Can you imagine what would happen if the Los Angeles Clippers lost Chris Paul?
For a franchise that had two playoff appearances in the 18 years prior to his arrival, Paul now has an increasing fanbase disappointed by a first-round playoff exit.
The Clippers need him there, but it's very possible he could leave.
The two sides are not off to a good start even before the season is officially over. Management needs to do whatever it takes to keep him L.A.
He's even made the Clippers relevant enough to call them "L.A.," and you kind of know what I'm referring to. That's how valuable he is!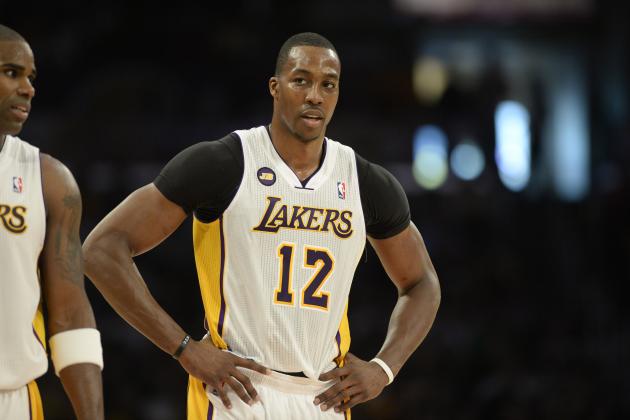 Richard Mackson-USA TODAY Sports

For years, we've heard about the "Dwightmare."
It will finally be upon us this offseason, and it's starting to feels like we haven't even seen the half of it.
The Hawks, Rockets and Mavericks are all teams reportedly set to go after Howard, according to ESPN's Marc Stein.
For the Lakers, they are invested in making Howard the face of the franchise, and will do whatever it takes to keep him in a Lakers uniform.
Whether or not they can is a whole other slideshow.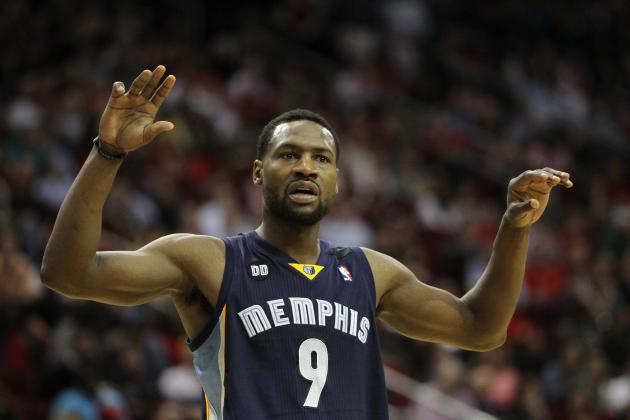 Brett Davis-USA TODAY Sports

Tony Allen is the Memphis Grizzlies.
Tough, defensive minded and unafraid of getting physical.
Unfortunately, his offense is a mirror image too. His offensive skill set, or lack thereof, was really exposed in the playoffs. But the Grizzlies cannot afford to lose his tenacity on the defensive end of the ball.
If both parties have their way, Allen will be back in a Grizzlies uniform.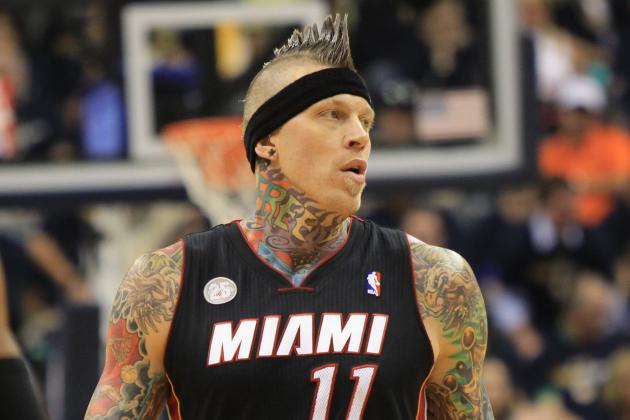 Pat Lovell-USA TODAY Sports

Who would've thought that Chris Andersen would be a vital member of a championship-caliber team?
For the defensive presence he provides, the guy has yet to miss a shot in the Eastern Conference Finals! Plus, he has been most energetic player all postseason for the Miami Heat.
Amazing that he was just sitting on a couch before.
Miami would be wise to keep him around for at least one more year with the Big Three still intact. In fact, with his personality and past performance, a one-year deal is exactly what the team should give him.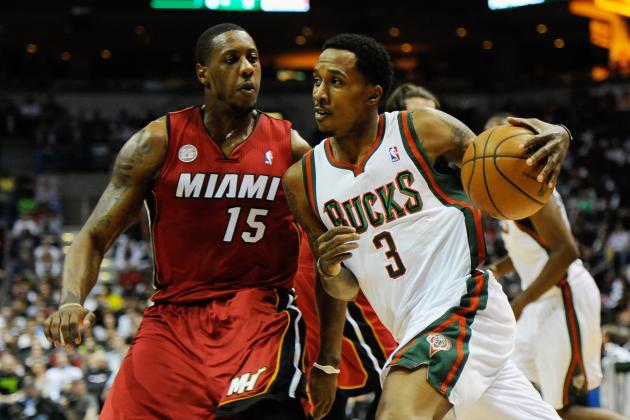 Benny Sieu-USA TODAY Sports

It's only been one-and-a-half seasons, but it's easy to see that Monta Ellis and Brandon Jennings cannot play together.
One of them has to go.
Brandon Jennings is the player to hold on to. If you want to win in the NBA these days, you need a point guard. And yes, we are counting LeBron James as the Miami Heat point guard.
Ellis is talented, but if you had to choose one, the undersized 2-guard with questionable defense is not the safe play. Although ,Jennings isn't without his shortcomings either. He is a career 39 percent shooter.
But he is an explosive point guard who is lighting quick and can get to the rim. He can, at times, heat up from outside to.
Plus, haven't we heard the name "Ellis" and "can't play with a point guard somewhere else" before? How did that work out for Stephen Curry? Could this similar situation play out and end up making Jennings a lesser version of Curry?
It's worth the shot to find out.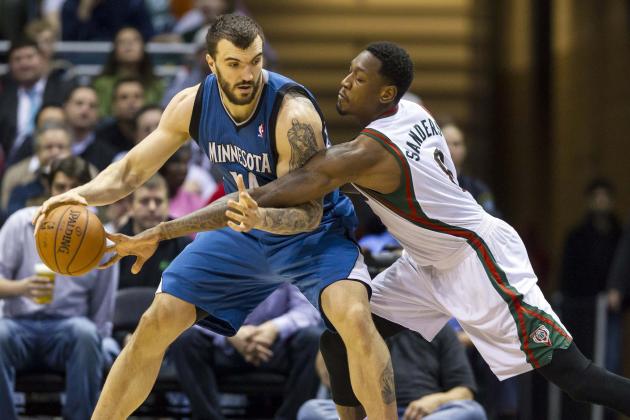 Jeff Hanisch-USA TODAY Sports

Well, of course the Minnesota Timberwolves would want Nikola Pekovic back.
The problem is that he is an unrestricted free agent who will have plenty of suitors.
With Kevin Love out for most of the season, Pekovic put up 16.3 points and 8.8 rebounds on 52 percent shooting on his way to becoming a borderline All-Star center in a league depleted of them.
The Timberwolves need to bring him back to see what he and a healthy Kevin Love and Ricky Rubio can do.
Tom Szczerbowski-USA TODAY Sports

The Pelicans traded Chris Paul and have Austin Rivers and 47 games out of Eric Gordon to show for it. Plus Al-Farouq Aminu, who was a key piece in that trade as a former lottery pick.
But so far, the value they have gotten out of the entire deal makes the vetoed trade look even worse.
The Pelicans should retain Aminu to save face and help the NBA look better in the process and try to squeeze whatever value or potential he has.
Aminu has shown a few flashes of brilliance, but he is still best, or worse, remembered for his Steve Urkel-like attire on draft day.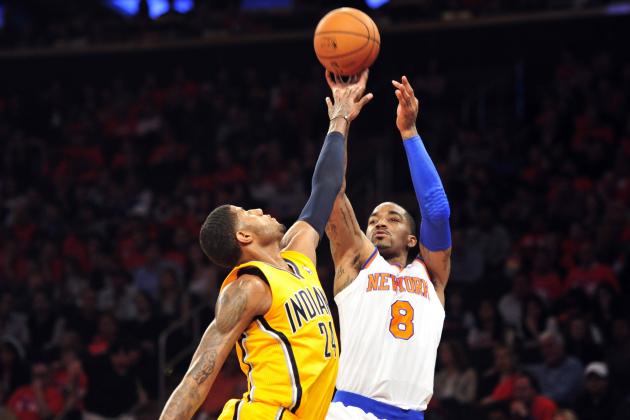 Joe Camporeale-USA TODAY Sports

J.R. Smith is the perfect sixth man for this New York Knicks team.
The Knicks are a strong defensive team, but their entire offense revolves around one Carmelo Anthony. The offense and shooting, not to mention attitude, that Smith brings off the bench is essential. After Melo, it's Smith's job to pick up the offensive slack.
Anthony has already stated that he needs more offense around him next season, according to Marc Berman of the New York Post, and that's even with Smith on the team. Losing his 18.1 points per game off the bench would not be a good start in making Anthony's request happen.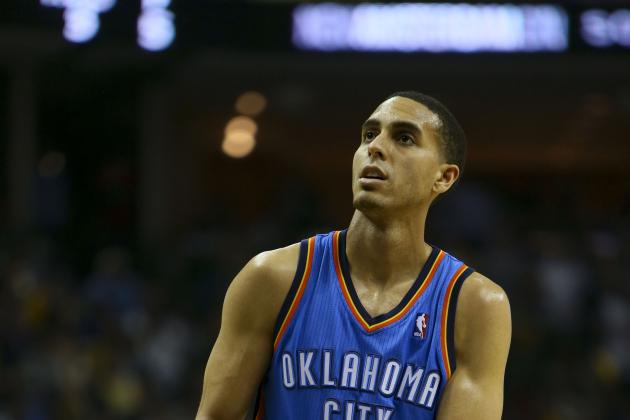 Spruce Derden-USA TODAY Sports

The best player acquired in the deal that sent away James Harden better be around for longer than one year.
While Kevin Martin didn't make anyone forget about Harden, he did find a home as the Oklahoma City Thunder's sixth man. His role, averaging 14 points a game on 45 percent shooting, including 42 from beyond the arc, was much better suited for his talents than being a second option on any starting unit.
The Thunder do have young talent in Jeremy Lamb and Perry Jones waiting to contribute, but both are a few years away from doing so. The team should do what it takes to bring Martin back for a few more years until the youngsters develop.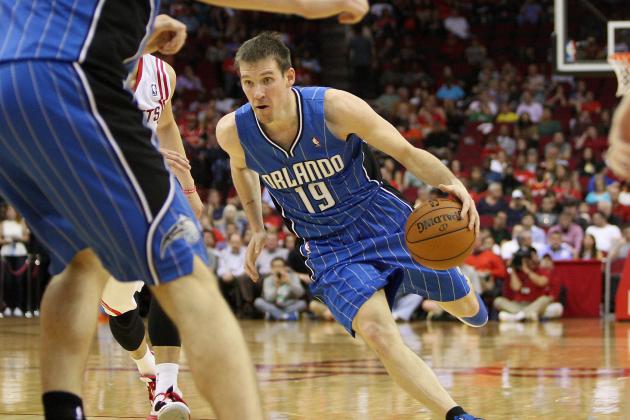 Troy Taormina-USA TODAY Sports

Beno Udrih was essentially just a salary cap throw-in for the deal involving J.J. Reddick.
While the Orlando Magic got more than enough in that deal in Tobias Harris, Udrih played well for them, averaging 10.2 points and 6.2 assists per game.
Now, they should retain him on a one-year deal.
The Magic own the No. 2 overall pick. No matter what they do this offseason, they're not going to be contenders. And that's OK.
Orlando should take the best player available and not rush a to draft a point guard, unless the team is enamored with one. Instead, it should use Udrih as a stopgap and wait for the 2014 draft or free agency to grab the point guard of the future.
Next season, it should just roll with Jameer Nelson and Udrih for another year, enter 2014 free agency with cap space and a high lottery pick and continue on one of the best rebuilding projects in recent memory.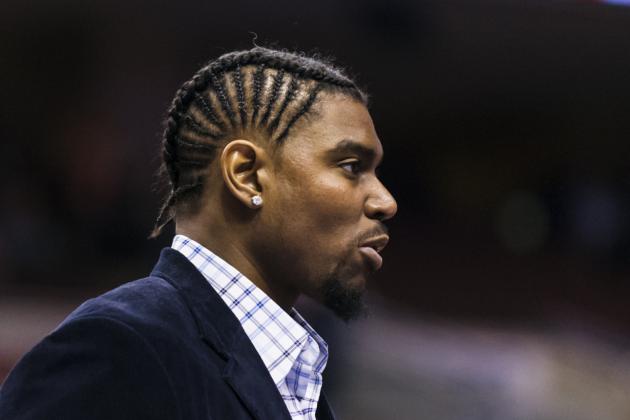 USA TODAY Sports

The Philadelphia 76ers owe it to themselves to see what life is like with a healthy Andrew Bynum.
Actually, he owes it to them to perform for them.
Having him miss out on the entire season, the team, much like his acquisition, was a complete disaster. Outside of the emergence of Jru Holiday, there was not much to get excited about.
If he is healthy and if he is willing to come back at a reduced cost, the Sixers should see what it's like with a healthy Bynum.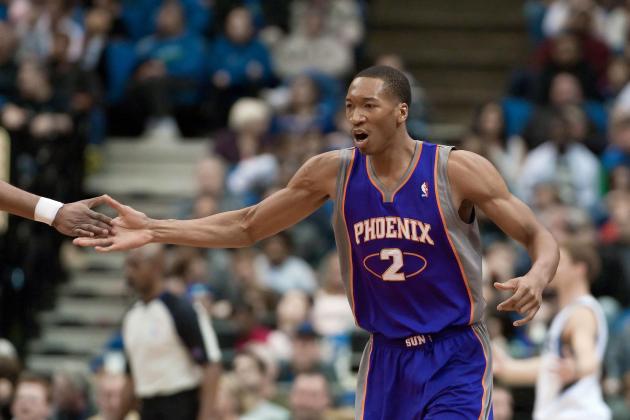 Greg Smith-USA TODAY Sports

The Phoenix Suns don't have a lot going for them right now. No matter what they accomplish this offseason, they are destined to be selecting high in the 2014 draft lottery—which is not a bad place to be.
Wesley Johnson is an impending free agent, and the Suns are in a position to retain him for cheap based on his performance in the NBA thus far. However, they are in a position to give him the proper minutes to see if he can show why he was selected fourth overall just three years ago.
Johnson hasn't shown much—or any, really—reason to believe that he is capable of living up to that lofty draft status, but the Suns really don't have much to lose by giving him another chance to prove why he was selected ahead of DeMarcus Cousins, Paul George and Greg Monroe.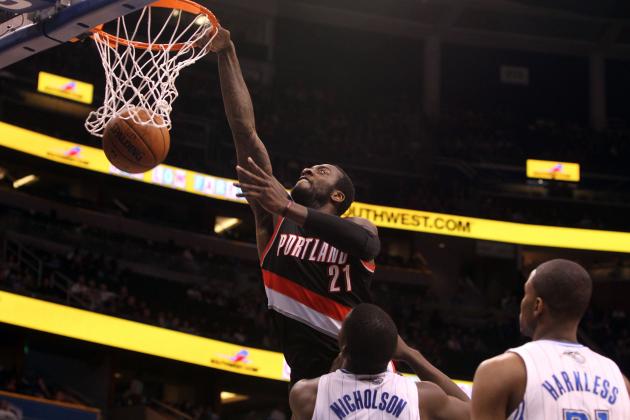 Kim Klement-USA TODAY Sports

J.J. Hickson, still just 24 years old, had a breakout season on his way to averaging a double-double in 2012-2013.
Only 11 NBA players can say that.
The Portland Trailblazers have a nice foundation with LaMarcus Aldridge and Damian Lillard. For a team that is rebuilding on the fly, retaining a 12.7-point, 10.4-rebound-a-night player to come off the bench should be high on the Trailblazers' offseason to-do list.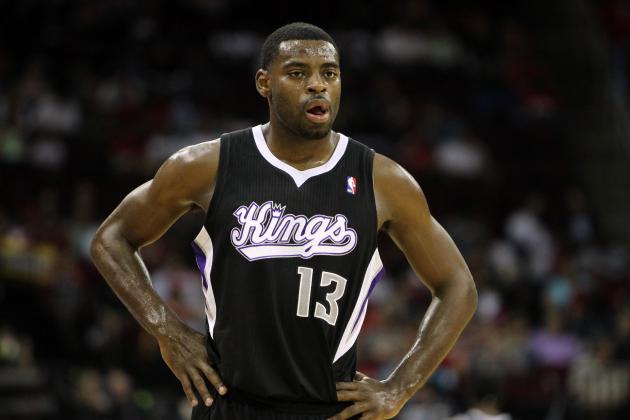 Brett Davis-USA TODAY Sports

Kevin Johnson and the city of Sacramento got their wish and are keeping the Kings where they belong.
Now, they just need players that can perform.
While Tyreke Evans' career has been up and down, to say the least, they may have found the guy to fix him. The hiring of Mike Malone is an absolute step in the right direction. He just might the person to get the most out of Evans.
The talent has always been there, but the production has not. The Kings should definitely not get crazy with the dollar amounts here, but they should give Malone a chance to see if he can get the most out of Evans' talents.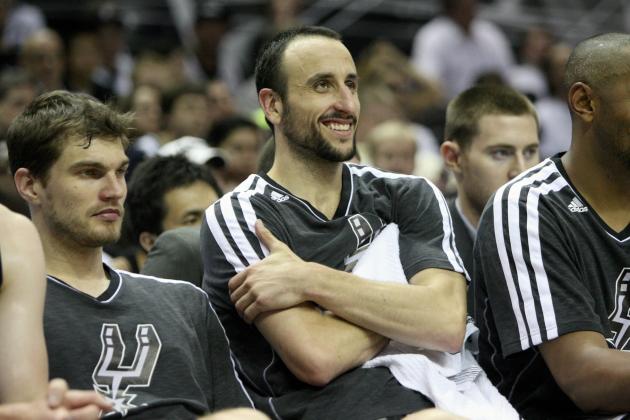 Troy Taormina-USA TODAY Sports

Unless he retires, Manu Ginobili should be back in a San Antonio Spurs uniform.
Every year, it seems like the Tim Duncan, Tony Parker and Ginobili era is on its last leg. Yet, here the Spurs are waiting to play in the NBA Finals—with a great chance to win it.
No matter what happens over the next month, unless he decides to hang it up, the Spurs owe it to Ginobili and to themselves to see how long they can ride this thing out.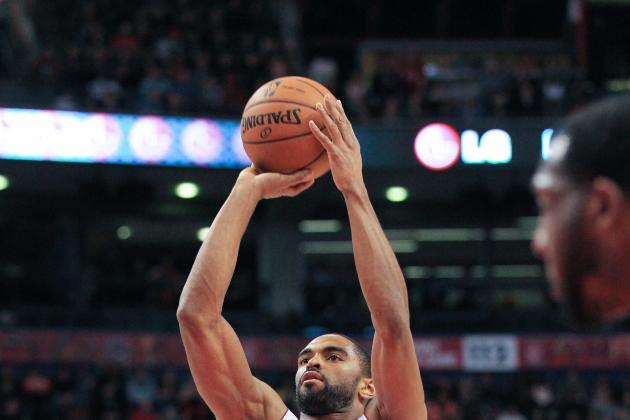 Kevin Hoffman-USA TODAY Sports

The Toronto Raptors have $65 million committed to players next season, so it's not like they can go out and sign a difference-maker.
Plus, they made their splash last season acquiring Rudy Gay.
Being able to retain Alan Anderson on a lower-tiered contract would be beneficial. Anderson averaged 10.3 points per game off the bench while providing solid defense.
Getting this late bloomer back on the team should be one of the very few moves the Raptors should make happen this summer.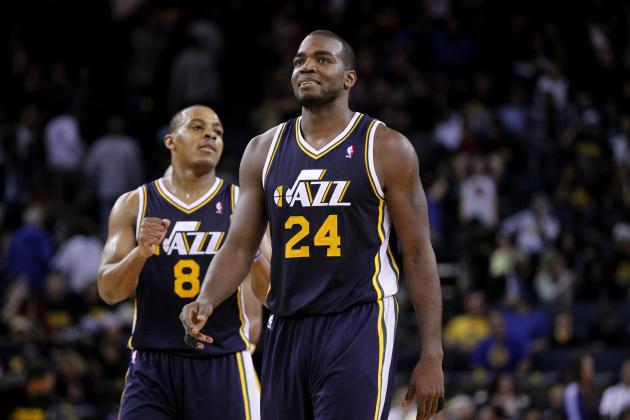 Cary Edmondson-USA TODAY Sports

The Utah Jazz have their center of the future in Enes Kanter and their power forward in Derrick Favors. So why not retain the player who can play on the floor at the same time with these guys?
If all the young players the Jazz have are to fulfill their potential, Paul Millsap is a perfect leader to help them do that.
He is a smart player who works hard and brings energy every night. And not only is he productive, but he sets a great example as well.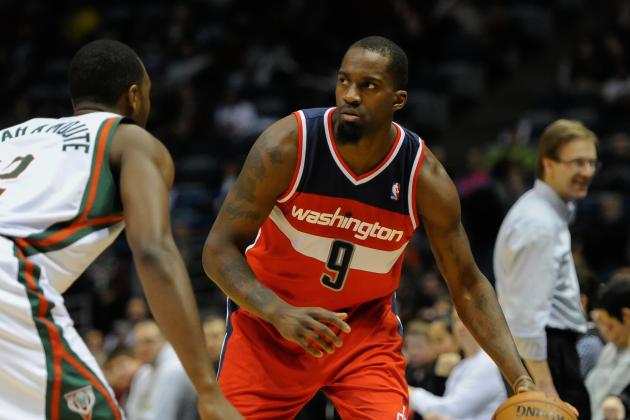 Benny Sieu-USA TODAY Sports

The Washington Wizards are in need of a small forward for the future.
Until they get one, Martell Webster is a good stopgap.
Once John Wall came back and was himself, the Wizards were playing very good basketball. That included a 14-8 stretch over the months of February and March.
With $64 million committed in salary next season, Washington should draft a small forward. Re-sign Webster to a one-year deal and head into the 2014 offseason with just $21 million committed to salary. That will be nice to help pair with John Wall, Bradley Beal and this year's lottery pick—along with Nene—as a strong foundation.