Stock Up, Stock Down for Free Agents-to-Be in 2013 NBA Playoffs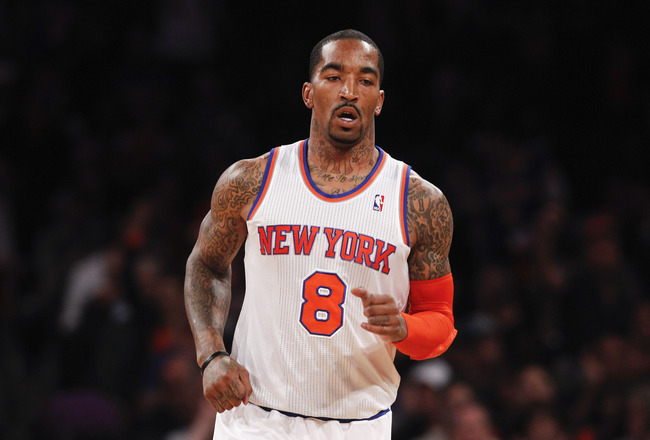 J.R. Smith's stock has suffered during the postseason, but he's not the only one in such a situation.
Jeff Zelevansky/Getty Images
The free agents-to-be in the 2013 NBA playoffs aren't focusing on the summer quite yet, but they're still changing their stock with each minute they spend on the court. Some are earning more money, while others aren't exactly doing wonders for their financial portfolios.
With the exception of the Boston Celtics, who only have Chris Wilcox entering free agency in the summer, each team has one or more players who aren't under contract next season and are currently playing at least 15 minutes per game in the postseason.
Those are the guys who we'll be focusing on here. It does exclude a few notable names like Chris Andersen (who hasn't played enough to qualify for a featured spot here, even if his stock would be on the rise), but the minutes-per-game threshold has to be set somewhere.
There are a few players whose stocks haven't changed, but the majority have experienced some shifts, either in the positive or negative direction.
What's happened with your favorite team?
Note: All stats, unless otherwise indicated, are current through Sunday, May 12 and come from Basketball-Reference.com.
Atlanta Hawks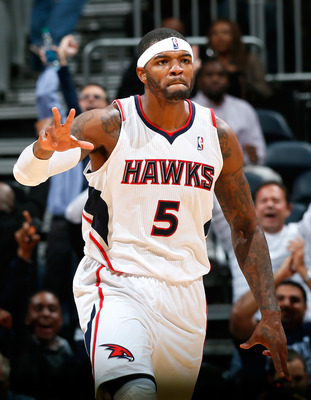 Kevin C. Cox/Getty Images
Devin Harris, Point Guard, Unrestricted Free Agent
The Atlanta Hawks backup point guard isn't much of a defensive threat, so it's especially problematic when his offense isn't clicking. Devin Harris never found his shot against the Indiana Pacers, and his passing wasn't exactly on point either.
Only Jeff Teague, John Jenkins and Dahntay Jones posted lower offensive ratings than Harris' 90 against the Pacers suffocating defense.
Verdict: Stock down
Ivan Johnson, Power Forward, Restricted Free Agent
A bit of a cult hero to Atlanta Hawks fans, Ivan Johnson didn't really disappoint during the 2013 postseason. He didn't stand out either.
Johnson's energy was valuable in slowing down Indiana's frontcourt, but he appeared overmatched at times. All in all, he failed to leave an impression, and that's saying something for a player of Johnson's demeanor.
Verdict: Stock neutral
Kyle Korver, Small Forward, Unrestricted Free Agent
Kyle Korver was one of the few appealing offensive options for the Atlanta Hawks during the first round, but he struggled as soon as he stepped inside the three-point line.
At times during the regular season, the marksman appeared to be more than just a role player. His passing was solid and he was a constant source of offense, even if he was just threatening the defense with the thought of his jumper.
During the playoffs, he was most assuredly just a spot-up three-point shooter.
Verdict: Stock down
Johan Petro, Center, Unrestricted Free Agent
The Hawks had to be pleased with what they got out of Johan Petro, simply because he was able to step up and corral Roy Hibbert at times.
While the 27-year-old 7-footer is by no means an offensive threat, he wasn't supposed to be either. He filled his role quite well, and Atlanta could breathe a sigh of relief when he entered the action, knowing that there wouldn't be much of a defensive drop-off.
Verdict: Stock up
Josh Smith, Power Forward, Unrestricted Free Agent
If Josh Smith wants to be a max player during the ensuing free-agency action, he better hope that teams lose the tape of his first-round performance against the Indiana Pacers.
Smoove may have led Atlanta in scoring, but he also racked up the most turnovers and only shot 43.3 percent from the field. His performance at the charity stripe wasn't any better, as he connected on only 19 of his 36 attempts.
At various points throughout the six-game series, Smith got his act together and used his athleticism to great success. But at what point does that "at various points" qualifier no longer need to be used?
Verdict: Stock down
Jeff Teague, Point Guard, Restricted Free Agent
Jeff Teague's ability to shoot bricks was nearly unmatched in this series. He shot only 33.3 percent from the field, but that didn't stop him from firing away 13.5 times per contest.
The Wake Forest product struggled across the board. He had trouble navigating pick-and-rolls on the perimeter, turned the ball over too often and just flat-out couldn't shoot.
A lot of Hawks fans want Danny Ferry to build around the Teague-Al Horford combo, and this point guard may have made that a less expensive pairing.
Verdict: Stock down
Brooklyn Nets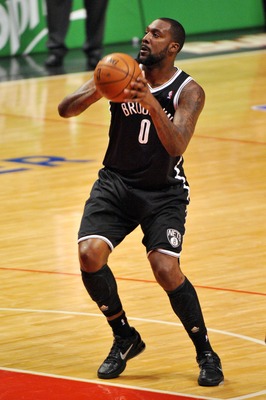 Rob Grabowski-USA TODAY Sports
Andray Blatche, Center, Unrestricted Free Agent
Andray Blatche was productive when he was on the court, but it became tough for P.J. Carlesimo to justify playing the big man down the stretch. Blatche's head just didn't seem to be firmly affixed to his shoulders at times.
Whether he was failing to box out during a crucial moment or lofting up an ill-advised shot while ignoring a better look, Blatche didn't show an impressive basketball I.Q. while playing against the Chicago Bulls.
The Brooklyn reclamation project worked fairly well during the regular season, but it's tough to envision a team seriously considering making Blatche an offensive centerpiece.
Verdict: Stock down
C.J. Watson, Point Guard, Player Option
The backup point guard for the Brooklyn Nets showed that he was exactly that: a backup point guard.
Whether he was getting in a tussle with Nate Robinson or playing solid, albeit unspectacular, basketball on both ends of the court, C.J. Watson proved that he's a rotation backcourt member with limited upside. Basically, he confirmed what we already knew.
Yes, Watson had a few momentum-killing moments against the Bulls—namely missing open shots and blowing crucial dunks. However it's important to remember that Brooklyn wouldn't have been in a position for him to kill the momentum without his contributions.
Verdict: Stock neutral
Chicago Bulls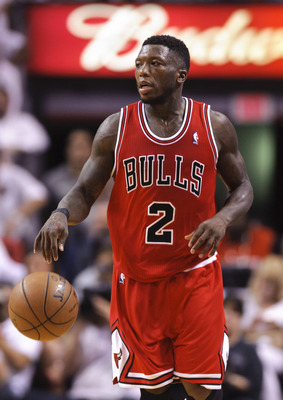 Steve Mitchell-USA TODAY Sports
Marco Belinelli, Shooting Guard, Unrestricted Free Agent
Although Marco Belinelli has been a solid three-point shooter, that's about all he's done to contribute to the Chicago Bulls' cause.
Given the injury-depleted state of Chicago's backcourt, Tom Thibodeau needed for Belinelli to become more of an offensive option, but that really hasn't happened yet. He's also struggled tremendously on defense (and yes, it feels weird to write that sentence about a member of the Chicago Bulls).
Verdict: Stock down
Nate Robinson, Point Guard, Unrestricted Free Agent
The 0-of-12 brickfest against the Miami Heat in Game 4 notwithstanding, Nate Robinson has been terrific during the postseason.
That pesky little injury imp has been more than just pesky when it comes to the Bulls, but Robinson has kept the team afloat with his energy, enthusiasm and remarkable scoring runs. It's hard to overstate just how valuable he's been on offense.
Just consider the fact that LeBron James had to shift over and guard him at times. That should say it all.
Verdict: Stock up
Denver Nuggets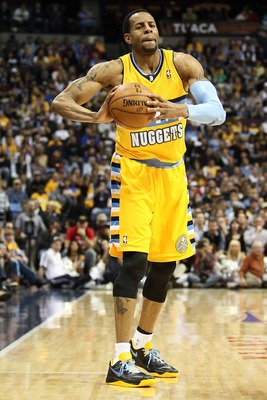 Isaiah J. Downing-USA TODAY Spor
Corey Brewer, Small Forward, Unrestricted Free Agent
During the offensive shootout of a series against the Golden State Warriors, Corey Brewer actually managed to rack up negative offensive win shares. On that end of the court, he produced minus-0.2 wins in just six games.
Brewer normally performs adequately on offense while settling in as a terrific perimeter defender, but he struggled to slow down the Dubs' wing players. Then again, who hasn't?
The small forward who sometimes dabbles at shooting guard performed decently at the beginning of the series, but the playoff pressure took its toll as the series progressed and Denver marched toward elimination.
Verdict: Stock down
Andre Iguodala, Shooting Guard/Small Forward, Early Termination Option
The playoffs showed us exactly what Andre Iguodala is capable of doing. Quite frankly, it's what I expected out of him throughout the 2012-13 campaign, but the Denver Nuggets were too deep to give him such a featured role.
Iggy took over in almost every facet of the game, bowing out with per-game averages of 18.0 points, 8.0 rebounds and 5.3 assists. Amazingly enough, he shot 50 percent from the field and his defense didn't suffer.
If the swingman chooses to opt out of his contract and test free agency, he'll make a lot of money.
Verdict: Stock up
Golden State Warriors
Chris Humphreys-USA TODAY Sports
Jarrett Jack, Point Guard, Unrestricted Free Agent
The Golden State Warriors will desperately want to bring back Jarrett Jack to serve as their sixth man supreme during the 2013-14 season and beyond. There's just one problem.
After his stellar—and ongoing—performance throughout the 2013 postseason, Jack is going to be a highly coveted free agent. A few teams might come calling with a starting offer.
Offensively, the floor general has just been fantastic. He's mixed in a healthy dose of facilitating along with his tendency to call his own number, and the results are a large part of the reason that the Dubs are still alive.
Even though Jack has shown a tendency to hog the ball during stretches of the game, a lot of that is by design. Without a fully functioning David Lee, the Dubs need even more offense out of their backcourt, so while Jack's shot selection can be infuriating, it's also a necessity.
Verdict: Stock up
Carl Landry, Power Forward, Player Option
Despite briefly stepping into the starting lineup during David Lee's inexplicably short recovery from a hip flexor injury, Carl Landry hasn't done much to alter his stock.
Going into the postseason, Landry was viewed as an aging power forward with enough skill and physicality to remain an effective option in short doses.
Now, what is he thought of at the moment? Pretty much the same thing, right?
Verdict: Neutral
Houston Rockets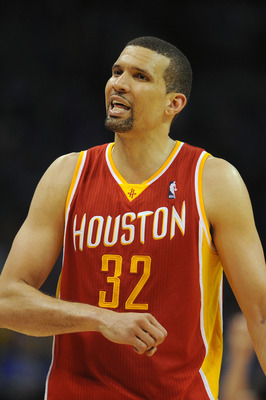 Mark D. Smith-USA TODAY Sports
Francisco Garcia, Shooting Guard/Small Forward, Team Option
Few players shot the ball more effectively from long range than Francisco Garcia during the first round of the NBA playoffs.
Garcia lofted up 6.2 attempts per game from behind the three-point arc, and he connected on 2.8 of them. For those of you who don't have a calculator handy, that's 45.9 percent, a rather ridiculous rate given such high volume.
Of course, the Houston Rockets in general loved firing away from downtown. Carlos Delfino also took 6.2 attempts per game, and James Harden and Chandler Parsons both exceeded that per-game average.
Verdict: Stock up
Indiana Pacers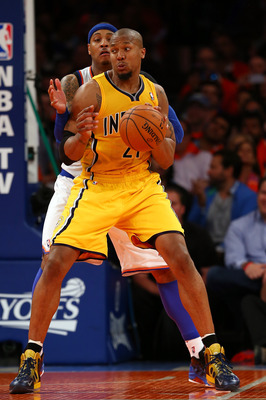 Elsa/Getty Images
Tyler Hansbrough, Power Forward, Restricted Free Agent
Tyler Hansbrough might try awfully hard on the basketball court, but at this level, who doesn't? Effort alone isn't enough.
The power forward's offensive capabilities simply aren't great enough to justify much playing time. He could overpower players at the collegiate level, but that simply isn't true at the sport's highest one. In the postseason, he's struggled quite a bit.
Hansbrough is shooting only 41.2 percent from the field during the playoffs, and that's making it difficult for Frank Vogel to give him extended action.
Verdict: Stock down
D.J. Augustin, Point Guard, Unrestricted Free Agent
If you've forgotten who D.J. Augustin is, I really don't blame you.
Let's just look at how bad his per-36 numbers are: 13.7 points, 2.5 rebounds and 2.3 assists on 37 percent shooting. And he's only out there for 16 minutes per contest.
It's not a good thing when a point guard can't create offense for either himself or anyone else. It's even worse when he's been one of the worst defenders on the squad.
Verdict: Stock down
David West, Power Forward, Unrestricted Free Agent
If you like physical, old-school basketball, it's tough not to enjoy watching David West go to work.
He's a true two-way player who plays bigger than his frame would indicate. Whether he's backing down smaller defenders, hitting his jumpers or preventing points, he's contributing positively to Indiana's cause.
West hasn't been as spectacular as he was in the regular season, but the difference is more people are seeing him play. Paul George overshadowed him throughout the first 82 games of the campaign, but now it's quite clear just how valuable West is.
Verdict: Stock up
Los Angeles Clippers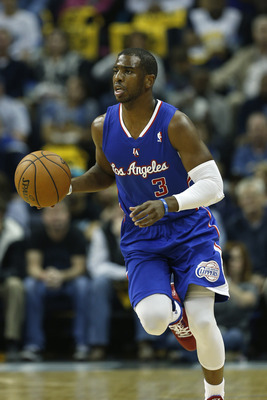 Joe Robbins/Getty Images
Matt Barnes, Small Forward, Unrestricted Free Agent
While playing the hard-nosed defense we tend to associate with him, Matt Barnes asserted himself as a solid offensive option during the Los Angeles Clippers' first-round exit.
The small forward connected on his field-goal attempts at a 54.5 percent clip, and he limited his turnovers tremendously against a Memphis Grizzlies squad that's constantly looking to swipe the ball away.
Barnes might be 33 years old, but he's playing fantastic basketball and proving that he has a lot left in the tank.
Verdict: Stock up
Chauncey Billups, Point Guard/Shooting Guard, Unrestricted Free Agent
Chauncey Billups spent nearly 20 minutes per game on the court during the Clippers' short-lived run through the postseason, but it's hard to tell when you look at the box score.
The veteran guard wasn't able to make much of an impact on either end of the court, and his shot never started falling. Maybe he's still not fully healthy—either mentally or physically—after tearing his Achilles tendon last season.
Now 36 years old, it's looking like the end may be near for Mr. Big Shot.
Verdict: Stock down
Lamar Odom, Power Forward, Unrestricted Free Agent
Lamar Odom's versatility is unique and, at times, impressive, but he's not a productive basketball player anymore.
He's playing better than he did with the Dallas Mavericks. Then again, even I could have outperformed him in that role.
I've been trying to figure it out for a while now, and I'm still not sure why Vinny Del Negro gave Odom so many minutes during the six postseason outings.
Verdict: Stock down
Chris Paul, Point Guard, Unrestricted Free Agent
Sorry to be anticlimactic, but what exactly did you expect to change when it comes to Chris Paul's free-agent status?
Going into the postseason, he was almost universally viewed as the best point guard in the NBA. That hasn't changed, even though CP3 and Co. have bowed out of championship contention.
Verdict: Stock neutral
Los Angeles Lakers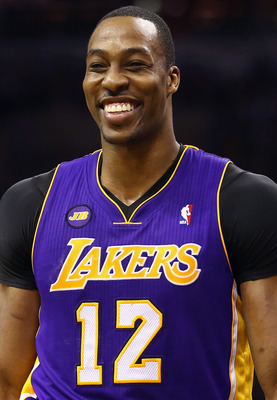 Ronald Martinez/Getty Images
Andrew Goudelock, Shooting Guard, Restricted Free Agent
Andrew Goudelock got to step up into a much larger role because the Los Angeles Lakers were so depleted by injuries. It didn't go well.
The young backcourt member couldn't play a lick of defense, and his offense wasn't enough to trump those shortcomings.
During his brief playoff experience, Goudelock proved that he should remain a backup with no questions asked.
Verdict: Stock down
Darius Morris, Point Guard, Restricted Free Agent
See: Goudelock, Andrew.
Verdict: Stock down
Earl Clark, Small Forward, Unrestricted Free Agent
During the regular season, Earl Clark was looking an awful lot like a breakout player who would cash in during free agency (if he chose not to return to the Lakers).
Then the playoffs rolled around. Clark's offense disappeared, he started coughing up the ball far too often and he left his defensive abilities behind after the 82nd game of the year. The results weren't pretty.
Clark posted a 1.1 PER. Yes, a 1.1. He earned minus-0.3 win shares. His true shooting percentage was below 40.
I bet you can guess what's happening to his stock.
Verdict: Stock down
Dwight Howard, Center, Unrestricted Free Agent
Dwight Howard is in the same situation that Chris Paul found himself in.
Even if he didn't show it during the regular season because of his back injury and the constant state of turmoil surrounding the Lakers, Howard is the best center in basketball. He just has to be healthy to show it.
That hasn't changed, and it wouldn't have regardless of how the big man played during the sweep.
Verdict: Stock neutral
Antawn Jamison, Power Forward, Unrestricted Free Agent
I'd talk about Antawn Jamison's defense, but that would be acknowledging it exists. So, let's briefly discuss his offense.
The stretch-4 was a potent threat from the outside, finding great success when he spotted up against the San Antonio Spurs. That's about all he offered, but he's not expected to do much more.
Jamison's reputation is firmly entrenched at this point, and a few games didn't change that.
Verdict: Stock neutral
Metta World Peace, Small Forward, Early Termination Option
Metta World Peace's offense was all but nonexistent, and his defense was solid.
Surprise, surprise. That early season output from MWP on the more glamorous end of the court seems an awful lot like a mirage now.
The small forward might not exercise his early termination option, but the Lakers should be desperately hoping he does.
Verdict: Stock down
Memphis Grizzlies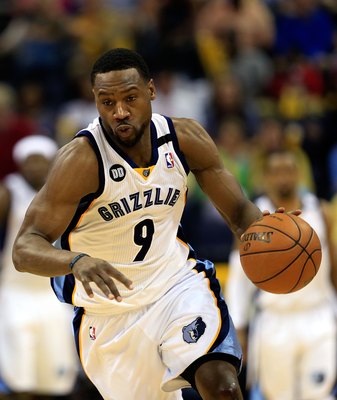 Jamie Squire/Getty Images
Tony Allen, Shooting Guard, Unrestricted Free Agent
If you see a player's stock stay neutral, it's generally because they've established a reputation for themselves and stuck to it.
Such is the case for Tony Allen.
The Memphis Grizzlies have never asked him to be an offensive option, both so that they can preserve his energy for defense and so that they can hide his lack of scoring skills. That hasn't changed, and Allen has thrived shutting down his men.
Verdict: Stock neutral
Jerryd Bayless, Point Guard, Player Option
Jerryd Bayless has had a few standout moments for the Memphis Grizzlies, but the overall product has been rather lackluster.
Seeing Bayless hit on one of his shots has been a rare sight, but not quite as rare as seeing him create an open look for his teammate. Although I'm all for non-traditional point guards, Bayless' 1.4 assists per game don't cut it when he's struggling to find his own shot.
The former Arizona standout may have opened a few eyes during the postseason, but he's also scared them into looking away.
Verdict: Stock down
Miami Heat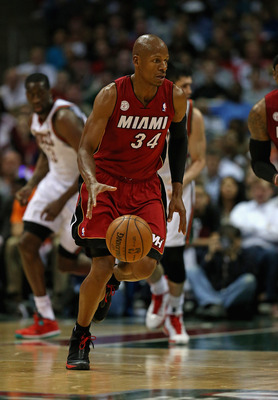 Jonathan Daniel/Getty Images
Ray Allen, Shooting Guard, Player Option
Ray Allen has actually looked a bit spry during the postseason run. He's willing to put the ball on the floor and drive to the hole, even if he doesn't do it all that often.
Then again, it's not like Allen's stock is changing at this point in his career. Nor will he leave the Miami Heat.
Verdict: Stock neutral
Mario Chalmers, Point Guard, Team Option
Mario Chalmers is another player who's not going to leave the Miami Heat, but he's been a bit of a weak spot for the defending champions.
It's tough to be much of an offensive threat when you're ceding shots to LeBron James, Dwyane Wade and Chris Bosh, among others, but Chalmers has to do a better job hitting threes when the opportunities present themselves.
Verdict: Stock down
Milwaukee Bucks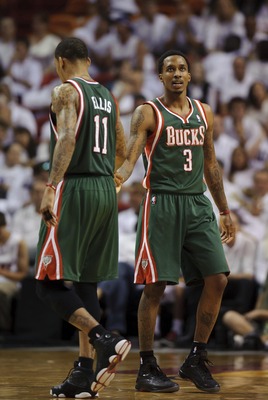 Steve Mitchell-USA TODAY Sports
Brandon Jennings, Point Guard, Restricted Free Agent
It's hard to look good against the Miami Heat, but Brandon Jennings didn't even manage to look bad. He was just awful.
The southpaw earned a 9.9 PER while shooting 29.8 percent from the field on 14.3 attempts per contest and coupling his four assists with 2.8 turnovers each game. That's not a recipe for success.
Jennings' talent will still allow him to cash in as a restricted free agent, but he's falling down a bit in the point guard rankings.
Verdict: Stock down
Mike Dunleavy, Shooting Guard/Small Forward, Unrestricted Free Agent
Mike Dunleavy was one of the few members of the Milwaukee Bucks who actually managed to perform well against the defending champions.
He knocked down 56.7 percent of his shots from the field—including a 7-of-16 performance from downtown—and looked solid as a distributor. His 25.0 PER left him as one of only two players who met the league average in John Hollinger's stat (Marquis Daniels was the other).
Verdict: Stock up
Monta Ellis, Shooting Guard, Player Option
Q. You know when it's obvious that you're struggling offensively?
A. When you're named Monta Ellis and earn more defensive win shares than offensive ones.
Verdict: Stock down
J.J. Redick, Shooting Guard, Unrestricted Free Agent
It's hard to analyze J.J. Redick's stock because the Milwaukee Bucks completely underutilized him. As he showed during his half-season with the Orlando Magic, Redick is quite capable of holding his own as the primary ball-handler.
Instead, the Bucks left Redick on the bench for large portions of the game and turned him into a glorified spot-up shooter.
Hopefully he'll have better luck going forward.
Verdict: Stock neutral
New York Knicks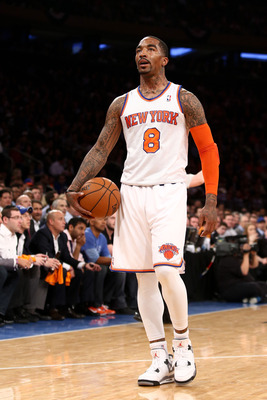 USA TODAY Sports
Pablo Prigioni, Point Guard, Restricted Free Agent
The veteran rookie (how's that for an oxymoron?) has been solid but unspectacular during his first trip to the NBA postseason.
He's a surprisingly good defender and a great facilitator, but I'd like to see the Argentine floor general get a bit less tentative. He passes up his own shot too often, and that allows opposing defenses to compress around the bigger scoring threats.
Still, Prigioni has made a positive impression during his first go-around in the Association.
Verdict: Stock up
Kenyon Martin, Power Forward, Unrestricted Free Agent
Stop me if you've heard this before.
Kenyon Martin is a tough, physical presence down low who makes defensive contributions and occasionally shows up on offe...
Oh, you stopped me? Okay then.
Verdict: Stock neutral
J.R. Smith, Shooting Guard, Player Option
J.R. Smith's stock was about as high as it gets at the conclusion of the 2012-13 regular season. He won Sixth Man of the Year and the world seemed to be turning into his oyster.
If only that's where it stopped. The postseason has not been kind to Mr. Smith.
The shooting guard has connected on only 33.9 percent of his attempts from the field, he's been suspended and he's turned the ball over far more often than he's earned dimes. The flu might have something to do with it, but Smith has struggled regardless.
Verdict: Stock down
Oklahoma City Thunder
Troy Taormina-USA TODAY Sports
Derek Fisher, Point Guard, Unrestricted Free Agent
It took a lot of the 2012-13 season for Derek Fisher to earn a job, and the same will be true if he attempts to play basketball again after turning 39 in August.
Fisher has been a solid offensive contributor off the bench, but that's about it. He's almost out of athleticism, and his defense is worse than ever. While he provides veteran leadership, that's only so valuable.
It's tough to change your stock much when you're 38 years old.
Verdict: Stock neutral
Kevin Martin, Shooting Guard, Unrestricted Free Agent
When Russell Westbrook went down, Kevin Martin had the opportunity to step up and become a much more potent offensive player. The shooting guard wasn't capable of doing so, though.
Martin excels at hitting threes and cutting to the basket, but he's not a facilitator, and he's certainly not a good defender. If you ask him to do too much, he's inevitably going to struggle.
Before the postseason started, the 2-guard may have been able to cash in during free agency and become a solid second option. After failing to stand out in that role for the Oklahoma City Thunder, though, Martin isn't going to make as much.
Verdict: Stock down
San Antonio Spurs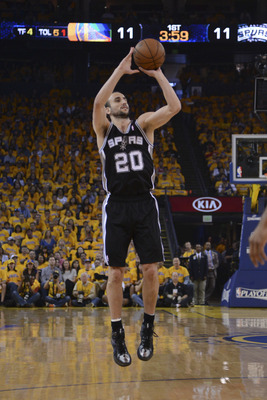 Kyle Terada-USA TODAY Sports
Gary Neal, Point Guard, Restricted Free Agent
The postseason hasn't been kind to Gary Neal, who has struggled on both ends of the court when he enters the game.
Neal hasn't done a good job staying in front of his man, and his shot certainly isn't falling. His 32.1 percent shooting from the field is a testament to that.
All in all, the backup point guard has earned a 7.7 PER, and that's not going to cut it.
Verdict: Stock down
Boris Diaw, Power Forward, Player Option
Boris Diaw has been a rather nondescript player during the playoffs, which is strange because he plays such a unique style of basketball.
He's done a lot of things competently, but few parts of his game have stood out in a positive manner. It's the turnovers that jump forward, as Diaw has coughed it up 1.3 times per contest in only 16.5 minutes of action.
For a player who doesn't serve as the primary ball-handler, that's problematic.
Verdict: Stock down
Manu Ginobili, Shooting Guard, Unrestricted Free Agent
So...uh...what happened to Manu Ginobili?
At the end of the season, he wasn't playing much and he wasn't as effective as we'd come to expect from the crafty Argentine 2-guard. So much for that.
During the postseason, Manu has appeared reinvigorated, and he's dominated games. Even when he missed crucial threes, he's responded by draining a game-winner.
Few players have helped their stock more than Ginobili, who has firmly put aside any notion that age could be causing a massive decline.
Verdict: Stock up
Tiago Splitter, Center, Unrestricted Free Agent
As often happens during the playoffs, rotations shrink and role players get less time on the court.
Such has been the case for Tiago Splitter, who is receiving about five fewer minutes per game now that we're in the most crucial part of the season and he's dealing with ankle injuries. Unfortunately, he's failed to get into a rhythm with the more limited action and his non-healthy state, so his per-minute production has suffered.
If Splitter's stock is leaning either way, it's in the negative direction, but it's so slight that I'm staying more in the middle.
Verdict: Stock neutral
Keep Reading