NBA Teams Guaranteed to Be Buyers During the 2013 Offseason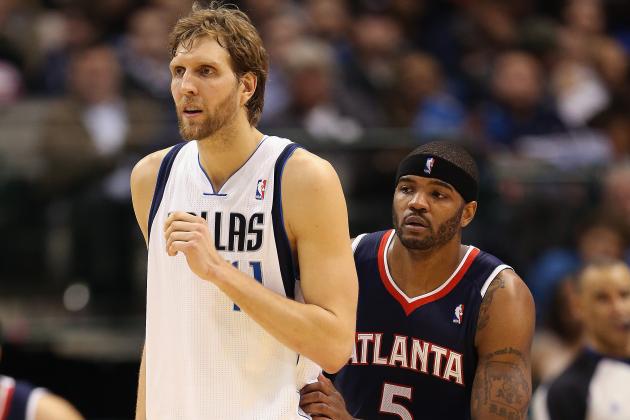 Ronald Martinez/Getty Images

When it comes to free agency, hope springs eternal. No matter how many times a team may saddle themselves with an unproductive player on a bloated contract in the offseason, cap space still burns a hole in the proverbial pocket of general managers. Risk assessment is usually trumped by unrealistic aspirations, and the crazy spending ensues.
While this group of free agents pales in comparison to a 2014 class that could feature LeBron James, there are still plenty of good players to be had. Here's a look at which teams are guaranteed to be buyers this upcoming offseason.
Begin Slideshow

»
Bob Levey/Getty Images

Rockets General Manager Daryl Morey certainly hasn't been shy about stating his desire to pair James Harden with another star. With enough room on the books to offer a full max contract this offseason, the Rockets can be major players for Dwight Howard, and possibly to a lesser extent, Chris Paul.
How did the Rockets get here? Largely by staying away from free agency in the first place and finding talent elsewhere. Chandler Parsons was a second round draft pick, Greg Smith was called up from the D-League and Patrick Beverley was found in Russia. That's three good-to-great rotation players who will make less than $3 million dollars next season combined. Morey is very good at this sort of thing.
Even if the Rockets strike out in their pursuit of Howard, a second-tier star like Andre Iguodala could be the peanut butter to Harden's jelly out on the wing, taking the tough defensive assignment while Harden handles the scoring load. The Rockets seem to be one star away from competing for a championship, so it would make sense for Morey to finally push in his chips.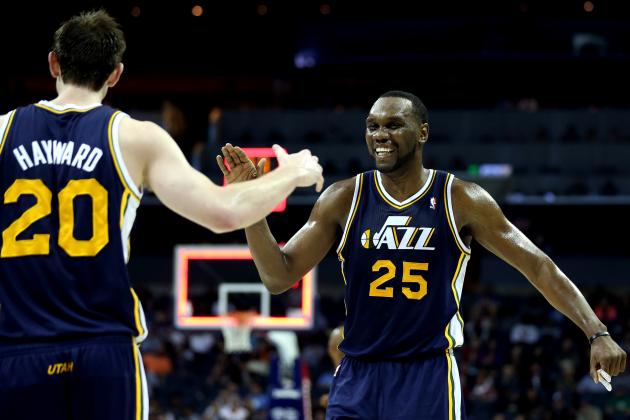 Streeter Lecka/Getty Images

It's tough to get a handle on which direction Utah's management is going to take this thing. If this is a rebuilding process, it makes sense to let go of Al Jefferson and Paul Millsap, who will both be unrestricted free agents. Those two will demand a pretty penny on the open market, and Utah has young, exciting, inexpensive bigs to take their place in Enes Kanter and Derrick Favors.
Even if the Jazz do retain Millsap or Jefferson (you would assume only one would come back), Utah should still be rolling in free agency dough. As it stands now, Utah has roughly $26 million committed next season, which should get them only halfway to the minimum payroll. Rebuilding or not, Utah will be forced to spend money in free agency just to meet the CBA requirements if they let go of both Jefferson and Millsap.
Opinions on restricted free agents Brandon Jennings and Jeff Teague vary, but as one of the few teams with the potential combination of max cap space and a gaping hole at point guard, Utah fits as a buyer.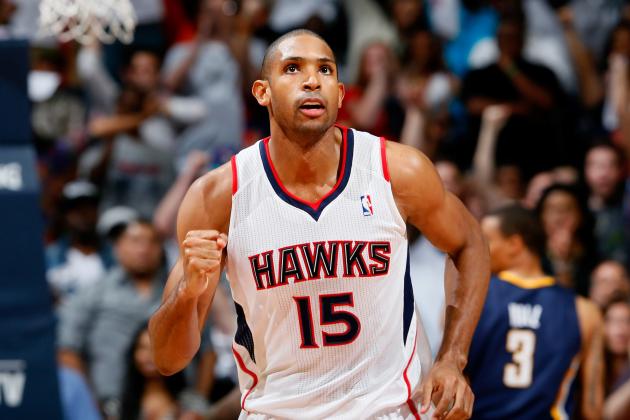 Kevin C. Cox/Getty Images

Super Team, assemble? Atlanta is in the enviable position of having enough space to dish out two max contracts this offseason, which could potentially be appealing to hometown son Dwight Howard.
The only substantial salaries on contract for Atlanta belong to the slick passing, sweet shooting Al Horford (who would be a dream frontcourt partner for Howard), and Lou Williams, an explosive perimeter scorer coming off of an ACL tear.
Is that, and the promise of playing with another star, enough to lure Howard back home? Possibly, but if it's not, Atlanta is still in great shape with a relatively young franchise rock like Horford and gobs of cap space. Like Utah, however, Atlanta will be forced to add via free agency due to only having $18 million in guaranteed salary on the books.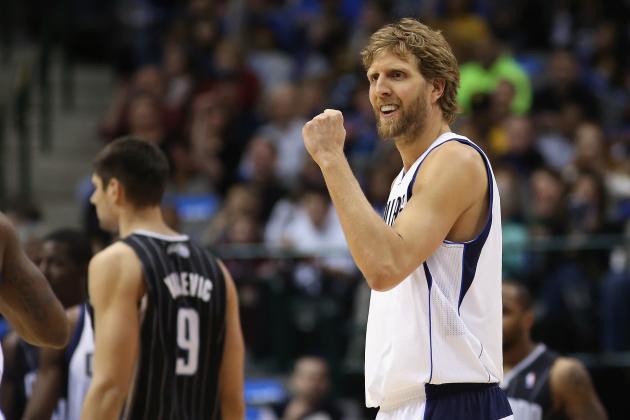 Ronald Martinez/Getty Images

After whiffing on Deron Williams last year, the Dallas Mavericks aren't likely to miss out again. The pitch for incoming free agents is easy: Dallas has been one of the most consistent winners in all of sports, Dirk Nowitzki's name still carries weight, Rick Carlisle is one of the best coaches in the league, and Mark Cuban has spent plenty of money to make sure the intangibles are of the highest quality.
Dallas should have right around $38 million in guaranteed salary this offseason, which is enough to offer a max contract. Putting the full court press on Paul and Howard is a no-brainer, but do the Mavs really believe adding a guy like Andrew Bynum or Al Jefferson is enough to win another title? Would taking that slim chance be worthwhile so as to not waste Nowitzki's final years? These are tough decisions, but it's hard to imagine that the Mavericks don't swing for the fences with cap space and an aging core.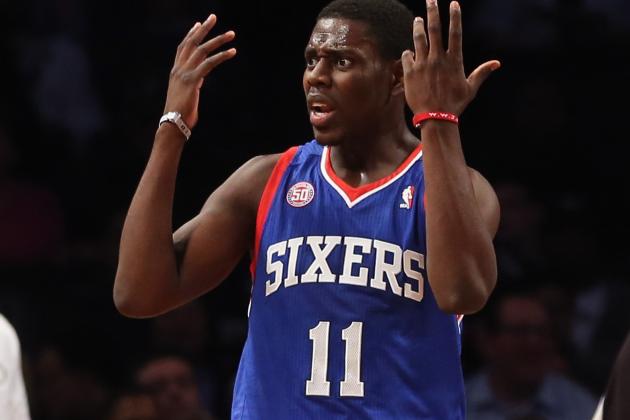 Bruce Bennett/Getty Images

Outside of the disaster that was the Phoenix Suns, no team was more brutal to watch than the Philadelphia 76ers last year. Badly deprived of a low post presence, slashers, or consistently capable 3-point shooters, the 76ers ended up firing an absurd amount of mid-range shots, taking nearly 300 more attempts from 15-19 feet than the next closest team.
Andrew Bynum obviously would have helped offensively, and a healthy Jason Richardson probably would have as well, but the 76ers now face the reality of having a young core that relies on shooting the most inefficient shot in basketball with great frequency. The saving grace for the Sixers is that they only have about $43 million on the books.
While getting rid of analytically-challenged coach Doug Collins is a step in the right direction, the 76ers simply have to add perimeter shooting and a quality big to make it back to the playoffs. Luckily for the Philly faithful, you can't sign Kwame Brown twice.
Nick Laham/Getty Images

For years, Pistons General Manager Joe Dumars was free agency's biggest cautionary tale. The contracts of Ben Gordon and Charlie Villanueva held the team hostage, but the dark days are almost finally over. The Pistons will head into free agency with their first breathing room in years, a nice young core, and only $35 million on the books.
That's enough for a max offer—should someone actually want to, you know, play in Detroit.
Dumars has probably learned from his mistake last time around, but Detroit could badly use a true point guard to bring along Greg Monroe and Andre Drummond. That was supposed to be the logic in trading for Jose Calderon (that and shedding Tayshaun Prince's salary), so it would make sense if Dumars went after a young point guard and let Brandon Knight fulfill his destiny as a 6th man type. Making a big offer for restricted free agent Brandon Jennings could solidify the point guard spot for the future and serve the added bonus of weakening a conference foe.