Top 10 Defenders to Watch During the NBA Playoffs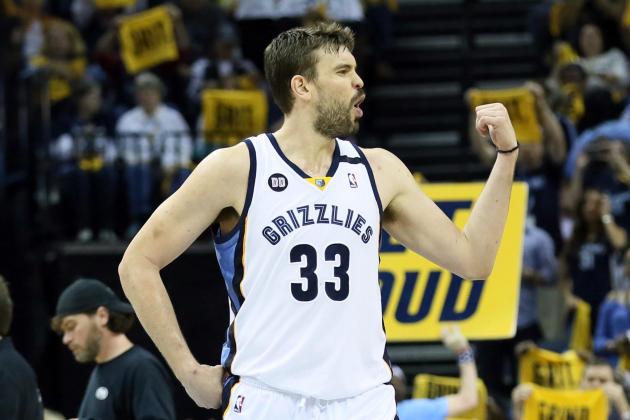 Nelson Chenault-USA TODAY Sports
Memphis Grizzlies' Marc Gasol
This article features the 10 best defenders that are still competing for an NBA championship this season.
These defensive versions of Picasso comprise an elite group who turn basketball's dirty work into an art form.
This list does not include players like Los Angeles Clippers point guard Chris Paul or Boston Celtics guard Avery Bradley, however, both of whom were eliminated on Friday.
It also doesn't include others like the Denver Nuggets' Andre Iguodala or the Los Angeles Lakers' Dwight Howard.
Each player was measured by a combination of individual defensive impact, versatility, and an assessment of the role they play from a team defense standpoint.
Begin Slideshow

»
Kyle Terada-USA TODAY Sports
Golden State Warriors' Andrew Bogut
Andrew Bogut has recently emerged as the paint-protecting big man that the Golden State Warriors had hoped they traded for during the 2011-12 campaign.
Throughout the Warriors' first round matchup with the Denver Nuggets, as David Lee sat injured, Bogut increased his minutes along with his intensity.
While playing a career low 24.6 minutes during the 32 regular season games he appeared in this season, Bogut still managed to block 1.7 shots per night. During the postseason, however, Bogut is blocking 2.3 shots on average while collecting 6.3 defensive rebounds.
When head coach Mark Jackson first arrived in Golden State, he did so while preaching defense. Now that Bogut is healthy enough to anchor that unit, the Warriors were able to eliminate the Denver Nuggets on Thursday night and advance accordingly.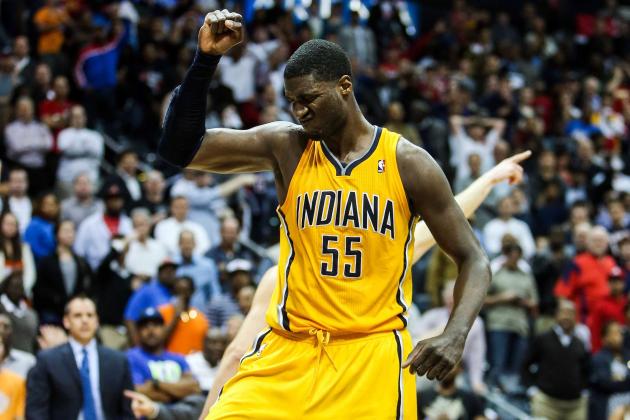 Daniel Shirey-USA TODAY Sports
Indiana Pacers' Roy Hibbert
Roy Hibbert was not able to repeat his All-Star performance from 2011-12 this season.
What Hibbert did accomplish, however, was helping his Indiana Pacers become the NBA's best defensive unit in 2012-13.
While leading the league in opponent field-goal percentage, the Pacers also ranked second in opponent scoring at 90.72 points per night.
Hibbert blocked 2.6 shots per game during the regular season as well, and his defensive-minded Pacers squad eliminated the Atlanta Hawks in their first round matchup on Friday.
Hibbert's presence as a true defensive center is what makes this Pacers defense difficult to score upon on a consistent basis. The better Hibbert defends, the better his team's chances are to advance.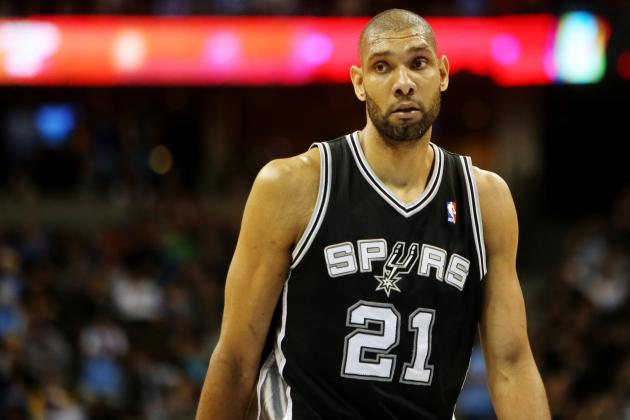 Chris Humphreys-USA TODAY Sports
San Antonio Spurs' Tim Duncan
At 37 years old, Tim Duncan reestablished himself as one of the NBA's top interior defenders this season.
Though he's certainly not the same athlete that he was at 27, Duncan has appeared a step quicker than he did in recent years throughout the 2012-13 campaign.
While anchoring the defensive attack around the basket, Duncan helped the San Antonio Spurs rank fourth in the league during the regular season in opponent field-goal percentage inside of five feet (55.7 percent), according to NBA.com.
He also averaged as many as 2.7 blocks per game for the first time since 2004, while collecting as many as 8.1 defensive rebounds per night for the first time since 2008.
Duncan's team-first approach defensively helped his Spurs make light work of the Los Angeles Lakers in the first round as well, eliminating the front line featuring Dwight Howard and Pau Gasol in four games.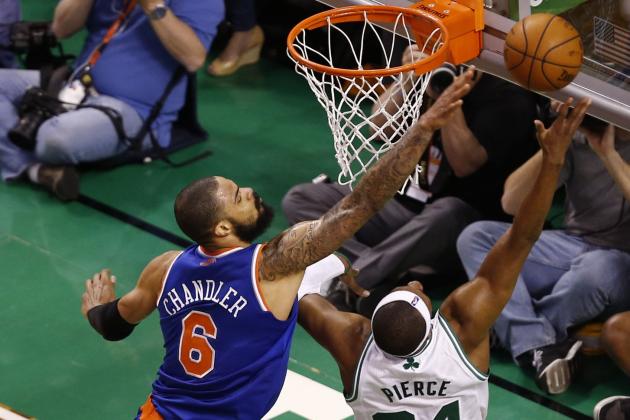 Mark L. Baer-USA TODAY Sports
New York Knicks' Tyson Chandler
Tyson Chandler was named Defensive Player of the Year in 2011-12.
This season, however, the New York Knicks center finished 13th in the voting for the same award.
Wherever you choose to slot him, though, there aren't three centers in the NBA who defend the basket better than Chandler.
He provides a stabilizing force defensively that becomes even more critical for the Knicks when shots aren't falling in their isolation offense at the other end of the floor.
While he has gotten off to a relatively slow start in the 2013 playoffs, Chandler's defense will become relied upon heavily throughout the Knicks second round matchup with the Indiana Pacers.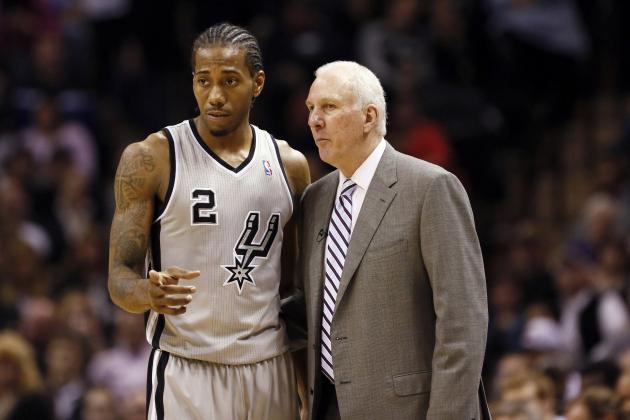 Soobum Im-USA TODAY Sports
San Antonio Spurs' Kawhi Leonard
Kawhi Leonard has emerged as an elite defender during his second professional season under Coach Gregg Popovich.
While averaging 1.7 steals per game, Leonard possess the versatility needed to defend multiple positions on the perimeter.
He has proven to be an ideal complement to the anchor that Tim Duncan provides inside for the San Antonio Spurs, using his long reach and large hands to invade passing lanes on a regular basis.
Leonard's consistently passionate approaches on the defensive end has helped his Spurs hold opponents to 44.2 percent shooting on the season as well, which ranks eighth in the NBA.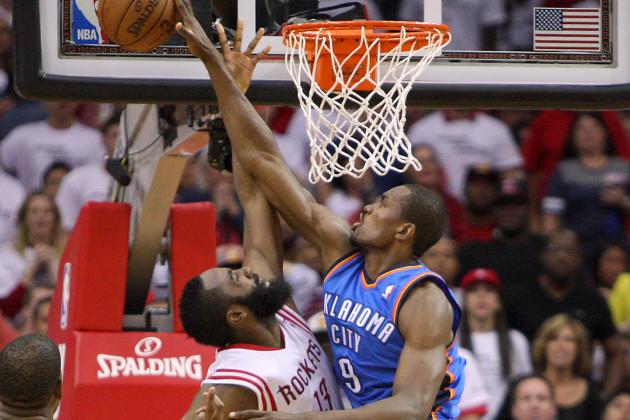 Troy Taormina-USA TODAY Sports
Oklahoma City Thunder's Serge Ibaka
Serge Ibaka has developed a reputation on the defensive end of the floor that slightly exceeds his overall value.
Otherwise, he would most certainly be higher on the list than No. 5.
While he is the NBA's best shot-blocker, Ibaka has work to do from a defensive rotation standpoint. He can be too aggressive at times, and he finds himself out of position more often than others on this list.
Despite that, however, Ibaka still blocked at least three shots per game in 2012-13 for the second-straight time in his career.
During the playoffs, he has also improved his blocked shots average to 3.2, through Friday, which leads the NBA.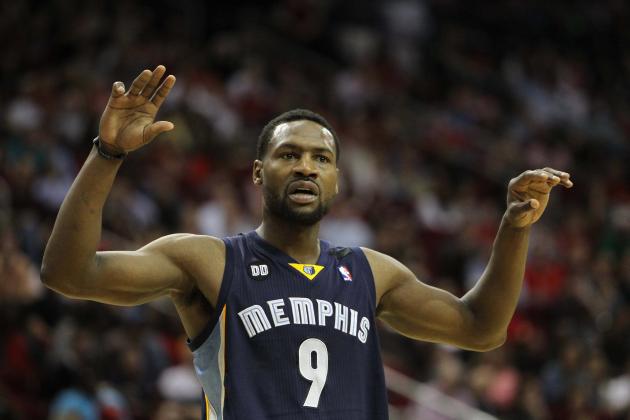 Brett Davis-USA TODAY Sports
Memphis Grizzlies' Tony Allen
If I were advising a young prospect on how to maximize his chances of carving out an NBA career, the first thing I'd suggest would be to study film on Tony Allen's approach defensively.
There are more 6'4" athletes in this world with Allen's natural-born skill-set than the NBA has roster spots available for.
Despite that, Allen has out-worked the competition defensively on a nightly basis for the last nine years while establishing himself as one of the league's premier defenders.
His consistent ability to get into the space of opposing perimeter players has been similarly highlighted by doing the same in big moments as well.
While defending Chris Paul and the Los Angeles Clippers in the first round, Allen worked tirelessly to disrupt the Clippers offensive flow throughout the series.
He will continue to do the same for as long as Memphis hangs around in the postseason.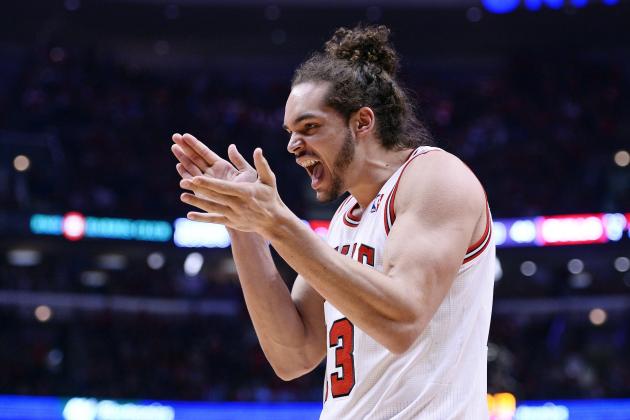 Mike DiNovo-USA TODAY Sports
Chicago Bulls' Joakim Noah
Joakim Noah is an athletic big, standing at 6'11".
In many respects, he was given ample opportunity to become an NBA player because of his natural size and skill level.
With that said, however, Noah still goes so hard defensively that he's also an overachiever at the same time.
While defending his way to an All-Star appearance in 2012-13, Noah helped his Chicago Bulls earn the No. 5 seed in the Eastern Conference without the services of superstar Derrick Rose.
He averaged 2.1 blocks during the regular season before improving that number to 2.7 during the playoffs while fighting through a debilitating foot injury.
As a team, Noah's Bulls also ranked third in opponent scoring average (92.87) during the regular season.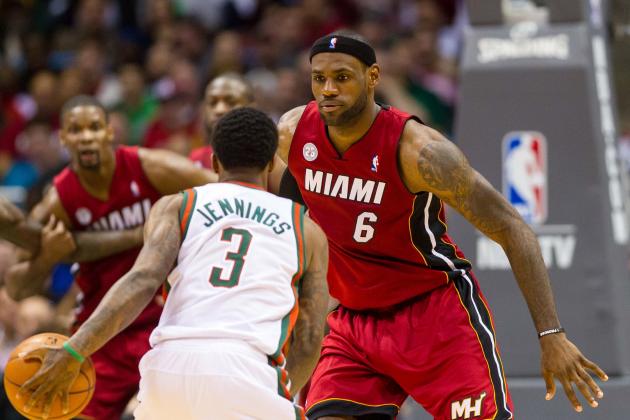 Jeff Hanisch-USA TODAY Sports
Miami Heat's LeBron James
LeBron James was noticeably upset when he was not named 2012-13 Defensive Player of the Year.
When asked how he felt about finishing second, James told Ethan Skolnick of The Palm Beach Post, "It sucks."

He went on to add the following, after reiterating that the second place finish "definitely sucks":
I mean, I guard everybody on the floor. I don't know if there's one player in NBA history who's guarded one through five (positions). It's over with now, but that's cool.
While getting bent about losing the award to Marc Gasol wasn't an ideal look, there's also a lot of truth to what James said about guarding positions one through five.
In a league where matching up defensively with positions one through three is considered special, the versatility that James brings in his ability to guard anyone is exceptionally rare.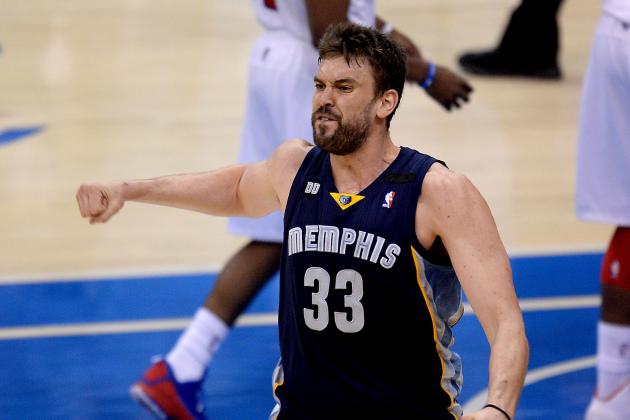 Jayne Kamin-Oncea-USA TODAY Spor
Memphis Grizzlies' Marc Gasol
Marc Gasol was voted Defensive Player of the Year in 2012-13 for the work he puts in consistently up front for the Memphis Grizzlies.
While anchoring the Grizzlies' interior defense, Gasol helped Memphis hold opponents to a league-best 89.26 points per game during the regular season.
The 1.8 blocks and 6.2 defensive rebounds he averaged don't necessarily jump off the page, but Gasol's true impact defensively extends well beyond the box score.
Like an All-Pro linebacker in the NFL, Gasol directs his team's collective effort on defense.
He may not make the spectacular block, but he always makes the correct read. That is why, more often than not, Gasol finds himself in the best defensive position possible.