Ranking the 50 Worst Uniforms in NBA History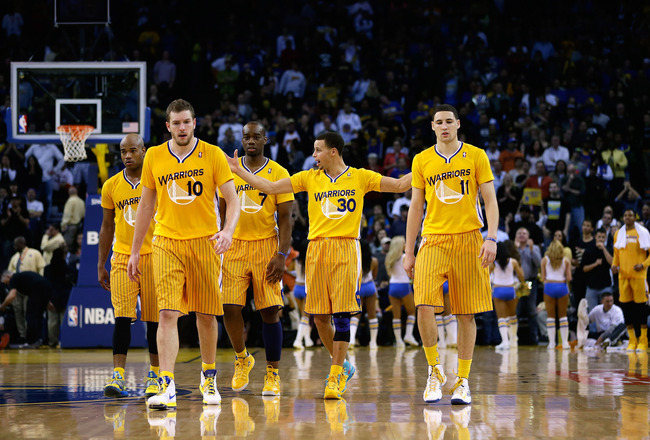 Golden State Warriors 2012-13 Sleeve Uniforms
Ezra Shaw/Getty Images
The 50 worst uniforms in NBA history include a combination of home, away, alternate and throwback designs for each team.
These uniforms date back to the 1960s and are measured in terms of style and appearance.
In some cases, these uniforms were the direct result of a fashion risk gone wrong. Others, however, represent a consistent lack of style by the team who commissioned them.
No. 50: New Jersey Nets, 1990-91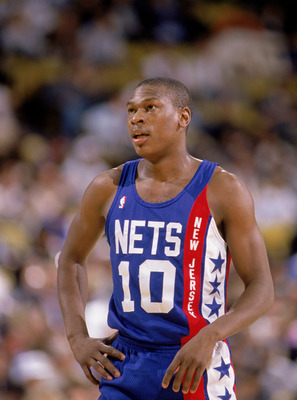 New Jersey Nets' Mookie Blaylock
Ken Levine/Getty Images
A young Mookie Blaylock was forced to wear this uniform by the New Jersey Nets back in 1990.
Instead of resembling a basketball jersey, this design looked like something Apollo Creed was wearing while he trained for his first fight with Rocky Balboa.
The most offensive aspect of this uniform is the way New Jersey is crammed in down the side, directly between a star pattern of some sort and the rest of the royal blue jersey.
No. 49: Utah Jazz, 1997-2004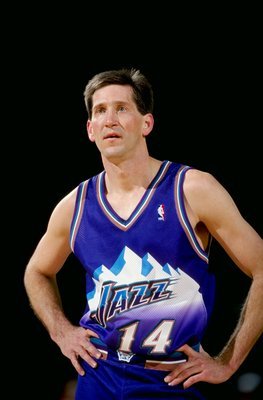 Utah Jazz's Jeff Hornacek
Elsa/Getty Images
If the NBA allowed commercial sponsorships, these Utah Jazz uniforms could've been a perfect match for a Coors logo.
The scene on Jeff Hornacek's jersey behind the Jazz emblem goes a long way towards embodying the essence of Rocky Mountain freshness.
Or at least that's what I thought when I saw them all over again for the first time earlier this week.
No. 48: Cleveland Cavaliers, 2009 Alternate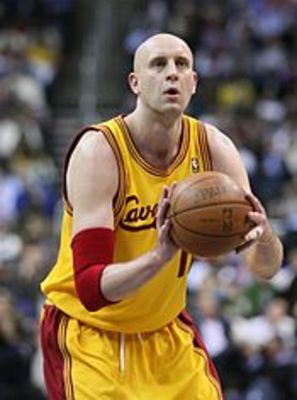 Photo via NBA.com
The Cleveland Cavaliers wore this alternate uniform in 2008-09 as a tribute to the Cavs teams of the early 1970s.
As opposed to a true wine-and-gold color scheme, however, these uniforms looked strikingly more yellow-and-red.
The script used for the Cavaliers' name across the front of the jersey wasn't a good look, either.
No. 47: New York Knicks, Christmas Day Alternate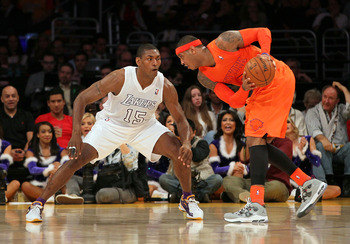 New York Knicks' Carmelo Anthony
Victor Decolongon/Getty Images
Up close—like standing-on-the-court close—the Christmas Day alternates worn by the New York Knicks weren't that bad.
On television, however, the uniforms just looked entirely too orange.
The blue outline gave little definition, and it made the numbers and letters nearly impossible to read.
No. 46: Phoenix Suns, Late 1990s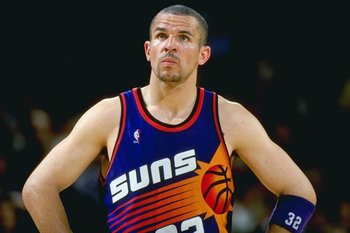 Phoenix Suns' Jason Kidd
Todd Warshaw/Getty Images
I enjoyed the Phoenix Suns rolling these uniforms back out in 2012-13—from a nostalgic standpoint.
It was cool to see these throwbacks again and be reminded of the days when Jason Kidd was roaming the Arizona desert just as his Hall of Fame career had begun.
That said, it still doesn't make for a good design.
No. 45: Oklahoma City Thunder, Christmas Day Alternate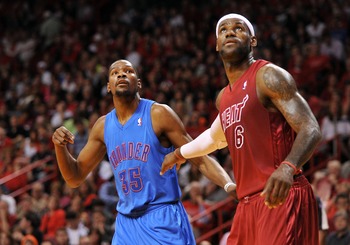 Oklahoma City Thunder's Kevin Durant
USA TODAY Sports
By way of comparison, the white outline on the Miami Heat's Christmas Day jerseys at least made the letters and numbers legible from a distance.
The Oklahoma City Thunder outline, however, didn't do nearly enough to stand out.
The result was a blue-on-blue uniform that looked the same, regardless of whose name was on the back.
No. 44: Phoenix Suns, PHX Road Uniforms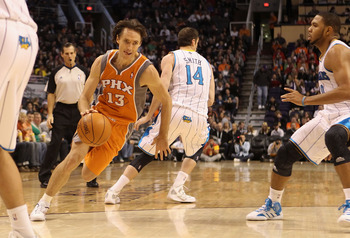 Phoenix Suns' Steve Nash
Christian Petersen/Getty Images
The city name should be spelled out on an NBA team's road jersey.
That's always been my opinion, at least, and it's the driving force behind my disapproval of the "PHX" uniforms worn by the Phoenix Suns during Steve Nash's tenure.
The color scheme and design of this jersey isn't all that bad, but the abbreviation is enough to earn it a spot on this list.
No. 43: San Antonio Spurs, Full-Logo Alternate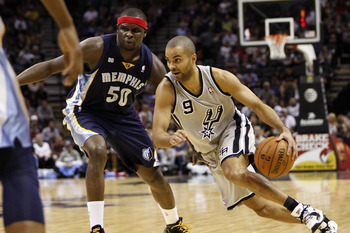 Soobum Im-USA TODAY Sports
For a team rooted in fundamentals and tradition like the San Antonio Spurs, these full-logo alternates worn by Tony Parker in the picture above never seemed to fit with their personality.
Instead of including the city or nickname, these uniforms actually went all logo-and-number on the front.
It was a nice attempt at doing something different, but in the end the design team was simply trying harder than they needed to.
No. 42: Milwaukee Bucks, 2007 Purple Alternate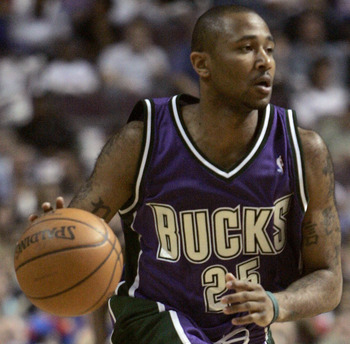 Milwaukee Bucks' Mo Williams
Tom Pidgeon/Getty Images
This alternate jersey worn by Mo Williams and the Milwaukee Bucks back in 2007 was overwhelmingly purple.
The nickname font didn't match the numbers below, either, but that's a relatively minor detail.
Combining the purple with a block design of forest green on the shorts did much more to help to make these uniforms particularly hideous.
No. 41: New York Knicks, St. Patrick's Day Alternate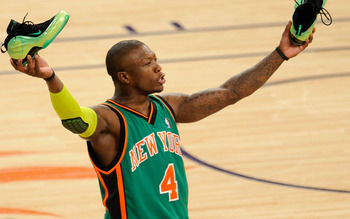 Kevork Djansezian/Getty Images
This St. Patrick's Day Alternate once worn by Nate Robinson and the New York Knicks unnecessarily selected a black trim to go alongside an otherwise green, orange and white jersey.
The green wasn't quite the shade that comes to mind when we think of St. Patrick's Day, either.
If this design would've been less highlighter-toned and more traditional, though, it may have worked.
No. 40: Dallas Mavericks, 2003 Black Alternate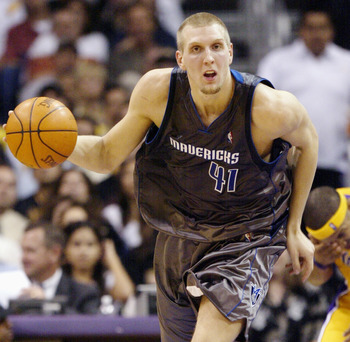 Dallas Mavericks' Dirk Nowitzki
Jeff Gross/Getty Images
Back in 2003, when Dirk Nowitzki had a buzz cut, the Dallas Mavericks rolled out this black alternate uniform pictured above.
While it at least maintained the blue-and-white color scheme on the letters and numbers, the black uniforms weren't the Mavericks' best look.
Not even Dirk could make these alternates look cool, and it's good we haven't had to see these in a while.
No. 39: Cleveland Cavaliers, 1994-97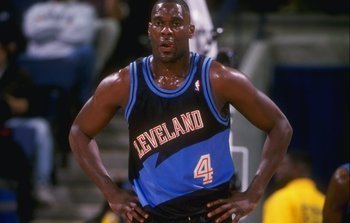 Todd Warshaw / Getty Images
The Cleveland Cavaliers attempted an organizational makeover during the mid-to-late 1990s, highlighted by this electric blue-and-black uniform worn by Shawn Kemp in the picture above.
In hindsight, they may have had better luck going in a different direction.
Kemp did average 18 points and 10 rebounds rocking this jersey upon his arrival in Cleveland, however, before his career eventually spiraled in the opposite direction.
No. 38: Los Angeles Lakers, 1950s Throwback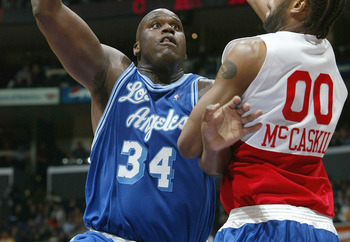 Harry How/Getty Images
During his time in Los Angeles, Shaquille O'Neal wore this blue-and-white version of a Lakers' throwback.
This jersey was designed as a tribute to the uniforms worn by Elgin Baylor and company in the late 1950s.
Maybe these uni's were cool when Baylor and his teammate Jerry West rocked them, but the look didn't go over too well 50 years later.
No. 37: Charlotte Bobcats, 2004-09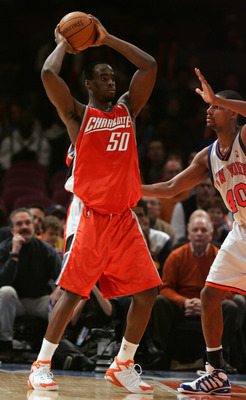 Charlotte Bobcats' Emeka Okafor
Jim McIsaac/Getty Images
Maybe if they won more, I would subconsciously have a better opinion of the uniforms worn by the Charlotte Bobcats from 2004-09.
Unfortunately they didn't win, and this orange design with an underlined Charlotte script is what comes to mind when thinking back on this era of Bobcats' basketball.
Not that the current era is any different in terms of wins and losses.
No. 36: Philadelphia 76ers, 1991-94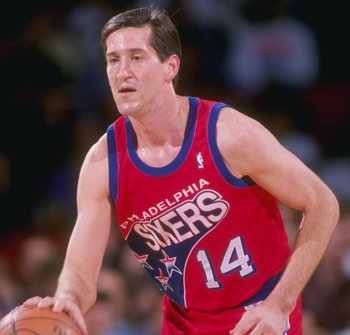 Philadelphia 76ers' Jeff Hornacek
Tim DeFrisco/Getty Images
To honor the city where the U.S Constitution was first signed, the Philadelphia 76ers featured a patriotic theme of stars on this uniform worn during the early 1990s.
The red-and-blue color scheme was tolerable, but what made this design particularly ugly is the emblem across the middle of the jersey.
The font used could've been improved by going in a different direction, and the trailing blue backdrop that hosted the stars wasn't necessary.
No. 35: Seattle Supersonics, 1995-2001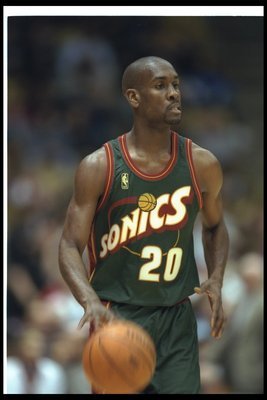 Seattle Supersonics' Gary Payton
Stephen Dunn/Getty Images
Gary Payton was a legend, and just looking at this photo makes me miss the Seattle Supersonics.
The Sonics logo from 1995-2001 featured on this uniform, however, is not one of my favorite designs.
From dotting the "i" in Sonics with a basketball to the circular stripe around the abbreviated Supersonics nickname, this uniform left plenty to be desired.
No. 34: Denver Nuggets, 1985-93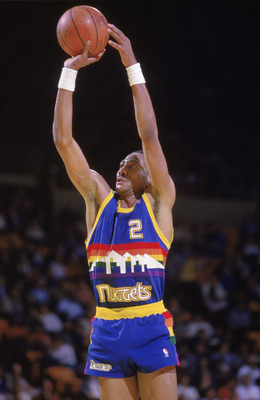 Denver Nuggets' Alex English
Stephen Dunn/Getty Images
There is far too much going on with these Denver Nuggets' uniforms, first introduced in 1985.
Beyond the mountain landscape, the amount of colors is what truly makes this uniform one of the worst in NBA history.
Their awfulness highlighted by the rainbow pattern on the front of the jersey, along with the checkered design down the side of the shorts, not even Alex English could make these uniforms work.
No. 33: Washington Bullets, 1975-87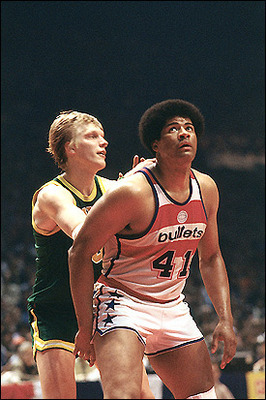 Photo via NBA.com
Wes Unseld is a Hall of Famer, and he certainly doesn't look like a guy you wanted to mess with back in the day with the Washington Bullets, as seen in the picture above.
But with all due respect to Wes, these uniforms his Bullets wore from 1975-87 are terrible.
As two separate items, the red-striped jersey is just as bad as the blue stars down the side of the shorts.
Turning the "l's" in Bullets into two little hands tossing up a basketball always seemed peculiar to me, as well.
No. 32: Utah Jazz, 2000-01 Alternate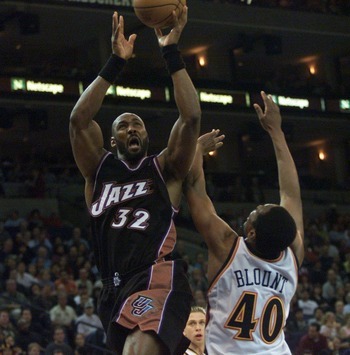 Utah Jazz's Karl Malone
Tom Hauck/Getty Images
The Utah Jazz have had a long history of bad uniforms.
While I cannot prove this theory, I'd argue that combining the New Orleans inspired Jazz nickname with the spirit of Salt Lake City has been difficult for the team's uniform designers.
This black alternate worn by Karl Malone and company during the turn of this century would be one example of this ongoing struggle.
No. 31: New Orleans Hornets, Yellow Nola Alternate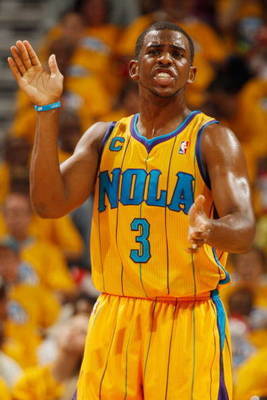 Photo via Basketball.About.com
This yellow Nola jersey, worn during Chris Paul's time with the New Orleans Hornets, also included a multicolored pinstripe if you look just close enough.
That didn't help, although I'm not sure what can make a mustard yellow uniform look good.
I've never been a believer in abbreviating the city name across the chest, either, and using Nola in this case is no exception.
No. 30: Indiana Pacers, 1997-99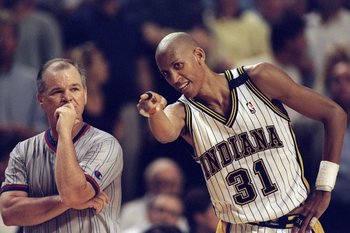 Indiana Pacers' Reggie Miller
Matthew Stockman/Getty Images
The pinstripes work for the New York Yankees.
Outside of that, however, they typically come across as forced when attempted by other professional sports teams.
The Indiana Pacers uniforms worn by Reggie Miller from 1997-99 were no exception.
This jersey included an overwhelming amount of pinstripes, in fact, resulting in a distracting image for players and fans alike.
No. 29: Los Angeles Clippers, Buffalo Braves Throwback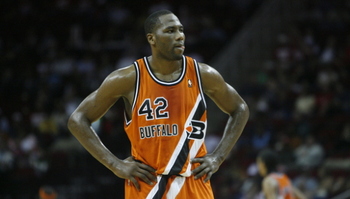 Photo via Icon SMI
The Los Angeles Clippers paid homage to the Buffalo Braves with this orange tribute jersey back in 2007.
Along the side of Elton Brand's jersey in the picture above is some type of 'B' emblem, laid across a black and white diagonal accent stripe.
While I always appreciate a tribute to the greats who paved the way for this league, I have a tough time celebrating this specific uniform.
No. 28: Oklahoma City Thunder, Current Alternate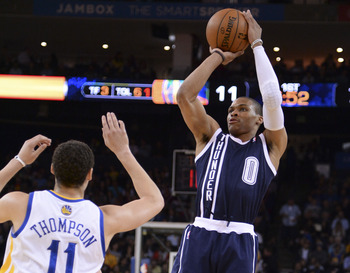 Oklahoma City Thunder's Russell Westbrook
Kyle Terada-USA TODAY Sports
They are a decent change of pace now, but we will be confused when we look back on the current alternates featured by the Oklahoma City Thunder this season.
I'm never a fan of an alternate uniform that is completely different from a team's traditional color scheme, and these Thunder jerseys are exactly that.
The team name down the side also makes this look like a uniform we'd find in a Pro Am league somewhere.
No. 27: New Orleans Hornets, Current Road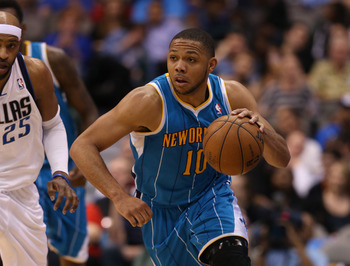 New Orleans Hornets' Eric Gordon
USA TODAY Sports
Maybe it's because I miss the Charlotte Hornets uniform that Larry Johnson once made fashionable, but the current road uniforms worn by the New Orleans Hornets have never worked for me.
The mustard yellow hue of the letters and the shade of blue featured on this jersey just don't mesh.
The multicolored pinstripes along with the white trim don't work with everything else going on in this design, either.
No. 26: Utah Jazz, 2006-10 Alternate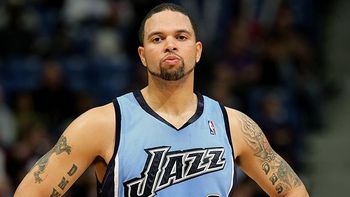 Photo via punchdrunkwolves.com
The Utah Jazz are not the first team that comes to mind when we look back at the road alternate uniforms worn by Deron Williams and company during his time in Salt Lake City.
The powder-blue-and-navy design might have otherwise worked if it didn't seem forced into what the Jazz traditionally featured in their color scheme.
Regardless of that, however, there is still no place for the Zorro-like 'Z's' across the front of this jersey.
No. 25: New York Knicks, 1979-80
Photo via NBA.com
This uniform worn by the New York Knicks during the 1979-80 campaign emphasized each player's number more than anything else on the front of the jersey.
Just underneath the number was "Knicks," written in similarly large font.
While I usually prefer the more traditional look, these home whites were a bit too simplistic.
No. 24: Sacramento Kings, Gold Alternate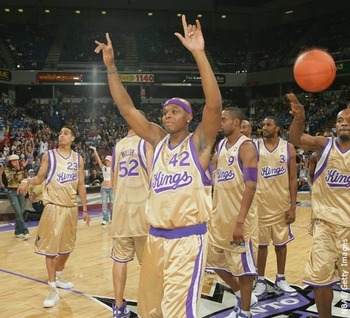 Photo via CowbellKingdom.com
The Sacramento Kings' gold alternate jerseys with purple trim may or may not have been made out of satin. Of that, I can't be certain.
What I am certain of, though, is that this is a really unfortunate uniform design. The Kings have had some of my favorite jerseys in NBA history, but this one is not included on that list.
No. 23: Miami Heat, Miami Floridians Throwback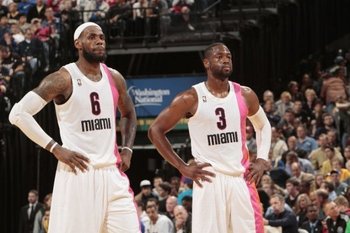 Photo via basket-infos.com
The Miami Floridians throwback tribute has always reminded me of a nylon jumpsuit worn by a retiree playing shuffle board.
The white uniforms complemented by a pink-and-reddish-orange stripe down the side are a bad look unto themselves, and the off-centered number makes it worse.
Fortunately, though, this is only one of what seems like 412 different alternative uniforms the Miami Heat currently have at their disposal.
No. 22: Chicago Bulls, St. Patrick's Day Alternate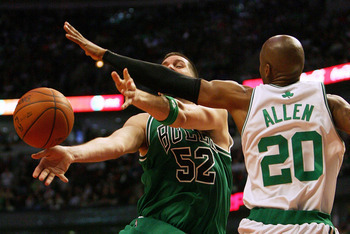 Jonathan Daniel / Getty Images
As a team that features a red-and-black color scheme, I realize the Chicago Bulls were simply trying to engage in the holiday spirit by wearing these green alternates on St. Patrick's Day.
But while I enjoy the holiday as much as the next guy, the black numbers with white trim combine to make this an unattractive attempt at an NBA uniform.
Like the Boston Celtics, who they played that day, a block white letter and number would've worked much better.
No. 21: Cincinnati Royals, 1969-70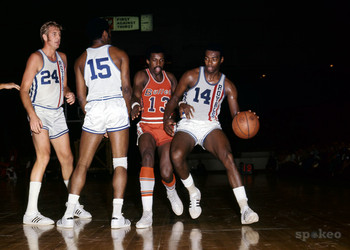 Photo via Spokeo.com
The legendary Oscar Robertson wore this uniform as a member of the Cincinnati Royals during the 1969-70 campaign.
The number was the main attraction on this jersey, featured prominently on Robertson's right-hand side.
Opposite the number was the word "Royals," written from top to bottom in blue letters with a red outline.
No. 20: Orlando Magic, Current Road Blue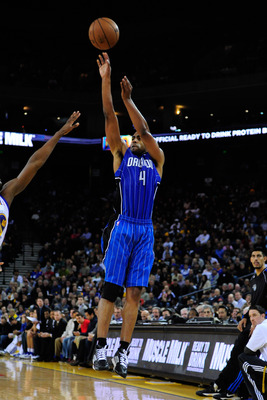 Orlando Magic's Arron Afflalo
USA TODAY Sports
Pinstripes have no place in the NBA.
At least not in the form they take on the current road uniform worn by the Orlando Magic.
When Shaquille O'Neal and Anfernee Hardaway first introduced this look back in the 1990s, the Magic could pull it off.
These days, however, it just looks played out.
No. 19: Vancouver Grizzlies, 2000-01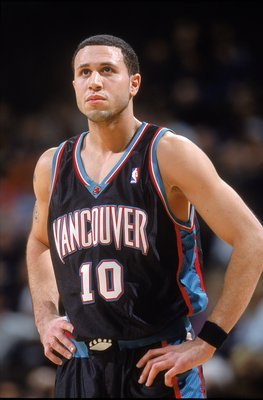 Vancouver Grizzlies' Mike Bibby
Brian Bahr/Getty Images
Hopefully the uniform worn by the Vancouver Grizzlies during the 2000-01 season stays lost from the move to Memphis.
The "V's" in the Vancouver script are trying too hard, and the shade of blue-and-red trim doesn't go well with the black.
We did see a version of this in Memphis just after the relocation, but thankfully we haven't seen much more of this jersey since.
No. 18: Boston Celtics, Black Number Alternate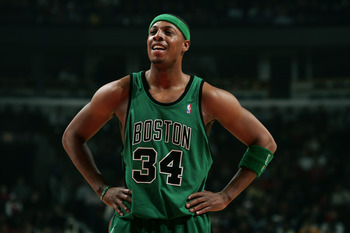 Jonathan Daniel/Getty Images
The classic look of the Boston Celtics' green uniforms with white numbers and letters is something that should never be altered.
Doing so with the black numbers, letters and trim on these alternate uniforms was a mistake.
I'm hoping that we never have to see these uniforms again.
No. 17: Portland Trail Blazers, 1976-77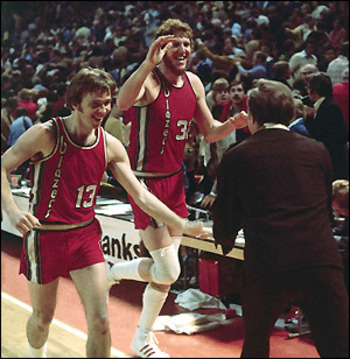 Photo via NBA.com
The great Bill Walton proudly rocked this uniform as a member of the Portland Trail Blazers way back in 1976.
But despite the fact that Walton pulled it off, they are still among the worst uniforms in NBA history.
The lowercase "blazers" script down the side left an awkwardly blank area above the number, which is probably why the team name is usually written from left to right in the first place.
No. 16: Dallas Mavericks, Green Alternate 2007-08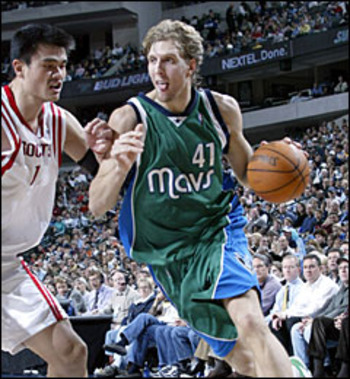 Photo via Uniwatch.com
The Dallas Mavericks used this green alternate jersey worn by Dirk Nowitzki during the 2007-08 campaign.
The combination of the amount of green used in this uniform with the light blue trim along the side is the most offensive aspect of this design.
The "Mavs" font I might be able to otherwise live with, if the color scheme didn't clash so emphatically.
No. 15: Golden State Warriors, 1997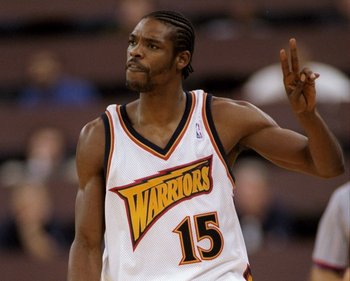 Golden State Warriors' Latrell Sprewell
Otto Greule Jr/Getty Images
This alternate jersey worn by the Golden State Warriors in the late 1990s is so bad that I'd actually rather wear their new alternate with the sleeves.
While the lightning bolt would fit great if their name were the San Diego Chargers, it's unnecessary and irrelevant on this Warriors design.
The fact that Latrell Sprewell is pictured rocking this uniform isn't doing it any favors, either.
No. 14: Los Angeles Clippers, Alternate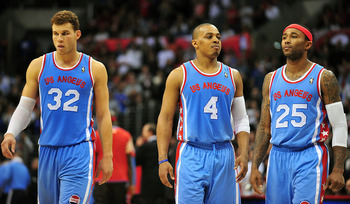 Gary A. Vasquez-USA TODAY Sports
This uniform from the Los Angeles Clippers looks like something Blake Griffin would wear as a joke while playing ping pong in a Kia commercial.
Whether it's the solid-block white numbers, or the red-script "Los Angeles," there is something that seems completely amateur about this design.
It wouldn't look right on a varsity basketball team, frankly, let alone the Lob City Clippers.
No. 13: San Antonio Spurs, 1984-85
Via NBA.com
When Johnny Moore played for the San Antonio Spurs in 1985, he did so wearing this road uniform.
While I understand San Antonio requires more jersey space than Miami, for example, the font used here for the letters was simply too large.
The arcing curve of said font over the number also didn't help this otherwise plain design.
No. 12: Minnesota Timberwolves, 2003-04
Minnesota Timberwolves' Kevin Garnett
Streeter Lecka/Getty Images
Kevin Garnett made this Timberwolves jersey popular among NBA fans during his time in Minnesota, but that still doesn't dismiss the terrible overall design.
With what I always assumed was some sort of tree pattern serving as the trim, the green highlighted there ultimately clashes with the blue tone of this away jersey.
The "Timberwolves" script, while innovative at the time, went a bit too far as well.
No. 11: San Francisco Warriors, 1965-66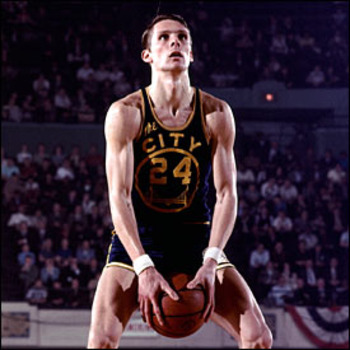 Photo via MicFarris.com
The San Francisco Warriors inscribed their uniforms with "The City" written across the chest, back when Rick Barry was shooting underhand free throws.
The following year, in 1966-67, Barry averaged 35.6 points per night, after scoring 25.7 as a rookie.
Despite Barry's dominance, however, these uniforms still didn't work.
No. 10: Detroit Pistons, 1996-2001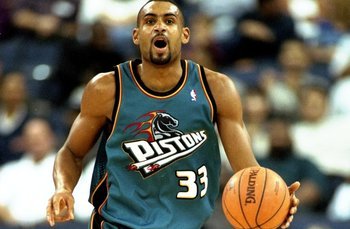 Otto Greule Jr / Getty Images
Grant Hill was among the NBA's elite while wearing this teal version of the Detroit Pistons uniform during the mid-1990s.
As a member of the Pistons, Hill averaged at least 19.9 points during each of his six seasons.
Not even he could make the flaming horse Pistons logo look cool, however, nor could he help make the non-traditional color scheme palatable.
No. 9: Milwaukee Bucks, Green Deer Alternate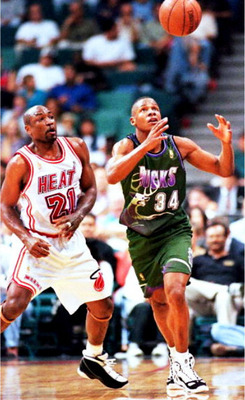 Photo via SoleCollector.com
This uniform from the Milwaukee Bucks features a giant deer on the front of the jersey.
I'm not sure we need to further discuss why it is one of the worst uniforms in NBA history.
The deer logo doesn't stop with just the antlers, either.
This design carries the deer image all the way under Ray Allen's No. 34, while the antlers extend to almost the top of the 'B' in Bucks.
It's a shame that Allen and others were ever forced to wear this outfit on the basketball court.
No. 8: Houston Rockets, 1995-2003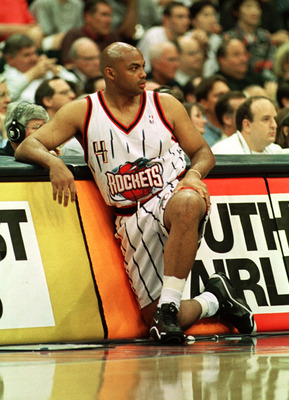 Houston Rockets Charles Barkley
Getty Images/Getty Images
There is a lot to dislike about the uniforms worn by the Houston Rockets from 1995-2003.
I'm not sure what's worse, either—the spaceship launching from the basketball logo in the middle of the jersey or the pajama-like pinstripe that extended into the shorts.
Not even a guy as fashionable as Charles Barkley himself could pull this look off while checking in at the scorers' table.
No. 7: Memphis Grizzlies, 2012 Alternate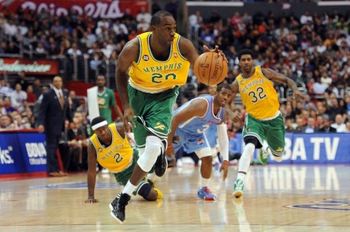 Photo by Andrew D. Bernstein/NBAE via Getty Images
The alternate uniform featured in 2012 by the Memphis Grizzlies is very difficult to understand.
The green shorts and yellow jerseys don't even seem like they were supposed to be worn together.
Maybe if either the green or yellow was chosen as the direction throughout the entire design, the Grizzlies would've been alright with this concept.
The combination of both, however, looked like something members of the Green Bay Packers might wear in a charity tournament.
No. 6: Atlanta Hawks, 1995-99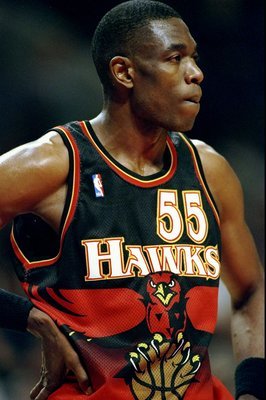 Atlanta Hawks' Dikembe Mutombo
Jonathan Daniel/Getty Images
Dikembe Mutombo was among those unfortunate souls forced to wear this uniform for the Atlanta Hawks from 1995-99.
To compensate for the embarrassment, Mutombo punished anyone who mocked the friendly looking bird logo with one blocked shot after another.
Eventually, the Hawks revised their design. But not before Dikembe swatted approximately 1,094 field-goal attempts while wearing this uniform.
No. 5: Washington Wizards, Gold-and-Black Alternate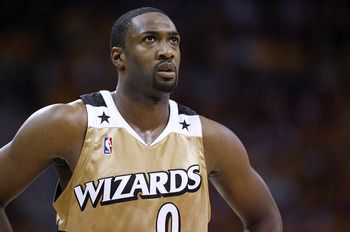 Washington Wizards' Gilbert Arenas
Gregory Shamus/Getty Images
The expression that Gilbert Arenas has on his face in the picture above sums up my thoughts on this alternate jersey from the Washington Wizards.
"Confusing bordering on frustrating" is how I would describe a black-and-gold uniform with two stars on the shoulders for a team with blue colors nicknamed the Wizards.
The stars might've made sense if this were the Dallas Mavericks, for example, but it's instead the Wizards.
Simply stated, this is one of the worst designs I've ever seen on an NBA basketball court.
No. 4: Toronto Raptors, Alternate Camouflage
Photo via ESPN.com
There is no disguising the ugliness of this Toronto Raptors jersey.
It's so bad that it deserves an equally bad pun.
While I certainly appreciate the idea of honoring the military, the Raptors really should have gone about it a different way.
This camouflage design, specifically, didn't work.
No. 3: Toronto Raptors, 1995-99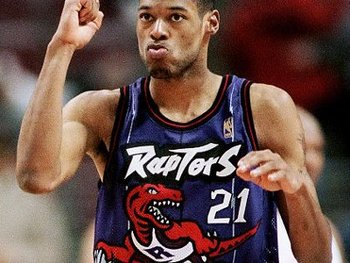 Photo via BusinessInsider.com
Around the same time people were getting the Tasmanian Devil tattooed on their leg, the Toronto Raptors made Marcus Camby wear this basketball jersey with a cartoon dinosaur across the front.
This road jersey for the Toronto Raptors featured a red Raptor with a purple background.
The pinstripes were added to class them up, I suppose, but it didn't really work out that way.
No. 2: Charlotte Bobcats, NASCAR Alternate 2007-08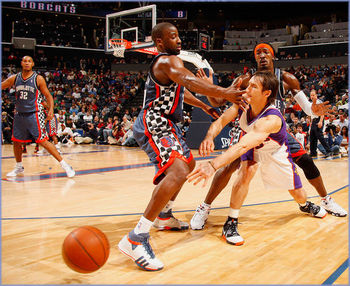 Photo via NBA.com
NASCAR and NBA—each great in its own right—should never be combined in a basketball uniform.
The Charlotte Bobcats did specifically that during the 2007-08 campaign, however, and the results were less than encouraging.
The front of these uniforms were not horrible. The checkered design down the side, though, was completely hideous.
No. 1: Golden State Warriors, Sleeve Alternate 2012-13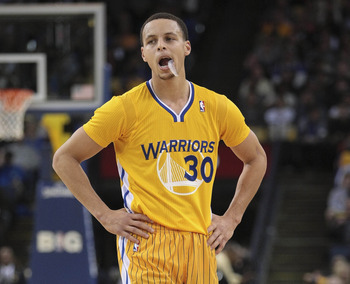 Golden State Warriors' Stephen Curry
USA TODAY Sports
NBA basketball uniforms are not supposed to be designed with sleeves.
I appreciate the creativity and fashion risk taken by the Golden State Warriors this season to challenge this notion, but it didn't work.
The shorts look like they belong to the late-'90s Indiana Pacers, while the jersey looks like a t-shirt you'd find in a Men's League.
There were a number of things the Warriors did right in 2012-13, but this uniform was not one of them.
Keep Reading