Updated NBA Superstar Rankings: Where Each Top Dog Stands Entering 2013 Playoffs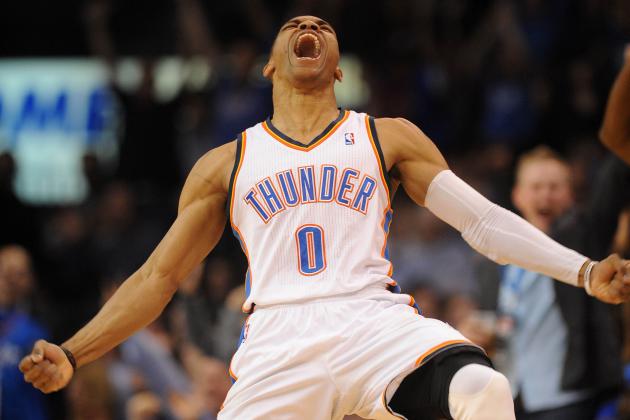 Mark D. Smith-USA TODAY Sports
Russell Westbrook is excited about the playoffs. Are you?
While some NBA superstars are starting to focus their attention on the playoffs, not everyone can be so lucky. Some studs are still trying to fight their way into the postseason, and others (or their teams, at least) have already given up on the 2012-13 campaign.
If I were a basketball star, I'd much rather be a part of the former than the latter. Sadly, I'm not.
These next 20 guys certainly are, though.
Did your favorite player make it into this week's updated NBA player power rankings? If he was already present last week, did he move up or down?
Russell Westbrook is clearly excited to find out, and therefore, so should you.
Begin Slideshow

»
Rob Grabowski-USA TODAY Sports

As a quick housekeeping note, injured players are not considered for the superstar power rankings. If a player is out for a prolonged period, he's automatically ineligible for the next 20 slides.
Therefore, Derrick Rose, Kevin Love, Rajon Rondo, Dwyane Wade, Joakim Noah and Andrew Bynum will not be appearing, although they would certainly make the cut if healthy.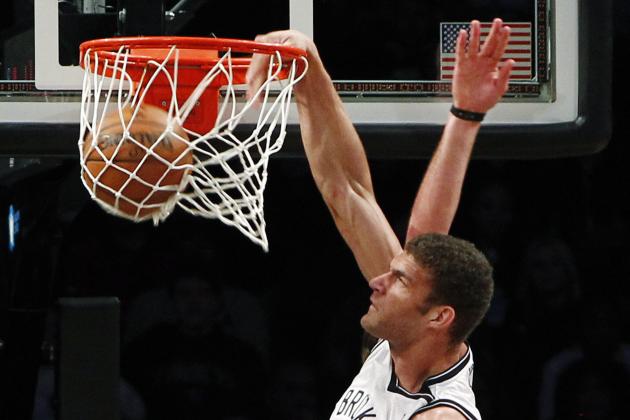 Nicole Sweet-USA TODAY Sports

Team: Brooklyn Nets
Position: C
Age: 25
2012-13 Per-Game Stats: 19.2 points, 6.9 rebounds, 0.9 assists, 2.1 blocks, 0.5 steals, 24.56 PER
Brook Lopez was a mainstay in these rankings during the middle of the season, but it's been a while since his last appearance. The wear and tear of a full 82-game campaign was just taking its toll on the seven-footer.
With the upcoming postseason in the back of his mind, Lopez has started to play like an All-Star once more.
His efficiency is still dwindling a bit, and he's not much of a force on the boards, but Lopez is inserting himself into the offense once more. His defense has also been decent lately, and the blocked shots are piling up again.
It took a week of uninspired play by a lot of last week's placeholders to free up a spot for Lopez, though, so consider his hold on a top-20 ranking tenuous at best.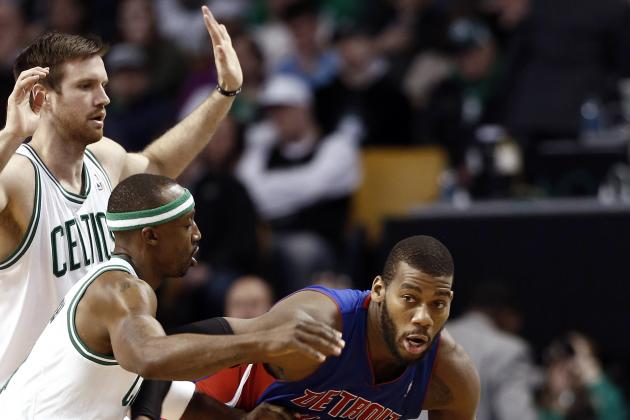 Winslow Townson-USA TODAY Sports

Team: Detroit Pistons
Position: C
Age: 22
2012-13 Per-Game Stats: 15.9 points, 9.5 rebounds, 3.5 assists, 0.7 blocks, 1.3 steals, 19.23 PER
Greg Monroe hasn't made the jump many of us expected during his third professional season, but he's rounding into tremendous form as the playoffs loom in the not-so-distant future. Well, they don't exactly loom for Monroe and the Detroit Pistons.
The 22-year-old big man has been more involved in the Detroit offense lately, and the results have been largely positive. Over his past five games, Monroe is averaging 18.6 points, 8.8 rebounds and 3.8 assists per game on 52.6 percent shooting from the field.
With increasing frequency, the Pistons have been running the show through this Georgetown product, and that's a trend that should carry over into next season.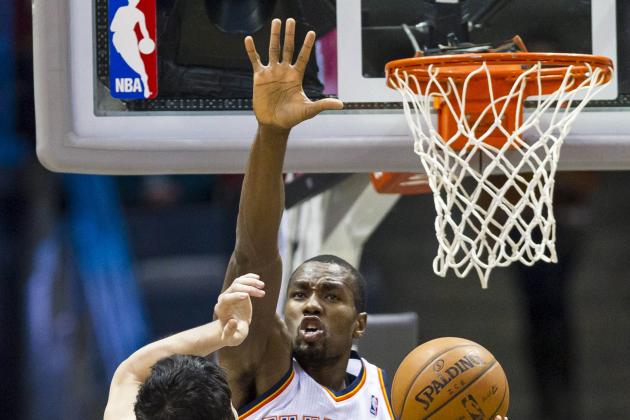 Jeff Hanisch-USA TODAY Sports

Team: Oklahoma City Thunder
Position: PF
Age: 23
2012-13 Per-Game Stats: 13.2 points, 7.8 rebounds, 0.6 assists, 3.1 blocks, 0.3 steals, 19.22 PER
Does anyone else think that Serge Ibaka really wanted to win the blocks-per-game crown one more time? Larry Sanders has challenged him throughout the 2012-13 campaign, but the Oklahoma City Thunder rejection machine has swatted a boatload of shots recently.
Highlighted by his eight blocks against Sanders and the Milwaukee Bucks, Ibaka has averaged a ridiculous 4.4 blocks per contest over his past five outings. He's just been a defensive menace.
Much in the same way that's played throughout the season, Ibaka hasn't been much of a scoring presence on the other end of the court, but he's shot the ball efficiently, rarely straying away from his strengths.
Between the defensive monster he's morphed into recently and the sustained excellence on all parts of the court, Ibaka earns the nod at No. 18.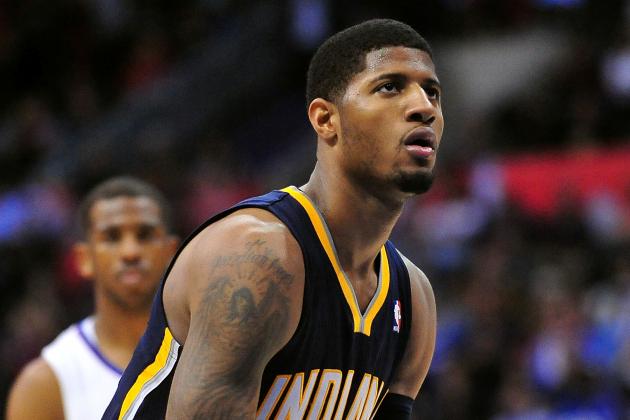 Gary A. Vasquez-USA TODAY Sports

Team: Indiana Pacers
Position: SG/SF
Age: 22
2012-13 Per-Game Stats: 17.5 points, 7.7 rebounds, 4.1 assists, 0.6 blocks, 1.8 steals, 16.97 PER
After nearly posting a triple-double against the Los Angeles Clippers, finishing with 23 points, six rebounds and 10 assists on the night, Paul George hasn't looked like the same player. His shot has deserted him, and he's playing far too passively to be effective.
In losses to the Oklahoma City Thunder and Washington Wizards, George posted a total of 10 points, 13 rebounds, five assists, zero blocks, one steal and three turnovers. Those look nothing like the numbers we're used to seeing from this stat-stuffing machine.
Additionally, the breakout swingman shot only 3-of-19 from the field, including a putrid goose egg in the made-field-goal column against the Wizards.
Indiana better hope this is just an aberration and not a fatigue- or injury-related slump.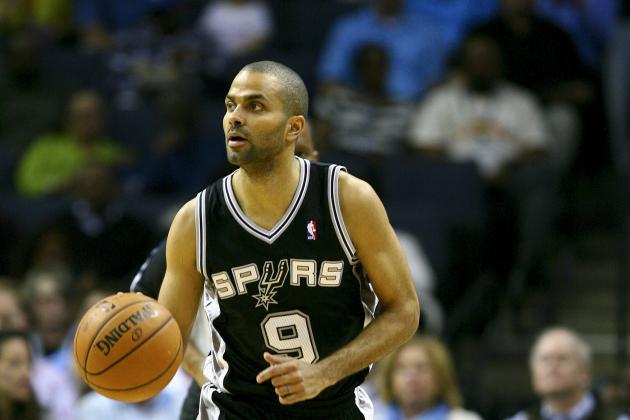 Spruce Derden-USA TODAY Sports

Team: San Antonio Spurs
Position: PG
Age: 30
2012-13 Per-Game Stats: 20.6 points, 3.0 rebounds, 7.5 assists, 0.1 blocks, 0.8 steals, 23.51 PER
Tony Parker's ankle hasn't allowed him to stay in the lineup consistently for the San Antonio Spurs as the inevitable march toward a playoff run continues to progress. After sitting out against both the Orlando Magic and Atlanta Hawks, the Frenchman has played in just three of the Spurs' last five outings.
Moreover, he hasn't been particularly impressive when out on the court.
Parker averaged just 13.0 points, 2.7 rebounds and 5.3 assists per game during those three contests, shooting only 35.9 percent from the field.
Once a legitimate MVP and All-NBA candidate, he hasn't lived up to those labels lately. Rebounding during the closing portion of the regular season and preparing for the postseason are musts.
For now, I have no choice but to let Parker plummet down the rankings, although precedent dictates that he'll certainly work his way back up soon if and when he regains that stellar old form.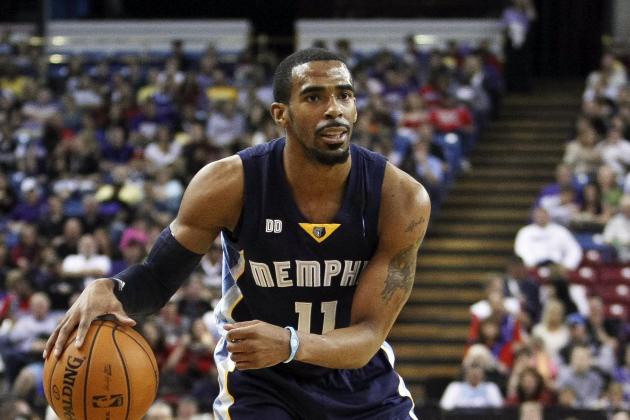 Kelley L Cox-USA TODAY Sports

Team: Memphis Grizzlies
Position: PG
Age: 25
2012-13 Per-Game Stats: 14.7 points, 2.7 rebounds, 6.1 assists, 0.3 blocks, 2.3 steals, 18.51 PER
Mike Conley can do no wrong for the Memphis Grizzlies, even if he's steering clear of the gaudy assist totals lately. He's calling his own number, and it's been the right decision more often than not.
Over the course of the season, the southpaw has taken 11.8 shots per game, connecting on 44.2 percent of those attempts. During the last five games, though, Conley has upped those numbers to 15.2 and 57.9, respectively.
The Grizz are 4-1 over that stretch, and the point guard has been a driving force behind their success.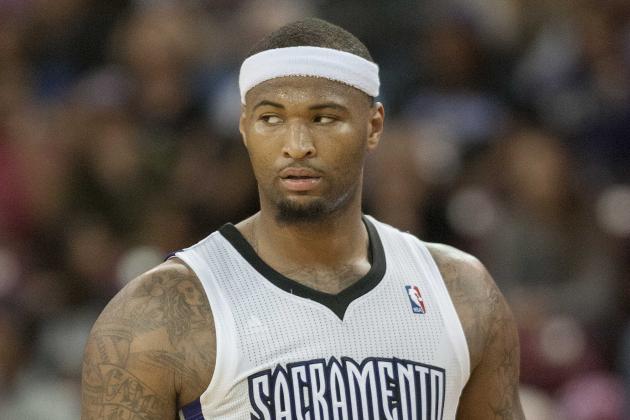 Ed Szczepanski-USA TODAY Sports

Team: Sacramento Kings
Position: C
Age: 22
2012-13 Per-Game Stats: 17.1 points, 9.9 rebounds, 2.7 assists, 0.7 blocks, 1.5 steals, 20.19 PER
I'm frustrated by DeMarcus Cousins' inconsistency on the basketball court, and I'm not even a Sacramento Kings fan. I can't imagine how the actual supporters of this squad must feel.
Boogie's head is the only thing preventing him from owning the rest of the NBA and elevating his stock so high that it would be foolish not to consider him for the top 10. For example, Keith Smart had to limit Cousins to just nine minutes on April 4 in a loss to the Dallas Mavericks, despite the big man's dominance over the past few games.
A physical 22-year-old with power and a good bit of finesse, Cousins still has a ridiculous ceiling. He just has to choose how quickly he wants to climb the ladder and reach it.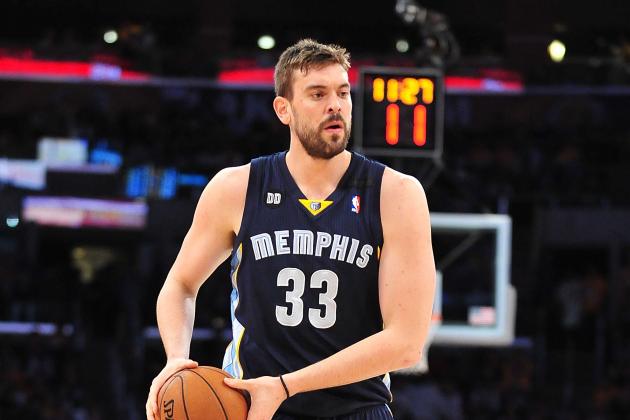 Gary A. Vasquez-USA TODAY Sports

Team: Memphis Grizzlies
Position: C
Age: 28
2012-13 Per-Game Stats: 14.3 points, 7.7 rebounds, 4.0 assists, 1.7 blocks, 1.0 steals, 19.53 PER
Well, Marc Gasol has been pretty solid since returning from his remarkably non-prolonged abdominal injury.
After sitting out two games, Gasol has come back to the tune of 14.7 points, 6.9 rebounds, 4.7 assists, 2.0 blocks and 1.1 steals. Those numbers—accumulated over a stretch in which the Memphis Grizzlies went 5-2—look eerily similar to his season-long per-game stats.
And they've been accompanied by the stellar, DPOY-worthy defense we've come to expect from this 28-year-old Spanish big man.
Gasol was hanging out in the mid-teens before his injury, and he's quickly worked his way right back to that same spot.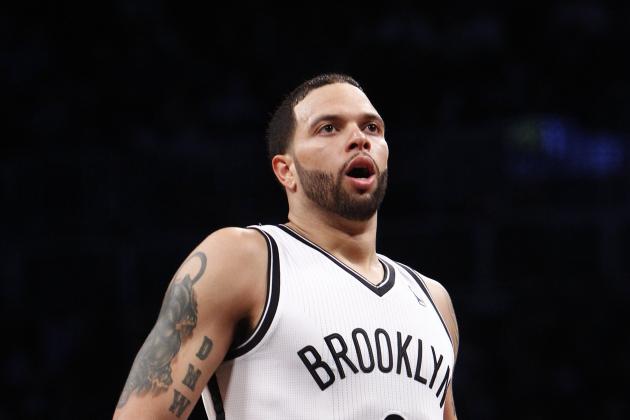 Nicole Sweet-USA TODAY Sports

Team: Brooklyn Nets
Position: PG
Age: 28
2012-13 Per-Game Stats: 18.7 points, 3.1 rebounds, 7.7 assists, 0.4 blocks, 1.0 steals, 19.89 PER
Deron Williams' fantasy basketball owners across the world are universally rejoicing as they enter the stretch runs of their seasons. The Brooklyn Nets point guard has just been lighting it up offensively.
Over his past three games, Williams has made 28 of his 48 attempts from the field, including a stellar 8-of-17 performance from downtown. Add to that his 22-of-25 shooting from the charity stripe, and it's safe to say that D-Will is shooting the ball with marvelous efficiency.
If you run the stretch in question to the last five games, the 28-year-old is averaging 25.2 points, 2.2 rebounds and 7.6 assists per game while shooting 52 percent from the field.
Are we ready to call him elite again?
Isaiah J. Downing-USA TODAY Spor

Team: Houston Rockets
Position: SG
Age: 23
2012-13 Per-Game Stats: 25.8 points, 4.8 rebounds, 5.9 assists, 0.5 blocks, 1.8 steals, 23.39 PER
Since returning from his foot injury, James Harden has had one sensational game and two mediocre ones.
At least by his standards.
The Beard's 33-point, seven-rebound, six-assist outing against the Portland Trail Blazers was sandwiched by two nights filled with more bricks than makes. Harden may have neared a triple-double in the earlier of the two outings, but it would have been the classic case of a statistically unique performance, not a statistically excellent one.
Between Harden's poor shooting and five turnovers, the positive stats just didn't outweigh the negatives by as much as normal.
The 23-year-old shooting guard will return to his lofty perch in the top 10 before too long, but his level of play must rise up a bit first.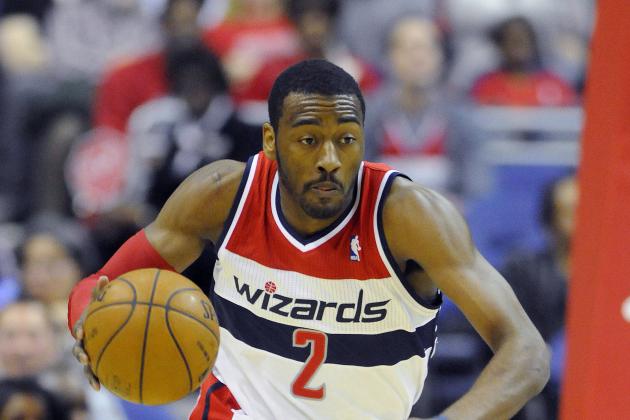 Brad Mills-USA TODAY Sports

Team: Washington Wizards
Position: PG
Age: 22
2012-13 Per-Game Stats: 18.0 points, 3.9 rebounds, 7.6 assists, 0.8 blocks, 1.3 steals, 20.73 PER
John Wall's shooting from the perimeter has disappeared again, making his previous stretches of solid play from at, behind and around the three-point arc seem like a bit of a fluke. Fortunately for this dynamic point guard, he's so explosive with the ball that he doesn't have to drill outside shots to succeed.
No. 2 was able to post a 37 spot against the stifling Indiana Pacers defense without even attempting a single three-pointer. Two games earlier, Wall dropped 27 points against the Chicago Bulls, once more without shooting the ball from downtown.
Wall has been brilliant this season ever since debuting for the Washington Wizards, and it's quite clear that this team can compete in the Eastern Conference during the 2013-14 campaign.
Now, just imagine what the Kentucky product could do with the three-ball added to his arsenal. That needs to be the next step of his development.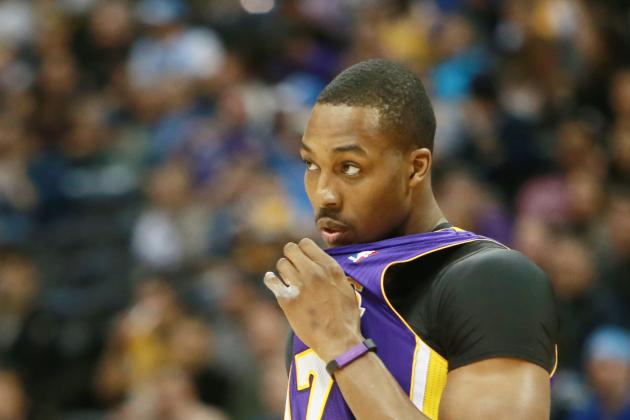 Chris Humphreys-USA TODAY Sports

Team: Los Angeles Lakers
Position: C
Age: 27
2012-13 Per-Game Stats: 16.7 points, 12.5 rebounds, 1.4 assists, 2.4 blocks, 1.1 steals, 19.32 PER
After a run of 14 straight double-doubles, Dwight Howard managed to post two strange outings in a row.
First, he was utterly uninvolved in the Los Angeles Lakers offense against the Memphis Grizzlies. Taken out of the game by the defensive prowess of Marc Gasol and the distribution tendencies of the Purple and Gold, D12 finished with only nine points and seven shot attempts.
Howard made it two single-doubles in a row when he was outworked by DeAndre Jordan and Blake Griffin on the boards during an intra-city battle with the Los Angeles Clippers. He finished with just four rebounds to accompany his 25 points in 39 minutes of action.
According to Basketball-Reference's Game Finder, that's just the seventh time in Howard's career that he's played at least 35 minutes and failed to top five rebounds.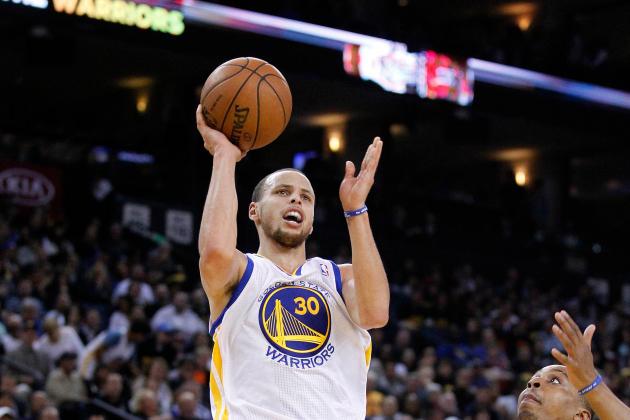 Cary Edmondson-USA TODAY Sports

Team: Golden State Warriors
Position: PG
Age: 25
2012-13 Per-Game Stats: 22.5 points, 4.0 rebounds, 6.9 assists, 0.2 blocks, 1.6 steals, 20.81 PER
Stephen Curry's shooting stoke is to die for, but what's just as impressive is the Davidson product's knack for recognizing his own level of heat.
If he's hot, Curry will just keep shooting.
However, if the point guard is missing shots, you can rest assured that he'll rack up the assists instead of calling his own number. It's no coincidence that Curry's two best assist totals in his past five games—15 dimes against the Phoenix Suns and 12 against the Sacramento Kings—came during his worst shooting nights.
The 25-year-old isn't just a tremendously skilled player; he's also one of the more cerebral ones in the Association.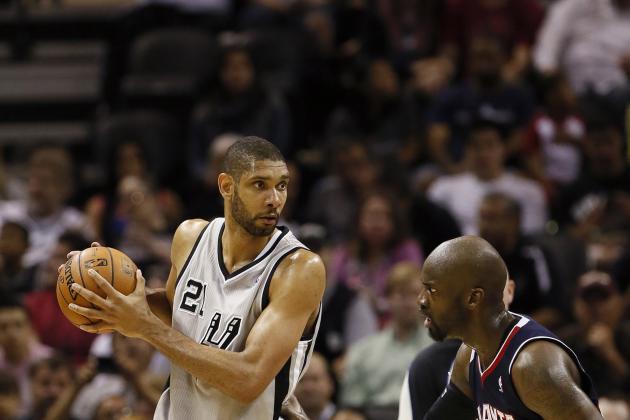 USA TODAY Sports

Team: San Antonio Spurs
Position: PF/C
Age: 36
2012-13 Per-Game Stats: 17.7 points, 10.0 rebounds, 2.7 assists, 2.7 blocks, 0.7 steals, 24.76 PER
If you're looking for proof that Tim Duncan is an ageless wonder, check out this quote from the Elias Sports Bureau (h/t ESPN):
Tim Duncan, who will celebrate his 37th birthday later this month, scored 31 points and added 14 rebounds and four blocked shots in the Spurs' 99-97 win over the Hawks. It was the second game this season in which Duncan had scored 30-plus points, with at least 14 rebounds and at least four blocks; all other NBA players combined have produced only two such games (one byDwight Howard and one by Al Horford). Only one other player as old as Duncan has produced such a game since 1973, when the league started keeping track of blocked shots: Artis Gilmore, also playing for the Spurs, had 33 points, 17 rebounds and five blocks against the Nuggets in a game on Dec. 28, 1985, some three months after his 37th birthday.
Duncan just refuses to slow down. He's needed a game off and a 14-minute outing in the midst of the San Antonio Spurs' last five games to remain in tip-top form, but he's been fantastic when on the court.
Although the Big Fundamental's numbers don't really point toward a dip in the rankings, it's an unavoidable result on his relative lack of playing time. From this point forward in the top 10, the players are as jam-packed together as possible.
Even the tiniest flaw can result in a drop.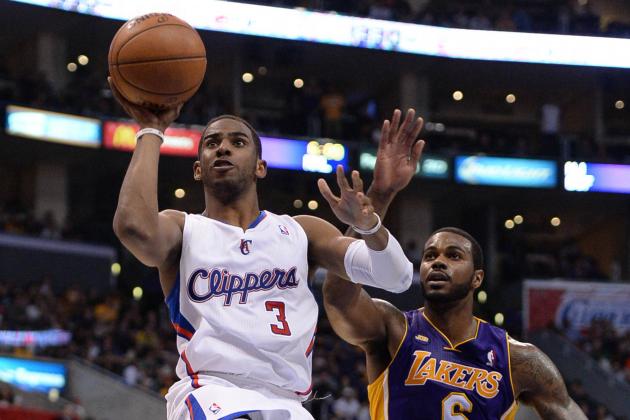 Jayne Kamin-Oncea-USA TODAY Spor

Team: Los Angeles Clippers
Position: PG
Age: 27
2012-13 Per-Game Stats: 17.0 points, 3.7 rebounds, 9.6 assists, 0.1 blocks, 2.4 steals, 26.36 PER
Chris Paul has set a vertigo-inducing bar for himself over his years in the Association, and it's a standard he's failed to live up to over his past five games.
Up until a fantastic outing against the Los Angeles Lakers, CP3's shot had just deserted him. Even with that 10-of-18 performance included in the calculation, Paul is shooting only 40.6 percent from the field during those last five contests.
His passing has been on point—when isn't it?—and Paul is still a defensive menace, but without his top-notch scoring, Paul finds himself falling down a bit in this week's set of rankings.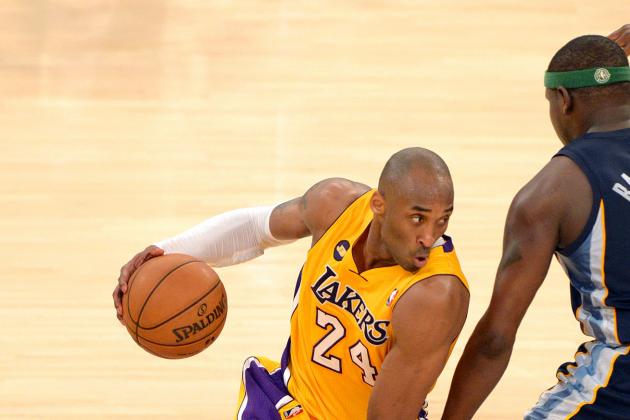 Jake Roth-USA TODAY Sports

Team: Los Angeles Lakers
Position: SG
Age: 34
2012-13 Per-Game Stats: 27.0 points, 5.5 rebounds, 6.1 assists, 0.3 blocks, 1.3 steals, 22.74 PER
Does anyone know what to make of Kobe Bryant right now? Does the Mamba himself understand what his role is with the Los Angeles Lakers during the 2012-13 campaign?
Every so often, we've seen the type of offensive output produced by Kobe completely shift. He'll suddenly convert himself from scorer to facilitator, often without even a little bit of a heads-up.
Over the past five games, Kobe has decided that he's going to pass the ball a lot. The Mamba doesn't deal with small doses. Extremes are just a way of life on the basketball court.
Averaging 9.4 dimes per contest, the 34-year-old shooting guard has been able to compensate for his ineffectiveness when hoisting up shots. He may be averaging 24.2 points per game, but he's only shot 36.8 percent from the field while searching for that missing stroke from the perimeter.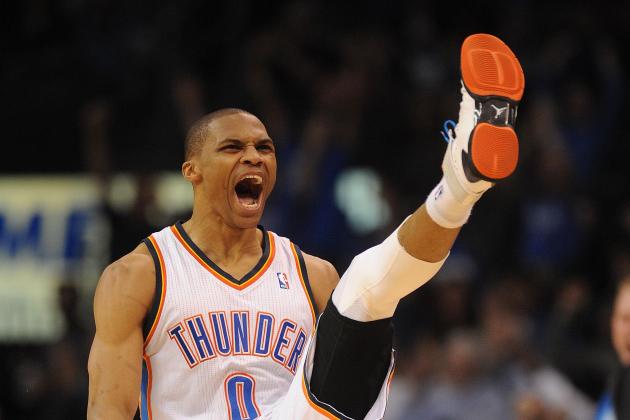 Mark D. Smith-USA TODAY Sports

Team: Oklahoma City Thunder
Position: PG
Age: 24
2012-13 Per-Game Stats: 23.4 points, 5.4 rebounds, 7.6 assists, 0.3 blocks, 1.8 steals, 23.95 PER
I've never understood the level of hate that Russell Westbrook receives on a daily basis. Sure, he might shoot too much sometimes, but he brings so many positives to the table for the Oklahoma City Thunder.
That team would not have enjoyed so much success over the last year if Westbrook wasn't running the show.
Take this tweet from the one and only Skip Bayless:
Westbrook 27 shots yesterday, KD 17. Just not right.

— Skip Bayless (@RealSkipBayless) April 8, 2013
Based on Bayless' body of work, he seems to have a personal vendetta against Westbrook. He's certainly not finding the right time to pick nits here.
In that game, a loss to the New York Knicks, Westbrook shot 15-of-27 from the field, finishing with 37 points, 11 rebounds, eight assists and one turnover. But those 27 shots are definitely far too many.
Right.
This isn't just Bayless speaking, though.
I've seen far too many opinions like his recently, so let me set it straight here: Westbrook is playing utterly fantastic basketball right now.
The Thunder can live with the occasional forced shot, simply because the dynamic point guard creates so much offense by attacking the basket with relentless fury. If Westbrook can keep the turnovers down, as he's done over the past five games by averaging only 2.6 cough-ups per contest, he's just too hard to stop.
Steve Mitchell-USA TODAY Sports

Team: New York Knicks
Position: SF/PF
Age: 28
2012-13 Per-Game Stats: 28.4 points, 6.6 rebounds, 2.5 assists, 0.5 blocks, 0.8 steals, 24.25 PER
I'm going to assume Carmelo Anthony reads what I have to say about him, mostly because he basically just spat in the face of everything I said last week:
It's going to take more than this from Carmelo Anthony if he hopes to return to the top-five spot he once occupied in these rankings.

Melo is still one of the league's best scorers, but he's been relying more on his ability to loft up 30 attempts per game than his actual skill lately. The 28-year-old forward might be averaging 27 points per contest during his last five outings, but he's also shooting a decidedly un-Melo-like 40.5 percent from the field.

He's not making up for this bout of inaccuracy with his free-throw shooting, barely exceeding his seasonal average over the same span, and his three-point shooting has declined as well.

Anthony has rebounded at a high level, but that's not enough to carry him through this tough stretch.
So much for all of that.
Melo has passed Kevin Durant for the lead in the scoring race—and boy is it going to be a competitive race down the stretch—and he's done so with a remarkable level of efficiency.
Since that last blurb was written, the New York Knicks' MVP candidate has put up 50 points on 69.2 percent shooting from the field, 40 points on 63 percent shooting, 41 points on 60.7 percent shooting and 36 points on 51.7 percent shooting.
I said it would take a lot more from Anthony to return to the top five, and I think that counts as a lot more.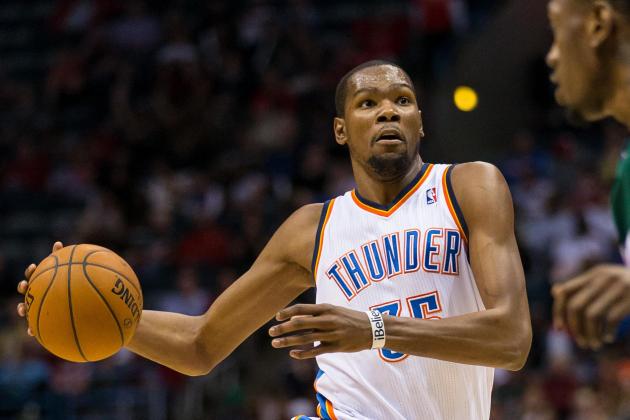 Jeff Hanisch-USA TODAY Sports

Team: Oklahoma City Thunder
Position: SF
Age: 24
2012-13 Per-Game Stats: 28.4 points, 7.9 rebounds, 4.5 assists, 1.3 blocks, 1.4 steals, 27.97 PER
Carmelo Anthony may have taken away Kevin Durant's spot at the top of the scoring leaderboard, but he can't supplant the 24-year-old from the No. 2 spot in these player power rankings.
Melo's week was more impressive than the Durantula's, but not by a large enough margin to make up for the entirety of the previous chasm between the two players.
During the reigning scoring champion's past five games, he's managed to average 30.4 points, 7.2 rebounds, 4.4 assists and 2.0 blocks per game while shooting 55.2 percent from the field, 46.2 percent from downtown and 88.9 percent from the charity stripe.
Those are superstar numbers, and they're enough for Durant to hold down the penultimate spot once more.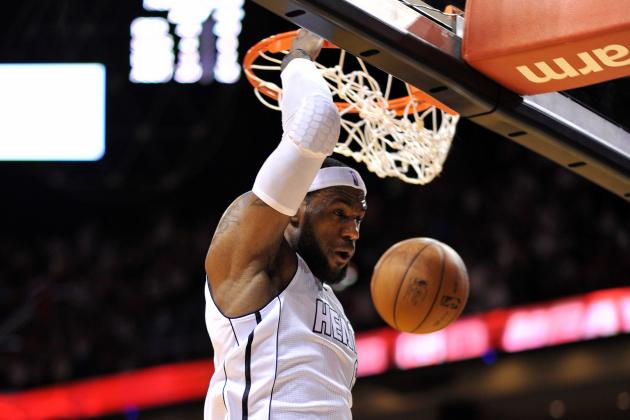 Steve Mitchell-USA TODAY Sports

Team: Miami Heat
Position: SF/PF
Age: 28
2012-13 Per-Game Stats: 26.9 points, 8.1 rebounds, 7.2 assists, 0.9 blocks, 1.7 steals, 31.56 PER
Ho hum. Another week, another No. 1 spot for LeBron James.
Sorry, but I can't just change it up for the sake of variety. It's going to take a lot to supplant James from his perch at the top of these rankings.
Even though he rested for three games in a row to let his sore hamstring heal, the reigning MVP was absolutely sensational during the games bookending that stretch of time spent in a suit.
Against the New Orleans Hornets, LeBron dropped 36 points, four rebounds, six assists and two steals on 13-of-20 shooting. Then, he returned against the Philadelphia 76ers to the tune of 27 points, four rebounds, five assists and a steal on 12-of-17 shooting in just 30 minutes of action.
The latter was enough to raise James' PER from 31.44 to 31.56.
I'm guessing John Hollinger didn't even intend for his stat to ever go that high.