Rising NBA Stars Every Fan Needs to Watch Down the Stretch of the Season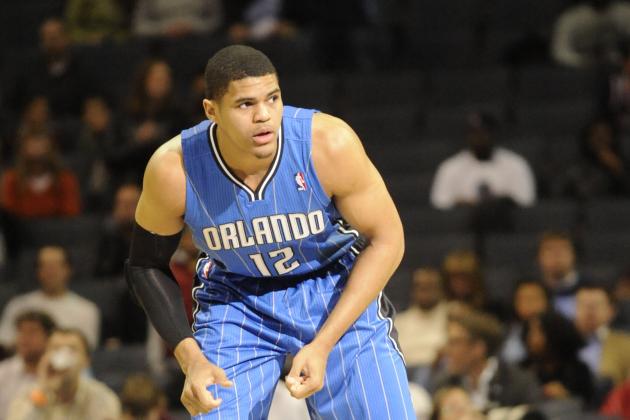 USA TODAY Sports

The NBA isn't all LeBron James, Kobe Bryant and Kevin Durant. And thankfully, it's not all Andris Biedrins and Andrea Bargnani either.
It's something more.
Perennial All-Stars are must-watch athletes, but those who are attempting to follow in their footsteps deserve just as much attention.
Whether we'd like to admit it or not, Kobe isn't going to be around forever. Neither will Tim Duncan. Or Kevin Garnett. Barring medical advancements beyond our imagination, even the god-like LeBron will be forced to hang it up one day.
And when they do, someone's got to take over.
There may never be another LeBron or another Kobe, but that's not the point. The future of the NBA is constantly unfolding and there are currently a convoy's worth of players who are already shaping it.
Who are they and why must we watch them?
With the regular season nearing its conclusion, there's never been a better time to immerse ourselves in the potential faces of tomorrow, today.
*All stats used in this article were compiled from Basketball-Reference, Synergy Sports, 82games.com and NBA.com unless otherwise noted.
Begin Slideshow

»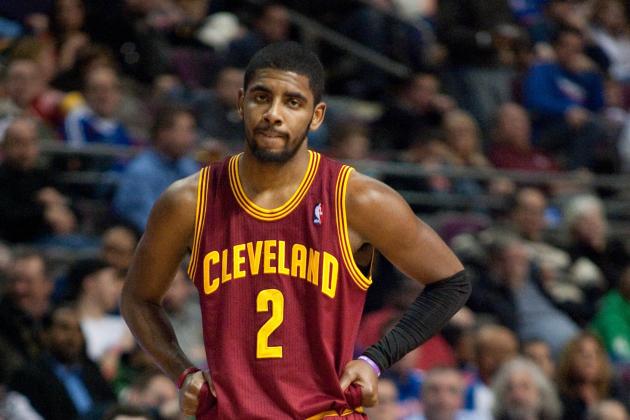 Tim Fuller-USA TODAY Sports

Let's get this out of the way right now.
I want you to watch Kyrie Irving. You should keep your eyes on Serge Ibaka. I implore you to follow along with Jrue Holiday. And Stephen Curry. And James Harden. And Ty Lawson, if he's ever healthy again. And Damian Lillard. Anthony Davis, too.
What I don't want you to do is consider players like them as the true definition of rising stars.
These are the players that have seen the light of an All-Star game or could be considered stars (and superstars) already. They're players you must watch for sure, but they're also players you should already be watching.
In other words, they're a little too obvious.
We want to delve into the league's crevices, and find a handful of the less-than-sexy names that will eventually blossom into some of the most ardent of talents.
Think of this as a shallow gentleman's investment.
You're picking out the girl at back of the classroom, bar or line at Starbucks who's easy on the eyes, but someone you wouldn't approach. Then you're going to approach her anyway and pay her some well-deserved attention, because while she might not be your type, there's hope she'll one day turn into the Scarlett Johansson (or somebody else) of soul mates.
You follow?
Spectacular.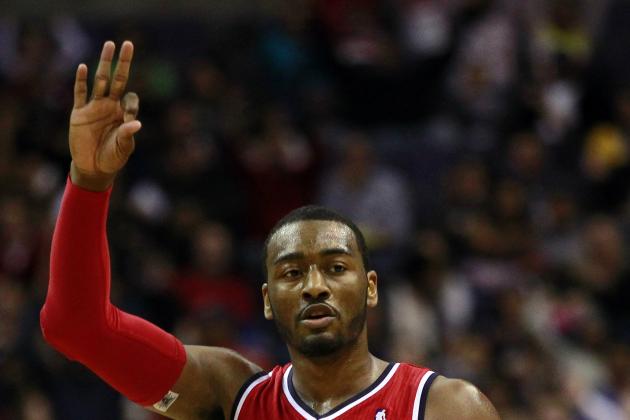 Geoff Burke-USA TODAY Sports

Age: 22
Years Pro: 3
2012-13 Per Game Stats: 17.3 points, 3.8 rebounds, 7.7 assists, 1.4 steals and 0.7 blocks on 44.3 percent shooting
By no means am I implying that John Wall isn't "sexy" by NBA standards, but his name is only beginning to become synonymous with future stardom.
The Washington Wizards began the season at 5-28 but have gone 22-18 since Wall rejoined the rotation. Suddenly, Washington is thinking ninth place in the Eastern Conference this season, and a playoff appearance next year.
Wall himself is shooting a career high from the floor and deep (31.3 percent). He's also on the verge of becoming just the seventh player in NBA history to average 16 points, eight assists and 1.5 steals through his first three seasons combined.
Whether or not Wall is a max contract player is still up for debate, but the numbers are beginning to skew in his favor.
Any game he's in from now until the end of the season is must-see television.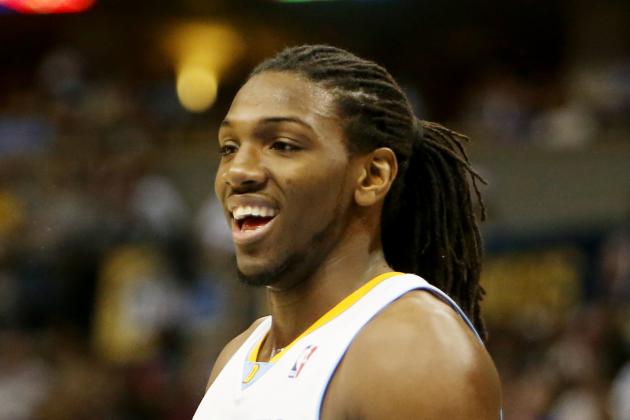 Chris Humphreys-USA TODAY Sports

Age: 23
Years Pro: 2
2012-13 Per Game Stats: 11.7 points, 9.2 rebounds, 1.0 assists, 1.1 steals and 1.0 blocks on 55.1 percent shooting
Faried is having a monster year for the contending Denver Nuggets. His touch outside of nine feet of the basket still needs some work, but he's pure energy from end to end. He's got a monstrous vertical and his composure when playing above the rim rivals anyone's in the league.
Denver's Energizer Bunny currently ranks 11th in offensive rebounds per game and he's one of just 11 players averaging at least 10 points, nine rebounds, one steal and one block per game.
Faried still has a tendency to rely on his athleticism more than his skill, but he's reading rotations better on the defensive end and finding more ways to score outside of putbacks and alley-oops.
Once he develops a sound back-to-the-basket game, we'll be able to remove "rising" from his title.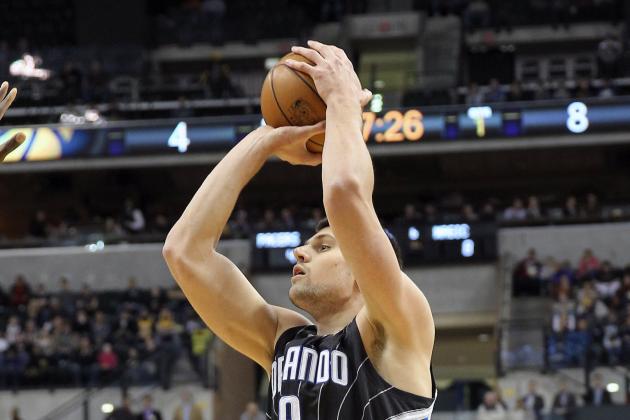 Pat Lovell-USA TODAY Sports

Age: 22
Years Pro: 2
2012-13 Per-Game Stats: 12.5 points, 11.5 rebounds, 1.7 assists, 0.7 steals and 1.0 blocks on 51.4 percent shooting.
Nikola Vucevic isn't Andrew Bynum, and that's a good thing. He's been great for the Orlando Magic while Bynum won't see the floor for the Sixers this season, or maybe ever.
Vucevic is currently just one of 11 players (minimum 40 games) averaging a double-double. Earlier in the year, he became just the 11th player since 1985 to grab at least 25 rebounds in a single game before his 23rd birthday.
Still learning the ropes of post play at the NBA level, he's established himself as one of the most versatile towers in the league.
Pau Gasol-like court vision is how I would describe him on offense. He does a great job at leading his teammates from the top of the key, and an even better job of threading the needle into the paint.
When playing off the ball, Vucevic is all over the place. He follows shots, positions himself for 15-footers and makes incisive cuts toward basket off screens.
It's much of the same story on defense, where he's at his best assuming a free safety-esque role, blocking shots as a help defender.
A certain number of defensive sets do leave much to be desired, though. He's not as physical when defending overall as he is when battling for rebounds. He'll be a far better on-ball defender once he channels the same aggression he uses off it.
Even so, his rapid progression suggests the Magic have found Superman's replacement.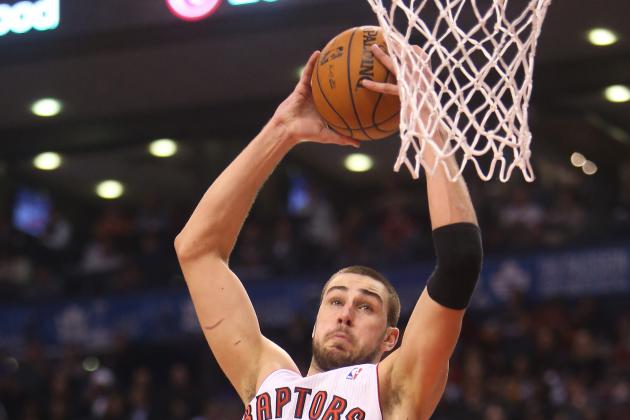 Tom Szczerbowski-USA TODAY Sport

Age: 20
Years Pro: 1
2012-13 Per-Game Stats: 8.3 points, 6.0 rebounds, 0.8 assists, 0.3 steals and 1.2 blocks on 55.6 percent shooting
Andrea Bargnani can cash the Toronto Raptors' checks and assist in vanquishing any of their financial flexibility, but he can't ruin Jonas Valanciunas' ceiling.
The rookie center has played well this season in limited minutes. He's actually one of just seven players putting up at least eight points, six rebounds and one blocked shot in fewer than 25 minutes per game.
Valanciunas has a great handle for someone his size and he's complemented his range on offense with a nice up-fake. He sells them well and gets defenders to leave their feet.
When he gets that clear path to the basket, he's a stronger finisher than most give him credit for. You'll also come to love how he moves off the ball and off screens, finding seams in the defense and creating easy scoring opportunities at the rim.
He still needs be more aggressive when contesting shots and could stand to learn the art of a hard foul, but he's only 20, and his stock his rising.
So long as he remembers to never share pleasantries with Caron Butler while the ball is in his hands, Valanciunas is going to take the Raptors places Bargs never could.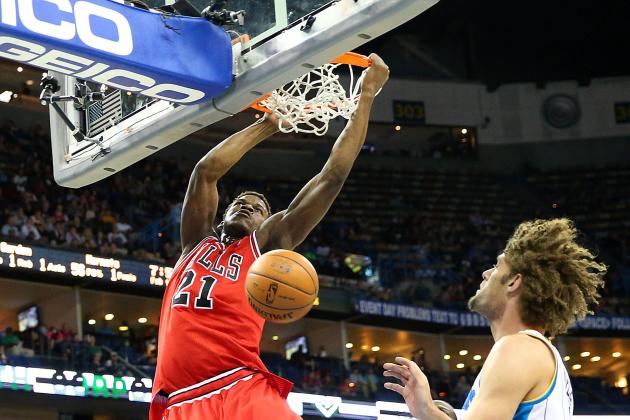 Crystal LoGiudice-USA TODAY Sports

Age: 23
Years Pro: 2
2012-13 Per-Game Stats: 7.8 points, 3.6 rebounds, 1.2 assists, 0.8 steals and 0.3 blocks on 46.3 percent shooting
You could say all the good things in the world about Jimmy Butler and it still wouldn't be enough.
Butler is quickly emerging as one of the most dangerous scorers in transition. He's exceptional at trailing plays before swooping in, cutting the defense and scoring from the strong side.
Personally, though, I'm obsessed with his defense.
Butler has a knack for reading people. He knows when to play the passing lane and when to play the man, and his ability to fight over screens (and recover from the ones that catch him) is more than admirable.
He's an on-ball stopper as well. There are times where he suffocates his opponent, but mostly, he trusts his instincts. He's phenomenal when it comes to breaking down an opponent's footwork and is one of the few in the league who can defend a shift in dribble-directions seamlessly.
Per Synergy Sports (subscription required), Butler is in the top 50 of points allowed per possession (0.78), an astonishing feat for a sophomore.
His jump shot does need some work. He's improved his distance shooting (32.5 percent from deep), but according to hoopdata.com he hits on just 37.9 percent of his field-goal attempts outside of nine feet. He doesn't generate a lot of rotation or arc, something he'll need correct to become a balanced offensive threat.
Should he continue to progress at his current rate, however, everything we're seeing from him now is just the beginning.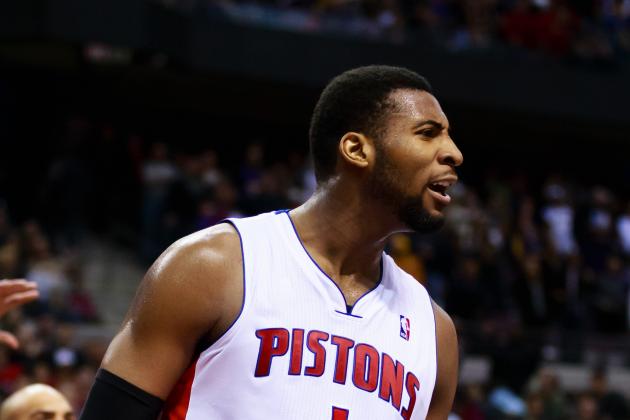 Rick Osentoski-USA TODAY Sports

Age: 19
Years Pro: 1
2012-13 Per-Game Stats: 7.5 points, 7.5 rebounds, 0.5 assists, 0.9 steals and 1.6 blocks on 59.5 percent shooting
Some risks are worth taking, and Andre Drummond has proved to be one of those risks.
While the rookie's per-game stats don't force your jaw to touch the floor, they come in just over 19 minutes of action. Extrapolated, they come out to 13.9 points, 13.7 rebounds and three blocks per 36 minutes.
You know who else is putting up those kinds of numbers per 36 minutes?
No one.
Drummond has great hands for a center. I'm not just talking blocks, but perimeter defense. His lateral quickness exceeds that of most bigs. Just ask Dwyane Wade.
He's great at boxing out and following shots, and his athletic levels rival that of anyone ever (I'm not even kidding).
Next to Greg Monroe, you'd like to see the Detroit Pistons star develop an off-the-dribble game. Drummond would be even more threatening as someone who can create for himself, and also as a willing passer. Again, see Monroe.
Free-throw shooting is an issue as well. Like, a big one. Converting on 34.7 percent of essential freebies is inexcusable.
Still, Drummond is equipped with all (okay, most) of the tools necessary to be star.
We've been gifted the opportunity to see him return from his back injuries. Let's not waste it.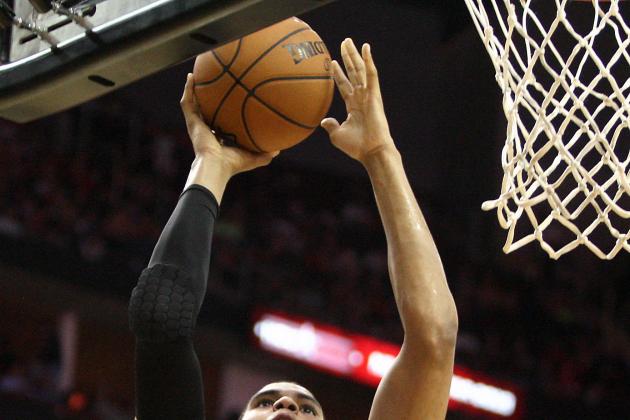 Troy Taormina-USA TODAY Sports

Age: 20
Years Pro: 2
2012-13 Per-Game Stats: 9.6 points, 4.6 rebounds, 1.0 assist, 0.5 steals and 0.8 blocks on 45.6 percent shooting
Getting the hell out of Milwaukee was the best thing that ever happened to Tobias Harris.
Since joining the Magic, Harris is averaging 16.4 points, 8.2 rebounds and 1.5 blocks per game. I kid you not.
Now, I know it's been just 20 games, but if Harris had the opportunity to sustain those averages over the course of the entire season, he would join Dwight Howard, Tim Duncan and Josh Smith as the only players to be averaging at least 15 points, eight rebounds and 1.5 blocks per game.
After watching him, I'm inclined to believe he could hold such a pace with a team like Orlando that gives him 34-plus minutes a night.
Harris is a great help defender. He executes off rotations well and the timing behind his contested shots is impeccable. He's great at recovering in transition as well.
Something to watch for on offense is Harris' dexterity. He plays a nice back-to-the-basket game, but most notably, he's extremely comfortable moving from right to left.
So many defenders force players to the weak side, especially when they shoot right like Harris. That he's able to attack the basket off the dribble and in post-up sets from either direction is a desirable quality.
Presently, I've got Harris as somewhat of a tweener. He plays so well in the post he could easily be considered a power forward, but he handles the ball (and is built) like a wing.
Should he improve upon his accuracy from the perimeter (39.1 percent outside of nine feet), he has the potential to turn into one of the league's most dominant stretch forwards.