How Will This Season Affect Legacies of Each LA Lakers' Star?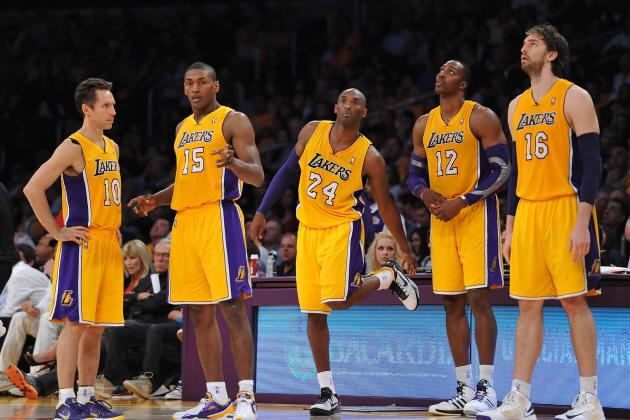 Jayne Kamin-Oncea-USA TODAY Sports
Will this season make or break the Lakers' all-stars?
Part of what defines a great athlete is the legacy he leaves behind. A player's legacy defines what he contributed during his time as an active competitor; his wins, his losses, his injuries and the like.
Now, take this example and apply it to the five stars of the 2012-13 Los Angeles Lakers. Each player has either already established a legacy of their own, or has one that is currently in progress. Needless to say, each Lakers star has his own reputation; the modest assist leader, the foreign powerhouse, the most outrageous bad boy in basketball not named Dennis Rodman, the real-life version of Superman and of course, one of the greatest to ever play the game.
With the ups and downs this season has given the Lakers, each of these great talents will have something to take from it all. But the question is, what exactly will that something be?
Begin Slideshow

»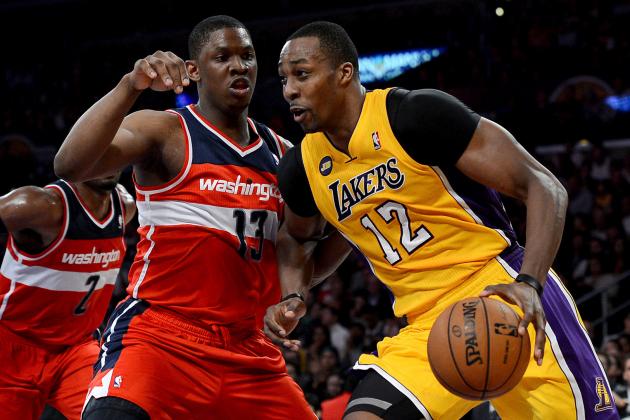 Jayne Kamin-Oncea-USA TODAY Spor

Dwight Howard has undeniably been the man with the most to live up to since coming to LA. All the hype the all-star center has had to endure since first donning the purple and gold is enough to overwhelm any mere mortal.
However, not only has Howard met the expectations placed before him, he's exceeded them. Howard can be defined as a late bloomer with regard to adapting to Lakers basketball, but once he became truly acclimated with the Lakers' style of playing, he immediately took off faster than any bird or plane that his moniker is so commonly associated with.
This season stands as a proving ground for the 27-year-old; now that he's surrounded with high-caliber players that can teach him a thing or two, will he thrive under the pressure, or will he crumble? Thankfully, D12 has easily been able to hang with the big boys.
But one must pose the question: will his offseason decision-making add on to his already-growing legacy? Howard is the only star on the Lakers' roster with everything to prove to everyone at any time. By staying with the Lakers, he could join George Mikan, Wilt Chamberlain, Kareem Abdul-Jabbar and Shaquille O'Neal as one of the best centers to ever have the honor and privilege of cementing his name as a true Laker legend. If he leaves, he starts from scratch. Once again, he'll have to prove his worth in another market.
Ultimately, the ball is in his court (no pun intended).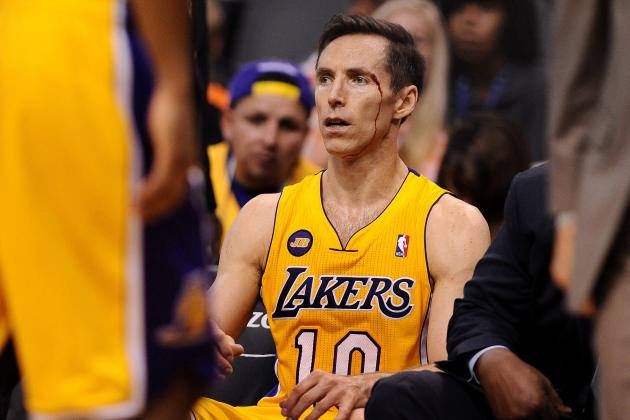 Jennifer Stewart-USA TODAY Sports

One word can define Steve Nash's career in a nutshell: workhorse. No teammate has ever complained about Nash in any way, shape or form; Nash has always been the quintessential go-to guy, whether it's in Dallas, Phoenix or in the City of Angels.
Nash's legacy is that of the guy you'd love to play with, but hate to play against.This season has proven no different. He has been the overall facilitator and always appears to be the cooler head even when his squad is at its worst, and believe me, we've seen plenty of that this year.
Despite showing signs of aging by having his share of injuries this year, Nash has managed to do what he does best: stay consistent. He's been consistent as an assists leader, as a scorer and as a leader. All this season will do to his legacy is further prove that he can succeed anywhere he goes simply on his drive and talent alone.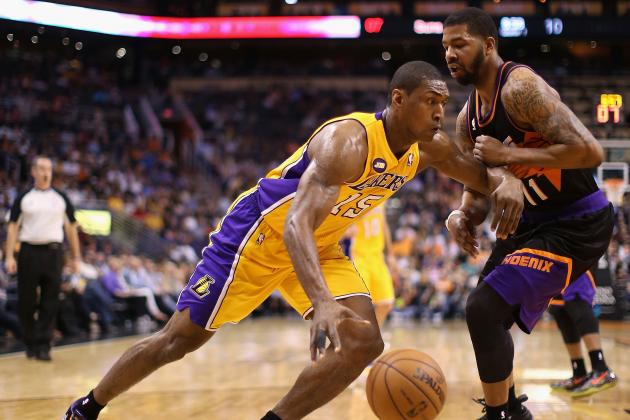 Christian Petersen/Getty Images

Metta World Peace's Lakers career can simply be known as the evolution of Ron Artest. Many were skeptical upon his arrival and were unsure as to which player would come to LA; it would either be the powerful, imposing, hard-hitting power forward that has proven his worth everywhere he went, or it would be the bad boy who provided more detriment than support.
World Peace's legacy in LA has been the best of both worlds. No longer the brash young upstart he once was when he broke Michael Jordan's ribs in Chicago 12 years ago, MWP is finally showing some legitimate maturation, both as an athlete and as a person.
While he's had his share of on-court incidents (e.g. elbowing James Harden in the face so hard, it apparently sent him down south to Houston), World Peace has demonstrated that he can truly be a team player when the occasion presents itself.
This season has just added to MWP's legacy of outrageous behavior and assertive ballplaying. Before it's all over, World Peace can easily make a case to have No. 15 hanging from the rafters someday.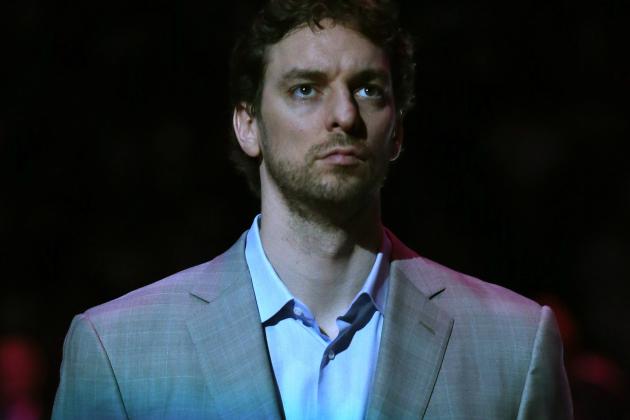 Stephen Dunn/Getty Images

Pau Gasol may easily be the only star on this list who may see negative repercussions to his legacy as a result of this season. This season has just been a series of no-win situations for the former all-star and two-time NBA champion; he's been prone to injury all season long, and when he's healthy, he's putting up subpar numbers and a lack of contribution to the team.
No one likes being the center of trade rumors, and no one knows this better this season than Gasol. This season has raised more questions than answers with regard to his performance and his worth to the Lakers' roster. Doubts are beginning to swirl as to whether or not the once-proud Spanish juggernaut is now damaged goods.
Nonetheless, it will not be this season that defines Gasol's career, but the one that follows it. Everyone loves a good comeback story, and it's up to Gasol to make sure his story is a memorable one.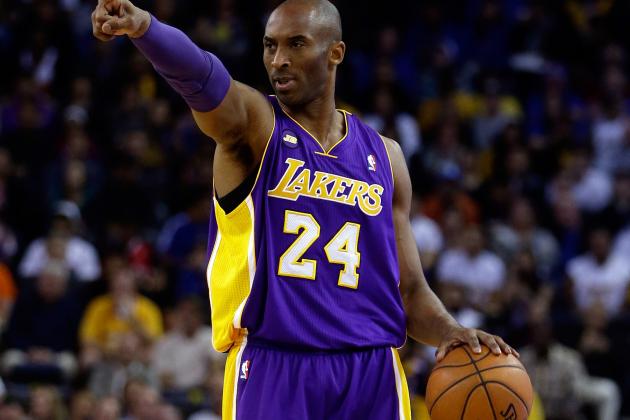 Ezra Shaw/Getty Images

Of course, we save the best for last. For the Black Mamba, this season began what many are speculating to be the Kobe Bryant Retirement Tour; a two-to-three-year long cross-country tour in which we will have one last chance to see Vino at his best.
This season has further cemented Bryant's legacy as everything he's known to be: the leader, the clutch specialist, the human highlight reel, the greatest. Even when his team was at its worst, Bryant was at his best.
It would be easy (and albeit tedious) to do nothing but highlight Bryant's statistics throughout the years and see where they line up with this season, but it would be easier to say that 2012-13 has just been another case of Kobe being Kobe.
Has this been a banner year in the legacy of the future hall-of-famer? Probably not, but it has certainly shown as that even when, in the words of Rick Derringer's "Real American," it comes crashing down and it burns inside, we can always count on Kobe.