NBA Homecoming Ideas More Ridiculous Than LeBron James to Cleveland Cavaliers
Jason Miller/Getty Images
A few short years ago, the thought of LeBron James returning to the Cleveland Cavaliers was one of the most ridiculous things imaginable.
I mean, this is the same guy who scorned his hometown on national television, using a much-maligned broadcast of "The Decision" to officially tell the Cleveland faithful that he'd be taking his talents to South Beach.
However, it would seem that the Miami Heat star could do just that, going back home as early as 2014.
As reported by journalists like ESPN's Chris Broussard, it looks like the wheels could be in motion to bring "The Chosen One" back to Cleveland.
LeBron James is not the only NBA star who has spurned his former team, far from it in fact.
The Association is full of guys who have left their "home" to chase money, championships or even just to get away from a bad situation.
Which means that while the thought of LeBron going back to the Cavs is crazy, there are quite a few other players whose return "home" would be as outrageous, if not more so.
Carlos Boozer to the Cleveland Cavaliers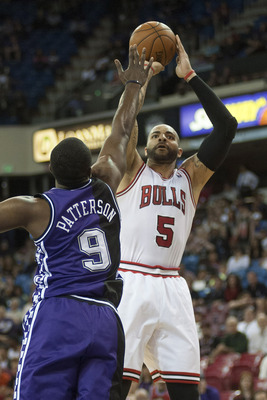 Ed Szczepanski-USA TODAY Sports
As hard as it was for Cleveland Cavaliers fans to deal with LeBron James leaving for the Miami Heat, the pure deception of Carlos Boozer might've been worse for the organization.
Hate "The Decision" all you want, but at least LeBron didn't tell the team he would re-sign a multi-year deal if they let him out of his current contract, only to break that promise and sign with another team for more money.
However, that's exactly what Carlos Boozer did to Cleveland in 2005, turning his back on an organization that had shown him loyalty, and slapping the Cavs fans in the face during the process.
Plus, his decision to leave LeBron with nothing in Cleveland could've helped to contribute to LBJ's move to Miami for a better chance at winning a championship.
All in all, Boozer's departure was a nasty one that hurt the franchise for many years after it happened.
Ray Allen to the Boston Celtics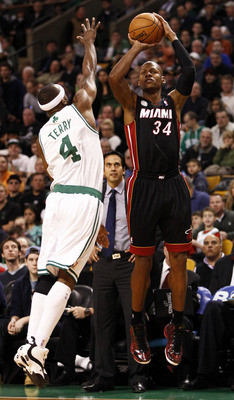 USA TODAY Sports
Ray Allen wasn't drafted by the Boston Celtics, but it was the place where he finally won a championship.
However, during his final season in Boston, the veteran 3-point specialist didn't feel appreciated by his coach and wasn't a fan of seeing his name constantly show up in trade talks.
This ultimately led to Allen signing a deal with the Miami Heat this past offseason, making him an immediate villain at the TD Garden.
If Allen had signed with any other team, it wouldn't have been that big of a deal, but the Miami Heat are the Boston Celtics' biggest rivals over the last few years, and this just further magnified it.
Because of that, it's hard to see Allen ever going back to the other side of this intense rivalry.
Carmelo Anthony to the Denver Nuggets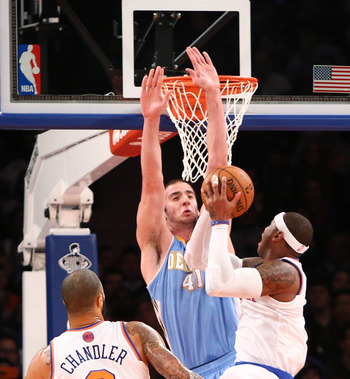 Debby Wong-USA TODAY Sports
Carmelo Anthony is just one in a long line of superstars to request and get a trade from the team that drafted him.
However, as pointed out by this article by Bleacher Report's own Dan Favale, this trade forever changed how team's deal with disgruntled stars.
You see, Melo never wanted to suit up for the Denver Nuggets in his final season with the team, refusing to sign an extension in hopes of going to a bigger market and playing with better players.
This is generally where the organization has to sell low on their superstar, taking whatever they can get. The Nuggets didn't do that, staying patient and only trading Anthony when they absolutely had to.
That move ended up helping the team and paved the way for other teams to take a somewhat similar approach with players like Chris Paul and Dwight Howard.
In the end, the team is better off without Melo, using a star-less, team-orientated approach to becoming a contender, and probably wouldn't take him back, even if he asked nicely.
Plus, there's the obvious problem that fans are going to hate any guy who leaves them for a "sexy" location like New York City.
Metta World Peace to the Indiana Pacers
Jayne Kamin-Oncea-USA TODAY Spor
Metta World Peace's time with the Indiana Pacers is always going to be remembered for one thing, his part in the now infamous "Malice at the Palace"
The brawl MWP helped instigate between the Pacers and the Detroit Pistons was one of the NBA's darkest moments, and World Peace was suspended for 86 games for his involvement, the longest ever handed down for an on-court incident.
Following his suspension, MWP would request a trade from the team, creating a rift between the player and his teammates, as well as the organization.
Because of that, there's absolutely no chance that the man formerly known as Ron Artest could ever find himself back in a Pacers' uniform.
Dwight Howard to the Orlando Magic
Douglas Jones-USA TODAY Sports
We end this list with Dwight Howard, the player whose situation parallels LeBron James' the most.
Much like LeBron, Howard left a fanbase that viewed him as their hero, going from one of the most likeable guys in the NBA to one of the most hated overnight.
He left his smaller market team for one of the league's biggest, throwing his lot in with a championship contender littered with other superstars.
In fact, the only real difference between and James and Howard's situations is that LeBron left in free agency, while Dwight forced the Magic to trade him this past offseason to the Los Angeles Lakers.
Howard completely alienated his countless fans from the Orlando team that drafted and helped develop him.
For that, there's almost no chance that Dwight will ever find himself back in Orlando outside of the visiting locker room.
Keep Reading