Ranking the Most Unguardable Players in the NBA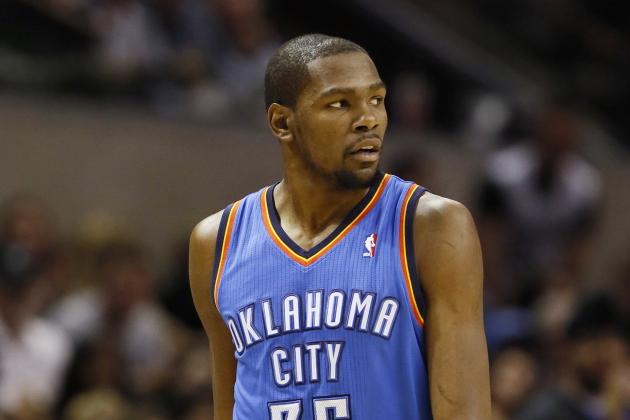 USA TODAY Sports
Oklahoma City Thunder's Kevin Durant
The most unguardable players in the NBA form an exclusive list.
It is reserved for only those players who simply cannot be defended in a one-on-one situation.
Furthermore, it is reserved for those who have consistently demonstrated their inability to be defended over the last handful of seasons.
At some point soon, expect players like James Harden and Kyrie Irving to join this group. At the moment, however, they were omitted only for reasons of longevity.
Additionally, Derrick Rose would've been included if not for the injury that's kept him sidelined in 2012-13.
Begin Slideshow

»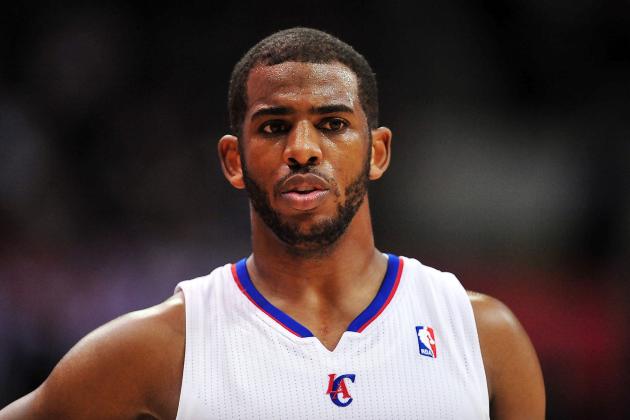 Gary A. Vasquez-USA TODAY Sports
Los Angeles Clippers' Chris Paul
We sometimes think of Chris Paul more as the NBA's best point guard and less as an unguardable player.
The truth is, however, he's both.
On the strength of 16.6 points and 9.6 assists in 2012-13, CP3 accounts for roughly 36 percent of the Los Angeles Clippers' total offense on a nightly basis.
The speed with which Paul changes directions with the basketball in his hands is unrivaled, and he finishes as well as any guard in the league at the rim.
More importantly for Clippers fans, however—once the postseason begins—Paul has demonstrated the ability to take games over from a scoring standpoint when that's what's required.
In 34 playoff games for his career, Paul has improved his scoring average to 20.5 points—up from 18.6 during the regular season. He will be the biggest reason why the Clippers could make a serious run at the Western title in June.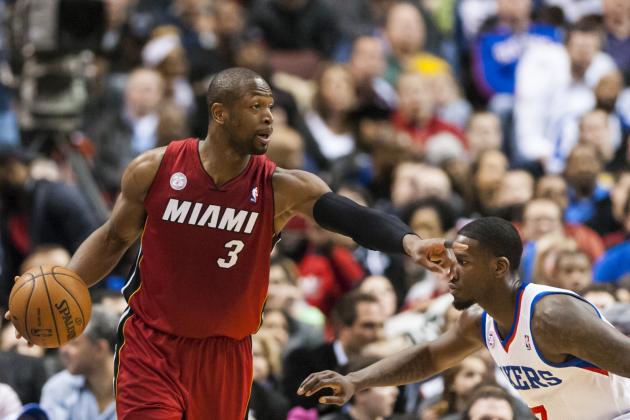 USA TODAY Sports
Miami Heat's Dwyane Wade
Dwyane Wade does not play with the same explosiveness he did five years ago, but he still cannot be defended with one person.
As a 31-year-old shooting guard in his 10th NBA season, Wade has posted the highest field-goal percentage of his career at 52.3 percent from the floor in 2012-13.
The 21.8 points he's efficiently averaged in the process currently ranks Wade ninth in the league in scoring. He also navigates his way through double-teams while shooting 75 percent on 6.1 attempts per game at the rim, according to Hoopdata.com.
All of that combined with Wade's superstar teammates has helped the Miami Heat ride a 20-game winning streak through Wednesday.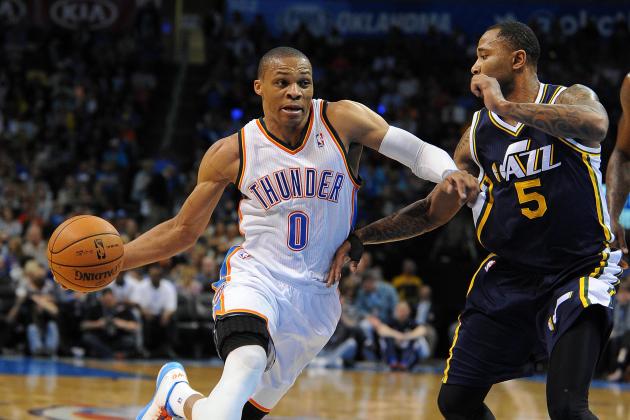 Mark D. Smith-USA TODAY Sports
Oklahoma City Thunder's Russell Westbrook
When Russell Westbrook decides to attack the basket, the only option his defenders really have is to stand there and watch.
Westbrook's rare combination of explosive speed and overwhelming strength makes it impossible to do anything else.
In his fifth NBA season, he has used that unique athleticism to average 23.2 points and 7.6 assists for the Oklahoma City Thunder.
He combines with teammate Kevin Durant to form the highest-scoring duo in the league, while also helping to lead the Thunder to the No. 2 seed in the Western Conference through Wednesday.
While only posting 33.8 percent shooting from behind the arc (a career best), Westbrook makes up for any shooting deficiencies he has by his ability to get to the rim from anywhere.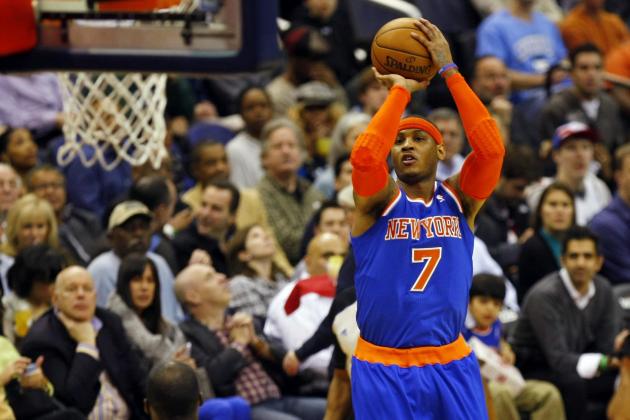 Geoff Burke-USA TODAY Sports
New York Knicks' Carmelo Anthony
Carmelo Anthony is the best isolation player in the game today.
In a one-on-one situation, Anthony's ability to beat his defender in multiple ways has made him impossible to defend.
Whether Anthony faces the basket with the ball in his hands or works out of a post-up position, opponents require a double-team to have any hope of slowing him down.
The 27.5 points he's averaged in 2012-13 has him tied for second in the league through Wednesday.
While he's not at the pace from behind the arc he was to start the season, Anthony has shot 37.5 percent from three-point range, the second-best rate of his career.
He has helped lead the New York Knicks to the No. 3 seed in the Eastern Conference. They will advance only as far as Anthony will take them in the postseason.
However, Anthony left last night's game against the Denver Nuggets in the third quarter with a sore right knee after missing time recently for the same reason.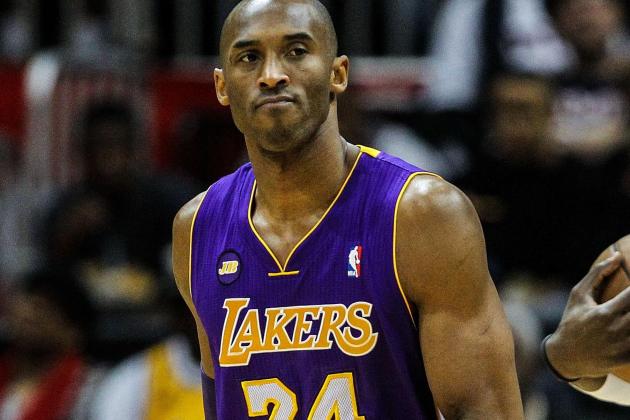 Daniel Shirey-USA TODAY Sports
Los Angeles Lakers' Kobe Bryant
Kobe Bryant has played in all 66 games for the Los Angeles Lakers in 2012-13, but that streak may end due to a left ankle sprain he suffered with 3.9 seconds remaining in Wednesday's loss to the Atlanta Hawks.
At 34 years old, as teammates Steve Nash and Pau Gasol sat injured for much of the season—and Dwight Howard adjusted to life in Los Angeles—Bryant's overwhelming competitiveness willed the Lakers into playoff contention.
Even though he was alone as the Lakers' primary scoring option most nights, he managed to tie a career-best field-goal percentage of 46.9 percent in his 17th NBA campaign.
Bryant is also currently tied with Carmelo Anthony as the second-leading scorer in the league at 27.5 points through Wednesday.
Unfortunately for Lakers fans—after watching Bryant carry his team with his unguardable play—he is now out indefinitely, according to Mike Bresnahan of the Los Angeles Times.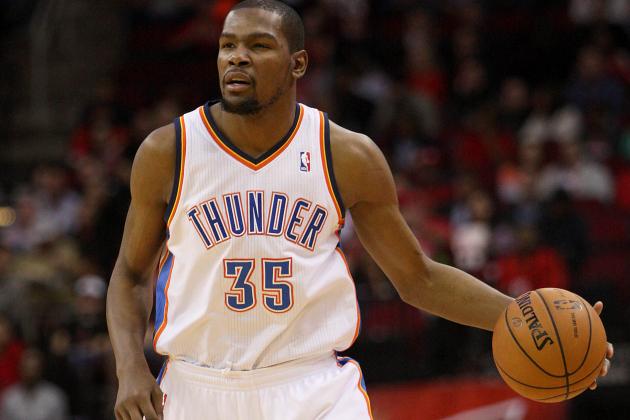 Troy Taormina-USA TODAY Sports
Oklahoma City Thunder's Kevin Durant
Kevin Durant is a bigger, faster, stronger version of Larry Bird.
Averaging 28.3 points per night, Durant leads the NBA in scoring for the fourth straight time this season.
In doing so, he's also entered the exclusive 50-40-90 club by shooting 50.5 percent from the field, 41.5 percent from three and 90.9 percent from the free-throw line through Wednesday.
If not for a player down in Miami, Durant would be the obvious choice for league MVP.
He has finished at the rim with an added emphasis in 2012-13 as well and has his Oklahoma City Thunder squad in a position to repeat as Western Conference champions.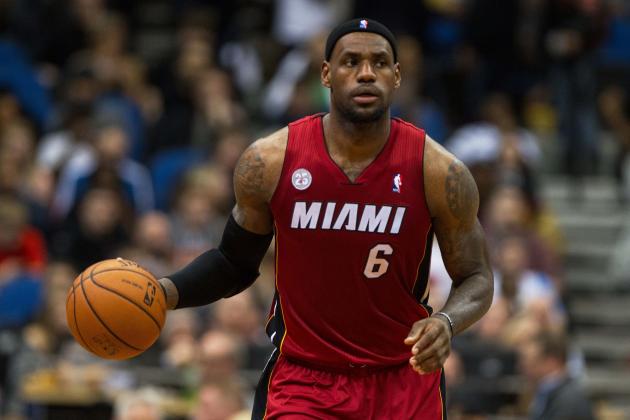 Brace Hemmelgarn-USA TODAY Sports
Miami Heat's LeBron James
There is not one player in the NBA who can defend LeBron James alone.
Highlighted by the 64.1 percent shooting pace he used during the month of February to average 29.7 points, James is once again the league's most dominating force.
Converting 79.2 percent of his field-goal attempts at the rim, according to Hoopdata.com, along with a career-best 39.7 percent from three-point range, he beats defenses from all over the court.
When double-teams are sent in his direction, James then finds teammates for scoring opportunities by dishing out 7.1 assists to go along with the 26.5 points he's averaged through Wednesday.
The reigning MVP is a lock for that award again this year, and his team has now won 20 straight games as a result while assembling the NBA's best record at 49-14.