Comparing LeBron James' Historic February with NBA's Best Monthly Stretches Ever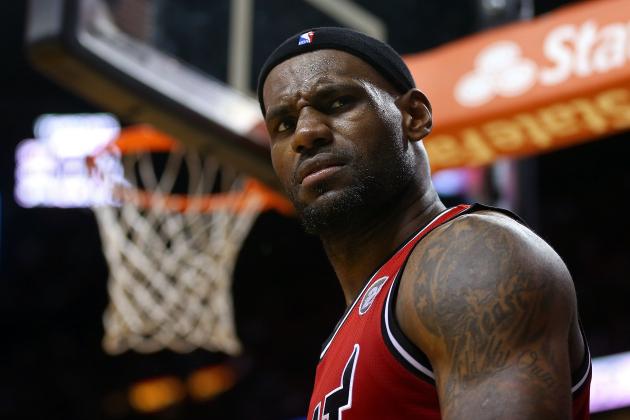 Mike Ehrmann/Getty Images

No player in the NBA will miss February quite as much as LeBron James figures to.
The three-time MVP had himself a calendar month for the ages. According to the Elias Sports Bureau (via ESPN's Tom Haberstroh), James became the first person to shoot better than 64 percent from the field (on at least 200 attempts) over an entire month since Kareem Abdul-Jabbar pulled it off in March of 1983.
And the Captain's 23.5 point-per-game average in that span pales in comparison to the 29.7 points LeBron put up, albeit during the shortest month of the year. Best of all for LeBron, his efforts sparked the Miami Heat to a 12-game winning streak—the longest in the NBA during the 2012-13 season—and a month in which they lost just once.
That's all well and good for the best player on planet Earth, but where does LeBron's February rank among the most impressive individual calendar months of all time? Figuring that out is no easy task.
The NBA didn't start keeping track of blocks and steals until 1973, and the three-point shot was introduced six years later. Throw in the scarcity of game-to-game box scores and monthly splits prior to the mid-1980s, and measuring LeBron's brilliance against the likes of Bill Russell, Oscar Robertson, Wilt Chamberlain, Julius Erving and the earlier work of Kareem, Magic Johnson and Larry Bird becomes a nearly impossible task.
For the purposes of this discussion, then, we'll focus on placing James' February within the context of the "modern" NBA. More specifically, we'll use the 1985-86 season as a cutoff, since that's the earliest campaign for which Basketball Reference has complete statistical breakdowns by game and by month.
Moreover, to give you a sense of how LeBron's (apparent) pinnacle compares to those of the all-time greats, we'll limit each player to no more than one entry onto this particular list. Sorry, Michael Jordan.
Don't worry, though. That didn't make narrowing down LeBron's competition to a workable and worthwhile field easy by any means. Here's a starter's list of the best individual months the NBA has seen since the mid-1980s.
Can you guess where LeBron's will rank?
Begin Slideshow

»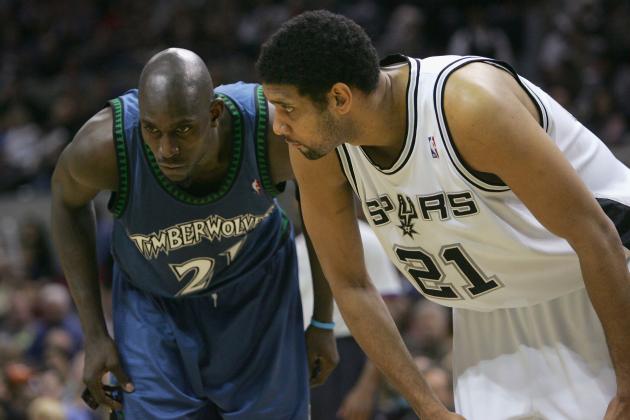 Ronald Martinez/Getty Images

In the interest of inclusion, here are a few of the finer months on record that didn't quite make the cut.
Charles Barkley, November 1988: 28.3 points, 13.1 rebounds, 2.9 assists, 1.9 steals, one block, 63 percent shooting from the field, 12.3 free-throw attempts per game, a 10-5 record with the Philadelphia 76ers
Tim Duncan, December 2001: 26.7 points, 13.1 rebounds, 3.6 assists, 3.1 blocks, 51.7 percent shooting from the field, 8.9 free-throw attempts per game, an 11-3 record with the San Antonio Spurs
Kevin Garnett, February 2003: 27.7 points, 13.9 rebounds, 5.8 assists, 1.3 steals, 1.5 blocks, 56.6 percent shooting from the field, 7.2 free-throw attempts per game, a 12-1 record with the Minnesota Timberwolves
33.8 points, 12.3 rebounds, 4.0 assists, 2.1 blocks, 59.0 percent shooting from the field, 9.9 free-throw attempts per game, a 15-1 record with the Los Angeles Lakers
Shaq all but secured his first and only NBA MVP with one of the most dominant months of scoring turned in by a center since the salad days of Wilt Chamberlain and Bill Russell.
The Big Diesel turned in five games of 40 points or more, including a career-high 61 points against the Los Angeles Clippers on March 6, 2000—on his 28th birthday, no less.
That game also saw O'Neal rip down 23 rebounds for what would be the fourth of 13 double-doubles during that month. The Lakers rode Shaq's destructive play all the way to the first of three straight titles later that spring.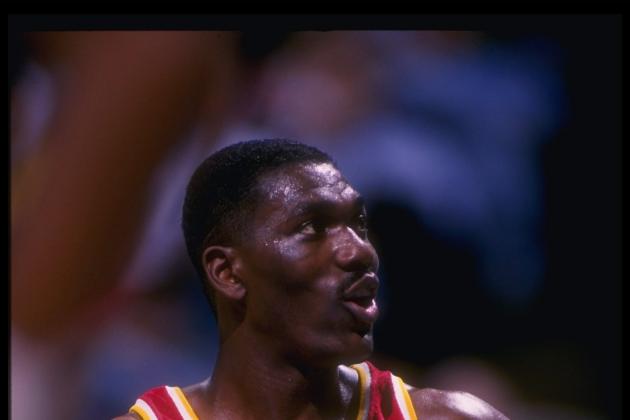 Layne Murdoch/Getty Images

30.8 points, 13.4 rebounds, 4.0 assists, 2.6 steals, 4.5 blocks. 54.5 percent shooting from the field, 8.5 free-throw attempts per game, an 11-2 record with the Houston Rockets
Like so many NBA greats, Hakeem did some of his best regular-season work in the run-up to the playoffs. Such was the case in 1993, when The Dream used a short April to leave no doubt as to his primacy in the race for the Defensive Player of the Year Award.
In just 13 games, Olajuwon turned in 12 double-doubles, 10 performances with multiple steals and nine others in which he tallied at least four blocks. Not that Hakeem was taking it easy on the offensive end. He topped the 30-point mark six times and chipped in five games with a minimum of five assists.
The Dream's dreams of capturing his first NBA title were crushed by the Seattle SuperSonics over the course of an intense seven-game series. He and the Rockets would rebound to win the first of their two titles the following season.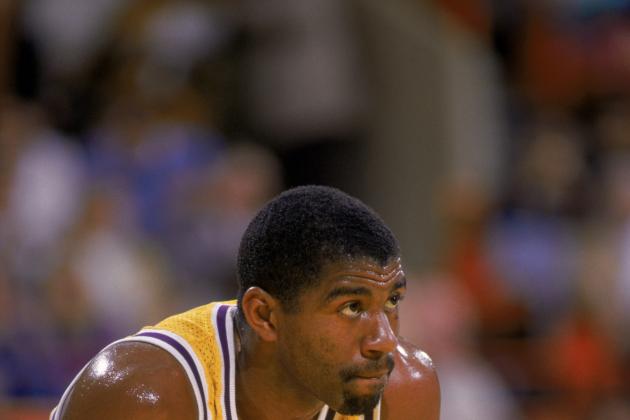 Mike Powell/Getty Images

21.7 points, 6.8 rebounds, 14.6 assists, 1.8 steals, 58.9 percent shooting from the field, 6.7 free-throw attempts per game, a 13-1 record with the Lakers
The 1986-87 season might as well count as one big highlight in the life and times of Magic Johnson. That campaign saw Magic claim the first of his three MVPs before guiding the Lakers to another NBA Finals victory over the Boston Celtics.
But in no single month was Magic's preeminence among point guards all time on greater display than during March of 1987. Johnson tallied double-digit assists in every game but one—a loss to the Phoenix Suns on March 24 in which he played just four minutes.
Magic finished that month with nine occasions of 15 assists or more, including three games with 19 helpers and one with 20. Johnson's three triple-doubles weren't half-bad either.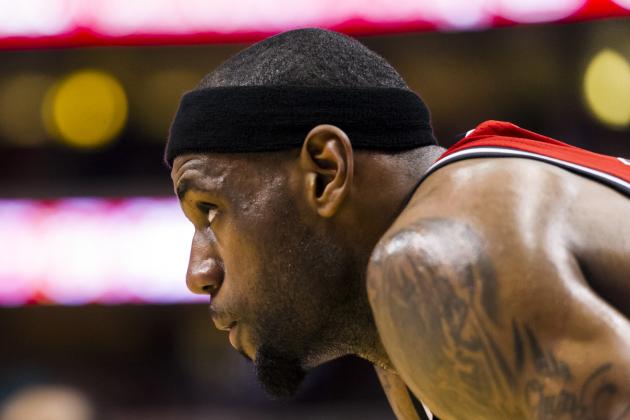 USA TODAY Sports

29.7 points, 7.5 rebounds, 7.8 assists, 1.8 steals, 64.1 percent shooting from the field, 43.2 percent from three, 8.5 free-throw attempts per game, a 12-1 record with the Miami Heat
Yeah, so LeBron was pretty great in February, wasn't he? The hoopla began when James shot 13-of-14 from the field against the Charlotte Bobcats to kick off a one-of-a-kind streak of six games with 30 or more points on 60-plus percent shooting.
James kept up his spectacular play even after that historic run came to an official close.
He tallied a triple-double in just 31:30 of playing time against the Sixers on Feb. 23. LeBron then closed out the month with a game for the ages—a season-high 40 points, a career-high 16 assists, eight rebounds, two steals and a block during a double-overtime win against the Sacramento Kings.
Good luck to Kevin Durant, Chris Paul and Tony Parker in their quest to keep LeBron from snagging his fourth MVP trophy in five seasons. They'll need it.
43.5 points, 5.6 rebounds, 4.1 assists, 1.8 steals, 47 percent shooting from the field, 39.7 percent from three, 89.7 percent on free throws, 13.4 free-throw attempts per game, a 9-4 record with the Lakers
"Epic" doesn't even begin to describe the proportions of Kobe Bryant's scoring in January of 2006. He kicked off the month with four straight games of at least 40 points, including a 50-point, eight-rebound, eight-assist virtuoso against the Clippers, who turned out to be a respectable playoff team that season.
That was just the beginning for the Black Mamba. He finished that January with seven games of 40 points or more, three of which saw Kobe tally no fewer than 50.
And one, in particular—an 81-point explosion against the Toronto Raptors in which he shot 28-of-46 from the field and 18-of-20 from the charity stripe—turned Kobe into a mythical hero of basketball lore.
You might slight Kobe's prodigious scoring by saying that he was "selfish" for jacking up nearly 30 shots per game during a calendar month. But if you were in Kobe's shoes—sharing the floor with the likes of Smush Parker, Kwame Brown and Chris Mihm—wouldn't you have taken it upon yourself to score as much as possible too?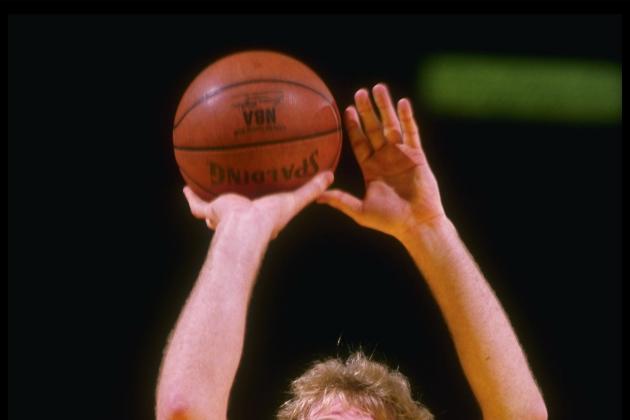 Getty Images/Getty Images

30.1 points, 9.1 rebounds, 6.5 assists, 1.7 steals, 56 percent shooting from the field, 54.2 percent from three, 90.1 percent from the free-throw line, a 12-2 record with the Boston Celtics
It says a lot about the string of games Larry Bird put together in March of 1986 that his performance the previous month, during which he tallied six triple-doubles, didn't come in as the cream of the crop for the Hick From French Lick.
Don't get me wrong: A line of 27.4 points, 12.9 rebounds and 8.1 assists (in February of 1986) would make even LeBron blush. But Larry Legend's legacy as one of the greatest shooters of all time truly came to life in March.
One stretch, in particular, saw Bird hit 68.8 percent of his shots (and 75.9 percent of his threes!) over a five-game span, including one game in which he nailed 12-of-13 attempts against the San Antonio Spurs.
Interestingly enough, none of Bird's 10 triple-doubles from that MVP season of his came during the month of March, though with the way he was shooting, can you blame him for not stuffing the stat sheet quite as much?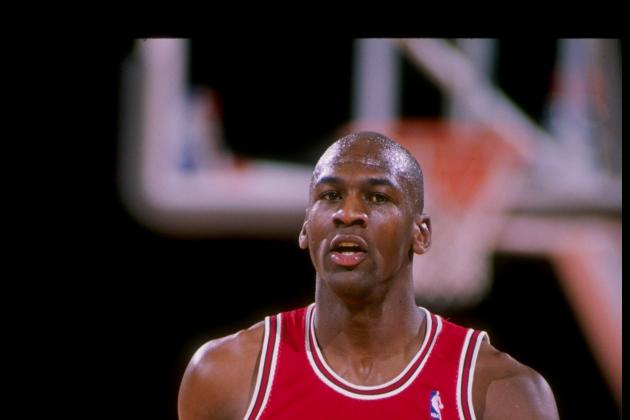 Tim DeFrisco/Getty Images

32.7 points, 9.4 rebounds, 9.3 assists, 2.3 steals, 1.1 blocks, 50 percent shooting from the field, 88.9 percent from the free-throw line, 11.3 free-throw attempts per game, a 4-8 record with the Chicago Bulls
Truth be told, Michael Jordan could fill an entire list of great months all by himself. And, frankly, there were plenty of other moons under which His Airness played more games, scored more points, shot better from the field and led his Bulls to more victories.
That being said, there's no ignoring how absurdly well MJ played during the final frame of the 1988-89 campaign. Jordan notched seven triple-doubles and eight games of 30 points or more in the days leading up to the '89 playoffs. He also fell one assist shy of a triple-double on one occasion and three rebounds short of another.
Don't forget that Jordan had gone for six triple-doubles that March, including four to end the month that started a streak of seven in a row that carried into April.
And to think, it still took MJ another two years to capture the first of his six NBA titles and confirm his greatness in the most tangible (and most important) manner.