NBA Awards Odds: Pegging Favorites for Every Award Entering the All-Star Break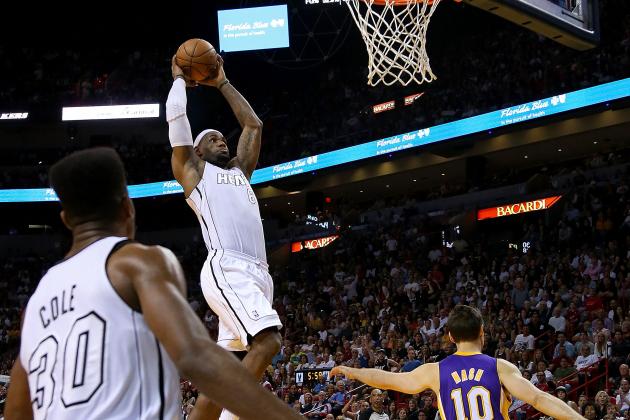 Mike Ehrmann/Getty Images

The All-Star break is upon us, and over half the season is done. We are all witnesses to LeBron James' continued greatness—and the mess out in Los Angeles.
We're also witnesses to some newcomers to relevance. A warm welcome is extended to the oddly competent Golden State Warriors and the surprisingly title-contending Los Angeles Clippers.
Much has changed since the lockout season. Expect the biggest surprises to reap the biggest awards.
Begin Slideshow

»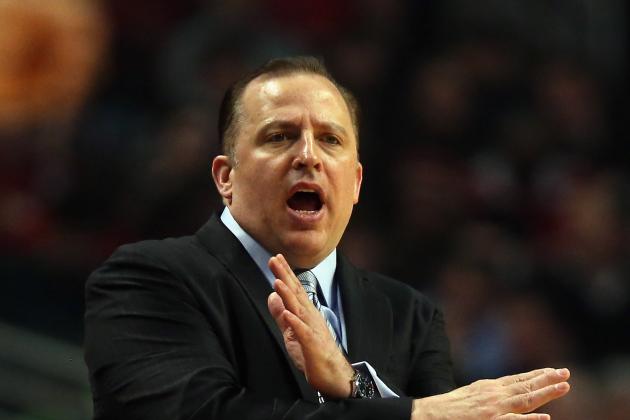 Jonathan Daniel/Getty Images

Tom Thibodeau
Yeah, he's won this one before. But guess what? New circumstances can make this a repeat.
With Derrick Rose out and nearly all the 2011-12 bench in other uniforms, Thibodeau helped make Chicago an upper-seeded East team.
Now, they're just a Derrick Rose return away from title contention. Voters will likely take notice at how Thibs kept a theoretical lottery team near the top.
COY chances: 30 percent
Mark Jackson
Mark Jackson's team is slumping, but don't underestimate his chances if they start winning again. If the season ended today (Note: The season does not end today), the Warriors would be in the playoffs.
Getting the Warriors to a playoff berth is something few thought possible this year. Combine that with Jackson's bravado and charisma, and we have a great candidate for COY.
COY chances: 25 percent
Mike Woodson
Carmelo Anthony has been dinged up, and his efficiency has ebbed. Still, the Knicks remain a top offensive team.
Based on all their spread-floor action and three-point barrages, you might call these guys the Phoe-Knicks Suns. Bad puns aside, Woodson has capably handled a job Mike D'Antoni couldn't.
COY chances: 25 percent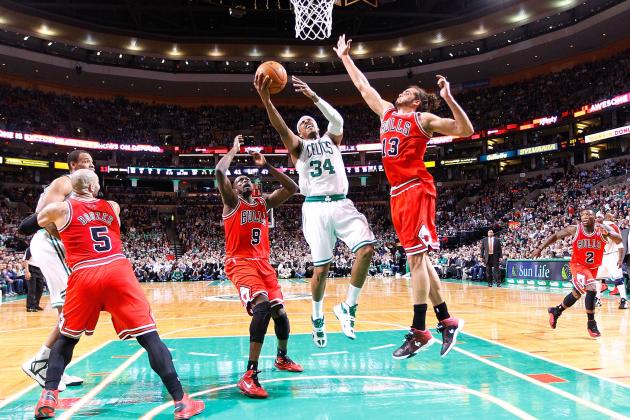 Jared Wickerham/Getty Images

Joakim Noah
True story: Joakim Noah has never won this award. Despite all the media praise, despite all of Charles Barkley's odes to his toughness, despite Chicago's consistently awesome defense, Noah has never gotten his individual due.
Perhaps it changes this year, with the Bulls competing despite losing their bench and Derrick Rose. Noah is the unique player who can switch onto a guard, block shots and rebound. He's playing more minutes than last year and playing quite well in that increased time.
DPOY Chances: 40 percent
Marc Gasol
Memphis has a top defense, and Marc Gasol is the main reason why. He doesn't impress in blocks and steals, but Gasol moves well and constantly communicates assignments to his perimeter teammates.
Though he's been one of the best defensive players this season, it will be hard for Gasol to triumph without blocking more shots. Perhaps if Lionel Hollins gets fired (a real possibility due to his friction with management), Gasol will get more playing time and rack up better raw defensive numbers.
DPOY Chances: 20 percent
Tim Duncan
Tim Duncan has helped elevate the Spurs to elite defensive status, if anyone's paying attention. He got hurt recently, which also hurts his chances here. Even if he goes on to deserve this award, voters may ignore him on account of "been there, done that."
DPOY Chances: 20 percent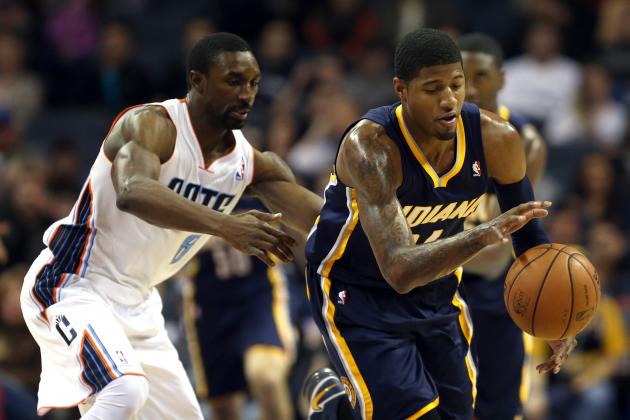 Streeter Lecka/Getty Images

Paul George
Though he recently had a 1-of-10 shooting night against the Brooklyn Nets, Paul George has been excellent otherwise. He's gone from a role player to an All-Star over the course of half a season.
Danny Granger getting hurt opened the door for George, and he's now Indiana's best player. Not only is George averaging more than five points better than his 2011-12 average, he's a vital cog in basketball's best defense.
MIP Chances: 30 percent
Jrue Holiday
Holiday has also made the All-Star leap, and voters may be quite impressed by his nearly nine assists per game. I would nit-pick and say that his team's offense stinks, but I also wouldn't put that all on Holiday.
Doug Collins runs a conservative (in my opinion, misguided) offense that's tightly controlled and looks for long two-pointers. If Holiday played for a different coach, perhaps his team's offense would be doing better.
MIP Chances: 30 percent
Brook Lopez
Brook Lopez had the highest PER of any All-Star snub in recent memory. Thankfully, he was named as the first injury replacement and we'll see him in the game.
In the offseason, many people mocked his max-contract and declared it a massive mistake by the Nets. So far, he's about the only Brooklyn guy earning his deal. Lopez has developed into perhaps the best offensive center, and his defense has markedly improved this season.
MIP Chances: 30 percent
Harry How/Getty Images

Kevin Martin
Kevin Martin is having a smoothly efficient season on a team that might finish with the best record. That's a good combo for winning the sixth man award.
K-Mart is averaging over 15 points per game and shooting over 40 percent from three-point range. As a bonus, he also leads the NBA in flop fines.
Sixth Man Odds: 30 percent
Jamal Crawford
Jamal Crawford had a better case before Chris Paul went down with an injury. Had the Clippers stayed winning with Crawford running the show, this award might be his to lose.
He still has sway among the voters who reflexively side with scorers. Crawford scores more than Kevin Martin, and though he's less efficient, some media members don't care much for efficiency.
Sixth Man Odds: 20 percent
Jarrett Jack
Jarrett Jack's case has slid as the Warriors have slid. Though a bench player (like all these guys), he's the best on his team at creating a shot.
The issue for Jack is that a shoulder injury has compromised his effectiveness. If he can return to health over the All-Star break, perhaps he can make a run at this award.
Sixth Man Odds: 15 percent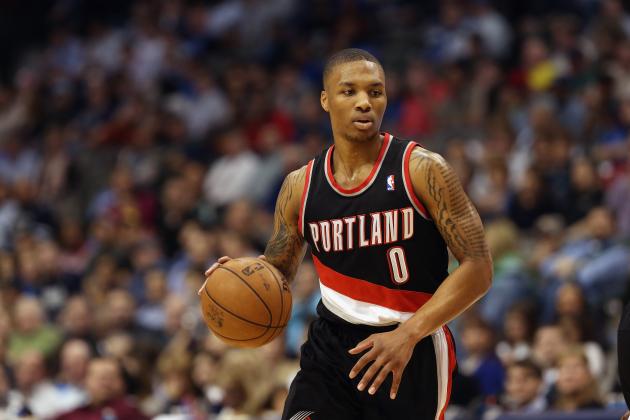 Ronald Martinez/Getty Images

Damian Lillard
It's Damian's award to lose as we head into the All-Star break. Not only is he leading all rookies in scoring, assists and minutes played, but Lillard was selected first in the All-Star Rising Stars Challenge, ahead of actual All-Star Kyrie Irving.
If the Blazers make the playoffs, Lillard is a lock for this award. If they don't, he'll still probably win it.
ROY Chances: 70 percent
Anthony Davis
Anthony Davis faces no big man competition now that Andre Drummond's sadly gone down with a back injury. Davis himself is injury prone, which is partially why he's playing fewer than 30 minutes per night.
In those minutes, though, you could argue that AD's been better than any rookie. He's claimed a PER over 20, and his offensive variety has been quite impressive.
ROY Chances: 20 percent
Andre Drummond
Andre Drummond is out with a vertebrae injury, which is awful for him and all of his fans. He's the most exciting rookie so far on account of his thunderous dunks and vicious blocks. Get well soon, Dre.
ROY Chances: 1 percent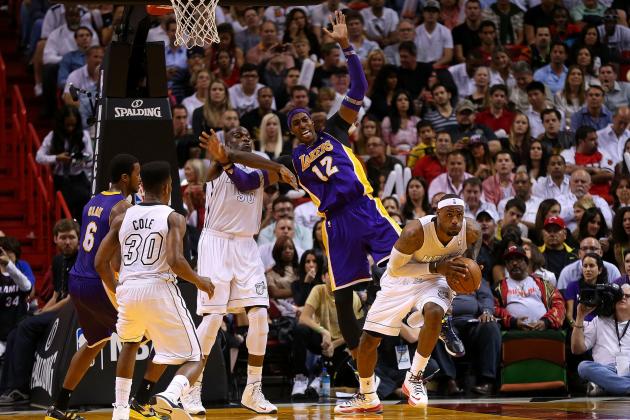 Mike Ehrmann/Getty Images

LeBron James
Well, this award sure flipped around. It looked like Kevin Durant's to lose until LeBron James unleashed an uncommonly great streak of games in which he scored 30 and shot over 60 percent.
The media wants to bequeath the award unto a new guy, as that makes for a better story. There's one small problem: James looks like the best basketball player in the world right now, and he's only getting better.
MVP Odds: 50 Percent
Kevin Durant
Kevin Durant might just have the greatest non-MVP season ever. At the very least, it will be the greatest since Chris Paul's 2009 run that ended in Kobe Bryant getting the hardware.
While James is having a better season, let us not dismiss Durant's case. He leads LeBron in true shooting percentage, and his team leads LeBron's in the win column. KD's also on his way to joining the 50-40-90 club, and he'll likely finish this season as the league's scoring leader.
MVP Odds: 30 Percent
Chris Paul
Getting injured might have helped Chris Paul's MVP case, as the Clippers fell apart without him. With Paul in a suit this season, the Clips are 6-6.
With Paul in the lineup, the Clippers are 32-11. The superstar point guard makes things like "A Tribe Called Bench" actually matter. Without CP3, the Clips aren't contenders, or even relevant.
MVP Odds: 10 Percent