8 Reasons Dwight Howard Won't Last Long Enough to Inherit Lakers from Kobe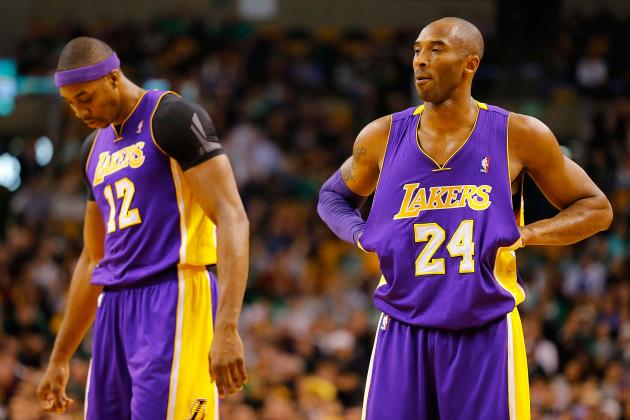 Jared Wickerham/Getty Images

It all seemed like it was going to work so well.
The L.A. Lakers paid a hefty price to bring in Dwight Howard this offseason, rescuing the All-Star center from years of frustration with the Orlando Magic. The expectations were that, alongside fellow new acquisition Steve Nash and Lakers legend Kobe Bryant, Howard would finally have the team to help him contend for an NBA championship this year. Then Howard would re-sign with the team and become its next great star as Nash and Bryant finished their careers.
About that.
Unlike similar experiments in Boston and Miami, Los Angeles' Big Three hasn't worked out quite so well. There are many reasons behind it, but the majority of them center on Howard, who at age 27 bears the brunt of the city's pressure; so far, he's been cracking under the weight of it.
With his contract up at the end of the year, don't be shocked if this is Howard's only season in Los Angeles. Here are the eight biggest reasons why he may choose to go elsewhere—if he even makes it through the year.
Begin Slideshow

»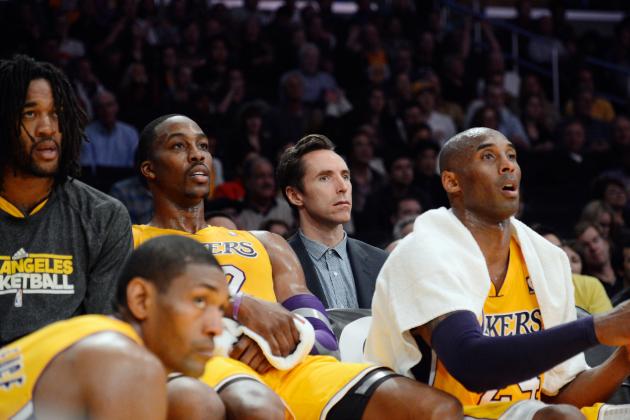 Kevork Djansezian/Getty Images

Perhaps it wasn't fair for Lakers fans to expect a Heat-like charge to the NBA Finals in the first year of Howard, Kobe Bryant and Steve Nash working together.
After all, the Miami Heat's core group of players are all young and relatively unplagued by the injury bug; Bryant is aging, Nash is probably on his last legs and Howard hasn't proven the most durable star in the NBA over the past two years.
Maybe the bar was set too high, and that's part of why the team has underachieved—the pressure to play well is affecting everyone negatively, Howard especially.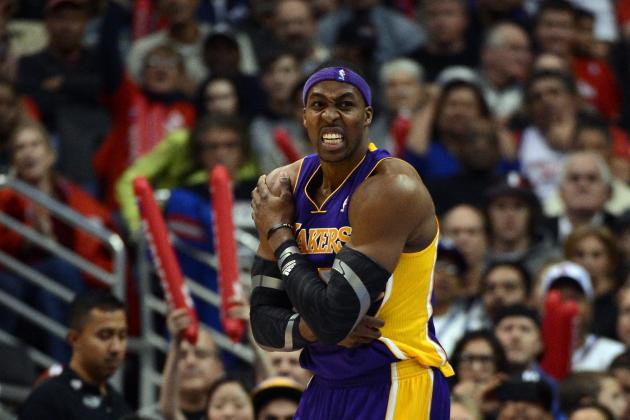 Harry How/Getty Images

The latest in a recent line of injury problems, Howard has been dealing with a torn labrum in his right shoulder since getting tangled with Caron Butler in a game against the L.A. Clippers in early January.
He's missed six games since then, with mixed results for the Lakers; they lost in each of the first three absences, but won every game of the second trio. But he's also had to play in 14 games since the injury, partially due to instability elsewhere in the lineup, with mixed results.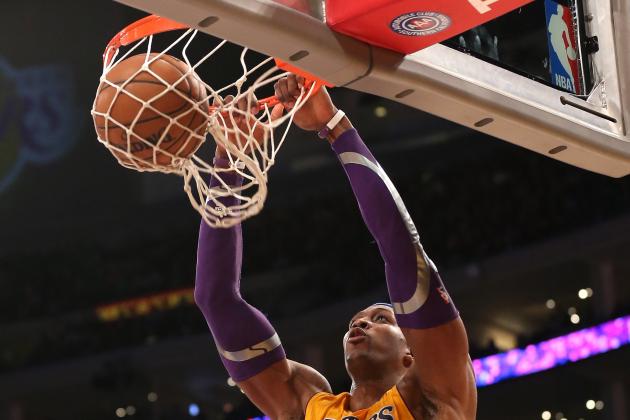 Stephen Dunn/Getty Images

As a result of the shoulder issues, Howard is playing off of his typical form. A career double-double player with averages of 18.3 points and 12.9 rebounds per game, Howard has had a slew of games well off of those numbers. The worst came in a 95-83 loss to the Chicago Bulls on January 21 when Howard totaled only eight points and nine rebounds. Tuesday's 91-85 win over the Phoenix Suns was his first game over both of his career averages in two weeks.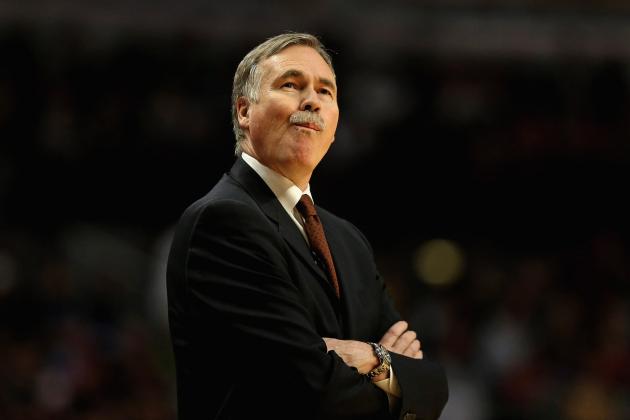 Jonathan Daniel/Getty Images

Mike Brown's unceremonious dumping five games into the season yielded to five games under interim coach Bernie Bickerstaff, the beginning of the Mike D'Antoni era and constant cries for the umpteenth return of Phil Jackson. Jackson isn't the only coach who can solve the Lakers' problems, but perhaps the pace of D'Antoni's offense—and his well-documented clashes with star Carmelo Anthony last season—is too far away from Howard's style.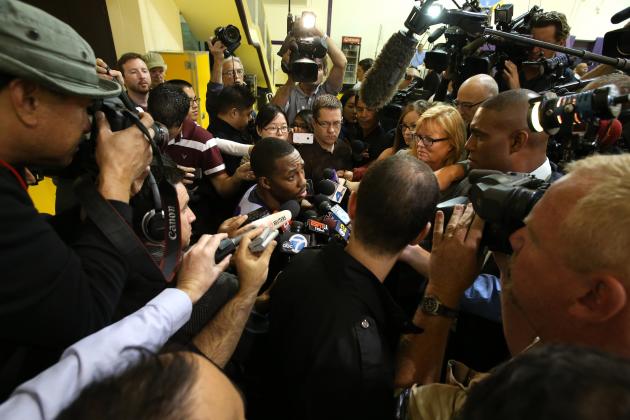 Stephen Dunn/Getty Images

From little league to the highest level, athletes' fathers have a knack for screwing things up on sports teams. Consider Dwight Howard Sr. the next in a long line of meddling parents with his recent comments on the Lakers' struggles with his son.
Although Howard Sr. meant well for all involved, his comments didn't sit well with a clearly annoyed coach Mike D'Antoni, and they shouldn't—not at a level where all involved are compensated handsomely for their time and effort.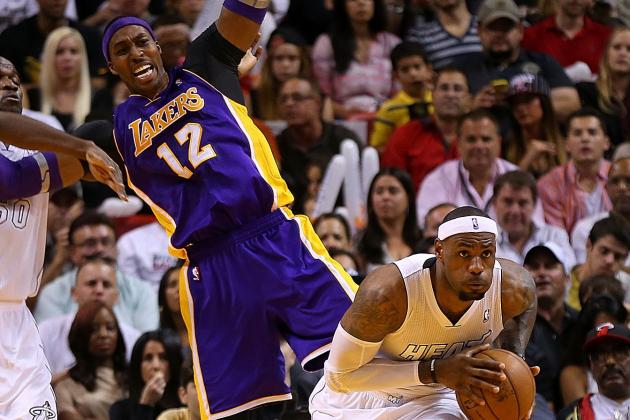 Mike Ehrmann/Getty Images

Howard seems to suffer from the same sort of problem that LeBron James did earlier in his career—he's too worried about people liking him. The irony of that is, much like when James abandoned Cleveland for Miami, the way that Howard forced himself out of Orlando burned that bridge with far too many fans. A player who wants to serve his own needs can't be concerned about what the public thinks of him, but Howard has proven to be both.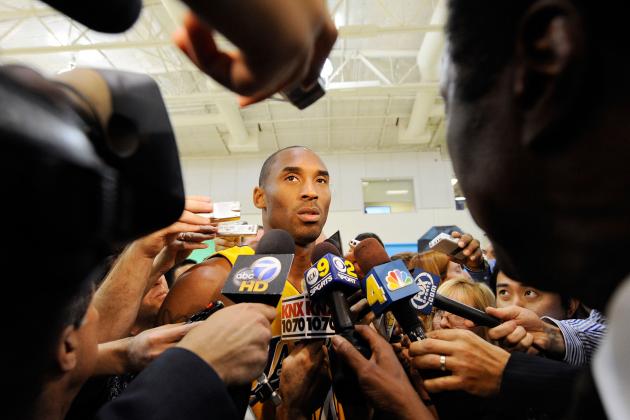 Kevork Djansezian/Getty Images

In Orlando, Howard was the team's undisputed star, but that was the problem—he didn't feel like the organization had built the roster around him to be a contender. In Los Angeles, Howard remains a star, but he'll never supersede the legendary Kobe Bryant in the pecking order. And when Kobe says a player needs to pick it up, as he has with Howard during his shoulder struggles, the entire world is listening (per the New York Daily News' Bernie Augustine):
"We don't have time for (Howard's shoulder) to heal," said Bryant, who's dealing with tendinitis in his shooting elbow. "We need some urgency...(Howard) has never been in a position where someone is driving him as hard as I am, as hard as this organization is" Bryant told ESPN. "It's win a championship or everything is a complete failure. That's just how (the Lakers) do it. And that's foreign to him."
This isn't like the Kobe and Shaquille O'Neal days in Los Angeles; Howard is not Bryant's equal, and probably never will be. And Howard's not listening enough to arguably the best player of this generation.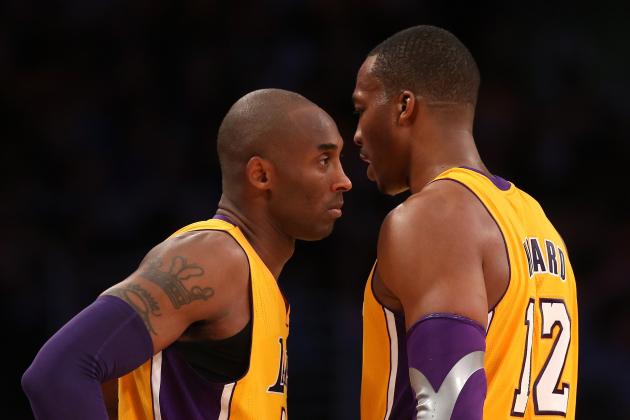 Stephen Dunn/Getty Images

Combine Howard's desire to be well-liked with his clashes with Bryant and D'Antoni, and you have a star with a fragile psyche. In recent interviews, Howard has seemed increasingly troubled, frustrated and even perhaps defeated. That can't be good for his future, short-term or long-term.
That alone should be enough for the Lakers to consider shopping Howard on the trade block before the February 21 deadline. With an expiring contract and a disintegrating ego, there's no way Howard is going to want to stay in Los Angeles in the offseason anyway.
So much for inheriting the team someday. Then again, after the way this season has gone, why would he want to?
For more from Christopher Leone, follow @christopherlion on Twitter.