Updated Season Report Card Grades for Every NBA Superstar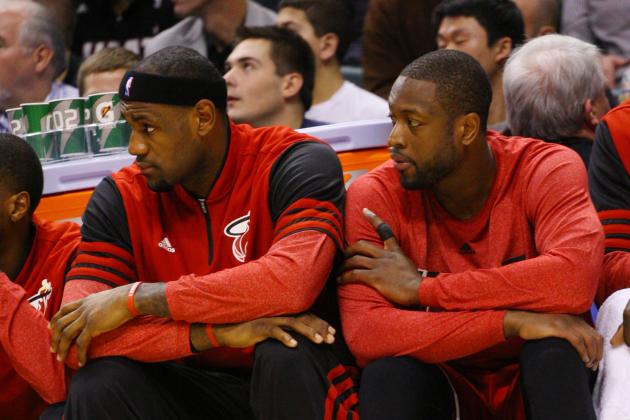 Brian Spurlock-USA TODAY Sports

Welcome back to our weekly ranking of the top 10 NBA superstars.
For the second time in as many weeks, our beloved countdown has been disrupted by injuries. Luckily, there were no season-ending ligament tears of which to speak, though Rajon Rondo is still sorely missed 'round these parts.
But the whole enterprise of "power" ranking has been rendered rather tricky by the recurring training-room trips of Chris Paul and Dwight Howard.
The former has missed seven games in a row (and 10 of the Los Angeles Clippers' last 12) with a bone bruise in his knee, while the latter remains day-to-day with a torn labrum, which will require surgery at some point.
These situations, however unfortunate, have forced yours truly to reconsider his criteria for inclusion on this list to an extent. No longer is it all that reasonable or useful to exclude young talents and first-time All-Stars from the fun, especially if they're clearly on their way to league-wide elite status.
I won't tell you which (if any) such rising stars made the cut this week. You'll just have to read on to find out.
Begin Slideshow

»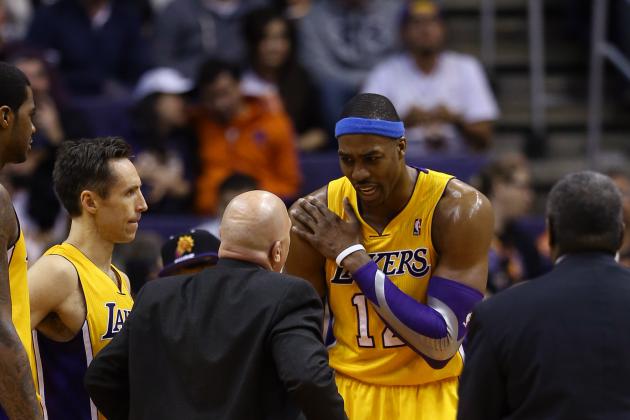 Mark J. Rebilas-USA TODAY Sports

Dwight Howard is the only one of last week's top-10 superstars to miss the cut this week.
He played well against the New Orleans Hornets on Jan. 29 (24 points, four rebounds, four blocks, five steals, two assists) but reaggravated his shoulder injury during a loss to the lowly Phoenix Suns the next night.
Howard has missed L.A.'s last two games (both wins) while resting that sore shoulder of his. The injury will require surgery eventually, though Howard insists he'll hold off until after the season.
Last Week's Grade (and Ranking): C (10)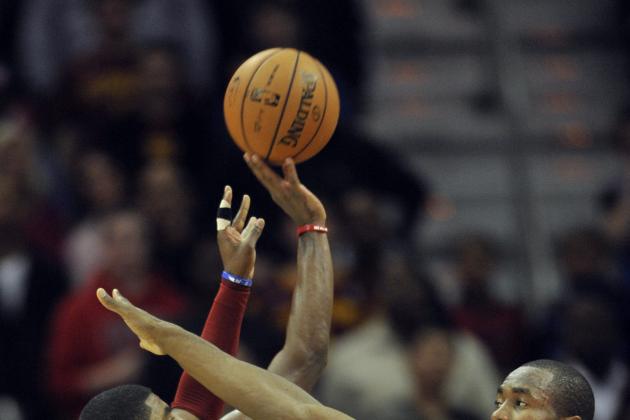 USA TODAY Sports

In case you hadn't noticed, Kyrie Irving is kind of a big deal in the NBA these days.
The soon-to-be-first-time All-Star led the Cleveland Cavaliers to a stunning upset of the mighty Oklahoma City Thunder on Feb. 2, leading his team to a 115-110 win.
He torched Kevin Durant, Russell Westbrook and Co. for a game-high 35 points on 12-of-23 shooting from the field, including a trio of treys and a perfect 8-of-8 showing from the line.
His two prior engagements—14-point performances in back-to-back losses—weren't entirely flattering, though those rank as the only non-30-plus-point outbursts for Dr. K in his last six games.
On the season, Irving is averaging 24 points (sixth in the NBA) on 47.1 percent shooting from the floor (41.2 percent from three), with 3.5 rebounds, 5.4 assists and 1.8 steals in 35.6 minutes per game.
Don't be surprised to see tantrums flung from some corners of the basketball world if/when Erik Spoelstra, the coach of the Eastern Conference All-Stars, favors his franchise loyalties over showcasing the best and brightest in his starting five.
In Spo's defense, though, winning counts for something in All-Star-related decisions, and Irving's Cavs have only done that 14 times this season.
Current Grade: B (84 Percent)
Last Week's Grade (and Ranking): N/A (NR)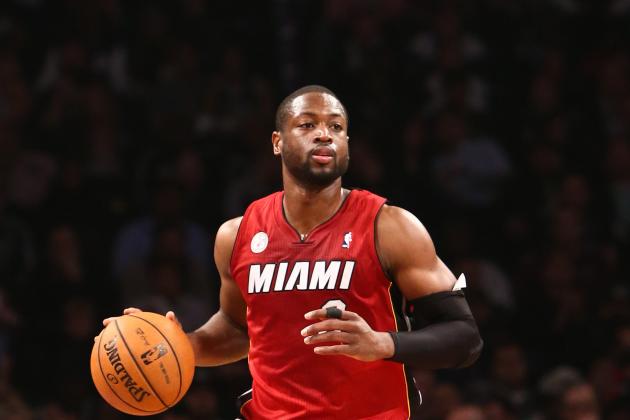 USA TODAY Sports

It was another steady week for Dwyane Wade.
And by steady, I mean Wade averaged 20.3 points, 4.3 rebounds, 4.3 assists and 2.0 steals while shooting 52 percent from the field as the Miami Heat went 2-1. That would be a superb week of work for most any player in the NBA.
But D-Wade isn't just any player. For Wade, those numbers are below his career averages, save for steals and shooting percentage.
Of course, Wade doesn't have to do as much as he used to, not with LeBron James taking the lead and Chris Bosh following thereabouts.
Current Grade: B (86 Percent)
Last Week's Grade (and Ranking): B- (9)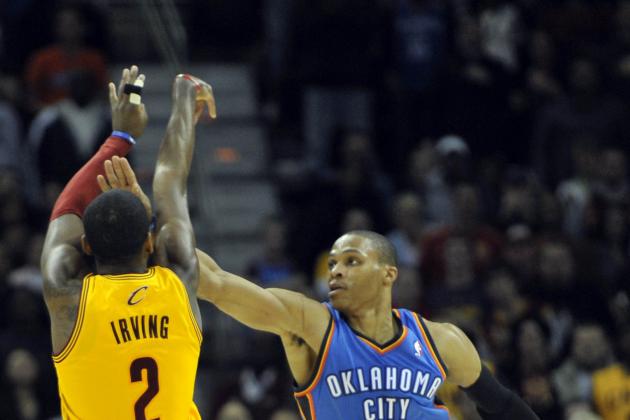 USA TODAY Sports

It wasn't the most flattering of weeks for Russell Westbrook. The Oklahoma City Thunder played just two games, and Bad Russ showed up to both.
First, he got himself into a shouting match with teammate Thabo Sefolosha during the Thunder's 106-89 annihilation of the post-Rudy Gay Memphis Grizzlies on Jan. 31.
Afterward, Westbrook came off like a petulant child while fielding questions from TNT's Craig Sager. Perhaps it had something to do with the cow-spotted shirt Russ was wearing, as Charles Barkley so cheekily suggested.
Then, on Feb. 2, Westbrook yielded 35 points to fellow All-Star Kyrie Irving amid a stunning 115-110 loss to the Cleveland Cavaliers.
Current Grade: B+ (87 Percent)
Last Week's Grade (and Ranking): B (7)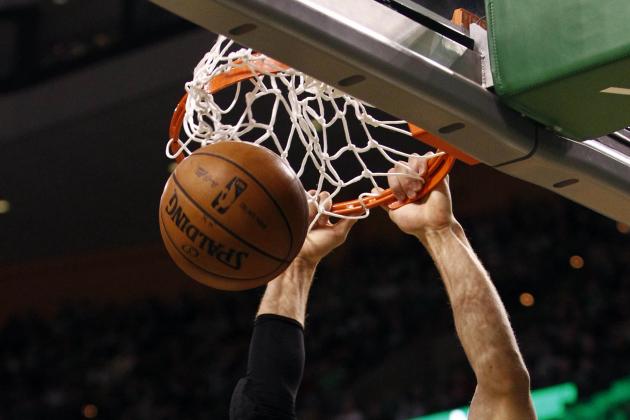 USA TODAY Sports

Kudos to Blake Griffin for continuing to step up his game in Chris Paul's absence.
Pumpkin Spice averaged 21 points (on 54.8 percent shooting) with 11 rebounds and 2.3 assists in just under 36 minutes per game this past week.
Too bad it wasn't enough to keep the Los Angeles Clippers from dropping two of three, including an embarrassing 98-73 thrashing at the claws of the resurgent Toronto Raptors.
To Griffin's credit, though, he no longer seems to be the liability at the free-throw line that he once was. He's shooting nearly 73 percent at the stripe since mid-January, including a shade under 74 percent during the first week of February.
Current Grade: B+ (87 Percent)
Last Week's Grade (and Ranking): B (8)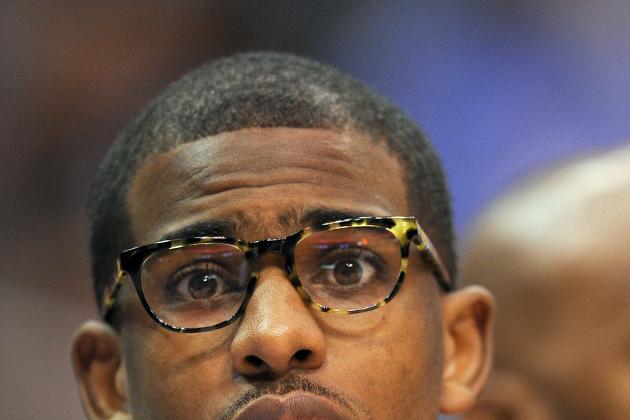 Jayne Kamin-Oncea-USA TODAY Sports

Strange as it may seem, the fact that the Clippers are struggling even while Blake Griffin is playing some of the best basketball of his career only strengthens Chris Paul's MVP case.
Losses to the Toronto Raptors and Boston Celtics over the weekend—the first in a blowout, the second in a game that looked like a blowout until the final few minutes—were evidence of as much.
In its last seven games (all without Paul), L.A.'s offense has produced at a below-league-average rate (101 points per 100 possessions) and defended at a clip (106 points per 100 possessions allowed) that would rank among the bottom five.
As crucial as Paul clearly is to the Clippers' cause, it's nearly impossible not to move him down a smidgen.
Current Grade: N/A
Last Week's Grade (and Ranking): A (4)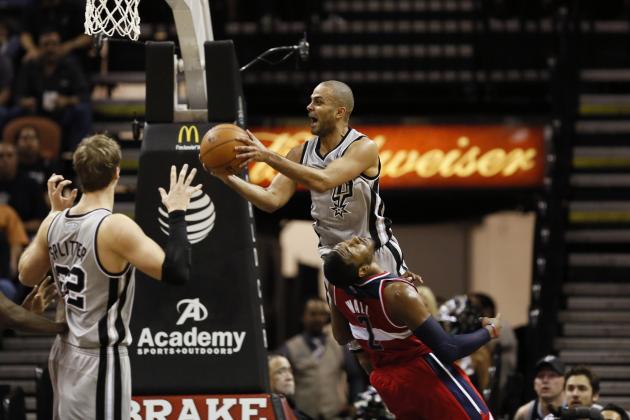 USA TODAY Sports

The San Antonio Spurs had a light work week against a pair of Eastern Conference cellar-dwellers.
Just in time for Tim Duncan to rest his troublesome knee and cede the spotlight to Tony Parker. The Frenchman poured in 20.5 points and 9.5 assists while hitting 18 of his 25 attempts from the field.
For those of you keeping score at home, he was accurate 72 percent of the time. Not bad for a guy who measures in at 6'2'' on a good day.
Then again, those combined efforts came against the Charlotte Bobcats and Washington Wizards, so consider them as you choose.
Current Grade: A- (91 Percent)
Last Week's Grade (and Ranking): B+ (6)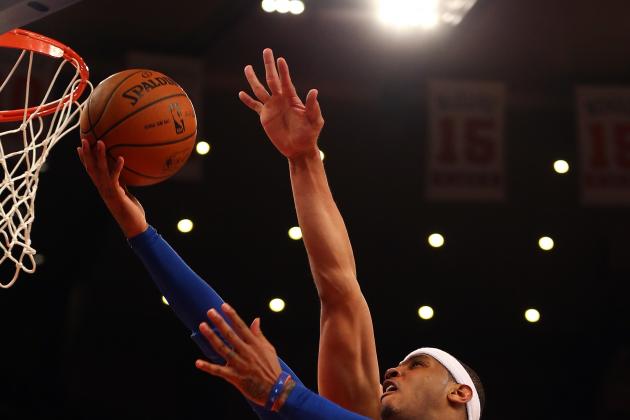 Elsa/Getty Images

At long last, Carmelo Anthony finally had an opportunity to rest his weary legs.
He scored a season-low-tying nine points in 27 minutes during a 120-81 whitewashing of the Sacramento Kings on the eve of the Super Bowl.
This, after logging 25 points, eight rebounds and six assists (with seven turnovers) in 44 minutes to lift the New York Knicks over the Milwaukee Bucks the day before.
But the biggest news of the week for 'Melo came on Jan. 30, when he set a Knicks franchise record with his 30th straight game of 20 points or more in a 113-92 win opposite the Orlando Magic.
Too bad the streak came to an end just a few nights later.
Current Grade: A (93 Percent)
Last Week's Grade (and Ranking): A (3)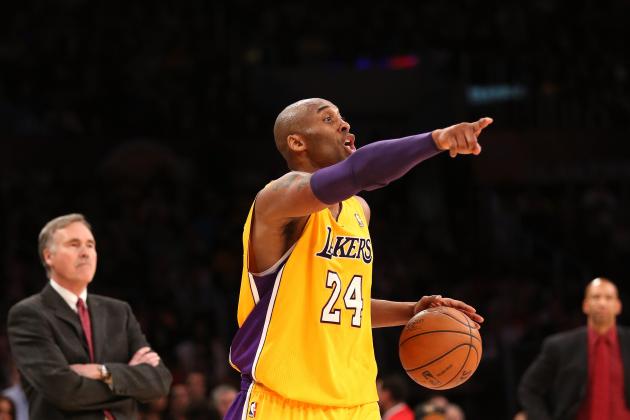 Stephen Dunn/Getty Images

Kobe Bryant went the entire week without cracking the 20-point plateau even once. Yet the Los Angeles Lakers won three of their four games and probably should've come away a perfect 4-0.
Kobe's fourth quarter against the Phoenix Suns (2-of-7, two turnovers) was none too pretty, nor was his overall shooting percentage (38.7 percent) over the Lakers' last four games.
But L.A.'s success of late has hardly been predicated on Bryant's scoring. Rather, he's stepped up his game as a facilitator. He averaged 8.3 assists over the aforementioned span, thereby leading a charge to turn the Lakers into a pass-happy team.
In fact, they've registered assists on 69.3 percent of their makes during their previous four games. That's well ahead of the highest mark of 64.3 percent that the Chicago Bulls have posted.
Current Grade: A (94 Percent)
Last Week's Grade (and Ranking): A- (5)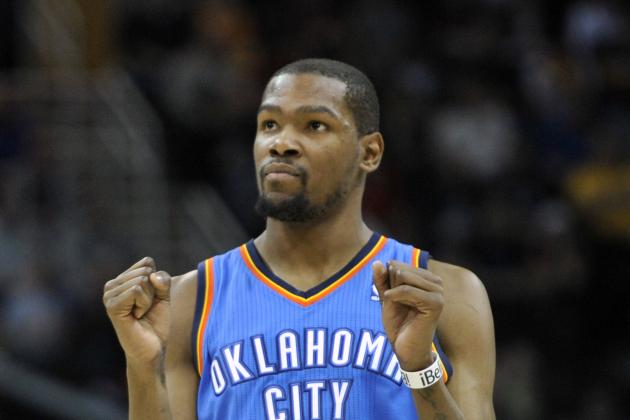 USA TODAY Sports

While Russell Westbrook was busy self-imploding last week, Kevin Durant continued to pile up points (and trips to the free-throw line) as he has all season.
Iceberg Slim (as Jalen Rose calls him) totaled 59 points on just 37 official shots from the field against the Grizzlies and Cavaliers.
The secret? Free throws. Durant toed the line 26 times, making 20—which, for a 90-plus-percent shooter, is decidedly below par.
It's tough to penalize the guy too much, though, when he's also chipping in 18 rebounds and nine assists between the two outings, even if one resulted in a loss for OKC.
Current Grade: A+ (101 Percent)
Last Week's Grade (and Ranking): A+ (2)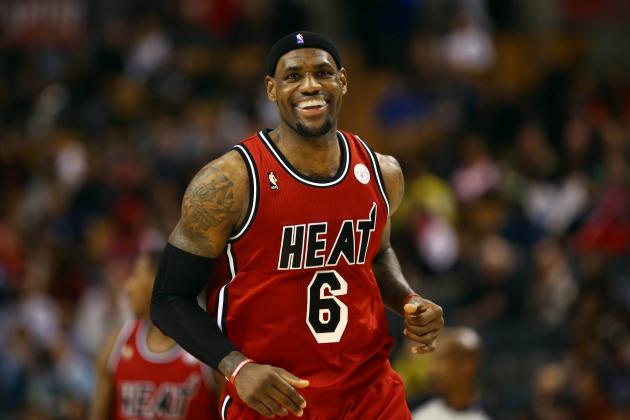 Tom Szczerbowski-USA TODAY Sports

The Heat's double-digit loss to rough-and-tumble Indiana must've been a bitter pill for LeBron James to swallow, though he was hardly at fault for the shortfall.
The reigning MVP registered 28 points on just 17 attempts, with six rebounds, three assists, a block and a steal for good measure. Not good enough to stave off a 13-point defeat, though.
But as the Osmonds once taught, one bad apple don't spoil the whole bunch. In LeBron's case, a decisive retort to Reggie Evans' trash talk and a crunch-time run against the Toronto Raptors (to which he contributed eight points) were more than enough to cover for any perceived transgressions.
Current Grade: A+ (104 Percent)
Last Week's Grade (and Ranking): A+ (1)