6 NBA Superstars Who Aren't Getting Enough Credit for Monster Years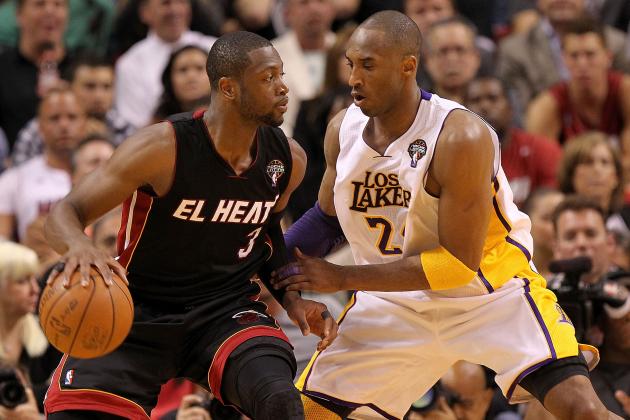 Mike Ehrmann/Getty Images
Dwyane Wade and Kobe Bryant are both superstars, but which one isn't receiving enough credit?
The basketball portion of basketball is too often lost.
It's more fun when Kobe Bryant is fighting Dwight Howard, when Carmelo Anthony wants to fight Kevin Garnett or wondering whether Kevin Durant will ever fight anyone.
NBA superstars stand like billboards downtown. Depending on the size of the downtown or the crammed activity around the billboard, it's easy to miss the message of the advertisement.
As such, actual on-court production is sometimes overlooked.
Many big names receive plenty of credit (sometimes too much), and then there are the players who aren't earning enough credit this season.
All stats reflect games played prior to Jan. 8. Each slide utilizes John Hollinger's Player Efficiency Rating (PER) as an overall rating of per-minute production. The league's average PER is 15.0.
Begin Slideshow

»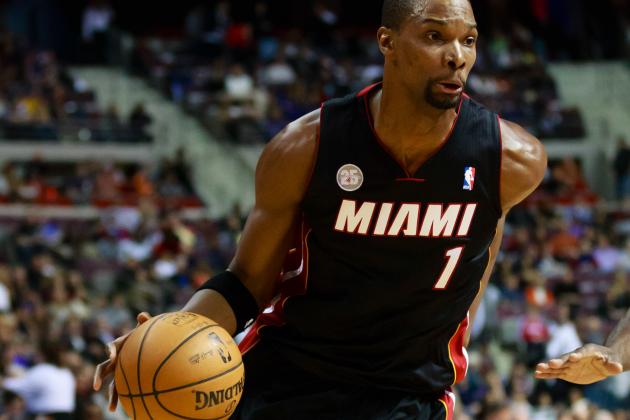 USA TODAY Sports
Chris Bosh is having a tremendous season.
21.64 PER (No. 19 ranked)
Stop treating Bosh like he's LeBron James and Dwyane Wade's tag-along friend. He's having a first-class season.
His 54.9 percent shooting percentage is the highest of any player averaging more than 17.5 points per game. At 17.8 points per game, Bosh is scoring differently than the typical NBA big man.
I'm not a fan of splits that include shooting from different spots of the floor. In fact, from many personal conversations with players and coaches, it's often overvalued. But a player's overall range does have an impact on production.
When Bosh shoots from 16 to 23 feet, he is hitting at 59 percent (2.4-for-4.1 per game), the highest mark of any post player with two or more attempts per game from that range. It's extremely valuable for Miami to have a post player who can connect from that range.
When you play with slashers like James and Wade, the ability to open up the lane or hit a pick-and-pop is incredibly appreciated.
Additionally, Bosh is averaging 7.6 rebounds per game, and that's an area he can continue to strengthen if he is to be an all-around value to the Heat.
Following a Jan. 6 game against the Wizards, Joseph Goodman of the Miami Herald wrote that Heat coach Erik Spoelstra wanted more activity from Bosh defensively. "I just like to see him get off the floor," Spoelstra said, according to Goodman. "I think he had more jumps in this game than [he has] had in a while."
He's responded to his coach's call for more defense and is averaging three blocks per game in January.
Bosh is not getting enough credit for Miami's success as the best team in the Eastern Conference.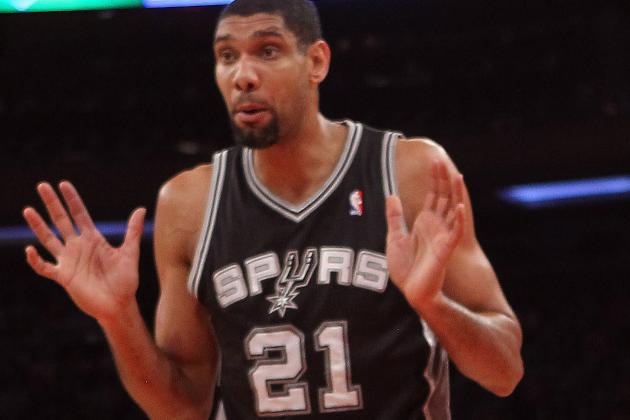 Bruce Bennett/Getty Images
Tim Duncan is king of the quiet, great season.
25.18 PER (No. 7 ranked)
Me to the guy working at the bike store: "Hey, I haven't grabbed lunch yet; how's that burger place next door?"
Guy behind the counter, with a deadpan look: "Oh, I wouldn't know. I don't eat stuff like that."
That's basically what Duncan does to other posts in the league; he's better than them, and he probably always will be.
Nothing like making the other guy feel worthless.
Duncan is the ideal candidate for this list. He embodies everything opposite of an NBA storyline. His stats continue to draw a straight line of consistency.
Duncan has never received the appropriate credit for being the main feature of this Spurs still-going dynasty. Duncan is the pretty girl you graduated with but didn't realize was pretty until you looked in your yearbook years later.
He will be remembered greater than he was thought of in the moment.
At 37 years old, Duncan is still extremely valuable to the Spurs, the Southwest Division leaders. He's shooting 50.9 percent and averaging 9.6 rebounds and 2.6 blocks.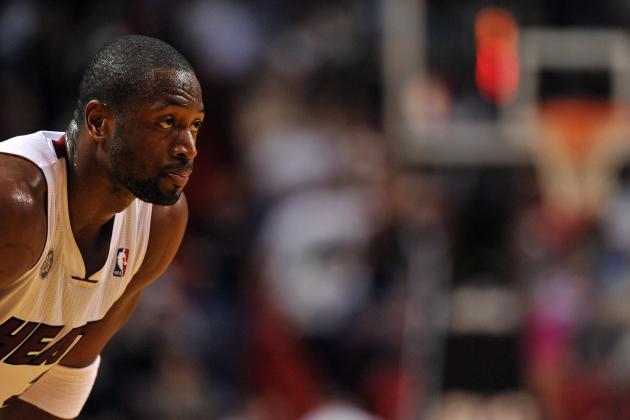 USA TODAY Sports
Dwyane Wade is being overlooked this year.
22.56 PER (No. 12 ranked)
Wade has an image issue.
Maybe it was Charles Barkley's comments on TNT that Wade didn't "explode anymore."
Or maybe it was when Wade kicked Ramon Sessions in his manhood.
Either way, there's less love for the once-lovable superstar. Meanwhile, Wade is enjoying one of his better seasons since LeBron James joined the fray.
Wade is shooting the highest percentage of his career from the field. He's also connecting near his career high in three-point shooting, although it's still just 31 percent.
Wade's assist numbers have decreased since James came to the Miami Heat, a result of Wade having the ball in his hands less. But in playing his role as a second option behind James, Wade is helping the Heat win more than he could if he tried to do more.
His less-is-more approach will be successful in Miami.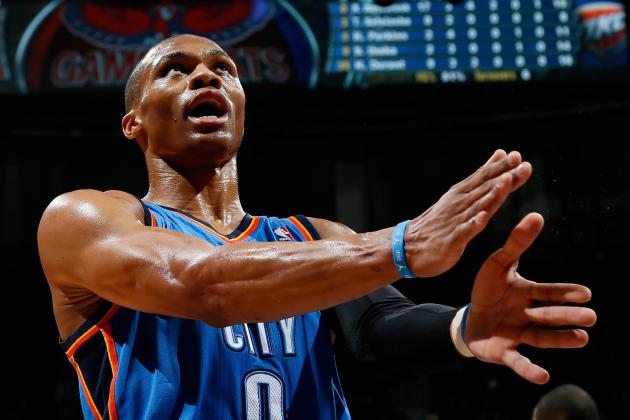 Kevin C. Cox/Getty Images
Russell Westbrook is a great part of Oklahoma City's success.
22.60 PER (No. 11 ranked)
Russell Westbrook has long been labeled as selfish, a notorious taker of bad shots in all the wrong moments. "He's not a real point guard."
Hold on. What happened to perspective?
If the 24-year-old was real estate, I'd invest.
Because Westbrook is a playmaker, a burner in an offense that embraces his speed, he creates further opportunity of defensive displacement for superstar teammate Kevin Durant.
That's how Westbrook makes Durant better. The assists that don't come off passes count in other ways.
His 8.5 assists per game that do count are top five in the league. His assists total is pacing for a career high.
Westbrook's 21.7 points per game are off a decreased field-goal percentage of 41.2 percent, but he's shooting a career-high 35.8 percent from three-point range. He's also averaging a career-high 5.1 rebounds and 2.1 steals per game.
Westbrook will be considered one of the game's elite guards for a long time.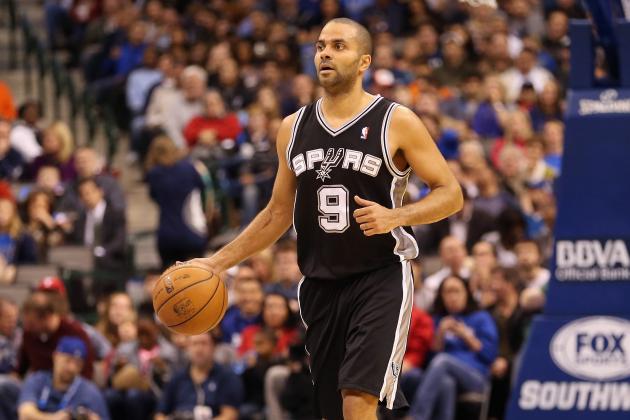 Ronald Martinez/Getty Images
Tony Parker has been around for a while, but he's still young.
22.68 (No. 10 ranked)
Quick, how old is Parker?
Guess again.
For as long as it seems like he's been in the league, it's somewhat unbelievable that the successful, longtime point guard of the San Antonio Spurs dynasty is still just 30 years old.
If he has a career like Jason Kidd, he'll play another 10 years. Imagine where you will be eight years from now, explaining to your kid how long you've been watching Parker and how you remember when Eva Longoria looked young.
Parker is the best player on the division-leading Spurs, now even greater than Duncan.
He's shooting 51.4 percent and is having one of his career-best years behind the arc, at 38.6 percent three-point shooting.
He is recording seven-plus assists for the second consecutive year while turning the ball over (2.2 per game) less than he has since his rookie season in 2001-02.
Parker has three championship rings already. How many could he have by 2023?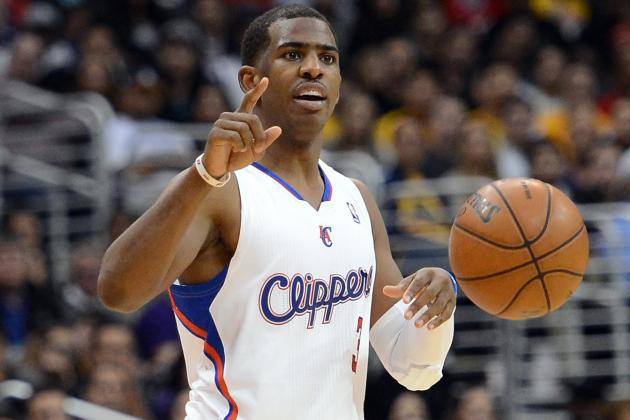 Harry How/Getty Images
Chris Paul is proving to be in his own tier of NBA point guards.
26.58 (No. 3 ranked)
I would hate to play against Paul.
He jaws to a point of frustration. He's a feisty defender to the point of impoliteness. His quick cuts and rapid release baffle defenders.
Paul does just about everything better than any other point guard in the league.
The Los Angeles Clippers superstar is the clear leader of the league-best Clippers. When the best team's best player is also an extra coach on the floor, that's valuable.
He is obnoxiously good and has the Clippers finally as true contenders. With the depth on their bench, Paul hasn't had to shoot as often as in years past, but he does offer 48 percent shooting for 17 points per game and 9.3 assists.
Defensively, his 2.6 steals per game lead the league.
I understand it's near blasphemy to not declare LeBron James as the league's MVP, but Paul has changed an entire franchise and should be more prominent in the conversation for the prestigious award this season.
For more NBA news and analysis, follow @jimmypspencer on Twitter.