Ranking the Best Alley-Oop Connections in the NBA Right Now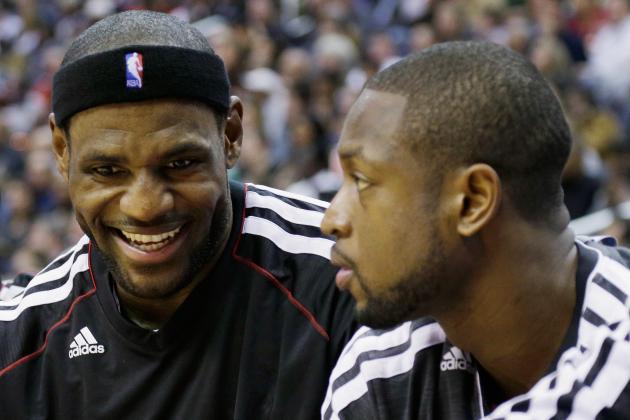 Rob Carr/Getty Images

Nothing gets an NBA crowd going like a good old-fashioned alley-oop.
All right, so maybe lob dunks aren't exactly old-fashioned, per se. Still, is there anything more exciting than seeing someone sky for a pass and a jam immediately thereafter? One guy delivers the ball to open space; the other saves it from imminent doom for a thunderous throw-down.
There may be no higher expression of collaborative artistry in basketball. Success requires precision, touch, camaraderie, timing and, of course, supreme agility and athleticism.
All of which sets the sport apart from its peers.
The alley-oop is as prolific today as it's ever been, thanks to the ongoing influx of top-shelf point guards and freakishly gifted finishers. There may never be a lob combination quite as thrilling as the Gary Payton-Shawn Kemp connection for the Seattle SuperSonics of yore, but these five modern practitioners of the alley-oop come close.
Begin Slideshow

»
Is there anything more impressive in the world of dunks than the "Big-to-Big" alley-oop?
It's generally been a rarity in the NBA, like the four-leaf clover of the hardwood. But with overall athleticism on the rise and giants playing like guards with greater frequency than ever before, watching one frontcourt player throw a lob to another isn't quite the unusual sight that it once was.
Still, it's impressive nonetheless, and none do it better in this particular capacity than Blake Griffin and DeAndre Jordan. The high-flying duo for the Los Angeles Clippers has thus far snatched the Big-to-Big title from the rival Lakers this year. Pau Gasol and Andrew Bynum used to be the top practitioners of the Big-to-Big, but Bynum's departure to the Philadelphia 76ers and Gasol's lack of chemistry with current Laker Dwight Howard left the throne vacant.
But only temporarily, of course. Blake and DeAndre were quick to claim it, with Griffin delivering dime after dunkalicious dime to DJ.
When Chris Paul and Jamal Crawford aren't handling the ball for the Clips, that is.
The New York Knicks are flying high these days, and not just because Carmelo Anthony is playing like an MVP.
Raymond Felton has been a smashing success in his return to Madison Square Garden. He's put his strength and speed to excellent use, penetrating and dishing to the Knicks' platoon of three-point shooters 'til kingdom come.
When he's not setting up guys on the perimeter, Felton tends to busy himself running pick-and-rolls with Tyson Chandler. The reigning Defensive Player of the Year has long been one of the NBA's most under-appreciated finishers, to which Chris Paul, Jason Kidd and Jeremy Lin would all likely attest.
Now that the Knicks are sitting comfortably atop the Eastern Conference, perhaps folks around the league will finally give Chandler credit for being as much a threat on offense as he is a terror on defense.
Likewise, perhaps they'll ease up on the "Raymond Felton is fat" jokes. The only things he's feasting on these days are opposing defenses.
What in the world of basketball could be tougher to find than the Big-to-Big lob? How about the Big-to-Little lob?
The Loch Ness Monster of alley-oops isn't quite so scarce these days, not with skilled forwards and hyper-athletic guards becoming more the norm than the exception.
Nevertheless, watching Russell Westbrook oop home an alley from Kevin Durant is a long way from getting old.
To be sure, Durant isn't a traditional big by any stretch. He's best classified as a wing-forward, with the ball-handling and shooting acumen of a guard.
But that doesn't change the fact that he's 6'9" and can do all the things that he does at his particular size. Nor does that discount how breathtaking a spectacle it is to see Westbrook take off for a jam.
Put those two together, and you've got yourself some solid-gold hoops. No wonder the Oklahoma City Thunder are the envy of the NBA.
No list of alley-oop pairings would be complete without the co-mayors of Lob City—Chris Paul and Blake Griffin.
Griffin coined the term before he so much as shared a court with CP3 and has done plenty since to lend weight to it. They were a force to be reckoned with during the 2011-12 season but have since established an even more awe-inspiring chemistry with the benefit of time and practice.
The Los Angeles Clippers would certainly be a fun team to watch even without the Chris-to-Blake combo, thanks to the dunks of DeAndre Jordan, the shimmy shakes of Jamal Crawford and the one-man show known around the blogosphere as Eric Bledsoe.
But like Bryan Cranston and Aaron Paul on Breaking Bad, Chris and Blake are the heart and soul of what's arguably the NBA's most entertaining outfit.
As great as CP3 and Blake have been in tandem, they'll still have to wait for their shot at No. 1 on this list until LeBron James and Dwyane Wade decide that filling highlight reels and delighting fans around the NBA along the way just isn't worth it anymore.
Which won't likely happen unless/until they part ways and/or one of them retires.
In the meantime, I urge everyone to appreciate the impeccable chemistry that these two savants of the slam share on the court. They both possess the requisite skill and athleticism to serve on either end of an alley-oop, particularly on the fast break.
These two superstars are just so unselfish and seem to enjoy passing to one another like few do in today's NBA. Better yet, their partnership goes beyond mere flash and flair; they've now won an NBA title to validate it as a title-worthy tandem.
Love or hate the Miami Heat, you have to admit they're fun to watch when LeBron and Wade get to dunking.