8 NBA Disappointments Who Are Playing Themselves into the Doghouse/Trade Block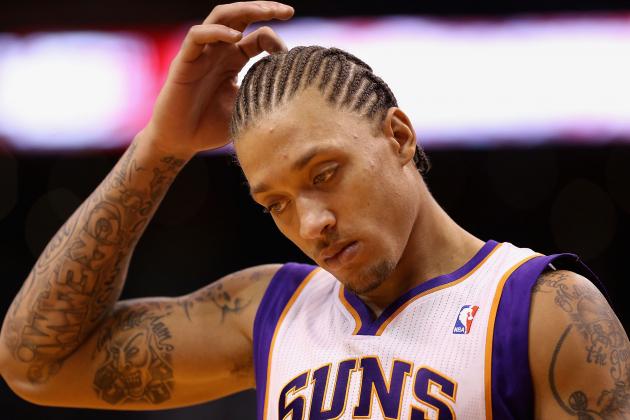 Christian Petersen/Getty Images

The 2012-13 season has had one of the most surprising starts in recent NBA history. Squads like the New York Knicks and Golden State Warriors have exceeded all expectations, while players like James Harden, Tim Duncan and Carmelo Anthony have stunned fans with their extremely high levels of play in the early goings.
However, for every pleasant surprise there has been an unpleasant surprise somewhere to be found. Teams like the Indiana Pacers and Los Angeles Lakers have struggled early, and a number of players who had high expectations headed into the campaign have not been able to perform to the best of their abilities.
The season is still young and there is plenty of time to turn things around, but the NBA can truly be a "what-have-you-done-for-me-lately?" league, and these eight players have not been making very strong cases for seeing quality minutes or even staying with their current teams.
Here are eight disappointing players who are starting to see the negative consequences of their poor play in the 2012-13 season.
Begin Slideshow

»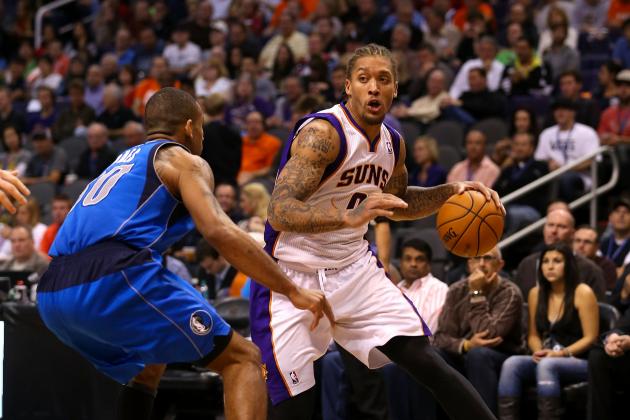 Christian Petersen/Getty Images

After a tumultuous tenure with the Minnesota Timberwolves, former second-overall draft pick Michael Beasley took his talents to the desert, signing a three-year deal with the Phoenix Suns that many thought could actually prove to be a steal if he played as well as he could.
Thus far into the 2012-13 season, that has not been the case. Beasley has been averaging a respectable 11.4 points, 3.8 boards and 2.5 assists per game but has shot just 38.3 percent from the field and 30.5 percent from three-point range.
Worst of all, Alvin Gentry has gotten into the habit of benching Beasley in the fourth quarter due to his poor shot selection and his atrocious defense. Even though he is one of the most potent scorers on Phoenix's roster, the fact that they cannot have him on the floor when the game matters most says a lot about what the organization thinks about their new small forward.
Beasley is due roughly $6 million per year through the 2014-15 campaign, so it may be tough to move him, but with Jared Dudley having a decent year and Markieff Morris making the case for extended playing time, expect the Suns to bite on any halfway-decent offer for Beasley.
His talent is undeniable, but an organization in rebuilding mode cannot have a player they lack faith in be one of their new franchise cornerstones; it would simply be a recipe for disaster.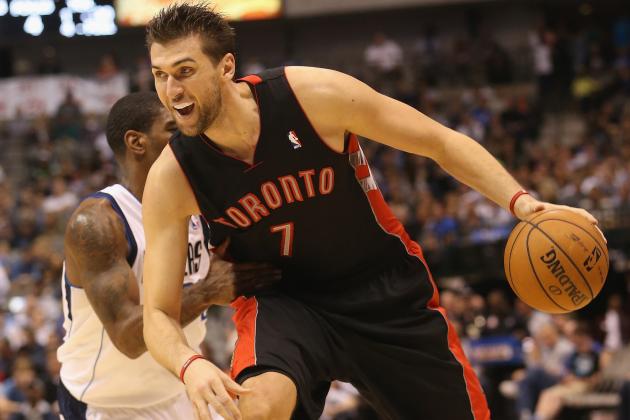 Ronald Martinez/Getty Images

Prior to hurting his elbow during a game against the Portland Trail Blazers, Andrea Bargnani had been having as lackluster of a season as any starting big man in 2012-13.
Bargnani, still expected to carry the Toronto Raptors' anemic offense, which ranks 20th in the league in points per game, has been averaging a decent 16 points per game. However, he is shooting just 39.8 percent from the floor and 31.9 percent from beyond the arc, both well below his career averages.
In addition, it is not as if he has been impacting the game in other ways, posting an unacceptable 4.3 rebounds, 1.4 dimes and 0.7 blocks per contest.
This Raptors team was looked at by many as a dark-horse playoff team in the Eastern Conference, but it has thoroughly underachieved despite possessing some nice young talent. Bargnani's inability to generate consistent offense, hit the glass and protect the basket have been key reasons for their 4-18 start to the season.
Bargnani has always been criticized for being the quintessential soft, European-style center, but no longer is he posting 20 points per night or at least creating mismatch problems with his shooting. Instead, he is leaving his teammates scrambling to cover his defensive mistakes.
Rumors of Toronto trying to ship Bargnani to Los Angeles in a blockbuster deal for Pau Gasol have been discussed, according to ESPN's Marc Stein and Ramona Shelburne. However, there is simply no way L.A. would realistically consider that exchange.
In order to move Bargnani, the team would likely have to settle for far less, although it may still be worth it just to get rid of the slumping former top pick.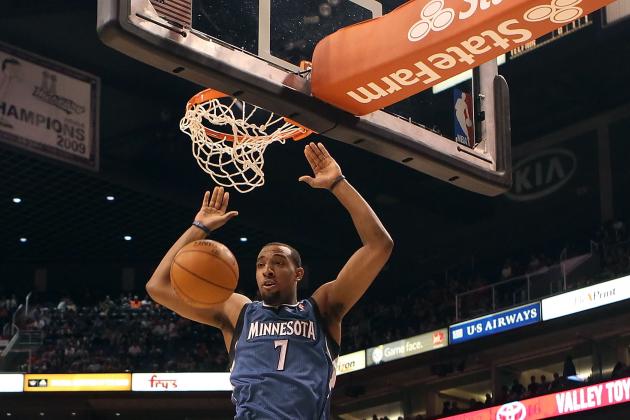 Christian Petersen/Getty Images

When he has actually stepped on the court, Derrick Williams has not played that poorly for the Minnesota Timberwolves, but the problem is that the combo-forward has barely been on the court during his sophomore campaign.
Williams is averaging nine points, 5.2 rebounds and 0.6 assists per game while shooting just 39.3 percent from the floor and 37.9 percent from distance. However, he is playing under 20 minutes per game and despite being healthy, he has not played in four of Minnesota's games.
With Kevin Love back on the floor and plenty of depth in the frontcourt, few expected Williams to be playing 30+ minutes a night, but the former second overall pick has managed to become all but an afterthought in Rick Adelman's rotation.
Williams, to his credit, has kept the right attitude about the situation, but reportedly Adelman is unhappy with the former Arizona Wildcat's inconsistent performances.
The surprising thing is that with such a young core that loves to play out in transition, Williams should fit this Minnesota team perfectly, but they have opted to utilize their veterans more heavily than many anticipated, giving extended run to Andrei Kirilenko, Dante Cunningham and even Josh Howard over Williams.
Though he struggled a bit to adjust to the NBA game in his rookie season, there are sure to be plenty of teams that are interested in acquiring Williams, who remains an extremely high upside player and a tremendous athlete.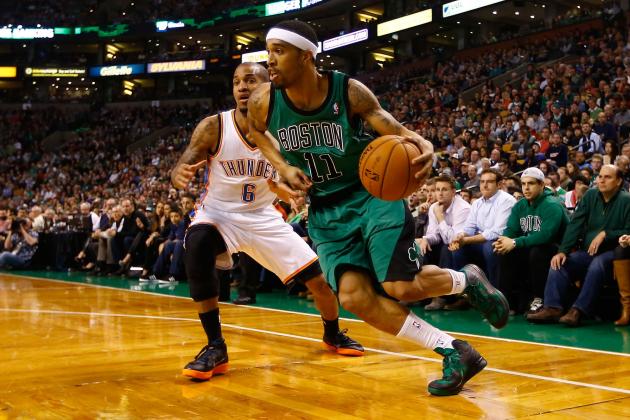 Jared Wickerham/Getty Images

When Courtney Lee signed a four-year free agent deal with the Boston Celtics, plenty of fans were excited to see the team add another defensive-minded guard to a roster that needed depth in the backcourt. However, early returns on Lee have not exactly been what many expected once the ink dried on his contract.
Lee began the season in the starting lineup, but his shooting woes resulted in him being benched for Jason Terry. Lee is currently averaging just 5.5 points, 2.3 boards and 1.5 dimes per game while connecting on 45.2 percent of his shots from the field and 27.6 percent from three-point territory.
Once Bradley returns, he will likely supplant Terry in the starting lineup, meaning that Lee will be relegated to third string. Boston, short on true ball handlers, will likely favor Terry for his ability to make plays and facilitate over Lee's defensive abilities.
In addition, his minutes have fluctuated wildly, logging 39 minutes in a loss against the Milwaukee Bucks but then no more than 21 minutes in the next three contests against Minnesota and Philadelphia. It is difficult to gain any kind of rhythm on the floor when your minutes are being jerked around, and it shows that Doc Rivers does not have complete trust in Lee just yet.
The Celtics have not exactly set the league on fire thus far and could still use another big man if they can find one on the market, and Lee would likely be one of the first pieces they would make available.
Although he fits the Celtics culture perfectly thanks to his tough perimeter defense, Lee's play in the 2012-13 season has not been up to snuff, and his opportunities should only decrease as the campaign wears on.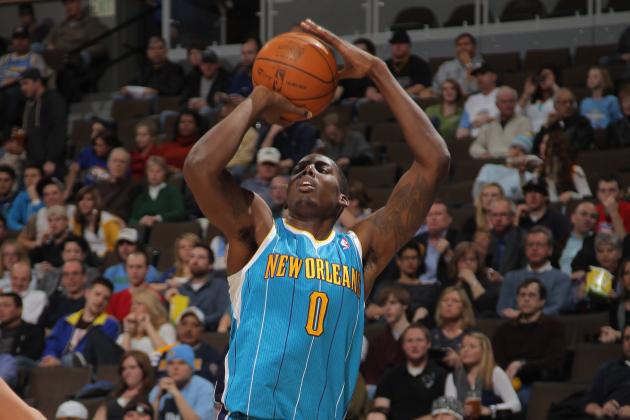 Doug Pensinger/Getty Images

Al-Farouq Aminu has averaged career highs in points, rebounds, assists and field-goal percentage for the New Orleans Hornets, but he has still not wowed coach Monty Williams, who benched the former Wake Forest star due to his lack of effort and energy.
Aminu is not a tremendously skilled player, but he is a good athlete who makes his biggest impact by using his strong motor and physicality to make an impact on the glass and score around the rim. However, despite seeing plenty of time on the floor, Aminu has been far from an impact player on both ends of the court.
In 29.7 minutes per contest, he's averaged 9.2 points, 6.9 rebounds and 1.8 assists per game on 47.5 percent shooting from the field.
The Hornets have struggled, losing 15 of their first 21 games as Anthony Davis has had difficulty staying on the court and Williams has felt the need to experiment with different lineups to try to find a winning combination.
Aminu returned to the starting lineup against the Washington Wizards, but failed to do anything exceptional with the opportunity, making it likely that he spends more time coming off the pine or worse, not playing at all.
Because of his strength and athletic ability, Aminu may have some suitors, but this rebuilding New Orleans club does not seem to consider him a part of their long-term future, and his lackadaisical effort has earned him a place in Coach Williams' doghouse.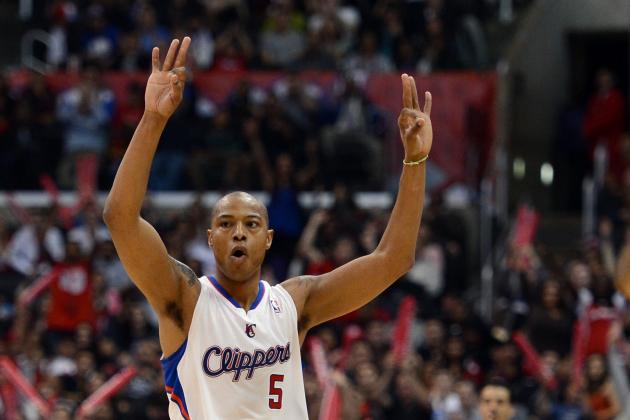 Harry How/Getty Images

Despite a 33-point, nine three-pointer effort earlier in the season against the New Orleans Hornets, the L.A. Clippers' Caron Butler has not been living up to expectations thus far, despite his team's strong start.
Butler was brought in to be a stabilizing veteran presence in the 2011 offseason, but he has averaged just 9.8 points, 2.6 boards and 0.9 assists per game while shooting 42.4 percent overall and a respectable 44 percent from three.
Butler has seen his minutes dwindle in recent games to hustle player extraordinaire Matt Barnes, who has been providing Los Angeles with the tough defense, scoring and even outside shooting that the team's front office expected to get from Butler when they signed him.
While still an undeniably talented player, Butler has not adjusted well to a reduced role in L.A.'s offense and is not playing defense as well as he could.
With the depth and firepower this Clippers club, has it would not be surprising to see them move their current starting small forward in an effort to create some cap space and minutes for Lamar Odom, whose play has improved and Grant Hill, who has yet to step on the floor
With their guard depth, Los Angeles also could potentially go small and play Chris Paul, Eric Bledsoe and Jamal Crawford on the floor together, something they have done very rarely.
Butler still has time to prove valuable for this darling Clippers squad. Vinny Del Negro has shown a willingness to ride the hot hand, but that will only mean fewer minutes for the former All-Star.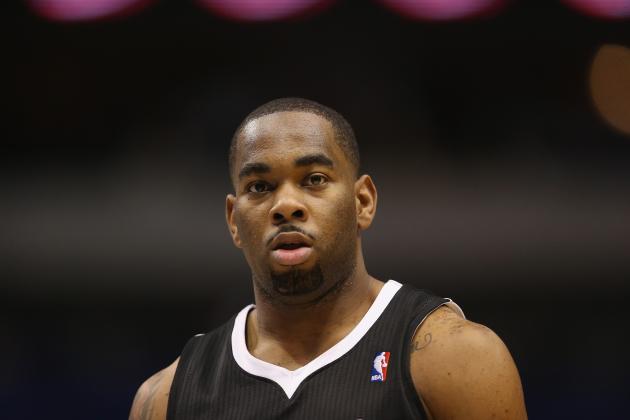 Ronald Martinez/Getty Images

After being traded to the Sacramento Kings from the New Orleans Hornets, scoring guard Marcus Thornton was a revelation, but now in his second full season with the Kings, he has found himself seeing his minutes decreased due to his poor shooting and defense.
Before missing the Kings' Dec. 12 game against the Bucks, Thornton had played over 19 minutes just once in the team's previous four games. He is averaging 13.3 points per game 2.8 rebounds and 1.4 dimes, but shooting just 40.5 percent from the field and 32.7 percent from three-point territory.
Thornton, thanks to his tremendous jump-shot range and deceptive quickness, is a solid scoring option, but he has a relatively one-dimensional game and is a mediocre defender and playmaker. Sacramento has a number of players that can score in isolation, but they need players that can encourage ball movement among their teammates.
With Tyreke Evans, Isaiah Thomas and John Salmons among others competing with Thornton for time in the backcourt, Keith Smart has been forced to split time and as a result, Thornton is playing eight fewer minutes per game than he did in 2011-12, where he averaged 18.7 points per contest.
The Kings are not expecting efficiency or double-doubles from the former LSU Tiger on a nightly basis, but Thornton's penchant for taking bad shots, using the majority of the shot clock and not making a two-way effort has given Smart plenty of reasons to increase his time on the pine.
Thornton is still young and has shown he can be a leading scoring option, but that has not been enough to keep him from seeing his minutes and role dwindle considerably.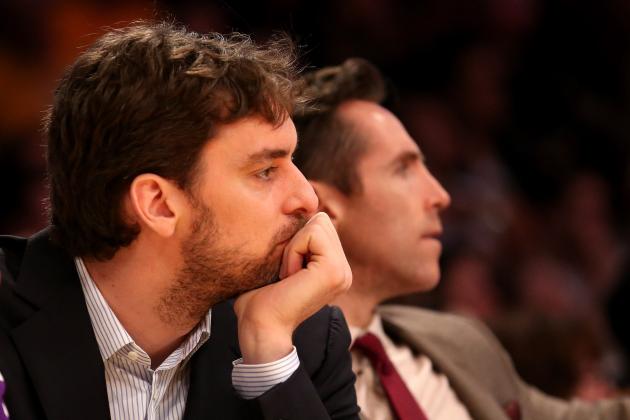 Stephen Dunn/Getty Images

Despite Los Angeles maintaining they are not looking to deal Pau Gasol, it is difficult to imagine that, if the Lakers continue to struggle, they won't become more open to moving the All-Star Spanish big man. Gasol is in the midst of one of the worst seasons of his career, and many are blaming the Lakers' struggles on him not fitting into Mike D'Antoni's system.
Gasol has missed several games with knee tendonitis, but prior to that was averaging just 12.6 points, 8.8 boards and 3.5 assists per game on poor 42 percent shooting from the floor. Gasol, an extremely skilled and efficient player, has struggled to be aggressive on both ends of the court while spending more time than usual out on the perimeter.
D'Antoni benched Gasol in a loss against the Memphis Grizzlies, in which Gasol sounded unhappy about his role playing outside of the paint. He has not blended well with Dwight Howard, and often looks outright lost while out on the floor.
Gasol is due over $38 million through the next two seasons, but if a team like Minnesota or New York is willing to pull off a blockbuster trade, it could be conceivable that L.A. decides to snag a player that better fits with the Lakers' system.
Gasol remains one of the most skilled big men in the league and there is still the very realistic possibility that this team gels and emerges as the title contender many expected them to be from the start of the season, but at this point it certainly appears that if the Los Angeles front office decides someone has to go, it will be Gasol.