7 NBA Players Every Fan Will Love to Watch During 2012-13 Season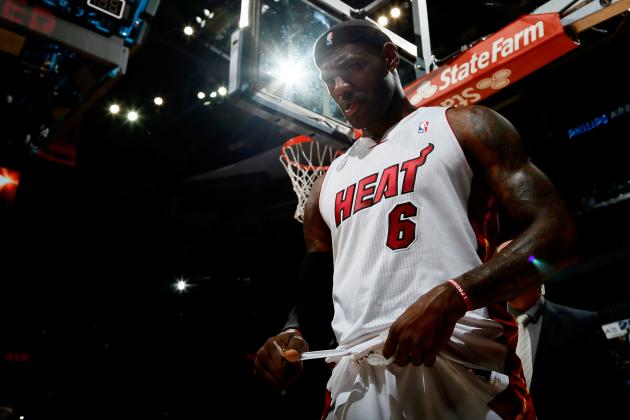 Kevin C. Cox/Getty Images

We've entered a golden age in the NBA, one that's dominated by a vast array of superstars. Each and every night it seems there's a game that draws considerable interest, and it's become clear that the league isn't lacking for intriguing story lines.
Reigning MVP's, budding stars and even modern-day NBA folk heroes are all must-see TV these days. From showstopping highlights to clutch late-game heroics and even a funny blooper or two, there are more than a few players that fans will get a kick out of this season.
Here we present to you a list of seven NBA players every fan will love to watch during the 2012-13 season.
Begin Slideshow

»
Portland Trail Blazers' rookie Damian Lillard plays with a ton of confidence and loads of swagger. With a lightning-quick first step and impressive range, Lillard has a real shot at winning the league's Rookie of the Year award.
Lillard's fearlessness on the offensive end may draw comparisons to Oklahoma City Thunder point guard Russell Westbrook, but Lillard already looks like a more pure scorer.
Playing in an offense that will allow him to see his fair share of looks, you should make Blazers' games must-see TV on your calendar moving forward.
Paired up with LaMarcus Aldridge, Lillard and the Blazers look to have a bright future ahead of them.
After declaring that he was ready to take over the Brian Scalabrine role (via NESN) for the New York Knicks, how could you not love Rasheed Wallace?
Off to a hot start, the Knicks will garner serious national attention (as they always seem to) throughout the season, and the opportunity to see Wallace rain down threes on opponents in garbage time is just too good to pass up.
Hearing the Madison Square Garden crowd chant "Ra-Sheed Wall-ace" night after night will not only be phenomenal theater, but it will provide fans with a little extra incentive to tune into Knicks' games all season long.
So you thought Kyrie Irving was fun to watch in his rookie season? Well, get ready, because Irving and the Cleveland Cavaliers have a supporting cast that have been loads of fun to watch in the early going.
Averaging just about 23 points and 6 assists per game thus far, Irving has shown no ill effects after suffering a broken hand (via ESPN) this summer.
Irving has been aggressive, attacking the basket at will, shooting over 40 percent from beyond the arc.
Everybody knows about elite point guards like Chris Paul and Rajon Rondo, but Kyrie Irving is the future of the NBA's point guard movement.
While many tune into Oklahoma City Thunder contests to see how wildly inefficient Russell Westbrook will be, Kevin Durant will always be the star of the show for Scott Brooks' club.
Westbrook may view himself as option No. 1, but Durant possesses the purest stroke in the game today. With that said it, would be hard finding another player who you would want taking a last-second shot for your team.
Durant has the ability to shoot unconsciously at any given moment, and his late-game heroics have been simply astounding to watch.
As he's grown as a player, Durant has incorporated more mid-range moves into his impressive offensive repertoire, and if he can add a low-post dimension, he will be impossible to stop.
There was a time not long ago that Houston Rockets' games were rarely talked about. Now it seems you can't go a day without hearing about the dynamic duo of James Harden and Jeremy Lin down in Texas.
Although the season is just two weeks old, Harden has proved that he's a legitimate No. 1 scoring option on any team, and that he was absolutely worth the max dollars (via Yahoo!) the Rockets bestowed upon him.
Harden's 45 point night against the Atlanta Hawks looks like it could be foreshadowing a long tenure of success in Houston, and his label as one of the NBA's most lethal scorers is looking legit.
Fear the beard, and fear the Rockets.
Forget Dwight Howard, Steve Nash and Pau Gasol for a minute. As long as Kobe Bryant is still breathing, the star of the basketball scene in Los Angeles will always be the Black Mamba.
Kobe has been scorching the nets throughout the early stages of the 2012-13 season, averaging more than 27 points per game.
What's more impressive is that Bryant is converting on more than 53 percent of his field-goal attempts, and just about 43 percent of his three-point attempts.
Kobe may not have many years of competitive ball left in him, so we should savor watching one of the NBA's greatest scorers while we have the chance.
He's the reigning NBA MVP, perhaps the greatest NBA talent since Michael Jordan and in search of his second NBA title.
That's right, as what should be no surprise at all, LeBron James is the most compelling figure the NBA has to offer today. While Lebron's quest to capture his second NBA title will be fascinating, there are several other story lines involving King James that require our attention.
Among them: Will the Heat be able to eclipse the 1995-96 Chicago Bulls' record of 72-10? Also, will LeBron be the first player since Oscar Robertson (and the second all-time) to average a triple-double for an entire season?
Fasten your seat belts, it's going to be a great year for basketball.