NBA: 5 Sleepers with a Shot at Winning Rookie of the Year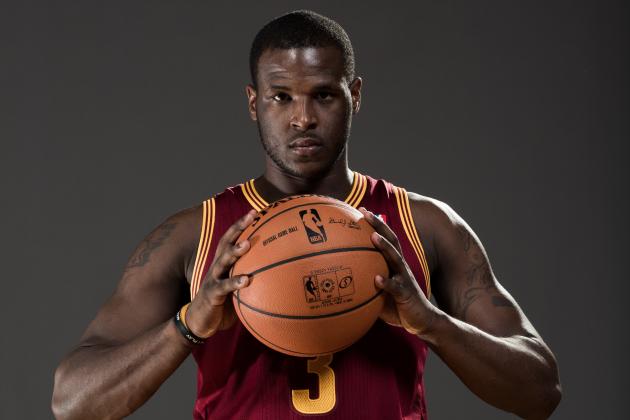 Nick Laham/Getty Images

Could we see a surprise for NBA Rookie of the Year? The 2012 Draft had a large pool of promising talent, probably one of the deepest in the past 10 years. This class of rookies has incredible athleticism, maturity and confidence for their age, which will contribute to an easy transition to the next level.
Although Anthony Davis and Damien Lillard have been receiving the most buzz of late out of all the rookies, there are a plethora of young studs who could very well win Rookie of the Year. As of now, Davis and Lillard are the front-runners because of their outstanding efforts and transition to the pro game. However, many rookies have yet to receive a real chance at contributing to their organization. Once those players earn some larger roles, the Rookie of the Year race will be tight instead of a two-man battle.
Whether it's a top-five pick who was a dominant force at Kansas or an extremely versatile second-round selection from Marquette, there's some incredible first-year talent around the league that should not be overlooked. After about two more weeks of the NBA season, you can expect to see some rookies playing major roles for both struggling and successful organizations.
Yes, rookies Anthony Davis and Damien Lillard are complete studs. But do not be surprised if one of the following young players earns Rookie of the Year honors at the end of this season.
Begin Slideshow

»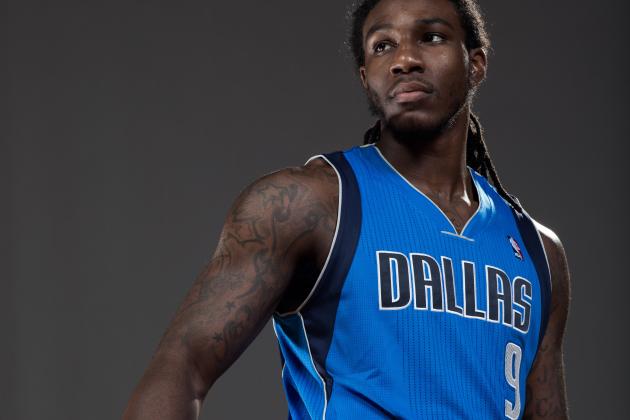 Nick Laham/Getty Images

Jae Crowder put up some outstanding numbers in college and is incredibly elusive considering he is 6'6" and 235 pounds. The man is a physical beast, and he has some impressive speed.
The Dallas Mavericks have a lineup that has changed quite a bit since their championship team two years ago. However, the organization has done a solid job of rebuilding and plugging new players into empty holes in the roster. Jae Crowder was an absolute steal in the second round of the 2012 NBA Draft. Spending two years playing for Marquette in the Big East (the best conference in college basketball), Crowder went up against the best competition at the collegiate level, making him a much better and more versatile player.
As long as Crowder continues to get at least 20-25 minutes of playing time per game, he should be a top-five candidate to win Rookie of the Year come midseason. Once the Mavericks feel the rookie is more familiar with the game plan, Crowder should receive more minutes.
Height: 6'6''
Weight: 235 pounds
College: Marquette
2011-12 College Stats: 17.5 PPG, 8.4 RPG, 2.1 APG, 2.5 SPG, 1.3 TO per game
Overall Pick in 2012 NBA Draft: 34th overall pick by the Cleveland Cavaliers (traded to Dallas)
2012-13 NBA Stats: 8.7 PPG, 3.0 RPG, 1.3 APG, 0.7 SPG, 0.3 TO per game, 21.0 MPG in 3 games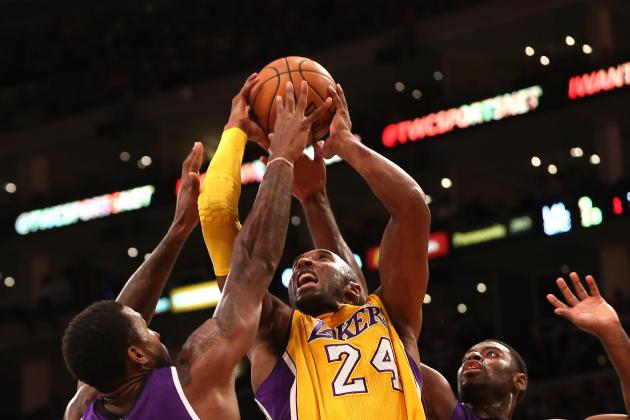 Stephen Dunn/Getty Images

Thomas Robinson was one of the most talented and outstanding players in Division I basketball last season, and it looks like he will be eased into a larger role. Only averaging 15.0 MPG in three games, Robinson has contributed all you could ask for.
Once the Sacramento Kings coaching staff figure out how to make Robinson and Demarcus Cousins coexist on the floor for major minutes, the team will have one of the most dominant low-post duos in the league.
All Robinson needs is a chance to shine; the sky is the limit for this hardworking, low-post nightmare. If only Thomas could develop a consistent 10-15 foot jumper, his game would be very valuable to any NBA team.
Height: 6'10''
Weight: 237 pounds
College: Kansas Jayhawks
2011-12 College Stats: 17.7 PPG, 11.9 RPG, 1.8 APG, 1.1 SPG, 0.9 BPG
2012 NBA Draft: Fifth overall by the Sacramento Kings
2012-13 NBA Stats: 4.7 PPG, 2.3 RPG, 1.7 SPG, 15.0 MPG in 3 games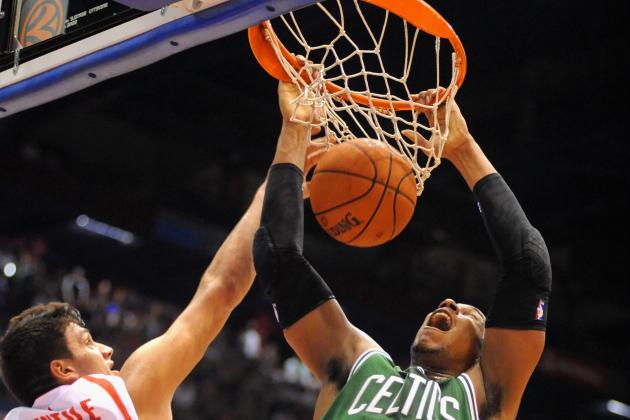 Roberto Serra/Iguana Press/Getty Images

If Jared Sullinger had left for the NBA after his freshman year with the Ohio Buckeyes, he probably would have been a top-10 pick. After waiting an extra year to declare for the NBA Draft, Sullinger had to compete with so many great players that his stock decreased considerably.
However, many would argue that it worked in his favor other than possibly missing out on a larger rookie contract; Sullinger is now a member of the Boston Celtics, who are serious playoff contenders year in and year out.
The 6'9", 260-pound power forward meshes very well with the Celtics and has already started one game, in which he shot 2-of-3 from the field, grabbed seven boards and made one block and one steal.
There's obviously a lot of room for improvement, but Sullinger has had an NBA body since he was a freshman in college. And he has the ability to learn from one of the best power forwards to ever play the game, Kevin Garnett.
Height: 6'9''
Weight: 260 pounds
College: Ohio State
2011-12 College Stats: 17.5 PPG, 9.2 RPG, 1.2 APG, 1.1 BPG, 1.2 SPG
2012 NBA Draft: 21st overall by the Boston Celtics
2012-13 NBA Stats: 4.0 PPG, 5.0 RPG, 0.7 BPG, 0.7 SPG, 18.7 MPG in 3 games (1 start)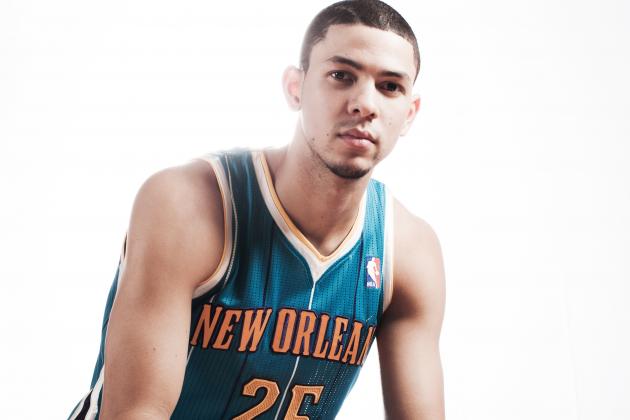 Nick Laham/Getty Images

The 2012 NBA Draft was essential to the future of the New Orleans franchise, who owned the first and 10th overall picks. It was quite obvious that Anthony Davis would be selected first because of his dominance at Kentucky, but the Hornets still had many players with a lot of potential to choose from with their number-ten pick.
In dire need of a star point guard since Chris Paul left town, the Hornets went with Austin Rivers, who has been around the professional game his entire life. Rivers is no guarantee, but he is very crafty and knows how to find the open man. If he can develop some consistency from behind the arc, his future will be very, very bright.
Anthony Davis may be getting all the attention now, but as Austin Rivers helps lead this team to the playoffs, Rookie of the Year talks might start to involve a different New Orleans rookie.
Height: 6'4''
Weight: 200 pounds
College: Duke Blue Devils
2011-12 College Stats: 15.5 PPG, 3.4 RPG, 2.1 APG, 1.0 SPG
2012 NBA Draft: 10th overall by the New Orleans Hornets
2012-13 NBA Stats: 6.0 PPG, 2.0 RPG, 3.3 APG, 1.7 SPG, 0.3 BPG, 29.0 MPG in 3 games (all starts)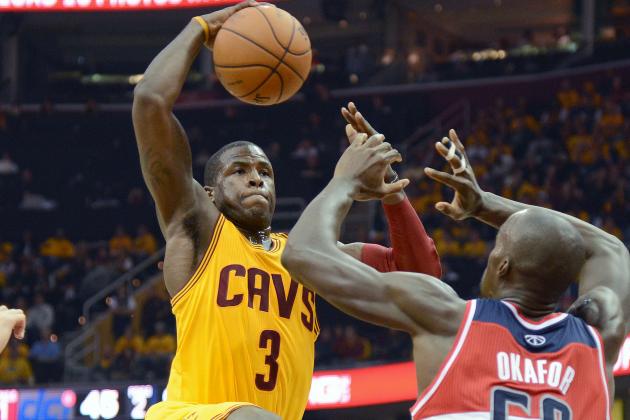 Jason Miller/Getty Images

Dion Waiters was a dangerous scorer and playmaker at Syracuse, but being selected fourth overall by the Cleveland Cavaliers was a complete surprise to many experts and maybe even to him. Waiters has been hard at work since then and is now stunning the league.
The Cavaliers clearly saw something in Waiters that many other organizations with top picks missed. So far this season Waiters has played over 25 minutes in each contest. Given his successful play, his time can only increase.
Just as Waiters surprised everyone by being the fourth overall pick, he could shock basketball fans everywhere by winning Rookie of the Year. Sure, Kyrie Irving is the prized possession of the team right now, but as Waiters proves himself he may thrive as Cleveland's star. If these two can coexist successfully, the Cavaliers may be headed in a great direction after the cold days of LeBron James abandoning his city.
Height: 6'4''
Weight: 215 pounds
College: Syracuse
2011-12 College Stats: 12.6 PPG, 2.5 APG, 2.3 RPG, 1.8 SPG, 0.3 BPG
2012 NBA Draft: Fourth overall by the Cleveland Cavaliers
2012-13 NBA Stats: 16.3 PPG, 2.0 APG, 2.3 RPG, 1.3 SPG, 28.5 MPG in 4 games