Top 10 NBA Storylines of 2012-13 Season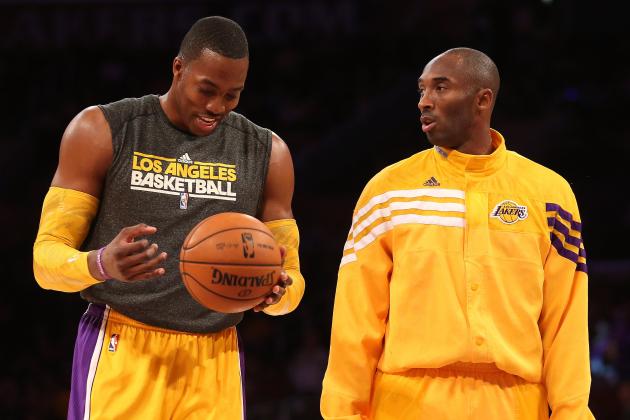 Stephen Dunn/Getty Images

This NBA off-season has provided more story lines than ever before, paving the way to an even more intriguing season than when LeBron James and Dwayne Wade joined forces in 2010.
There is a new super-team in Los Angeles, a former LeBron-title killer switched sides and a big trade just shook things up a bit in the Western Conference. I, for one, can't wait for the season to start. Fortunately, with the NBA tip-off just about 24 hours away, I won't have to.
Click through to find the most interesting story lines to follow for the entirety of the NBA season.
Begin Slideshow

»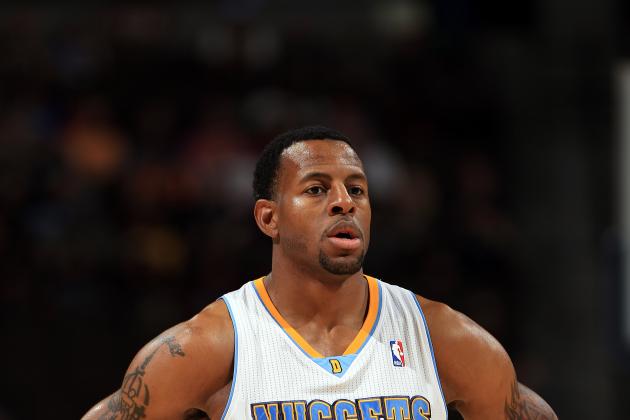 Doug Pensinger/Getty Images

Aside from your Boston Celtics, Los Angeles Lakers and Miami Heat, there are a few other teams that made some significant moves in the off season.
10) The Denver Nuggets brought in Andre Iguodala, a defensive superstar, to a team previously devoid of a stopper to take on the likes of Kobe Bryant of Kevin Durant. They surround him not with an offensive force to match, but instead with several mini-forces to put the biscuit in the basket.
Ty Lawson led the team with over 16 points per game and may not have quite hit his ceiling yet. Danilo Gallinari can light it up on any given night. At 6'10" he can be as difficult as a cover as Durant of DIrk, though his game is still very immature. Speaking of immature, Javale McGee is a big X-Factor here; if his production ever matches half of his athleticism, he will be one of the three best centers in the league. Kenneth Faried has only begun to scratch his potential as well.
It is a long shot, but the team has the potential to challenge the big boys in the Western Conference.
9) The Philadelphia 76ers brought in the game's second-best center. If I didn't hate every other off season move they made, I would count them as a challenger to the Miami Heat.
In my opinion, Nick Young is a huge downgrade to replace fan favorite Lou Williams as the leader of the bench mob. The team turned Elton Brand into Kwame Brown. Given, Brand was a free-agent bust, but still is ten times better than Brown, even at this stage in his career. It isn't like you save money by using the Amnesty Clause on Brand, so essentially the team is paying $20 million for the services of Brown this season. It would have been better to just eat the mistake of Brand and get the most out of him. Plus, his game actually complements Bynum's fairly nicely.
There are two players that will essentially seal this team's fate. The first obviously is Bynum, especially in regards to both his health and maturity. His talent has never been in doubt. The other is Evan Turner, who will be expected to replace the production of Iguodala.
He took some positive steps last season, but his shooting percentage regressed to just 36 percent. Remember, he was a late bloomer at Ohio State, as he did not fully blossom until his third season. This will be his third in the NBA, so it is now or never for 2010's number two overall pick.
8) The Houston Rockets made a lot of moves that I deem questionable at best until I see the production on the court. They cleared a huge amount of cap space to make a run at Dwight Howard, which eventually proved to be fruitless.
They essentially turned Kyle Lowry, a very good player, into Jeremy Lin. I knew Lin was not the star he pretended to be for six weeks in New York, but if the preseason is any indicator, he could be much worse than we all thought.
Houston has a lot of intriguing young players, though they just traded one I really liked (Jeremy Lamb) in the James Harden deal. Royce White has serious talent, but it remains to be seen if he has the mental/emotional capability to handle the NBA. Omer Asik's preseason indicates he might be an absolute beast on the boards as a starter.
The trade for Harden will probably indicate whether Houston competes for the eight seed in the Western Conference, or is one of the worst teams in the league. He needs to be a lead scorer for a team that is devoid of other big-time scoring options.
That is a scary proposition, considering he was the third option as the Sixth Man for the Oklahoma City Thunder.
7) The Dallas Mavericks were also big losers in the Dwight Howard sweepstakes, while they also struck out on Deron Williams. However, don't count the 2011 NBA Champs out just yet.
Chris Kaman is a huge upgrade at the center position. When healthy, he can average a double-double with a couple of blocks per game. Elton Brand was also an inexpensive addition to the bench and could be a nice role player.
The team also brought in O.J. Mayo. Mayo brings a lot more to the table in terms of tangibles than Jason Terry, but less in the way of intangibles. Mayo's talent is unquestioned, and sometimes players just need a new situation to maximize their ability. He also can play more minutes than Terry as a true shooting guard.
Don't be surprised if Mayo finally fills the potential the Memphis Grizzlies saw when they traded Kevin Love for him in 2008. Plus, the addition of Mayo means fewer minutes for Vince Carter, which is always a good thing.
I also like the addition of Darren Collison as the team's new point guard over the ancient Jason Kidd. Of course, the most important asset will be that of a healthy and fit Dirk Nowitzki, rather than the version that tried to play its way into shape last season.
A title defense after a one-year hiatus? Unlikely. A much more competitive playoff appearance? Mark it down.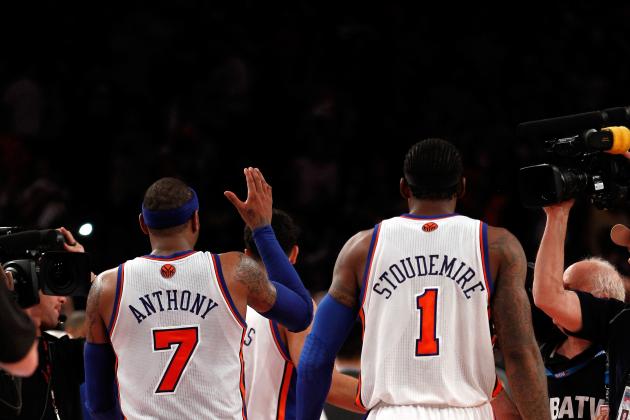 Jeff Zelevansky/Getty Images

The New York Knicks and Brooklyn Nets have a lot of work to do before they prove to me they are a threat to the Miami Heat. As far as the games against one another? That will be a lot of fun, and I personally am rooting for a four-seed, five-seed match-up in the first round of the NBA Playoffs.
This off-season, it was the Nets who made the splashy moves in the Eastern Conference. They now boast one of the NBA's best on-paper rosters, with a starting five of Deron Williams, Joe Johnson, Gerald Wallace, Kris Humphries and Brook Lopez. Josh Childress, CJ Watson, Reggie Evans and the promising Marshon Brooks provide the potential for great role play off the bench.
The Knicks are still waiting for the duo of Amare Stoudemire and Carmelo Anthony to really click, and will have to wait a little bit longer as Stoudemire will start the season in injury report. Ray Felton will try to recapture the magic of his half a season in New York in 2010, before he was dealt as part of the package for 'Melo.
To say the Knicks' bench is "experienced" is a bit of an understatement, as Jason Kidd, Marcus Camby, Kurt Thomas and the recently un-retired Rasheed Wallace provide 56 combined seasons of NBA action. Youngsters Ronnie Brewer and Iman Shumpert provide some athleticism and defense off the bench as well, while Steve Novak will be available to hit some threes.
Life after Lin starts now for the Knicks. They could miss the additional ticket sales with the new rivals in Brooklyn bound to steal some attendance. But as far as wins and losses, they should be fine without last year's flavor of the month.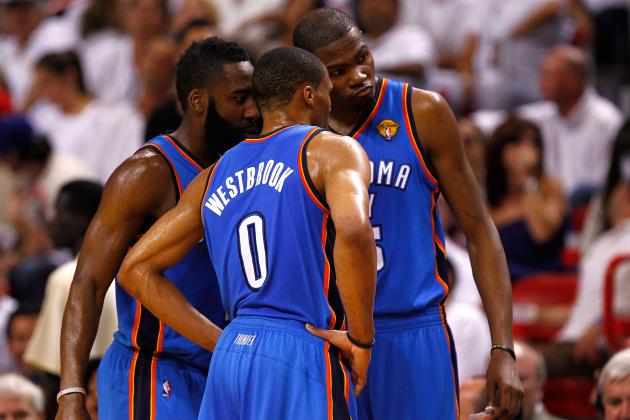 Mike Ehrmann/Getty Images

An unexpected new storyline just in time for the start of the 2012-13 NBA season is the sudden trade of James Harden. Oklahoma City got a nice package in return from the Houston Rockets, in the forms of Kevin Martin, Jeremy Lamb and two first-round picks, plus a second rounder.
Harden was probably gone next summer anyway. The team basically made the decision to break up the three-man bromance between Harden, Kevin Durant and Russell Westbrook when they signed shot-blocking Serge Ibaka to an extension. There was some thought the Thunder may amnesty Kendrick Perkins after the season and use the extra cash on Harden, but that idea went out the window the moment Dwight Howard's plane landed in Los Angeles.
For the long-term, this deal is a slam dunk win for OKC. I really like Lamb's potential, and given the team's recent draft history, the extra picks could be huge. The short-term is up in the air and we won't know the answer until playoff time.
On paper, Martin, a former all-star, is not a downgrade from Harden. The play making/back-up point guard duties will be replaced by Eric Maynor's return from injury, while Martin may actually be an upgrade as a scorer over Harden. On defense, Martin can be awful. However, that side of the ball is generally a matter of effort and Martin has played on terrible teams for the majority of his career, so perhaps playing for a contender can help him pick it up on that end.
This all sums up to a wash for the regular season, as I fully expect the Thunder to be within a couple of games either way of last season's record. It will be Martin's performance in the playoffs that determines the short-term winner of this trade.
Any title window in the NBA is a short one, and if Martin proves to be a choker in the clutch, they may have slammed the window down on themselves.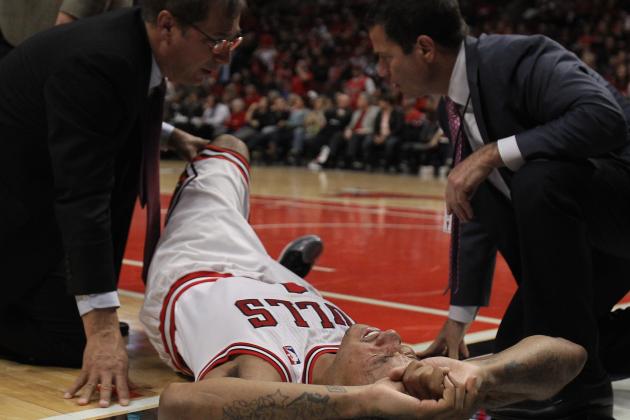 Jonathan Daniel/Getty Images

We have all seen the commercial: Derrick Rose falls to the ground and life stops for all of the Chicago Bulls' faithful. The beginning of the ad is dead on. The end, when he triumphantly walks back onto the court? That remains to be seen.
With Rose, the Bulls are the biggest threat to the Miami Heat's dynasty dreams. Without him, they are a scrappy defensive club that can compete for a playoff spot before being knocked out by the Heat, Boston Celtics or Brooklyn Nets in the first round.
So, what Rose will we see when he does return? Basketball's version of Adrian Peterson, or a dull shell of himself? Will we see him at all in 2013? Will this be the equivalent to Michael Jordan's '85-'86 season, a road bump in an otherwise stellar career? Or will Rose be this generation's version of Penny Hardaway?
Looking at how the Bulls handled Jordan's foot injury 27 years ago (some of the same front office personnel remain in place from that era), I believe the Bulls will err on the side of caution. With that being said, there is always a risk that a young player so in love with the game could make a push to come back too soon.
All NBA fans, regardless of affiliation, should be rooting for a full recovery from a player of Rose's caliber. After all, who wants to pencil the Miami Heat in as the Eastern Conference Champions for the next five years?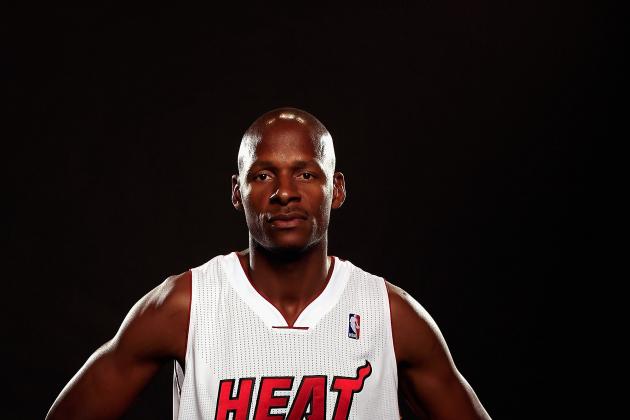 Chris Trotman/Getty Images

Not long ago, it seemed as though the original Big Three were set to retire together as members of the Boston Celtics, desperately fighting for one more championship ring. Then this off season happened.
Egos were bruised, bridges were burned and just like that, Ray Allen jumped ship to join Kevin Garnett's and Paul Pierce's bitter rivals in Miami. The Celtics rebuilt on the fly, and may indeed have a better team than the one that pushed LeBron and company to seven games in last year's Eastern Conference Finals.
Allen's departure was met with the acquisition of Jason Terry, a recent NBA champion that provides a lot of the same intangibles they lost with Allen. The team also welcomes the re-addition of Jeff Green and a trade for the athletic Courtney Lee. Avery Bradley, a pit bull of a defender, also returns after missing the majority of last season's playoff run. Boston also drafted a pair of intriguing big men in Jared Sullinger and Fab Melo.
Every year, we want to write the Celtics off, but they keep coming back strong. Unless Derrick Rose is at full strength with the Chicago Bulls, it is a near certainty the Celtics and Heat will meet in the playoffs for the third straight season, probably with a trip to the NBA Finals on the line once again.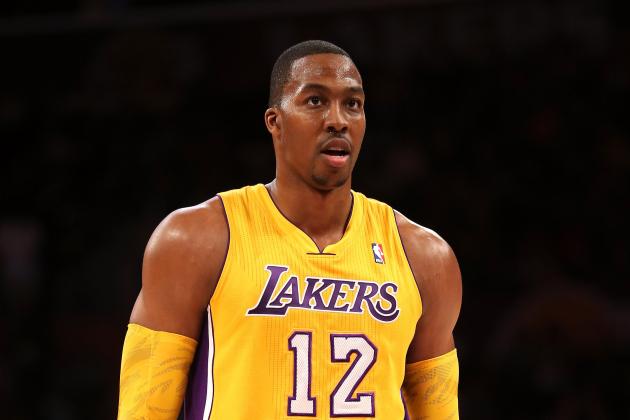 Stephen Dunn/Getty Images

On paper, the Los Angeles Lakers enter the 2012-2013 NBA season with the best team in the league. With Dwight Howard, Kobe Bryant, Steve Nash and Pau Gasol, the team can have up to four future Hall-of-Famers on the court at one time. With Metta World Peace and Antawn Jamison, they have a couple former All-Stars to add to the mix.
Sometimes Dream Teams work out, like with the original versions of the moniker, the 1992 US Olympic Men's Basketball Team. However, paper does not always lead to production, as Kobe Bryant knows all too well. His 2004 Lakers squad trotted out four future Hall of Famers and was bounced by the superstar-less Detroit Pistons in five games in the NBA Finals.
Only one of their six former All-Stars (Howard) is in his prime. Nash, Kobe and Gasol are still pretty good, though none are stars on the defensive side of the ball. Kobe once was a demon, but Father Time is undefeated, so Howard will have a lot of mistakes to erase. Jamison and Peace are shells of their all-star selves, but can still contribute.
The rest of the bench is probably the most underrated part of this team. Jodie Meeks is an under-the-radar addition that will play big minutes for this team as the backup to Kobe. He could probably see some minutes as Nash's backup as well, though the majority of that time will be split between the scrappy duo of Chris Duhon and Steve Blake. Jordan Hill had some big double-doubles for this team after arriving in LA and will contribute as an athletic big to spell Gasol and Howard.
We are closer than ever to that dream "LeBron vs Kobe" NBA Finals match-up. Just don't go penciling it in just yet. This team will have to figure some things out first.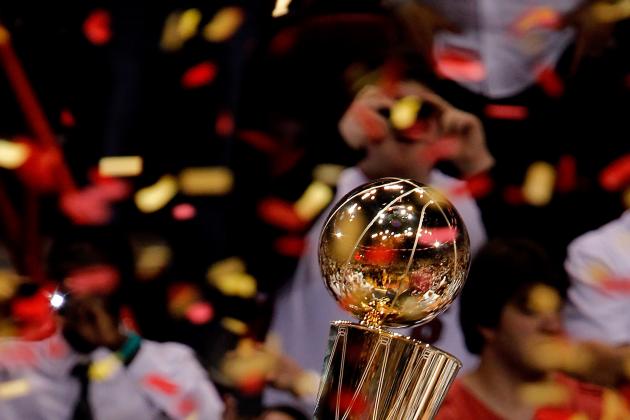 Mike Ehrmann/Getty Images

We finally saw the LeBron James we thought we were getting ever since he graced the cover of Sports Illustrated magazine as a 16-year-old a decade ago. Staring another disappointing end in the face, LeBron blended the best assets of Jordan, Bird and Magic, creating a basketball uber-force we had never quite seen before.
So, what now? Does he go the way of those legends before him, where one was never nearly enough? Or does he go the way of Alex Rodriguez and Wilt Chamberlain, never able to put his talents to use at the most important moments ever again?
LeBron has a chance to do what so few have done before—change the game for the better. He can guard 1-5, and as a result the Miami Heat may never be tied down by such labels as "point guard" and "center," as they were before two staples to any successful team that was not executing the Triangle Offense while throwing two of the most disruptive defensive forces in the league's history at the opposition arrived on the team.
He put up stat lines we have not seen by anyone since Chamberlain. Unlike Chamberlain, he filled the box score when his team needed it most—when Chris Bosh was down and while Wade was a shell of himself due to a knee injury. Time and time again, he attacked the aspect of the game the team needed most at that moment and executed with utmost perfection while the game was still in the balance.
I needed to see something like this before I did what so many writers before me had; compared him to Jordan. It is still blasphemy, but he has the talent and the time to build a comparable resume. If he ends up with six rings and eight MVP trophies (he already has three), while personally guarding everyone from Derrick Rose to Dwight Howard, how can we not question Jordan's reign as the GOAT?
Get ready to see something special, folks. Love him or hate him, this is the man we will be telling our grandchildren, "I was there. I saw him in his prime and there was nothing like him."