5 Matchups to Look Forward to Most During the 2012-13 NBA Season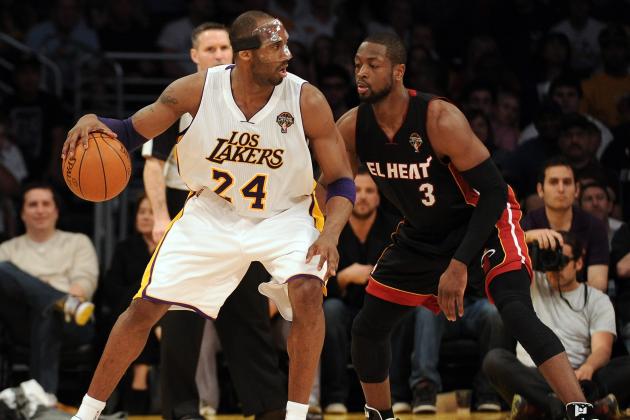 Harry How/Getty Images

The upcoming NBA season should be a fun one to watch!
Why? Well, for a few reasons.
Many teams have very intriguing rosters that should be a whole lot of fun to watch. These teams with intriguing rosters will face off against one another on many separate occasions.
Simple deductive reasoning will imply that two teams with two intriguing rosters squaring off against one another will lead to some intriguing matchups.
Don't believe me?
Well then take a look at the following matchups presented in this slideshow and tell me you're not at least slightly intrigued!
Begin Slideshow

»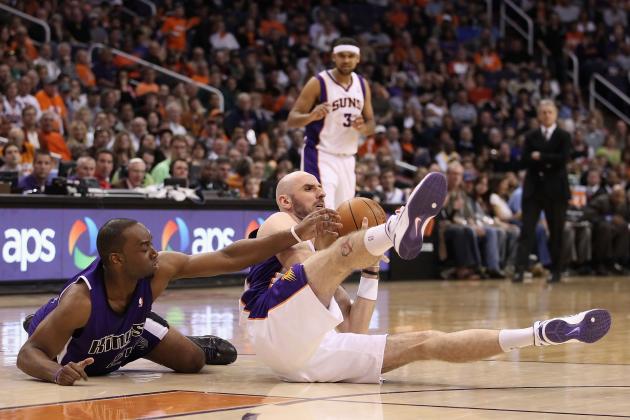 Christian Petersen/Getty Images

Head-to-head matchups:
December 17, 2012 @ Phoenix
January 23, 2013 @ Sacramento
March 8, 2013 @ Sacramento
March 28, 2013 @ Phoenix
What? Huh? How in the world is this one of the most intriguing matchups in the league this year?
Okay, let me explain.
They're division rivals! That is all.
Kidding aside, I think these two teams have some very interesting rosters that many will be watching closely to see how they mesh together. If both of these teams come together and reach their full potential, then both of them can surprise many experts and sneak into the playoffs.
The Kings have a plethora of talent on their roster. If only their top two stars, DeMarcus Cousins and Tyreke Evans, were able to improve their attitudes and become the leaders of this team, maybe the city of Sacramento would get used to seeing winning basketball again.
Upon the departures of Steve Nash and Grant Hill, the Suns rebuilt their roster by signing free agents such as Goran Dragic and Michael Beasley, while picking up Luis Scola off waivers. It will be very interesting to see whether Beasley can finally turn his career around and whether Dragic will play the same way he did during the second half of last season.
How these players fit in with the likes of Marcin Gortat and Jared Dudley will also be interesting.
Want another reason why I will love to watch these two teams play one another?
Kendall Marshall and Thomas Robinson! My two favorite rookies from this year's draft.
That is all!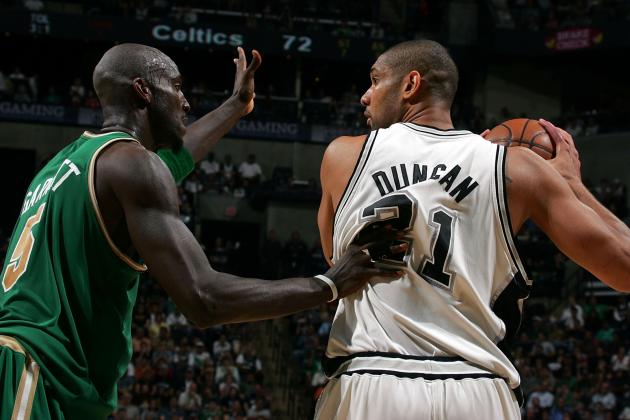 Ronald Martinez/Getty Images

Head-to-head matchups:
November 21, 2012 @ Boston
December 15, 2012 @ San Antonio
Here's the matchup between the two teams that just can't get away from title contention. It seems like every year both of these teams are told they are too old to contend, yet they somehow find themselves making a deep run once the playoffs roll around.
With many veteran starters who play the game the way it should be played and youthful benches that go deeper than almost every other team in the league, this year shouldn't be any different.
The coaches of both teams will be able to rest their starters whenever they please, mainly because another quality player will be waiting right behind them to get into the game.
The action may not be as flashy as one might hope, but the matchup is still guaranteed to entertain throughout the entire 48 minutes.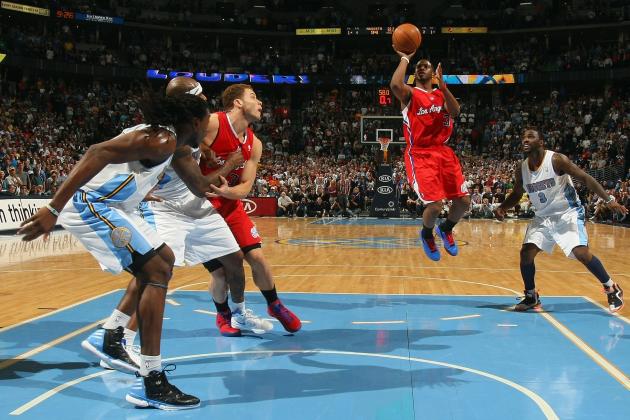 Doug Pensinger/Getty Images

Head-to-head matchups:
December 25, 2012 @ Los Angeles
January 1, 2013 @ Denver
March 7, 2013 @ Denver
There will be no shortage of entertainment when these two teams square off against one another three times this season.
The fact that these will probably be the two teams competing for the fourth seed in the Western Conference behind the Los Angeles Lakers, Oklahoma City Thunder and San Antonio Spurs definitely won't hurt the intrigue.
The Clippers have one of the best alley-oop combinations in the league with Chris Paul lobbing it up to Blake Griffin and DeAndre Jordan any opportunity he gets.
The Nuggets will be one of the best fastbreak teams in the leagues, thanks in large part to all the athleticism their roster possesses.
This matchup will not lose much excitement once the benches enter the game, as these are arguably the two deepest teams in the league, both going two deep at every position.
With all of these qualities in mind, it would be hard to argue that this matchup won't be one of the most intriguing matchups in the league.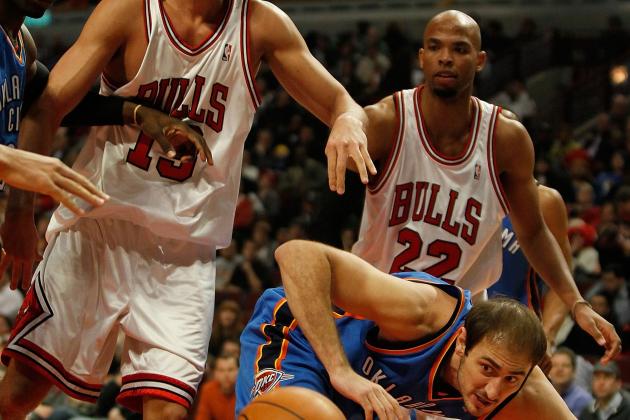 Jonathan Daniel/Getty Images

Head-to-head matchups:
November 8, 2012 @ Chicago
February 24, 2013 @ Oklahoma City
Of course, this matchup is ranked No. 2 with the expectation that Derrick Rose returns to the basketball court sometime in the middle of the season.
Featuring one of the league's best offensive teams against one of the league's best defensive teams, both of these teams' core players are still very young and play the game with a lot of energy, athleticism and excitement.
There is no shortage of star power, as Kevin Durant, James Harden, Serge Ibaka, Luol Deng, Joakim Noah and Carlos Boozer are all either past All-Stars or have the potential to be All-Stars in the near future.
Then there is also the matchup between two of the quickest and flashiest point guards in the game today: Russell Westbrook and Rose. Watching these two mega-talented players oppose one another and attack the rim without any fear makes for one of the best individual matchups in the game today.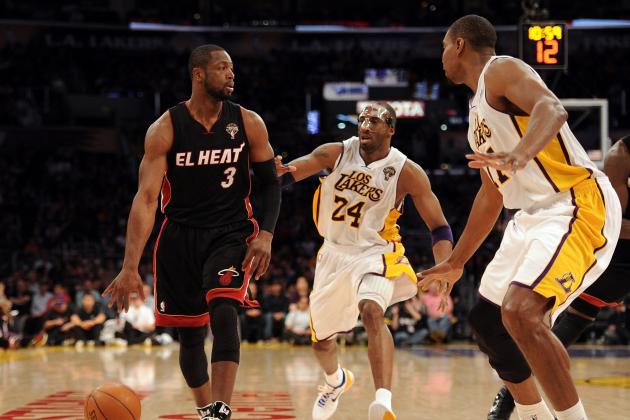 Harry How/Getty Images

Head-to-head matchup:
January 17, 2013 @ Los Angeles
February 10, 2013 @ Miami
LeBron James. Dwight Howard. Kobe Bryant. Dwyane Wade. Steve Nash. Pau Gasol. Chris Bosh. Ray Allen.
Do I really need to say anymore?
This game will look more like an All-Star game than a regular-season game between two teams.
You'll be able to watch two of the best defensive players in the game, and two biggest physical specimens, in LeBron James and Dwight Howard.
Two of the flashiest and brightest scorers will be there as well in Kobe Bryant and Dwyane Wade.
You like passing?
Steve Nash and Pau Gasol will be there.
How about three pointers?
Ray Allen will help you with that.
Maybe, you even like elbows?
Metta World Peace will be present too.
The last one was a joke, but you get the picture!