Los Angeles Lakers: 10 Bold Predictions for the 2012-13 Season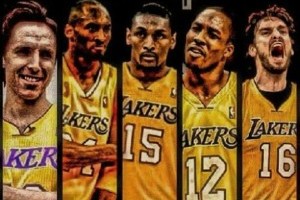 Forget about being the most hyped NBA team right now, the 2012-13 Lakers may well be the most hyped team in sports history, period.
Consider the following facts:
The Big Four of Steve Nash, Kobe Bryant, Pau Gasol and Dwight Howard averaged a combined 77.4 points per game last season. That's only 10.6 points less than the entire Charlotte Bobcats team did last season.
Including Metta World Peace and Antawn Jamison, the Lakers will field six All-Stars on a nightly basis.
The starting line-up consists of four Olympians, with a total of three MVPs, four Defensive Player of the Year awards, two FIBA European Player of the Year awards and a jaw dropping 31 All-NBA team selections.
So, yes, when people whisper about numbers not spoken of since 1996 in Chicago, I think they're justified. Let's take a look at how the season may pan out for the most powerful team in sports.
Begin Slideshow

»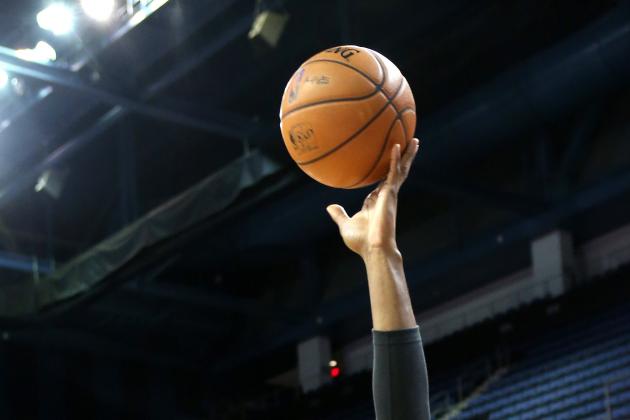 Stephen Dunn/Getty Images

No big surprises here, and no real biggie if you're Mike Brown. Howard is out for the preseason as is, but he's said to be in good enough shape to practice. Regardless, the Lakers don't want to take any risks with their new prized Ferrari, and they'll keep him in the garage with a cover until he's ready to play. Of course, they can afford to, because of…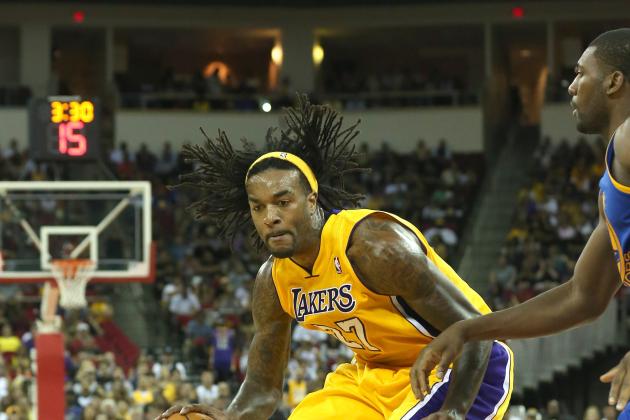 Stephen Dunn/Getty Images

Okay, so maybe this one's a bit bold.
I know Jordan Hill is said to have back problems right now, but if it was anything serious, is it not likely the Lakers would've made a statement about it by now?
I expect Hill to sit out a few more preseason games, and then slot into the starting lineup next to Pau Gasol at the five.
During the postseason last year, he was quite a revelation. Hill proved to be a tenacious rebounder and energetic defender who scrapped for every possession. That kind of give-it-all-you-got attitude is all you need when Steve Nash is feeding you the easiest baskets of your life.
As for Jamison himself, I expect him to play a more perimeter-oriented role. Considering the kind of superstars the Lakers have, floor spacing is very important.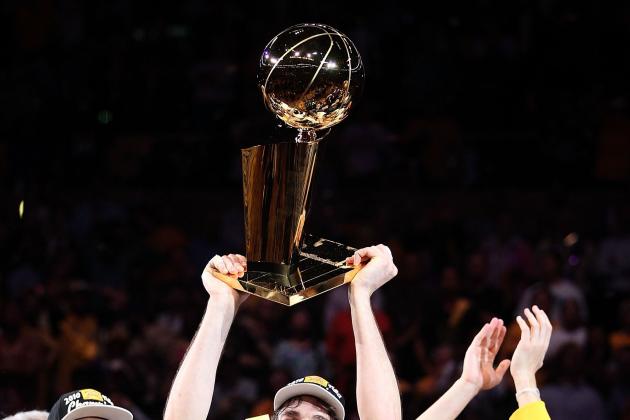 Christian Petersen/Getty Images

This probably would have seemed a bit odd to say circa May 2012, when the Lakers were getting blown out of Oklahoma by Kevin Durant, Russell Westbrook, and 20,000 raucous Thunder fans.
However, post the Olympic gold medal game, I can say with full confidence that the Spaniard is going to be back with full strength.
That game was disarming to watch. During the second half, Gasol practically put his country on his shoulders and matched the American juggernaut blow for blow. LeBron James, Tyson Chandler, no one could guard him. The intensity was back.
And just think, now we are putting him with three players it would seem he was born to play with.
Nash and Gasol will run the smoothest pick-and-roll in NBA history. For Nash, it's like Thanksgiving, his birthday and Christmas all rolled into one. Gasol has all the qualities of his previous partner in crime, Amare Stoudemire, and then some. He's a solid seven feet, meaning that after the screen is set Nash can almost leisurely choose what to do. Either take a jump shot himself, hit a cutter, or let the screen slide and throw the entry pass into Gasol.
I think Pau will feast on this. In the 2011-12 season, Gasol shot 68.7 percent on shots at the rim. Either he can stride into the paint for an easy dunk, or if the double-team comes, find either Nash, Bryant or World Peace for an easy jumper.
With his frontcourt partner Howard guarding the paint, Gasol has the option of gambling and going for blocks, or hanging back and collecting rebounds. One thing is for certain, Gasol will be one of the most wanted fantasy players in the NBA this year.
I'm thinking a stat-line of 19 points per game, 10.5 rebounds per game, 3.5 assists per game, and 1.5 blocks on 55 percent shooting or more sounds appropriate.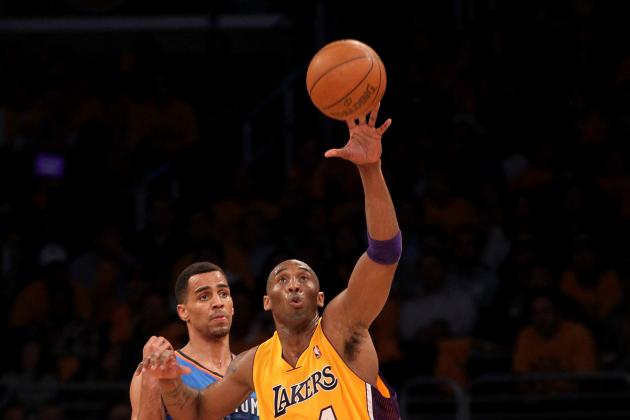 Stephen Dunn/Getty Images

In 2011-12, Kobe averaged 27.9 points per game, staggering for a 34-year-old. However, his shooting efficiency was the lowest it's been in years: just 43 percent from the field, and 53 percent true shooting.
Of course, that's going to change.
Kobe will continue to score, but in different ways. He won't need to run isolation plays anymore, because he's going to have a ton of open lanes to the basket opened for him by arguably two of the best post players in the league, Howard and Gasol.
If he wants to spare his knees and stick to the perimeter, he can run an easy pick-and-pop with Nash, sliding over to his preferred elbow spot. He can then either await the pass, or the double team, in which case Howard or Gasol will have an easy dunk or World Peace or Nash will have an easy three.
Kobe's minutes will certainly decline, but I don't think his stats will be too affected. I'm thinking something to the tune of 26 points per game, 6 rebounds per game, and 3.5-4 assists per game on 47-48 percent shooting from the field.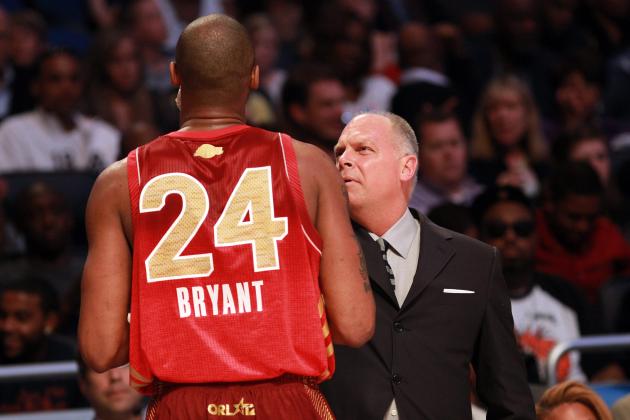 Ronald Martinez/Getty Images

This is a no brainer.
Kobe will start the All-Star Game until he's fifty years old, and Andrew Bynum partnered him there last year. Now, Bynum's replacement should take the New Jersey native's place. It's quite obvious that Chris Paul and Kevin Durant will be joining them. The power forward spot is up for grabs, between either Blake Griffin, Kevin Love or Dirk Nowitzki (Personally, I think it should be Love).
But the starters are always quite obvious. Let's look at the reserves:
Russell Westbrook has one of the backup guard slots sewn up. Whichever two of Nowitzki, Love and Griffin don't start will take the two forward spots. I believe Marc Gasol will get the backup center spot.
Then, it gets tricky. There are always two utility spots on the All-Star team for which coaches can select any position.
To begin with, I think Tony Parker takes the other backup guard spot. A team that went 48-7 over a 55 game stretch has to have at least one All-Star. That leaves the two utility spots, for which I think there are four contenders: Steve Nash, Pau Gasol, Ricky Rubio and LaMarcus Aldridge.
So here's how I think it pans out: Rubio and Gasol get chosen. Nash, I believe, will be rested quite a bit in the regular season. Not to say he won't be effective, but I can't see him averaging more than 30 minutes per game, and say 10 points and 8-9 assists. As of late, older players like Tim Duncan have been dropping out of All-Star contention, so I think Rubio edges Nash, considering he'll probably be leading one of the most entertaining squads in recent memory in the Timberwolves.
As for Gasol vs. Aldridge, it simply comes down to winning bias. Kevin Durant was lighting it up in the 2009 season, averaging over 26 points per game, but his Thunder were terrible and he received no consideration from the coaches. I don't think the Blazers will be quite that bad, but I think the prospect of choosing the guy who plays for, say, a 42-9 squad over the guy who plays for a 26-23 squad will swing the voters.
Plus, how cool would it be to see Parker, Rubio, Nowitzki, Gasol and Gasol on the court at the same time? If the East run with Williams, Wade, James, Anthony and Chandler, it'll be the closest thing to a USA vs. Rest of the World matchup we'll ever get to see.
Stephen Dunn/Getty Images

I feel like I'm almost being pessimistic here.
I don't need to go over the introduction again to tell you just how good the Lakers' players are. Quite simply, an opponent that is not Miami or Oklahoma City would need three of the four Lakers stars to have an off game to have a chance at winning. And need I mention those 31 All-NBA team selections to tell you how slim the chances are of that happening?
Multiple extended runs where the Lakers just demolish their opponents are looking very likely. With everyone rotated and rested during games, they'll be able to bring it night after night. It will take a very lucky opponent to pick a game off them when they're in full flow.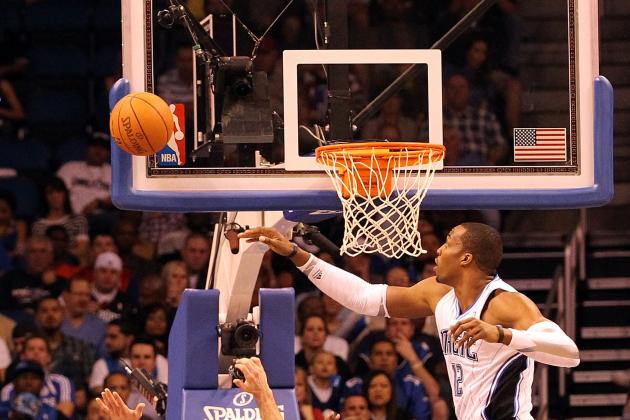 Sam Greenwood/Getty Images

Another no brainer.
Personally, I believe he deserved it last year as well. However, it seems the voters were influenced negatively against him by the, ahem, drama that consumed Orlando.
No matter. Consider how Coach Brown took a team with LeBron James and a bunch of role players and cast-offs to a defensive rating of 102.3 in 2009. What do you think will happen when he has Dwight Howard, Metta World Peace and a Kobe Bryant able to focus more on defense with the offensive pressure on him lessened?
I think the Lakers turn into a devastating rebounding team and, with Howard at the pivot, reach a sub-100 defensive rating. Comparisons will be drawn to the 2008 Boston Celtics, and it will all lead to Howard joining Dikembe Mutombo and Ben Wallace as the only four-time winner of the Defensive Player of the Year award.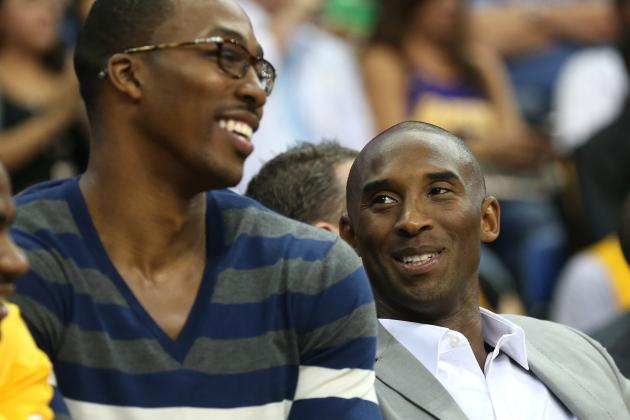 Stephen Dunn/Getty Images

Seems funny that Gasol makes the All-Star team and doesn't make it here, but vice versa with Nash, doesn't it?
To me, it is not. I'll tell you why: I believe that the MVP trophy should consider literally that, the value of a player. If you subtracted him from a team and replaced him with an average league player, how many wins would a team lose?
Obviously there's no way to objectively quantify this. I believe statistics like PER and Win Shares are innovative and interesting, but almost impossible to judge a player's true value by. They basically use box score stats and don't take into account the millions of things that happen on a basketball court, from defensive rotations and screens set, to leadership qualities and the spacing effect a player has.
I think Nash will play an enormous part of the Lakers' success, and in terms of wins above an average player, you might make the case he's been the highest impact player in the league for years. However, voters are quick to latch onto new stories, such as the emergence of Dwight Howard in the discussion of the best defensive player of this generation.
Kobe Bryant will always remain in that particular discussion, of course, so here's how I think the voting will pan out: LeBron James wins his fourth MVP, Kevin Durant finishes second for the third time in his career, Kobe Bryant gets the third place nod, and Chris Paul and Dwight Howard round out the top five. Then, the voting will finish up with Kevin Love, Tony Parker, Steve Nash, Deron Williams and Russell Westbrook in some order like that.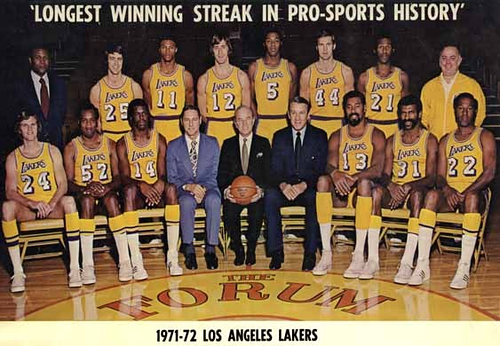 Hey, the title did say bold, right?
Forget a team with 31 All-NBA team selections in their starting five, achieving a 69-13 record is a daunting task for any team.
Writers and analysts are predicting the Lakers will not jell quickly, and won't hit top form until after the All-Star break, citing the 2011 Miami Heat syndrome that superstars take time to adjust to each other.
I disagree, mainly because the Lakers are nothing like the 2011 Heat. The 2011 Heat basically took the Michael Jordan prototype, made a couple of changes, cloned it, and put those two players on the court together. It wasn't going to work until one of those "Jordans" agreed to be the "Pippen." We know how it ended, Wade finally gave up the torch to James, and the rest is history.
The new Lakers team fits together perfectly. Perimeter defenders in Bryant and World Peace, a paint intimidator in Howard, two great rebounders in Howard and Gasol, two great post scorers in the same, arguably the best perimeter scorer ever in Bryant, and the key to ensuring everything falls in place: Steve Nash.
However, in the Lakers' case, there's a set hierarchy and roles. Kobe Bryant remains the untouchable alpha dog and king of kings in LA. Steve Nash is the elder statesman who will make sure everything runs smoothly. Dwight Howard is the crown prince who is happy to be accepted as the No. 2 right now and win a ton of games and awards, knowing that the team will soon belong to him. Pau Gasol has never had any ego issues, as the knight of honor who gladly fills any role his army needs him to.
This team has no holes. None. Metta World Peace can be the court jester.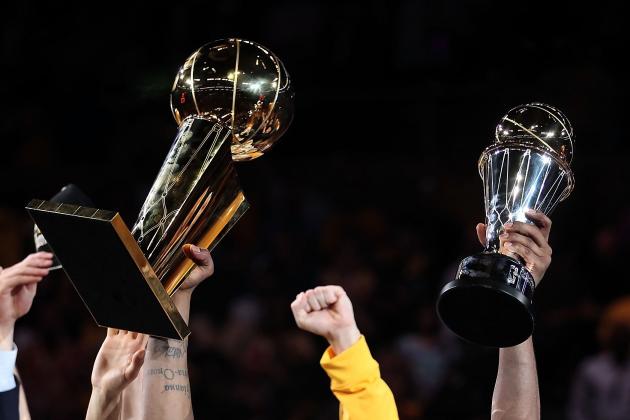 Christian Petersen/Getty Images

With this statement, one can either agree, or disagree.
Los Angeles and Miami had might as well play the Finals on October 30th, for all it matters. No other team is touching these two.
It's a hard pick between them for some, but I think the men in purple and gold are just too complete to be denied.
Pau Gasol will have his redemption. Dwight Howard will vault into the discussion of the great Laker centers, from George Mikan to Shaquille O'Neal. Steve Nash's career will finally be complete, and he will be recognized as the third greatest point guard in NBA history behind Magic Johnson and Oscar Robertson, as he should be.
And of course, we can't forget No. 24, who will win the Finals MVP. A sixth title and a third Finals MVP should put him in the top six of anyone's all-time list, and the Jordans and Russells will feel someone nipping on their heels.
Air Apparent, indeed.