Predicting the 20 Most Effective Defenders for the 2012-13 NBA Season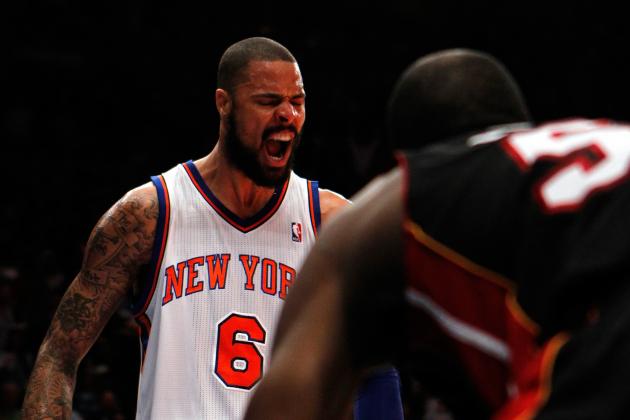 Jeff Zelevansky/Getty Images

One of the toughest things to do when analyzing basketball is to determine how good someone is on defense.
There are a few metrics you can use to attempt to measure their effect on the game, and none of them are true representations of how good an individual's defense might be. You can look at adjusted plus/minus over a large sample size, how they defend certain positions, if they draw charges, or even use counting stats such as steals and blocks.
But ultimately trying to figure out who the best defenders are in some definitive order is a bit of a tall order. In trying to predict who the most effective defenders for this coming season might be, I tried to look at everything that is available at my disposal.
I looked at the on/off reports from NBA.com/stats, the "by position" defensive measurements on 82games.com, the per-possessions defensive numbers of mySynergy Sports, and formulated my own opinion on which players seem to be the best from what I watch on a nightly basis.
This isn't a scientific formula by any means, but merely my best estimation at which players will be the most effective defenders this season, taking into account their individual defensive abilities and how they operate within their own team's system.
I left off young defensive stars like Ricky Rubio, Avery Bradley and Iman Shumpert because we simply don't know their timetable nor their effectiveness from their current injury rehab. Other players like Luol Deng and Josh Smith just missed the cut because their numbers weren't overly impressive.
It's not to say they're bad defenders or not really good; they just didn't make this list of my estimations.
Begin Slideshow

»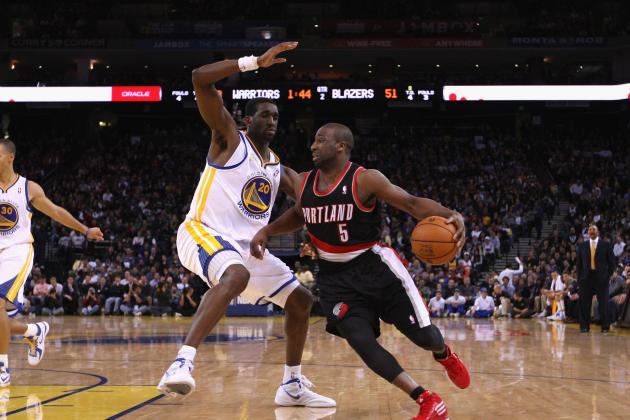 Ezra Shaw/Getty Images

Ekpe Udoh was the king of the plus/minus last season.
Mark Jackson tried to remake the Golden State Warriors from a lovable and laughable defensive unit that was just waiting to get into transition to a hard-nosed defensive team with the ability to shut down opponents for key stretches. Udoh was a big part of this reclamation project before he was dealt to the Milwaukee Bucks along with Monta Ellis for Andrew Bogut.
In his time with the Warriors last season, Golden State had a defensive rating of 97.6 when he was on the court and 108.4 when he was on the bench. In playing just four percent of the Warriors' power-forward minutes, Udoh gave up a PER of 12.7 to opposing power forwards and a PER of 15.5 to opposing centers in 30 percent of the Warriors' available minutes at center.
He ranked 166th in the NBA in points per possession given up with 0.83, and surrendered just 41 percent from the field with the Warriors.
When Udoh was dealt to Milwaukee, he continued to have a positive impact on his team's defense. With him on the floor, the Bucks posted a defensive rating of 98.0, much better than 103.5 when he was on the bench. He gave up a respectable 16.7 PER to opposing centers while with Milwaukee, playing 18 percent of the Bucks' minutes there.
He gave up the same PPP (points per possession) with 0.83 and a slightly higher field goal percentage at 42.5 percent. The reason he was able to give up the same PPP while surrendering a higher field-goal percentage is he only committed a shooting foul 4 percent of the time with the Bucks, down from 6.9 percent with the Warriors.
Heading into this season, there is a glut of power forwards and centers the Bucks can throw out there in various lineups. But Skiles will want to keep his job, and his job is to win basketball games. When a guy is consistently giving you great defense and a positive net rating, that helps you win those games.
We'll see the same effectiveness we saw from Udoh in Oakland, and he may even help get this team to improve dramatically on the Bucks' overall defensive rating of 102.4 last season.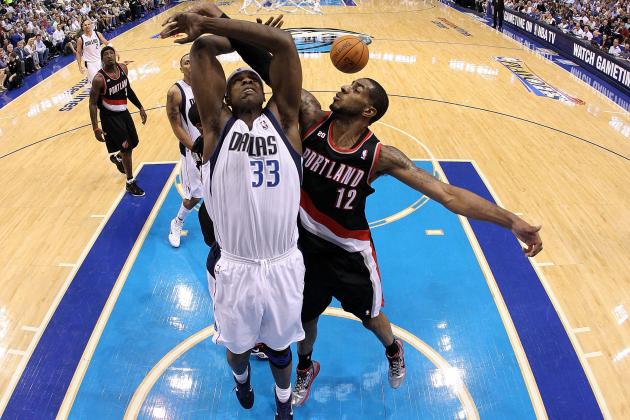 Ronald Martinez/Getty Images

LaMarcus Aldridge might be one of the more underrated big-man defenders in the NBA.
He's not Kevin Garnett or Dwight Howard shutting down opposing offenses for entire key stretches, but he's definitely posting impressive numbers that show an ability to carry his team defensively when he's on the court.
The Blazers were a truly atrocious defensive team last year, mainly because they completely wet the bed after they decided to tank the season reshuffle the roster and prepare for the future.
At the end of the season, Portland ranked 22nd in the NBA in defensive rating with a 103.4 mark. From March 13 through the end of the regular season, they posted the worst defensive rating in the entire league with a 110.4 mark.
But when LaMarcus Aldridge played last season, his lineups were very good defensively. Without him, the team posted a 108.5 rating as opposed to the 100.8 they posted with him.
He was flanked by Marcus Camby (older and not great, but still a guy that could end possessions with his rebounding) and Gerald Wallace for much of the season, but even when those guys were gone, he had a decent run of it.
Much like Udoh, Aldridge too posted a PPP of 0.83, good for 166th in the NBA. But he also gave up a lower percentage from the field at 37.4 percent. He struggled a bit to close out on spot-up shooters, especially from three-point range, but it was really his only downfall.
Other than that, LMA defended the post extremely well, and gave up just 32.7 percent from the field on isolation plays.
This coming season, he's going to have to be even better defensively, as he has J.J. Hickson's unrequited potential flanking him inside and Meyers Leonard learning as he goes in his rookie campaign. But what we've learned about LMA over the past two years is he steps up when his team needs him to.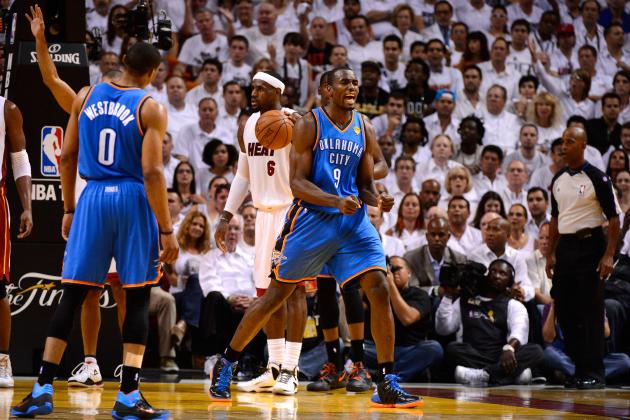 Ronald Martinez/Getty Images

Serge Ibaka finished second in Defensive Player of the Year voting last season and the Internet freaked out.
Some of it was warranted. Despite leading the league in blocks and having the most flexes post-block since Alonzo Mourning was prowling the lanes, Ibaka had a pretty big reputation for biting on just about any pump fake you could think of. You didn't even have to attempt it; you just had to think about pump faking and you'd get him in the air.
Even though Ibaka wasn't an elite defender by measures such as his PPP given up (he ranked 280th), he shut down the rollers on pick-and-rolls (55th), defended the post well (159th), and gave up just 38.2 percent from the field on isolation plays.
When Ibaka played center for the Thunder last year, he got torched. He gave up an opponent PER of 24.0 in the 4 percent of center minutes OKC gave to him. But when he was playing next to Perkins and allowed to be more of a defensive power forward, opposing PFs only posted a 14.0 PER.
Yes, Ibaka was given far too much credit for a defensive job he didn't do that consistently, but it doesn't mean he's a bad or ineffective defensive player. The Thunder posted a 98.5 defensive rating with him on the court and a 101.9 when he was on the bench.
For this coming season, I think we'll see a lot of improvements in his patience within the defensive half court. Ibaka is a guy who wants to block shots.
But when he stays home and doesn't over-anticipate his opponent's trigger, he's physical and long enough to really push guys away from the comfort zones. It's fine for him to be jump happy when he's roaming from the weak side, but he can't fall for the same volume of chicanery he did last season.
Perhaps this year, he'll be able to alter enough shots without giving wide-open lanes when presented with a fake.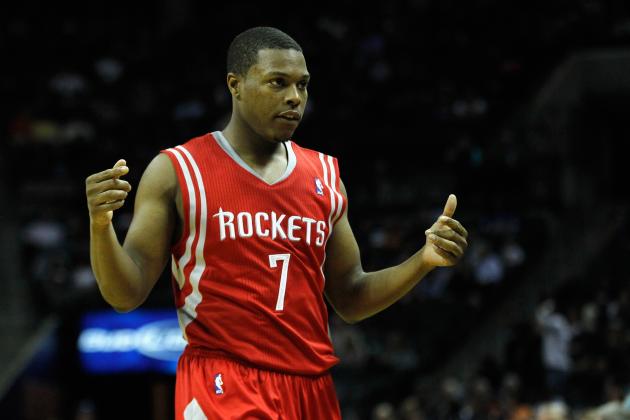 Streeter Lecka/Getty Images

There are a lot of people that don't believe a point guard's defense matters.
I am not one of those people.
Depending on the system, a point guard's defensive ability might not be a necessity. In Orlando under Stan Van Gundy, the strategy was to force the opposing team away from the three-point line and into taking long two-point jumpers. With Dwight patrolling the lane, it was a deterrent from offensive players getting into the key.
So it didn't matter if Jameer Nelson was a walking welcome mat on defense. But when you have a guy like Kyle Lowry harassing opposing point guards, it can have a profound impact on how an opposing team attacks your team's defense.
He's an annoying gnat that is built like a pit bull. He'll ride on your hip and bump you out of position when you raise up for a shot.
He'll harass you 35 feet away from the hoop because it keeps you from comfortably getting into your offense. And when it takes you a while to get into your offense, you're going to be taking rushed shots at the end of the shot clock.
Lowry's impact on the Rockets was significant last season. The Rockets were a middle of the road defensive team, ranking 15th in the league in defensive rating. When Lowry wasn't on the floor, Houston hovered around 102.9. When he was playing, they were 101.2. That's a pretty big impact for just a guy harassing initiators at the top of the key.
And in a league in which you can't touch the quickest players on the perimeter without having a whistle blown, Lowry gave up a PER last season of just 15.7 to opposing point guards.
The reason I think he'll have a big impact this season is his move to playing under Dwane Casey. He shouldn't have any problems winning the starting job over Jose Calderon, and under the tutelage of Casey, his defensive presence should be even greater this year.
We could see Lowry turn back into the premier point guard defender he was two years ago.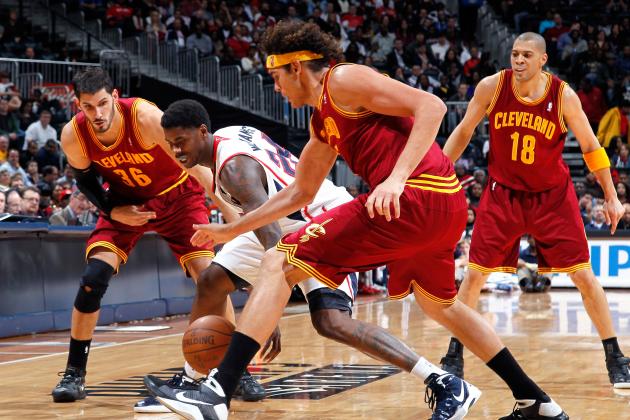 Kevin C. Cox/Getty Images

I know what you're all thinking: "All Varejao does is flop around and that's not defense."
I'm going to disagree with that sentiment. There was a time in which Varejao flopped around the court like a fish out of water. But he hasn't really been that way in a couple of years and his narrative needs to be updated. Does he still flop from time to time? Of course he does.
However, he doesn't utilize it nearly as much as he used to and has turned into one of the best pick-and-roll defenders this league has at either of the big-man positions.
Suffering through an injury-riddled year the last two seasons, Varejao hasn't had a great opportunity to show his impact on defense. Last season, he was having a fantastic all-around campaign before he broke his wrist. And defensively, his impact could be seen.
With Andy on the court, the Cavs gave up 104.3 points per 100 possessions. When he wasn't playing, that number rose to a putrid 106.6. He also didn't have many options to help him anchor the Cavs' defense.
Tristan Thompson was an inconsistent rookie and Samardo Samuels hadn't decided to shed an Earl Boykins worth of weight to get serious about his career. He had Ramon Sessions and Kyrie Irving giving up dribble penetration constantly, and nobody knew what Omri Casspi was doing out there.
This year, TT looks a little more confident and comfortable, Samuels is in amazing shape and Tyler Zeller will be able to add some solid help defense. If Varejao can remain healthy, we should see him get back to being one of the top defensive big men like he was two and three years ago.
Eventually, we'll recognize Varejao for the impressive help defender he is and not for the flopper he used to be.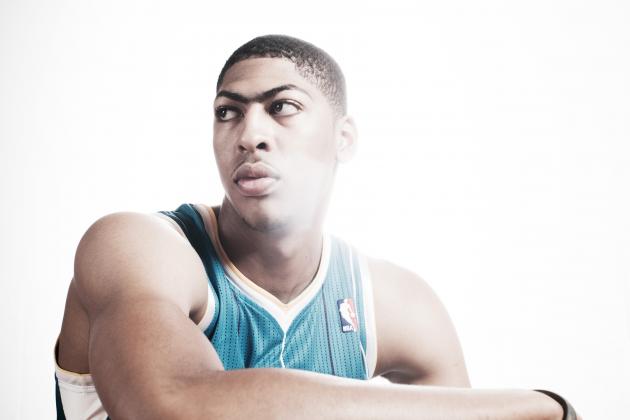 Nick Laham/Getty Images

This is me being presumptuous and buying into the Unibrow hype, but it's hard to imagine the No. 1 pick of the 2012 draft won't have an immense impact.
We all know about his length, wingspan and ability to alter shots. But it's the way he alters shots that makes it most impressive. His timing is impeccable.
While you'll see some shot-blockers flying around the court recklessly, Davis stays at home until he has to challenge the shot. Not only should this help him stay out of foul trouble, but it can freak out opposing offensive players.
You know he's going to jump at some point and because of his length, you simply don't know when he'll finally come after your shot. It's the reason he blocked so many jump shots on the perimeter in college. He's just good at forcing you to shoot when he wants you to shoot.
There is a concern about his strength in guarding the post, but for the most part, this Hornets team will have him playing help defense, showing on pick-and-rolls, and moving from block to block to alter anything the offensive players put up in the lane.
As a freshman at Kentucky, Anthony Davis set the NCAA record for most blocks in a freshman season. When he was inserted into the victory-cigar lineups during the 2012 Olympics, Davis again showed his incredible ability to alter the offensive game plan.
The Hornets were a gritty team last year that thrived off of effort within Monty Williams' defensive philosophies. Adding a shot-blocking presence that is far more mobile than Emeka Okafor could transform them into a top-10 defense in the NBA.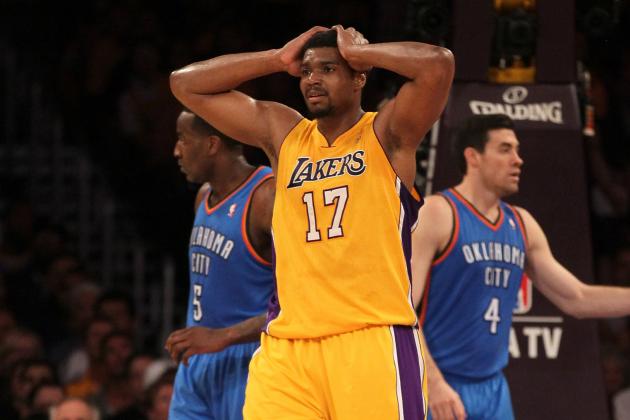 Stephen Dunn/Getty Images

Sometimes the best way to play defense is to get in the way and see what happens.
Well when the guy getting in the way is 7'0" tall and 275 pounds of agile length, that's a pretty tall order to get around, offensively.
Andrew Bynum is a really good defensive center. He's not a guy that will ever compete with Dwight Howard or Tyson Chandler in terms of total impact, but you can put him in the key and dare opposing perimeter players to put up a shot at the rim.
Under Mike Brown last year, Bynum helped the Lakers put up a defensive rating of 100.9 when he was on the floor, and it dropped to 103.2 when he was on the bench. There really wasn't a single part of the game in which Bynum struggled to play defense.
He was 65th in overall PPP given up on defense and allowed just a PER of 14.2 from opposing centers. He defended well in isolation, he defended well in the post, guarded the pick-and-roll, and even challenged spot-up shooters extremely well.
His ability to clear the boards on defense and end possessions is also a key.
In Philadelphia, he'll be joining an intense defensive philosophy that asks the perimeter players to bring a little havoc to the arena every night. With Bynum anchoring the middle instead of Lavoy Allen or Spencer Hawes, the Sixers' perimeter defenders will be able to play even more aggressive defense.
If they get beat, they know they have a mountain behind them who is disciplined in throwing up both hands in the air to block shots. He covers so much ground with his reach and can knock shots away with either hand. This means the offensive players have to greatly alter whatever they put up around him.
The Sixers were third in the NBA in defensive rating last year, and even with losing Iguodala to pick up Bynum, his presence could give them a real shot at being the best defensive team in the NBA in 2013.
Marc Serota/Getty Images

While fans keep waiting for Paul George to emerge as the next Tracy McGrady on offense, he's turning into one of the best wing defenders on defense.
Last season, the Pacers used bully ball to move their opponents off of spots and try to get into their heads to frazzle them a bit. And it worked. The Pacers were the 10th best defensive team in the league, constantly starting scuffles that nobody wanted to finish.
But while Danny Granger, Roy Hibbert and David West were pushing opponents around, Paul George was just being longer and quicker than the majority of the guys he defended.
He had his issues with certain defensive spots. He didn't close out well on three-point shooters and he fouled nearly 10 percent of the time when defending isolations.
George also got abused in the post, giving up 50 percent shooting and committing a shooting foul 16.4 percent of the time. But he shined defending pick-and-rolls and guys trying to score off of screens.
When Paul George was on the court, the Pacers had a defensive rating of 98.3. That number rose to 103.8 when he was sitting near Frank Vogel on the sidelines.
He spent the majority of his time defending shooting guards, when his more natural position is probably small forward. And yet, he only gave up a PER of 14.8 to opposing 2-guards.
This year, George will be able to learn from his mistakes last season and use his experience to solve the issues he had in certain defensive situations. He still may get abused on the blocks because of his lack of strength, but getting a hand in the face of opposing shooters can come with more disciplined closeouts.
This should be the year we see him turn into a defensive star, even if the offensive stardom doesn't quite bloom.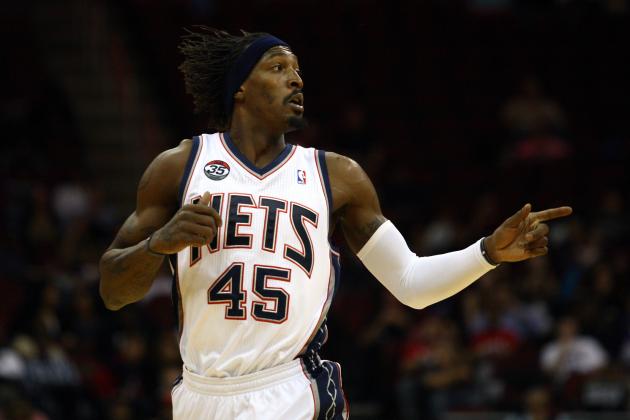 Chris Chambers/Getty Images

I have no idea how long Gerald Wallace has left being a defensive force, but he still had it last season.
Wallace is now officially on the wrong side of 30, but his defensive abilities haven't slowed down at all. He was a wrecking ball on defense with Portland before his trade to the Nets and even continued to show some serious defensive impact on a horrendous Nets roster.
He had one of the biggest defensive rating differences last year from when he was on and off the court in Portland. With Wallace not on the floor for the Blazers, they were an abominable 108.3 per 100 possessions. With Gerald in the game, their defensive rating was 97.1. That's a difference of 11.2 for those of you without fresh batteries in your TI-82 calculators.
Once he was dealt to New Jersey, he still managed to help out his team defensively. The Nets were still bad with him on the court with a rating of 105.0, but it was significantly better than the 106.4 they gave up without him.
Wallace held his own against power forwards, giving up a PER of 17.7. But he played more time at the small forward in Portland than he did on the block, and against small forwards, he gave up a PER of 12.8. Those numbers were 20.5 and 15.4, respectively, for the Nets.
Wallace isn't the fantasy god he was years ago when he could get you two steals and two blocks every night. His athleticism isn't the same to allow him to play free safety on the court and just try to make plays. Instead now, he's using his strength and experience more to anticipate and take away comfort zones.
With Joe Johnson helping him on the wing this year, the Nets should be able to shut down opposing perimeter attacks this coming season. We just don't know if Kris Humphries and Brook Lopez will provide any help on the next tier of the defense.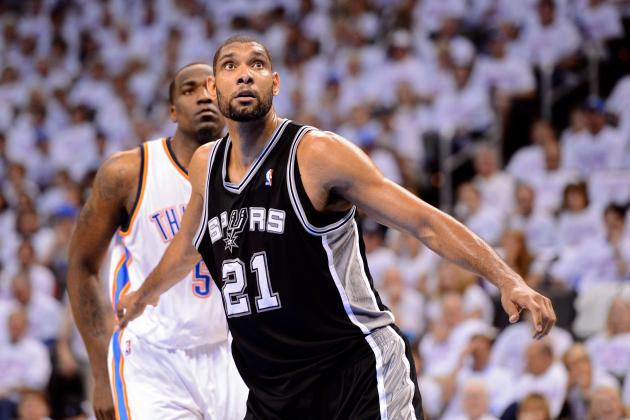 Ronald Martinez/Getty Images

The offense isn't what it used to be and Duncan has to be a lot more careful about how and when he expends his energy, but even though he's racking up DNP-old box scores, he's still anchoring one of the best defensive teams in the NBA.
Despite their evolution to an offensive team that bombs you from the outside, the Spurs were still the 11th-best defense in the league last year and Duncan was the reason for that. They played as a team and they executed the game plans of Gregg Popovich flawlessly throughout the regular season.
They were able to do that because even as slow as Duncan is now, he's still a gigantic human being that gets in the way of players in the paint.
In fact, the way he defends is probably what it's going to look like when Bynum is 10 years older. He's putting up both arms to defend shots and he's getting by with his length when he's lost a step or two.
The Spurs were a 103.7 defensive rating without Timmy manning the middle and that number plummeted to 97.6 with him on the court. Opposing centers put up a PER of 14.1 against him, as he still managed to play 67 percent of the available minutes at center.
He's such a smart defender now that the lost steps and athleticism don't bother him. He uses position and gets into spots early. He anticipates well and rarely fouls because of it. He committed a shooting foul just 2.9 percent of the time last season.
That's an astounding number for an old guy often playing next to Matt Bonner.
While we should probably continue to assume he'll drop off this coming season, I'm sick of being wrong with that assumption.
The offense isn't what it once was, and frankly neither is the defense. But he's still one of the best anchors in the league and should be able to keep the Spurs near the top of the league with his defensive intelligence.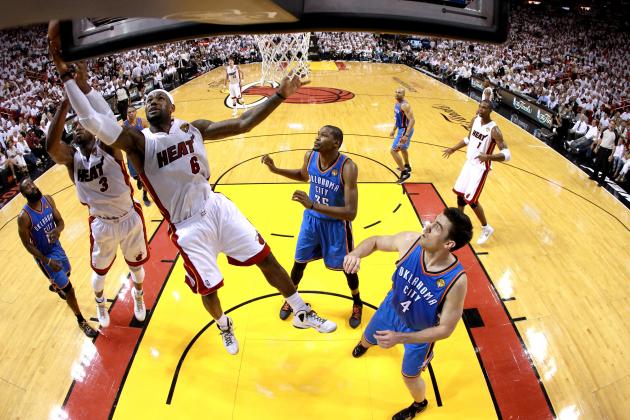 Ronald Martinez/Getty Images

I'm kind of surprised I have LeBron this low, but there are just so many incredible defenders in the NBA right now that make a huge impact on a nightly basis.
LeBron is obviously still one of them.
For the past couple years, LeBron has been a defensive genius. He's figured out how to play against every position on the court. A couple years ago, we saw him dueling with Paul Pierce one night, chasing Ray Allen another night, and defending guys like Rajon Rondo and Derrick Rose on top of that. The past year, he's transitioned into being a great defensive player inside.
He's great at fronting the post and is extremely active when fighting for position and looking to strip big men of the ball when they foolishly bring it down against him. He's also stalking the passing lanes still and providing us with those patented chase-down blocks.
Opponents are only shooting 33.5 percent against him in isolation plays and the ball handler in pick-and-rolls is only connecting on 34.9 percent of shots when LeBron switches to defend them. Last year, power forwards posted a PER of 14.8 against him and small forwards posted a 10.6 PER when LeBron guarded them.
The 14.8 is impressive but the 10.6 is out of this world. That's something the best specialists are able to do on a nightly basis because that's their only job. They're not asked to also run the offense, take a pounding on both ends of the floor, live up to merciless hype and be the best player in the world while shutting down those perimeter players.
With Shane Battier aboard, LeBron has been able to diversify his defensive portfolio a lot more and play a little free safety in the passing lanes, especially helping on lob passes into the key when his teammates are fronting the post.
Even after the title win, I don't expect LeBron to dial back the defensive intensity.
Drew Hallowell/Getty Images

Who is ready for a bigger dose of Omer Asik?
With Asik gone from Chicago and getting the starting center job with the Houston Rockets, we get to finally see what he can do when asked to play the majority of the game.
He still has immense offensive issues that include developing any kind of competent post move and not setting basketball back 60 years whenever he's at the free-throw line.
But the young man can defend like few others.
Asik was engineered in a Turkish lab with the sole purpose of developing the most fundamental defensive player in the world. Watching Asik play defense is like watching a Tom Emanski VHS tutorial for basketball defense. There isn't a better big man at jumping straight up when challenging a shot than Asik.
His back is always straight and he has both hands up to bother the shot. This means drawing a foul against him is nearly impossible when attacking against him. Not only that, but Asik is also really good at flopping. I know we like to think of this as a case of trickery more than defense, but it does the job of stopping possessions.
The gamble for Daryl Morey in acquiring Asik this offseason was a low-risk, high-reward type of move. Worst-case scenario is he probably is just a really good defensive player and rebounder. He cleared 25.1 percent of the available defensive boards this past season.
The Bulls were a very good defensive team without him on the court, registering a 97.6 defensive rating. But when Asik was on the court, their production was pretty much historic. They gave up just 89.7 points per 100 possessions with Asik out there.
It probably won't be that low in Houston this coming season, but you know it will be a lot lower with him in the game, and that's a great start for Houston figuring out how to shut down opponents.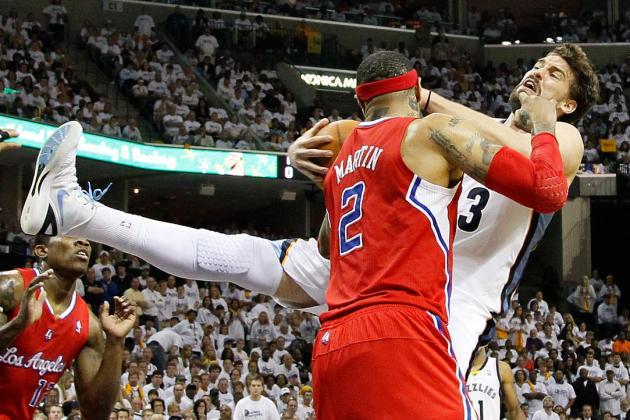 Kevin C. Cox/Getty Images

I can't stress enough how good Marc Gasol is defensively and how much he anchors that Memphis defense.
When he came into the league, he looked like a marshmallow that wouldn't be around very long. He was pudgy and slow-footed. He couldn't recover on pick-and-rolls and he struggled to challenge shots because he couldn't really get off the ground. But the effort was always there.
Then he got serious about his physique, dropped roughly 25 pounds, and turned into one of the elite defenders in the league. Forget about the "Europeans are soft" stigma or the "GaSOFT" nicknames that lack creativity and understanding of what happens out there. Marc Gasol gets it done from everywhere in the defensive half court.
Want to take the big man off the dribble? Good luck with that, because he was 11th in the NBA in defending isolations. He gave up an absurdly low 0.55 PPP in isolation and 26 percent shooting.
Maybe you think you can get the best of him in the post? You probably can't. He gave up just 0.70 PPP (on 34.8 percent shooting), which was good for 40th in the NBA. He only gave up a 14.8 PER to opposing centers.
And don't even think about exploiting him in a pick-and-roll. It defies all laws of physics, but Marc is one of the best big men at defending on the perimeter. I'm not talking about defending big men with the ball either. He can switch to guards and wing players and do a great job of staying in front of them to contest the shot or force a pass.
When he had to anchor the defense last year by himself, he helped lead the Memphis defense to a 97.7 defensive rating. With him off the floor, it rose to 102.4. This year, Gasol will still have the luxury of his fantastic backcourt teammates to bring chaos to the perimeter, allowing him to stay inside and be a big deterrent.
Drew Hallowell/Getty Images

I've said it before and I'll continue to say it until he stops playing this way:
Andre Iguodala plays bath salt defense. He doesn't just shut you down; he eats your face whilst defending you. There's no way of getting around him.
He's so quick and athletic that even if you manage to get a first step on him, he can recover. He has a great wingspan and is strong as an ox, so he's able to bump you off your spot even if you get a slight edge on him with position.
He's the one guy in the pickup game that plays defense way too seriously when you're just trying to have some fun with your friends. Except he's able to do that at the NBA level.
Did you see him when Coach K unleashed him on opposing countries? He took the best perimeter scorer on the other team and had him locked up like the arena was a dungeon. Give him a focus to be just a defender and he should be able to give you stunning numbers.
As good as the Sixers were last season without Iggy playing (99.5 DRtg), they were even better (95.5) with Dre in the game. Opposing small forwards had a PER of 8.7 against him.
8.7!
That doesn't even seem real. That sounds like a glitch in the matrix.
Heading into next season, I have mixed feelings about what to expect from Iggy on defense in Denver, which is what kept me from putting him higher on the list.
Denver isn't exactly a defense-first basketball team, and I'm worried he won't be able to make up for all of the poor perimeter defensive plays. And if he can't truly impact the overall team defense because the Nuggets play such an up-and-down style, is he really going to be that effective of a player?
On the other hand, since he won't have to worry about focusing his energy to offense since that's the one thing the Nuggets do exceptionally well, maybe George Karl will be able to unleash Iggy on the other teams like Coach K did with Team USA. If that's the case, his 8.7 PER against small forwards could drop even more.
Bath. Salt. Defense.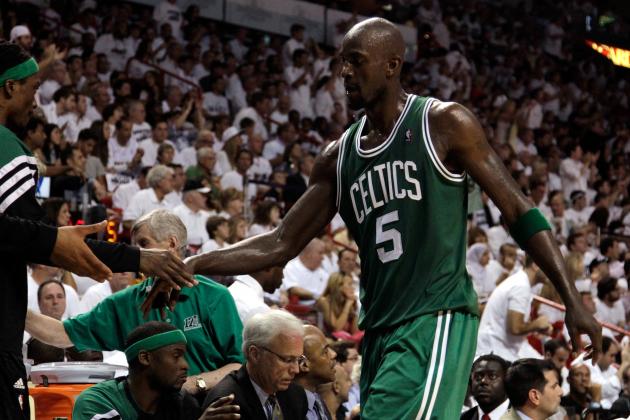 Mike Ehrmann/Getty Images

Okay, here's the reason I don't have Kevin Garnett higher on this list.
As a huge KG homer, you don't have to tell me what a phenomenal defensive player he is. He's been the driving force of the Celtics defense since the day he showed up in green. He's still as good defensively as he was in 2008, maybe even more so because he can focus all of his energy on doing that job.
But at a certain point, the difference between him being on the court and off the court is pretty razor thin. That's not to say that KG doesn't matter out there defensively. He absolutely does. But the on/off numbers for KG last year didn't show much change in what the Celtics were able to do defensively.
With KG on the floor, the Boston defensive rating was a ridiculous 95.3. When he wasn't on the floor, it dropped to just 95.8 points per 100 possessions. I'm not a math teacher or anything, but a difference of 0.5 isn't really that much.
There's no denying how good KG is on that end of the floor, but at what point is it just ingrained into the culture of Boston Celtics basketball? When Tom Thibodeau was there as an assistant, he got Doc Rivers to utilize his pick-and-roll defensive system and they did it nearly flawlessly.
But the core of that team has been there through the implementation of this system and through the departure of its designer (assuming he designed its intricacies after learning from Jeff Van Gundy).
Now it's just a part of the Celtics identity. They played defense nearly as perfectly and as suffocating with KG on the floor as when he was on the bench. It leaves the question of how much Garnett is affecting this team on defense.
There's probably a retort of his communication from the bench and his leadership in practice that helps get guys on the same page, and I'm not denying its validity. But these questions and the numbers before us were just enough to have me leave him right outside the top 5.
It was probably a dumb move, but it was a move nonetheless.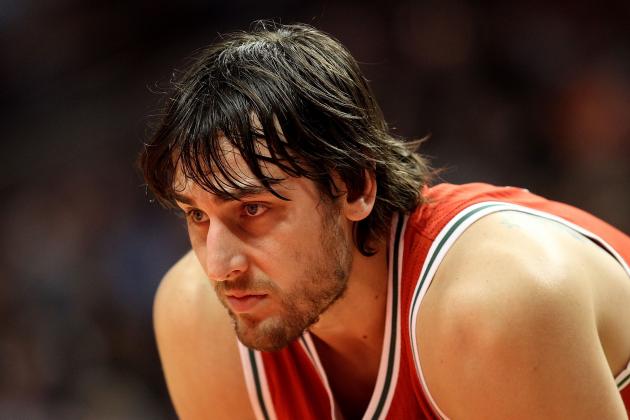 Jonathan Daniel/Getty Images

Let's not forget how great Andrew Bogut is defensively.
Yes, he's injury prone and has had a tough time staying on the court the last three years, but when he's on the court, there are few players as good as him at anchoring a defense.
The Bucks were crap last year after Bogut went down, and they've basically been crap since his elbow exploded a couple of years ago. He meant everything to them because their identity was the defense he communicated to his teammates.
With Bogut as a main fixture on the Bucks, they were one of the top defenses in the league from 2009 through 2011. And before he was injured yet again and subsequently traded to the Warriors, his impact on the defensive end was still huge.
The Bucks had an impressive defensive rating of 93.2 when Bogut was playing last year and it ballooned to 105.3 (a difference of 12.1) when he was out. Not even the sacred plus/minus of Ekpe Udoh could save them once Bogut was gone for good.
Now Bogut will be in Oakland and playing under Mark Jackson, who seems determined to put Klay Thompson in the Hall of Fame and the Warriors on the NBA map of defensive roadblocks you don't want to try to get through. Having the Aussie as the anchor of this defense is a great start, but he has to remain healthy.
He gave up a PER of 13.1 last season, which was the lowest mark of his career. He does it with his fantastic positioning on the block. He roots you out of your post position and can block shots with either hand. There's nothing flashy about his defense; he's just always acting like your shadow. Turn to the left and he's there. Turn back to the right and he beat you to the spot.
What makes him such a good shot blocker is his anticipation and positioning. It's not just that he's in your jersey as you're taking a shot inside, but he's great at reaching over you and meeting the ball before it gets to the top of your release. And he does all of this without fouling.
If he's healthy for the Warriors this season, he's a lock to be one of the top vote-getters for the DPOY award and the Warriors might find themselves in the top 5 for defense. But if he's not healthy, the Warriors won't have anybody to cover for David Lee and could have another wasted season.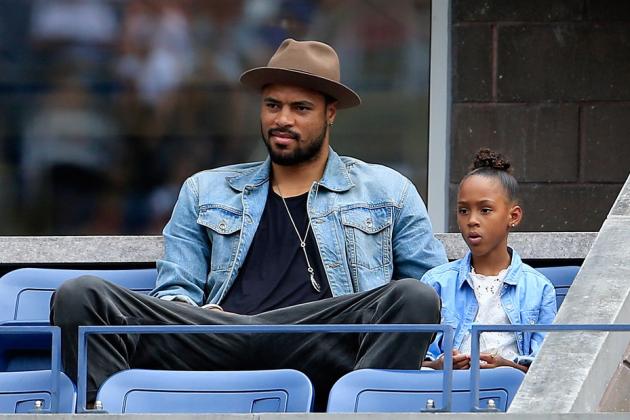 Chris Trotman/Getty Images

Is it rude to have the reigning Defensive Player of the Year fourth on this list?
Is it foolish? It just might be.
Chandler was so good this year and completely deserving of winning his first DPOY award. He helped transform the Knicks from being a five-man saloon door on defense into being the fifth-best defensive team in the NBA. He was so good defensively that he made Mike D'Antoni and "Knicks don't play defense" jokes completely irrelevant within the first month.
And he did it all by roaming the way Dwane Casey and Rick Carlisle had him doing it when he helped the Mavericks win the 2011 NBA title. He had Iman Shumpert helping him on the perimeter, but Chandler had to make up for Amar'e Stoudemire and Carmelo Anthony's defense on a nightly basis. That is no small feat to do.
The Knicks became a defensive-minded team that could get key stops late in games to close out victories. A year prior, if you suggested the Knicks would have that ability the next season, you'd probably have been laughed right off the Internet.
So why do I have Chandler down to fourth? I'm just not sure he can keep this up at this high of a level next year. It's not that he's not talented enough to do so; it's just that his team around him is going to be so bad defensively, it almost seems inhumane to expect him to keep them at the top of the league's rankings.
With Shumpert's return unknown (and especially his effectiveness once he's back), Chandler will be covering for Stoudemire, Melo, J.R. Smith and 287-year-old Jason Kidd/overweight Raymond Felton all at once? How does that work?
If he can keep up the same defensive ability for the team that was there last year, I'll be pining for him to get a second straight DPOY award.
But it could be frustrating watching him try defensively while everybody else just plods along.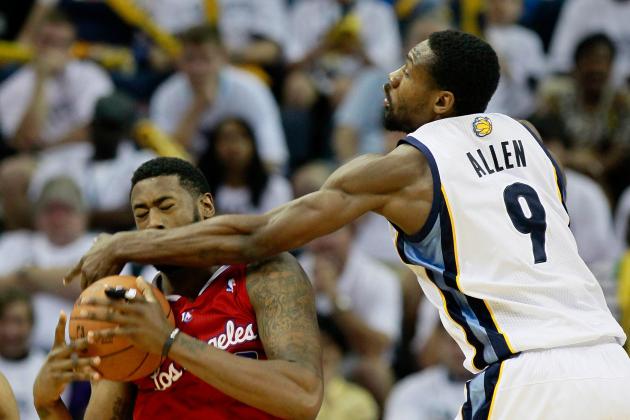 Kevin C. Cox/Getty Images

Rise and grind!
It's really rare to see a defensive impact like what Tony Allen does for the Memphis Grizzlies.
When TA is on the court for the Grizzlies, they're 5.7 points per 100 possessions better defensively. That's huge for a guy that doesn't have much impact throwing away incoming shots inside. All his job is to do is make life hell for the opposing wing player and he does it really well.
When Allen guarded shooting guards last season, their PER was 14.1. When he was guarding small forwards, his opponent's PER was 11.4. He does it with his freaky reach and hard-nosed mentality. Few defenders relish the task at hand of annoying and pestering wing players with the basketball.
It starts when they cross half court. He crowds them and never lets them get separation. You have to run double screens off of him just to get a little breathing room, and even then he's right back on you as soon as you've caught the ball.
He gets right under your chin, begging you to put the ball on the floor. He's stepping on your toes and awkwardly leaning into you, like a bunch of eighth-graders at a school dance.
If you dare put the ball on the floor, he's tracking it like a dog tracks a fly in the room. He's watching it bounce and finding the path it will travel next. Once he locks in on the rhythm of your dribble, he reaches in with lightning-quick reflexes and pokes it away. Sometimes you'll get it back, but more often than not it's turning into a transition possession the other way.
His tenacity on the perimeter, coupled with Mike Conley's ability to do the same thing, helped Memphis be one of the top teams at creating turnovers and turning them into points. He forced a turnover on pick-and-roll ball handlers 20.3 percent of the time last season and 19.5 percent of the time on isolations.
If he's able to be healthy this year, he's earned himself the starting shooting guard position once again. Good luck dribbling against him. He's waiting to grind out another turnover.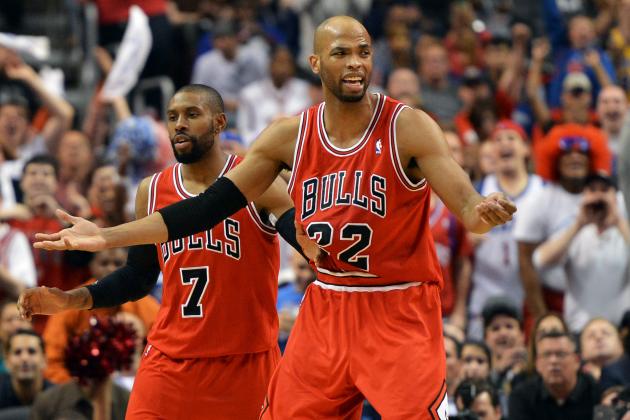 Drew Hallowell/Getty Images

Yes, Taj Gibson is second on this list.
Gibson is arguably the most impactful defensive player in the NBA. It helps that he has the benefit of Thibodeau's teaching him every way to defend every type of play thrown at him. It helped that he played alongside Joakim Noah and Omer Asik last season. And it helps that his sense of timing is about as accurate as Swiss movement inside a nice watch.
The numbers bear out all of his splendor on defense. He gave up a PER of 12.6 to opposing power forwards last season. He allowed just 0.77 PPP overall (65th) and 34.6 percent shooting. When players tried to isolate against him, those numbers dropped to 0.62 PPP (32nd) and 25 percent from the field.
He has a defensive rating difference of 11.2 from when he's on the court (88.6) to when he sits down (99.8).
He challenges shots exceptionally well, allowing just 25.4 percent on three-pointers against him last season and just 23.3 percent on those three-pointers coming from a spot-up possession.
He closes out as well as any big man swarming the perimeter. He has pogo sticks for legs and a great wingspan that allow him to attack shots once the opponent gets into the air.
Gibson might be the most important player in the defensive scheme for the Bulls this season. Because he can challenge on the perimeter and help against guys penetrating the lane, he's asked to be everywhere on the court.
Joakim Noah (was really hard to keep him off the list and probably should have had him in there) will be asked to man the middle and Luol Deng will be asked to defend the perimeter, but Gibson is the only guy that can do both.
And with Carlos Boozer being about as useful as Boris Diaw at a Weight Watchers meeting, Gibson's minutes could increase from the 20.4 per game he was given last season.
Some may think it's a reach to put Gibson this high, among the league's elite defenders, but his team's defensive rating always plummets like the stock market when he enters the game.
It's time to recognize the impact he has on a nightly basis.
Harry How/Getty Images

All of the tweets coming out of the Lakers training camp so far are about Shaquille O'Neal's annoying persistence to downgrade Dwight Howard and D12 dunking against contact in 5-on-5 drills.
If Howard is truly healthy and won't miss much of a beat when he debuts with the Lakers, then the league is back on notice that he's the best defensive player in the NBA. With no more drama at Dwight's disposal until this summer, he can focus once again on being the player that earned him three straight DPOY awards before this past season.
Dwight had a down year last season with all of the distractions he created and the back injury that eventually required surgery and he was still one of the best defensive players in the NBA. He finished third in DPOY voting behind Chandler and Ibaka, and his numbers show he was still near the top of the league with his presence.
Opposing big men had a PER of 14.0 against him and his PPP numbers were still fantastic. He gave up just 0.75 PPP overall and 37.2 percent shooting.
Not only that, but the impact he had on Orlando's system with the terrible defenders they put around him was still huge. They had a defensive rating of 99.3 with him on the court, and it skyrocketed to 106.2 with him out of the game.
And now, he gets to fill the big man void in Mike Brown's defensive schemes to improve on their 13th-best defense from a year ago. Three times in Cleveland, Brown had a top-seven defense in the NBA, and that was with Zydrunas Ilgauskas and a really old Shaquille O'Neal as the centers.
Now he has Howard to show on the pick-and-rolls, hedge off any dribble penetration, and slap away any shots that get into the paint. Not only that, but Howard has a lot of pressure to show the world that all of this drama surrounding his situation is worth the hype.
We could see his best defensive year yet if his back is indeed intact.