5 Greatest Current NBA Players in Search of Their First Championship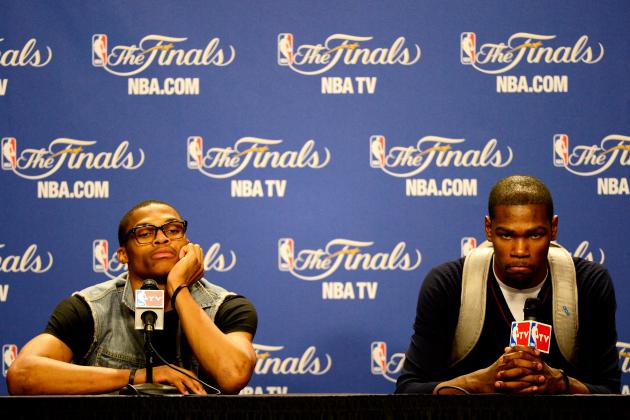 Ronald Martinez/Getty Images

At least the league's best player finally has himself a ring.
Now that LeBron James has a ring, we can finally lay our criticism upon the next ringless superstars. They'll be expected to live up to unrealistic expectations, criticized for not leading their team to victory in losses and have their career constantly put under a microscope. Because if you don't win a title, what's the point, right?
Well, it turns out that we can still appreciate and respect these players, even if they haven't won a championship. Winning a title isn't determined by individuals, it's the team's decision on whether they want to win a title or not.
LeBron James couldn't win in Cleveland, Kobe Bryant couldn't get out of the first-round without Shaq or Pau and Wilt Chamberlain needed Hal Greer; everybody needs a team to win a title.
There are quite a few of the league's top players who are currently without a ring, including the second, third, fourth and fifth best players, according to ESPN's recent rankings of all the NBA's players.
We turn our attention to the league's future scapegoats and take a look at the five best players who are currently without a ring.
Begin Slideshow

»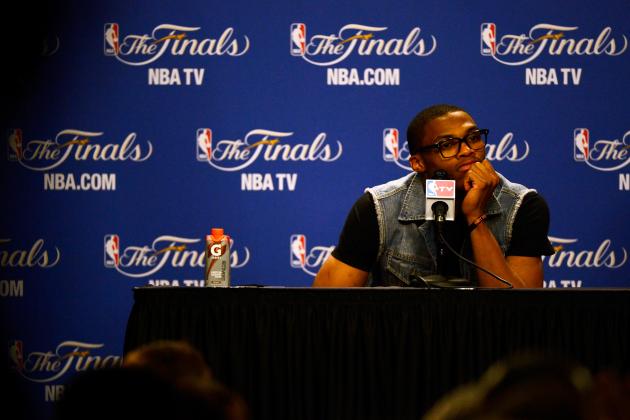 Ronald Martinez/Getty Images

You certainly can't fault Russell Westbrook for doing everything he could do in the Oklahoma City Thunder's recent NBA Finals appearance.
Westbrook had one of the best Finals' performances in recent memory, with 43 points on 32 shots in a Game 4 loss against Miami. He dropped 27 in the first two games of the series, but ended with a thud to the tune of 19 points on 4-of-20 shooting, missing all five of his three-point attempts.
When Russell has it going, he's one of the league's ten best players and that showed in Game 4. Westbrook was taking advantage of the Heat's weak interior with powerful drives and was hitting the mid-range jumper for the majority of the night. He is capable of hitting the mid-range jumper at a consistent rate and it's what allows him to be such a potent slasher, as well.
Westbrook shot 46 percent between 16 feet and the three-point line last season.
Set to turn 24 in November, Westbrook is due to get a ring as long as he and Kevin Durant stay on the same team. Oklahoma City suffered last year because of their inexperience, which is similar to what happened the previous season when they blew four fourth-quarter leads in their Conference Finals loss at the hands of Dallas.
Although Russell doesn't play like the average point guard, he's still a key reason why the Thunder are going to end up as perennial championship contenders over the next few years.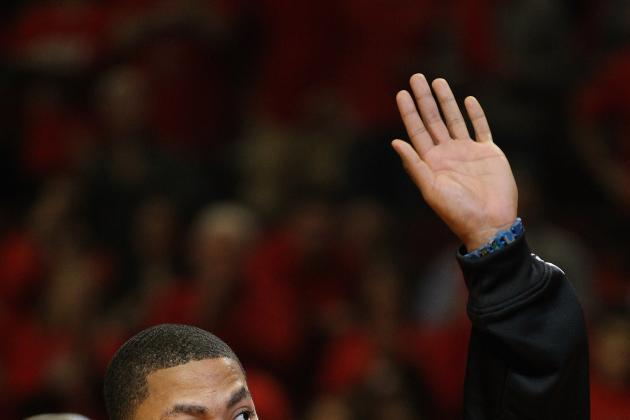 Jonathan Daniel/Getty Images

The 2012-'13 season won't belong to Derrick Rose, but it will represent a stepping stone in Rose's journey back to his usual standing as one of the league's most dynamic and athletic young players.
It took Rose a mere three years to win a league MVP and to lead his team to their first Conference Finals appearance in over a decade. While being supported with an excellent bench and defensive philosophy, Rose was still the catalyst for the team, and it showed in the Bulls recent first-round exit at the hands of the Philadelphia 76ers.
The Bulls could persevere through the regular season, but they don't have the star power that's needed by postseason teams to come through in late-game situations.
They'll get their shot in the future. While it'll be far more difficult without the help of guys like John Lucas, C.J. Watson, Kyle Korver and Omer Asik coming off the bench, the Bulls are fortunate enough to be in a weak Eastern Conference where there are currently only two realistic options to make the Finals—the Miami Heat and Boston Celtics.
They can take advantage of that, as long as they maintain a strict defensive mindset and Rose manages to return to the exact firm he displayed for the 2011-'12 season.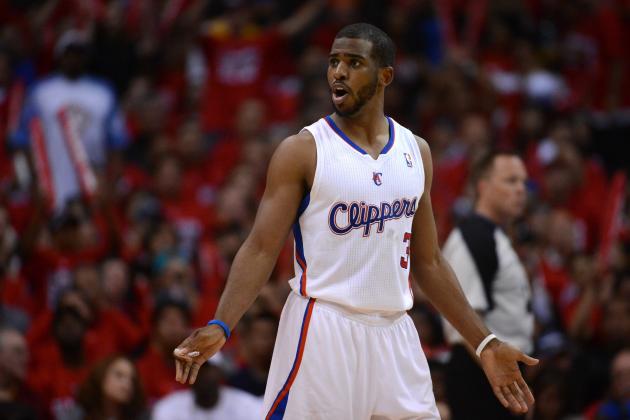 Harry How/Getty Images

The league's top facilitator from a scoring and passing standpoint, Chris Paul has done an excellent job at turning mediocre teams into potential championship contenders.
He turned the New Orleans Hornets into a division title winner and nearly led the Los Angeles Clippers to a Pacific Division title. Paul brought the Clippers into the second round this past season, but failed to chalk up a win against the buzzsaw that was the San Antonio Spurs. However, not having Chauncey Billups in the lineup, and having Ryan Gomes as a replacement, certainly didn't help.
This coming season, Paul will not only have the help of Billups, but also of newcomers in Grant Hill, Lamar Odom and Matt Barnes. The Clippers have become one of the league's deepest teams and CP3 surely couldn't be happier knowing that. Paul has spent time with some below-average rosters, which makes this current Clippers team the best team he's ever been a part of.
He'll find it difficult to make it out of the West, however. The division rival Lakers have improved greatly, the Thunder are still the team to beat, and Denver and San Antonio have benches that could rival the Clippers. While this may be Chris Paul's best roster, he will find that the rest of the West has kept pace and stayed one step ahead of the Clippers.
However, Blake Griffin's improvement as a jump shooter would play a huge role. If he and Paul can run a pick-and-roll that wasn't so one-dimensional, they could add some much needed versatility to the offense.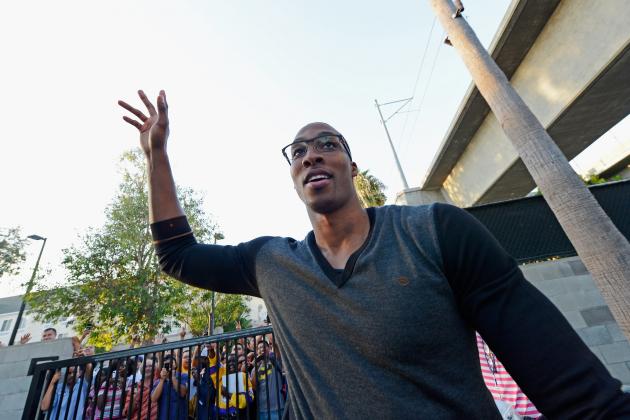 Kevork Djansezian/Getty Images

Dwight Howard is someone who should have won a championship by now. A player at his size and how dominant he is said to be should have long been a champion in a league where there is little legitimate competition at his position.
Yet here we are. Not only could Howard not win a title with the Orlando Magic, but he now finds himself surrounded by three All-Stars in Steve Nash, Kobe Bryant and Pau Gasol. He is in prime position to win a championship with the current roster he's a part of, with the prospect of him running a pick-and-roll seemingly being enough to devastate opposing defense's.
Howard has come close to a title. In 2009, his Orlando Magic made it all the way to the Finals following a 59-win season where they had won a second-consecutive Southeast Division title. They upset the heavily favored Cleveland Cavaliers, overcoming a number of historic performances by LeBron James.
However, not having Jameer Nelson healthy played a key role in the Magic's 4-1 series defeat at the hands of the Los Angeles Lakers. Howard was flustered with the Lakers throwing double teams composed of Pau Gasol and Andrew Bynum that caused Dwight's impact to be minimal. The Magic failed to get near the Finals, resulting in Howard's move to the championship-ready Lakers.
Dwight will have no excuses if he doesn't win a title within the next few seasons with this Lakers team. And I say the next few seasons because a 38-year-old Steve Nash, 34-year-old Kobe Bryant, 32-year-old Pau Gasol, 36-year-old Antawn Jamison and 32-year-old Metta World Peace can only last for so much longer.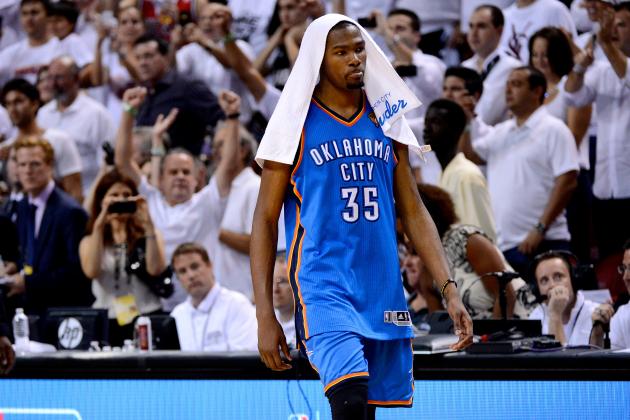 Ronald Martinez/Getty Images

It took five years for Kevin Durant to become known as the league's second best player.
I think it's safe to say he's going to have an incredible career, complete with league and Finals MVP's, as well as multiple championships. He is too good of a player and is on too good of a team not to come away with a title within the next five years. The three-time scoring champion has already come so close, but was lacking that Finals experience that some players need to get over the hump.
Durant's coming closer and closer to winning a title. His Thunder team were viewed as title favorites the year before, but fell at the hands of a Dallas team that took advantage of their inexperience. Come 2012 and Oklahoma City is in the Finals following three beatings delivered to Dallas, Los Angeles and a San Antonio team that had won 22 consecutive games going into their series.
The Thunder let the Spurs win the first two games, then won the next four. Durant was nearly unstoppable.
It is becoming extremely difficult to defend the wiry small forward. He's coming into his own and utilizing his size to his advantage more and improving his jumper and extending his range. His stride requires him to only take two steps from the three-point line to a dunk and he becomes nearly impossible to guard when he's shooting off the dribble.
Durant is due for a few titles. At only 24-years-old, his time will come as his Thunder teammates continue to improve and experience begins to weigh in their favor.