5 Darkhorse Candidates for the 2012-13 NBA MVP Award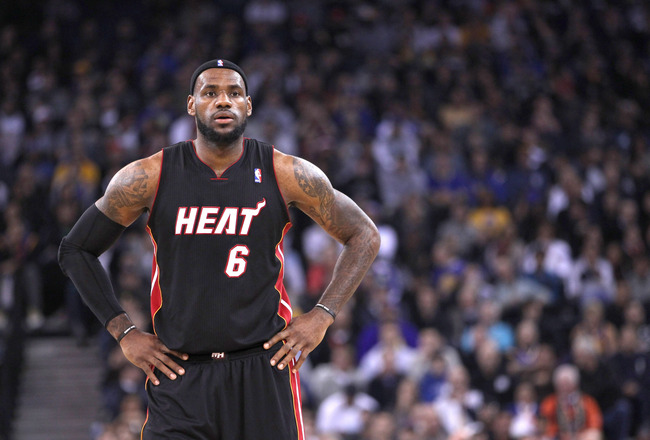 Ezra Shaw/Getty Images
The notion that anyone but LeBron James or Kevin Durant could claim the 2012-13 MVP award may strike most as little more than fanciful nonsense.
But then again, how many saw Steve Nash's first MVP award coming prior to 2005? Who seriously foresaw Derrick Rose snagging the award when he was just 22 years old?
Of course, it's entirely possible that James will pick up where Michael Jordan left off and begin collecting MVP awards on a regular basis. It's also entirely possible that Durant could beat him to it, whether his team has what it takes to win a title or not.
And yes, there's also a very real chance neither of them takes the Maurice Podoloff Trophy this time around.
Here are five darkhorse candidates who just might edge them out.
Chris Paul–PG, Los Angeles Clippers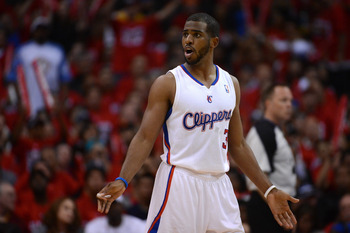 Harry How/Getty Images
Chris Paul finished a distant third in 2011-12 MVP voting behind LeBron James and Kevin Durant, but he'll remain in the running for the award for the very reason Steve Nash won it twice.
He makes his teammates significantly better.
The 27-year-old point guard is a model of efficiency, can score from anywhere and ranks as one of the very best passers in the game—a skill set that averaged out last season to 19.8 points, 9.1 assists, 3.6 rebounds and 2.5 steals in 36.4 minutes per game.
That kind of production could translate into an MVP award in one of two ways.
If Paul adds to those numbers, he'd be awfully hard to ignore. They're already incredibly strong, and it wouldn't take many more points and assists to make his argument even stronger.
Alternatively, he could get the nod if the Los Angeles Clippers establish themselves as one of the two best teams in the Western Conference, especially if they surpass the star-studded Lakers in the process.
Kobe Bryant–SG, Los Angeles Lakers
Stephen Dunn/Getty Images
You might think the presence of so many big names would work against Kobe Bryant's chances of taking home his second MVP award, but that clearly didn't weigh too heavily in voters' minds last season. If collective star power were a deal-breaker, LeBron James would be disqualified from the outset on account of Dwyane Wade and Chris Bosh.
You might also think that Bryant's production will wither away with Steve Nash and Dwight Howard now in the fold, but nothing about their additions changes the fact that Bryant is still this team's first option on offense.
If anything, he's likely to be more efficient than he was last season and perhaps more free to focus on other elements of his game—from defense to making plays for others.
Given the unspoken sense that he probably deserved the second of Steve Nash's MVP awards in 2006, voters may set a slightly lower bar for Kobe this time around. He finished fourth in the voting last season in what was one of the least efficient performances of his career, so it wouldn't take all that much for him to become the favorite.
In the event Los Angeles has a dominant season and still has Bryant to thank for it, this could become something of an encore performance for the 34-year-old icon.
Rajon Rondo–PG, Boston Celtics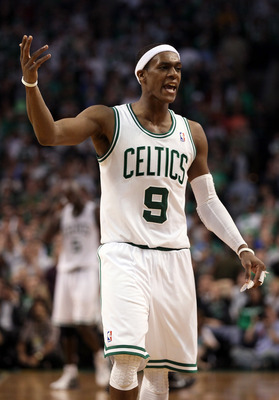 Elsa/Getty Images
After leading the league with 11.7 assists per game last season, Rajon Rondo went on to lead the Boston Celtics to within 48 minutes of another trip to the NBA Finals.
It's become impossible to deny that the 26-year-old point guard is the best player on his team and one of the very best in the league. He doesn't take possessions off and proves that a guy can still rebound and defend incredibly well at 6'1".
If Rondo can add a consistent perimeter shot to his game along with a scoring average that's a bit closer to 20 (from last season's mark of 11.9 points), he'd at the very least rank alongside Chris Paul as a name that demands serious consideration.
As it was, Rondo's 2011-12 performance was enough to rank him eighth in MVP voting.
If the improved Boston Celtics roster gets out to a quicker start this season and solidifies its hold on one of the top two seeds in the Eastern Conference, Rondo could rank a lot higher than eighth—he could take the Steve Nash route to the MVP and convince voters that he's that rare facilitator who radically changes the dimensions of games in which he plays.
Kevin Love–PF, Minnesota Timberwolves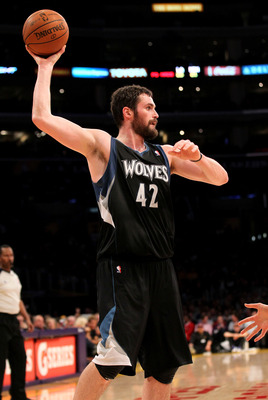 Stephen Dunn/Getty Images
The Minnesota Timberwolves haven't made the playoffs since 2004, and you better believe they'll have one man and one man alone to thank if that unsavory streak ends in 2013.
Kevin Love finished sixth in the 2012 MVP voting, just behind the San Antonio Spurs' Tony Parker. He ranked second in the league in rebounding with 13.3 per game and established himself as one of the league's very best scorers—especially from the perimeter, where he made 37 percent of his 5.1 three-point attempts per game.
Whereas other spread-4s like Ryan Anderson typically contribute little in the paint, Love remains a workhorse around the basket.
If all else remains equal, a few defensive improvements could make Love an MVP favorite.
Of course, the real test will be his team's success. Fair or not, no one on the Timberwolves is winning this award until they crack the postseason.
Deron Williams–PG, Brooklyn Nets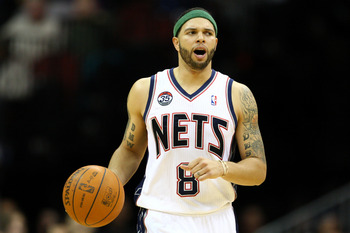 Chris Chambers/Getty Images
With a healthy and improved roster, the Brooklyn Nets are poised to christen the new Barclays Center with the franchise's first postseason appearance since 2007.
If it does so as one of the top three or four seeds in the Eastern Conference, don't be at all surprised to see Deron Williams get some MVP attention. The 28-year-old hasn't been especially efficient in his stint with the Nets thus far, but that has a lot to do with just how much of the scoring responsibilities he's taken upon himself.
That shouldn't be as much of a problem given the new configuration of the roster.
Additionally, now that the playoffs are finally in sight, we should see Williams commit himself more on the defensive end and reestablish himself as one of the two or three best point guards in the game.
Keep Reading