What Every Top-10 NBA Star Should Be Rated in NBA 2K13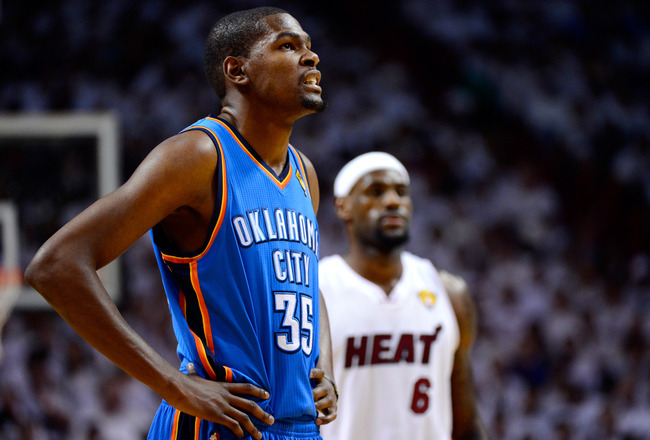 Ronald Martinez/Getty Images
Every basketball junky's best friend is just around the corner.
No, not the real NBA season: the opportunity to play your own NBA season. With NBA 2K13 set for release in October, we're also due the firestorm of commotion surrounding each player's rating. Fans will protest that some ratings are inflated and that others aren't nearly high enough.
Of course, as the season goes on, those ratings are updated to reflect players' evolution (or regression). There's just no other way to account for guys like Jeremy Lin coming out of nowhere and turning into a premium point guard.
Until we can see them in action, though, the ratings are really just projections of how good a player will be this season.
For the most part, those projections are pretty accurate, and the game's realism has certainly come a long way.
Anyone who played the classic Sega Genesis or Super Nintendo games can attest to that (and feel old in the process).
The 2KSports Twitter feed has already begun gradually releasing player ratings, but let's take a look at what they should be. The subject has been known to induce some strong opinions.
Kevin Love–PF, Minnesota Timberwolves
Christian Petersen/Getty Images
My rating: 88
We already knew Kevin Love was an outstanding rebounder (even though he typically has more opportunities than most given the Timberwolves' pace and inefficiency), but he's developed quite the outside shot over the last couple of years as well.
The only thing keeping him from a rating in the '90s is that he's not an especially dominant inside scorer, and he's an even less impressive defender.
Maybe we'll see some progress in those areas this season. There's no question Love is a quick learner and hard worker.
In that event, I wouldn't have a problem bumping him a point or two. He's getting there.
Carmelo Anthony–SF, New York Knicks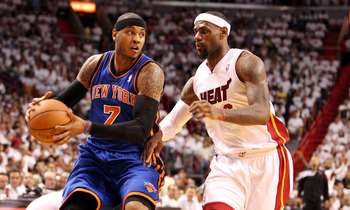 Marc Serota/Getty Images
My rating: 90
Say what you will about Carmelo Anthony's defensive consistency—there's plenty to be said.
This guy is still an unbelievable scorer who can make even elite defenders look bad. He scores in a lot of different ways, and he can score without much help. His offensive ratings alone justify an overall rating of at least 90.
Plus, he's a great rebounder. Give the man his due.
The real question in terms of Anthony is how the game will reflect his success playing at the power forward position. He may not get many opportunities there so long as Amar'e Stoudemire is around, but we all learned last season that 'Melo looks even better at the 4-spot.
Derrick Rose–PG, Chicago Bulls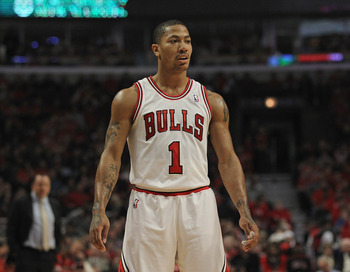 Jonathan Daniel/Getty Images
My rating: 91
There's really no telling what we'll get out of Derrick Rose when he finally returns after recovering from knee surgery, so the NBA 2K13 will obviously be prepared to adjust his base rating upward or downward, depending on how he plays.
His durability ratings should probably take a hit due to the injury, but things like his shooting and court awareness are likely to improve just by virtue of the fact that he's still young and getting a better handle on the game with every passing season.
Rose was rated 92 last season, and really, anything in that vicinity is a pretty fair assumption.
It's just too hard to predict where a guy's going to be after such an extended absence.
Kobe Bryant–SG, Los Angeles Lakers
Harry How/Getty Images
My rating: 91
Kobe Bryant fans won't like this, but a lot of those fans apparently haven't watched a game since 2006.
Yes, Kobe can still go off for 40 with shocking regularity, and he's still one of the league's two or three most dangerous scorers. But there are also some realities with which we must increasingly contend.
He's a less efficient scorer for starters. When he isn't having an amazing shooting night, he isn't able to compensate at the basket like he used to. Instead, we end up seeing a lot of missed jumpers, often to the detriment of the team.
Additionally, he's lost a step. Given his unmatched skill, he's certainly able to compensate, especially on the offensive end. There's no question, however, that he isn't the kind of perimeter stopper he used to be.
Dwyane Wade–SG, Miami Heat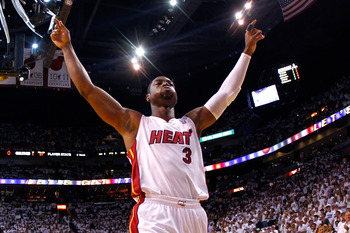 Mike Ehrmann/Getty Images
My rating: 91
Dwyane Wade came into last year's game rated a 96!
Ridiculous.
Yes, Wade is still one of the game's greats, but he probably isn't a top-five kind of franchise player anymore. And, he certainly won't look like one so long as he's one a team with LeBron James and Chris Bosh.
One thing that ratings don't account for are how the game programs a player's tendencies. So long as Wade is programmed to defer a bit more and take fewer shots on average, I wouldn't have a problem with his rating being bumped to 92 or 93.
But, given the game's penchant for making superstars play so incredibly well on such a consistent basis, guys like Wade should have their ratings a bit lower just to prevent absurd outcomes when playing the game.
Dwight Howard–C, Los Angeles Lakers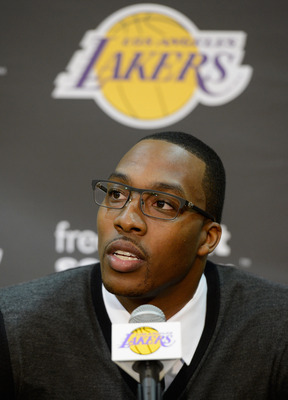 Kevork Djansezian/Getty Images
My rating: 91
Dwight Howard was rated a 93 last season, but I find it hard to believe he'll come off of his recovery from back surgery and immediately pick up where he left off. Additionally, he'll be acclimating himself to a new team and a new role on that team.
Perhaps his base rating should remain at 93, and it should just be adjusted downward in the early goings of the season.
That would be a sensible compromise.
Putting Dwight any higher than 93 just makes no sense, though, at least not until he proves to have a better post game or some semblance of a mid-range shot. Plus, the game will take his ridiculous ratings and have him blocking 10 shots a game unless you adjust the sliders.
That business needs to stop.
Chris Paul–PG, Los Angeles Clippers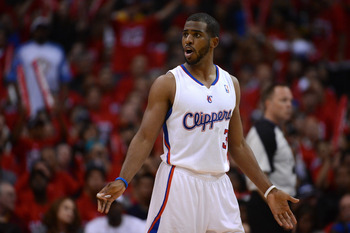 Harry How/Getty Images
My rating: 92
Yes, it's a contract year for Chris Paul, so he could very well play out of his mind.
But, I sort of get the sense he's playing a bit more carefully these days–perhaps to avoid injury, perhaps to preserve himself for the postseason. Either way, he was rated a 93 last season, and I'd actually take a point off.
By virtue of his talent alone, sure, maybe he deserves a 93 or even a 94–at least in theory.
The problem is that he's just not that dominant in practice. There's not as much separating him from the league's other elite point guards as you might think, and he rarely takes games over for more than a stretch at a time.
Rajon Rondo–PG, Boston Celtics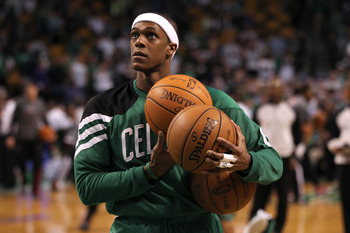 Jim Rogash/Getty Images
My rating: 92
Other than an inconsistent perimeter shot, there's really nothing whatsoever wrong with Rajon Rondo's game.
If you're offended that I have him rated higher than Kobe Bryant or Dwyane Wade, just spend some time watching him play defense. He's one of the very best at the moment, and it's not even his calling card.
That would be his exceptional understanding of the game and the ability to make exceptional passes time and time again. Factor in his ability to score (at least when he actually wants to) and rebound, and you're probably looking at the best all-around point guard in the league, at least until Derrick Rose is once again at full strength.
Chris Paul is still a better shooter, but you'd be hard-pressed to make the case that he's as effective as Rondo across the board.
Kevin Durant–SF, Oklahoma City Thunder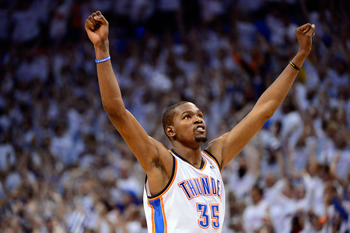 Ronald Martinez/Getty Images
My rating: 96
Kevin Durant's shooting ratings will undoubtedly and justifiably be astronomical. In fact, they'll probably be so good that the AI version of KD will never miss a shot and go off for 60 points every single time you're up against him.
Yes, the video game franchise has a tendency of making its superstars play more like Greek gods.
Nevertheless, Durant has improved every facet of his game, and his ratings should reflect that. He's better on the defensive end, and he's turned himself into quite the rebounder. Plus, he's proven to be clutch in even the most high-pressure games, so you can't help but look at him as more than just another high-volume scorer.
Unless the plot to Thunderstruck comes to fruition, you can expect his ratings to remain pretty high in the game.
LeBron James–SF, Miami Heat
Mike Ehrmann/Getty Images
My rating: 98
LeBron James was a rated a 98 last season, so there's really nowhere he can go from there.
His uneven perimeter shooting should probably keep him at 98, though there are perfectly reasonable arguments for bumping him up to 99. The skill and athleticism are unmatched, and there are no questions about his offensive and defensive "awareness."
If you believe James should be rated lower, chances are you also believe the game's ratings are too inflated to begin with.
That's a separate issue (and one that might be worth taking up). But, if you assume that 100 is a benchmark for the best in the game, then ratings become a relative (rather than absolute) metric. In other words, rating James a 99 doesn't mean he's a perfect basketball player. It just means he's the best one currently playing.
Keep Reading